Can you get Women's Chef Shoes?
Introduction
There are many female chefs in the world and there are just as many women's chef shoes (click here for review) on the market to cater for them. Shoes that will keep their feet comfortable, supported and protected are the ones that you need as a chef spending long hours on your feet in the hazardous kitchen work environment.
What are the Most Ideal Women's Chef Shoes to Wear?
When considering what the most ideal women's chef shoe would be you need to consider three main things. Are they practical, are they function and of course, what their style is.
Practicality
This aspect of the shoe will include the comfort of the shoe, the ergonomics and the design. Ergonomics are very important when it comes to chefs shoes. A great ergonomically designed shoe will provide the right kind of support for your feet, based on biological characteristics. If the chef shoe that you choose is ergonomically designed, made from the best material and provides ample arch support.
Then you will find that your feet and legs will be more than adequately supported and you will avoid developing common issues such as calluses and ligament injuries that occur when spending so much time on ones feet. Spending up to 14 hours a day on your feet is difficult enough without adding ill-fitting or uncomfortable shoes to the mix. Choose a shoe the amount of padding in the right places that you need to ensure that your feet are cushioned in the right areas.
Design of the shoe is another important aspect when consider which shoe to choose. There are three basic design styles, slip-on style, lace-ups or clogs. The design of the shoe to be breathable and comfortable are paramount considerations. Kitchens tend to get hot and having a shoe that will allow your feet to breathe is one of the most important characteristics in the design that you should consider.
Functionality
The functionality of the shoe includes the material it is made from, whether it is water resistant or not, the grip or traction provided by the outsole of the shoe and the durability of the shoe altogether. The material of the shoe is incredibly important when it comes to choosing a women's chef shoe, the uppers should be both flexible and durable as well as protecting your feet from the hazards of working in a kitchen such as spills, slip and falls.
The selected should also be breathable to ensure that your feet get the air flow they need to stay cool and dry throughout your long day. Water resistance in a great women's chefs' shoe is important as a chef is always at risk of having boiling water spill down onto their feet and the shoe should be able to protect a chef from this hazard. The grip of the shoe should be non-slip or slip resistant. Accidents in the kitchen are often caused by people slipping on wet and oily surfaces which are common in the kitchen area.
Style
When selecting the shoe you would like you need to consider the three types of shoes available to you, namely slip-ons, lace-ups and clogs. Women chefs often prefer the slip on or clog style shoe to the lace ups. The reason for this is that they do not have laces that need to be tightened throughout the day. Laces can be a tripping hazard and they can also cause the chef to loose time having to tighten their laces and then wash their hands intermittently, this can be very time consuming and annoying to any chef.
Are there Non Slip Chef Shoes in Women's Varieties?
There are a variety of non-slip chef shoes for women on the market including Croc's, Skechers and of course Dansko. All of these great shoes are made with rubber soles that offer the traction that make them slip resistant or non-slip in nature.
Do you need Women's Chef Shoes with Arch Support?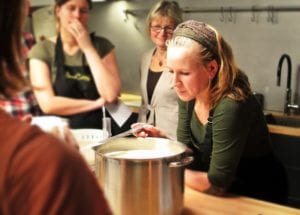 Everybody who has a job where they stand for most of the day or night should get a shoe that has arch support. Chefs spend the majority of their day on their feet and regularly work for between 12 to 16 hours most of that time they spend standing or walking. Having the correct footwear will help to avoid injuries such as burns from hot foods either by the person who falls carrying a hot pan, or one of their colleagues who could be hit by the falling debris.
Of course when you are going to be spending so much time on your feet you need a shoe that will offer you the utmost comfort throughout your long working day. This is where arch support comes to the fore. The arch support in your shoe should match the arch in your foot. The top chef shoes have memory foam insoles. These provide the cushioning you need as well as arch support.
Having this type of support and comfort will help to prevent heel spurs, plantar fasciitis as well as a number of other common problems people who stand all day experience. Arch support in a shoe is not all standard. They will come in either high support, medium or low depending on your needs. If a women chef has flat feet, then they will have to choose a shoe with flat foot support, if they do not then then could find that they have very painful toes at the end of the working day.
When you choose a shoe with arch support, you will find that it comes with extra cushioning, this in turn takes up space in the shoe, so when looking for the perfect shoe you may find that you will have to take at least a half-size bigger shoe than normal to accommodate the extra cushioning in the insole of the shoes. Along with the arch support and cushioning, breathable material will also help to make a chef feel more comfortable on their feet. This aspect will help to prevent infections that are caused by sweaty feet.
What are Spring Step Women's Lace up Chef Shoes?
Spring step women's lace up chef shoes are a brand of shoes that are designed to give the lady chef the comfort and support they need in the kitchen while the work long hours standing or walking for the majority of the day. The Spring Step shoes come in lace-up style or slip-on. They are designed with full-grain leather uppers that are both durable and great looking. The shoe is lightweight, has an antibacterial lining, the outsole is shock-absorbing as well as being non-slip and the heel is contoured to provide ultimate comfort.
Conclusion
Having the right shoe as a women chef is imperative to you being able to express your creativity in the kitchen without being curtailed by sore feet. Non-slip, water-resistant, lightweight shoes that are designed to be used in a kitchen environment should be first on any women chefs list of necessities for their job.