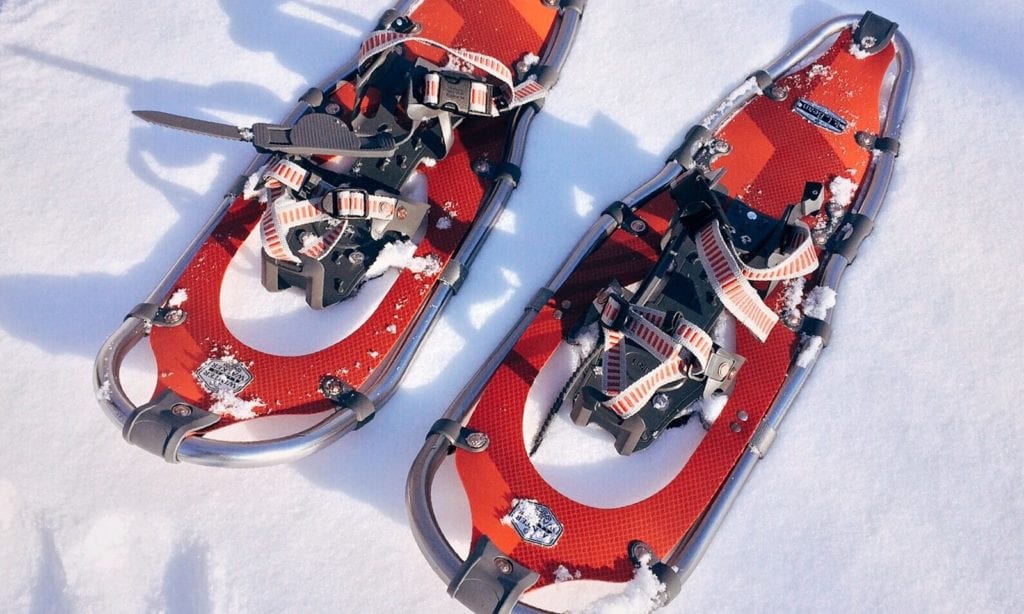 Introduction
When you are considering what type of snowshoe (click for main review) you need you will consider the traction offered by the shoe, this directly relates to the kind of snowshoeing you will be doing, whether it be over rolling terrain, flat terrain or for mountaineering. If you select the wrong type of snowshoe you will find that it does not offer you what you need when out and about on snowy landscapes.
How to Measure Snowshoes?
When you measure a snowshoe it can be a little confusion as the different brands of snowshoes offer different lengths. Add to that some brands offer two or three different sizes or lengths of which some may overlap. Finding the appropriate length and size for you is actually rather easy though. The size of the snowshoe will be determined by the weight of the person who wants to use it.
In general terms, a lightweight person will need a smaller or shorter snowshoe than a heavier person. Women generally have smaller snowshoes than men because they weigh less. Many manufacturers have different shoes for the different genders, however, some have non-gender specific snowshoes that are based purely on weight. An adult who weighs in at about 80 to 160 pounds will generally need a shoe that is approximately 23″ in length.
This size is usually only reserved for women's models, however, there are some exceptions to this rule as there are some men who weigh about the same. Men and women who weigh between 120 – 200 pounds will require a snowshoe that measures around 27″ and this is the most common size of snowshoe with the norm being between 25 – 27″ in length.
For those that weigh a little more than this, there are the 30″ shoes for the 160-260 pound category and the 3-36″ shoes for those that weigh from 180 pounds and up.  The larger the shoe the more important the flotation device. This is so that the snowshoe will not gather up a lot of snow as you walk and not be able to discard the snow, the flotation device aids in this and it also helps to reduce the fatigue that is often experienced when using your snowshoes.
There is often an overlap in sizes between the different snowshoes, however, you should choose the one that is closest to your needs. If you fall at the very end of the weight category of shoe, it would probably be best to get one size up. It is also important to remember that if you are going to be backpacking, then you should take the weight of your backpack into consideration when selecting the right size and length of the snowshoe you need.
In fact, the weight of your backpack may even push you into a higher category and you may need to get a larger shoe to accommodate it. The great thing about snowshoes is that their bindings are generally one size fits all. So even if you wear a smaller or larger shoe it will not make a difference to the snowshoe you will be using.
The whole sizing of the shoe is based on weight alone, not only yours but also any backpack or other paraphernalia you will be taking along with you. So when you go out to choose your shoe, weigh yourself with your packed backpack to ensure you get the right weight category. Also be sure to select the shoe that is apt for the type of terrain you will be snowshoeing on.
What Snowshoes for a Woman?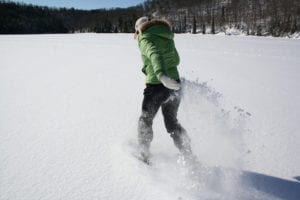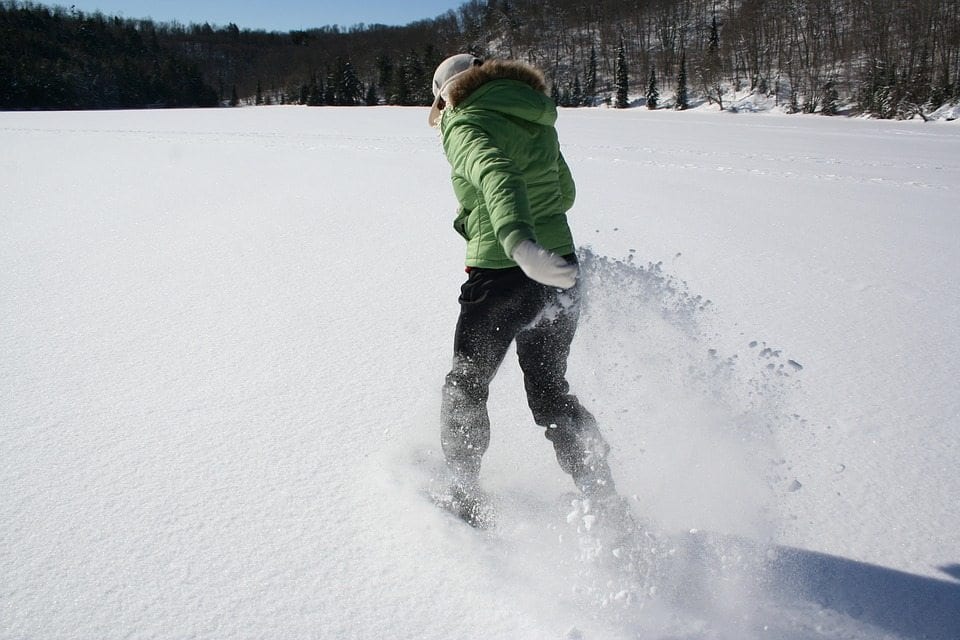 When selecting a snowshoe for women you will look for a lightweight snowshoe that is easy for them to walk in. Choosing a shoe with a very lightweight frame made from aluminum is perfect for women. Women's snowshoes are designed with narrower feet and a shorter stride in mind and they cater for this with the length and width of the snowshoe.
Petite women, in particular, should consider shopping for women's snowshoes in order to enable them to get the right fit to be able to be comfortable in their snowshoes and not get fatigued when hiking through the snow. There is no hard and fast rule here.
Men and women can wear the same shoe as the premise is the same, however, snowshoes that are specifically designed for women will most likely be easier to walk in as they are designed to cater for the smaller strides women take. Many snowshoe companies do have non-gender specific shoes to choose from though.
What Snowshoes for Kids?
Kids require a smaller design snowshoe that will cater for their weight and stride, if you get the larger snowshoe you might find that they struggle with it and it could put them off snowshoeing. They will require a snowshoe that is not difficult for them to walk in, and as they are generally lighter they can get a snowshoe that is not as wide or long as adults to allow them to almost walk normally in the shoes. It is doubtful that a child will go mountaineering so the regular flat terrain snowshoes that are very reasonably priced will suffice.
Bindings on snowshoes are usually one size fits all so finding a pair of snowshoes for your kids does not have to involve you trying to find a size that will secure their foot in the shoe properly. The weight of your child will be the deciding factor when selecting the right shoe, and the bindings will grow with the child until they require a large size shoe due to their weight change.
It is best to buy a pair of snowshoes that is not very expensive when choosing one for your child as kids tend to grow pretty fast and you might find yourself having to purchase a new snowshoe every year. If you are on holiday only once a year and that is when you are going to be using the snowshoe, then you should consider renting a pair for your child for the period that you will be on holiday, as it will probably work out that you will have to buy them a new one each year due to their weight changes and speed they grow at.
Conclusion
Choosing the right size and fit of the snowshoe is important. If you select the wrong one, you could find yourself stuck in the snow as you sink in. Getting the right one for your gender, weight, and size is easy if you follow the manufacturer's guide. Bindings are generally one size fits all to make life a little easier.
Often it is best to rent before you buy, both for adults to get an idea of what type of shoe suites them, and for children as they grow very fast and their shoes will change as their weight changes.