What are the Different Kinds of Snowshoes?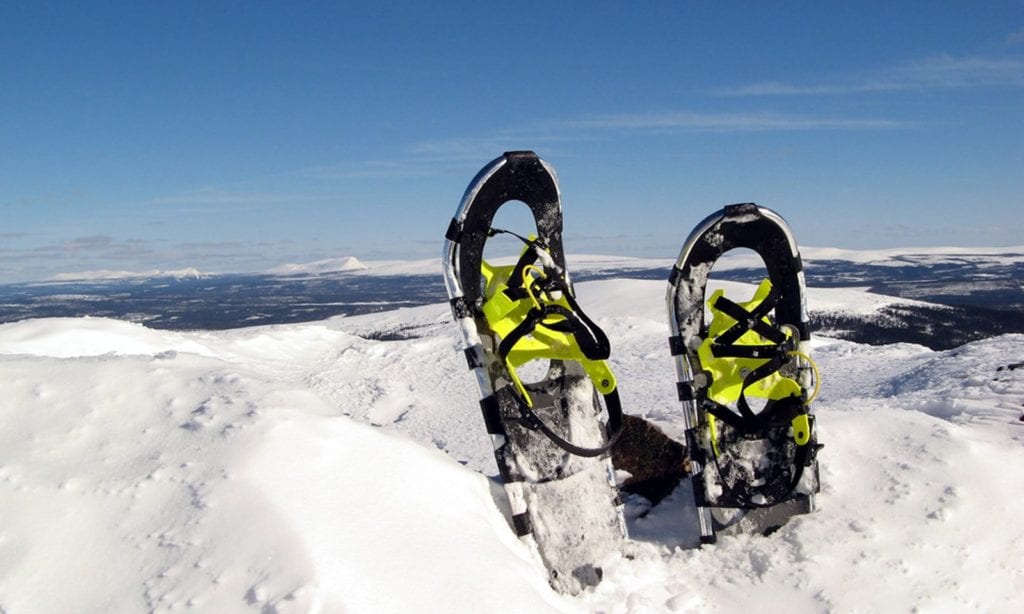 Introduction
Depending on the type of walking, running or climbing you are going to be doing in the snow, you will need to select the right snowshoe to aid you in traversing the snowy landscape. The type of binding, traction, and stability you get out of the different kinds of snowshoes will determine what kind of terrain you will be able to take on. For our review of the top snowshoes click here.
What do boa Binding Snow Shoes Do?
Boa binding is named as such from boa technology. This is a very simple way to attach your snowshoes and is quick to put on and take off. All you have to do in order to tighten the binding when using the Boa type binding is to twist a knob. You will tighten the web over the front and then and then tighten the heel. This type of binding is very common in the smaller snowshoes.
This is a very innovative style of binding and is very high tech. When you twist the knob, a cable will tighten evenly throughout the binding on of the shoe. From toe to heel is then secured to your foot. The binding is also very quick and easy to release and is one of the most popular styles of binding and the most user-friendly. Tubbs Flex snowshoes use this type of binding to great effect for both their men's and women's snowshoes.
What is a Rolling Terrain Snowshoe?
Rolling terrain snowshoes are perfect for hikers and backpackers. These snowshoes are designed to be used on most terrains except for the very steep slopes and in icy conditions. They are perfect for those who like to hike the backcountry and get off the regular trails. Also great for when you are tackling the steep terrain. These types of snowshoes offer you a lot sturdier strapping or binding than your regular recreational snowshoes will provide.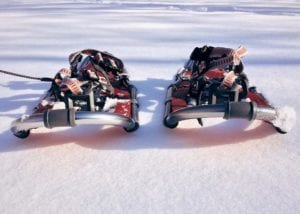 This is required when you are going to be doing a lot more backcountry snowshoeing as you do not know what type of terrain you might encounter, from steep slopes to flat crossings. The crampons on these types of snowshoes are also a lot more aggressive. The traction or crampons are designed to be able to cope with thicker and heavier snow and not just your regular trails.
This is to ensure that you can cope with any kind of landscape you may encounter when snowshoeing. Another aspect of the rolling terrain shoe is that they also offer you the benefit of the modular tail and very secure bindings. This is because often if you are backcountry snowshoeing, you might be in areas where help is not close at hand and you need a shoe that can cope no matter how harsh the terrain becomes.
You can use this type of snowshoe as a beginner as they are not difficult to master, however, it is best to get used to snowshoes with an entry level pair before you move onto the rolling terrain snowshoes what is the next level up, but not as advanced as the mountaineering boots which are meant for those who take snowshoeing to the next level.
Is Weight Important for Snow Shoes?
Weight is vital for snowshoes. Not the weight of the snowshoe itself, although that is also important as you do not want your foot to be weighed down by the snowshoe you are wearing, and of course it needs to be able to rest lightly on the snow to keep you from sinking. The weight factor when it comes to snowshoes comes in when you consider how much the person who is going to be using the snowshoe weighs.
In other words, if you weigh are a heavier person you will need a different size snowshoe than a lighter person. This is because the snowshoe is designed to distribute the weight of the snowshoer, and this is what prevents you from sinking into the snow, especially when walking on powdery and soft snow. So if you are a heavier person you will need a snowshoe with a wider frame and deck.
A person weighing 200 pounds cannot use a snowshoe that is designed for the lighter person as the snowshoe will not offer them the kind of flotation they need to stop them from sinking into the snow.  Generally speaking, if you weight about 80-160 pounds you will require a 21-23″ snowshoe and a 1080-300+ person will require a 35-36″ snowshoe. Most of the snowshoes on the market will state what weight they are suitable for and it would be best to follow the guidance given by the manufacturer in this regard.
Conclusion
Having right snowshoe to suit not only the terrain you are going to be traversing but also your weight and size is important if you want to explore the snowy landscapes of winter. If you select the wrong shoe you could end up getting stuck when you sink into the snow, or finding that your shoe does not stay on your foot as you struggle through deep drifts.