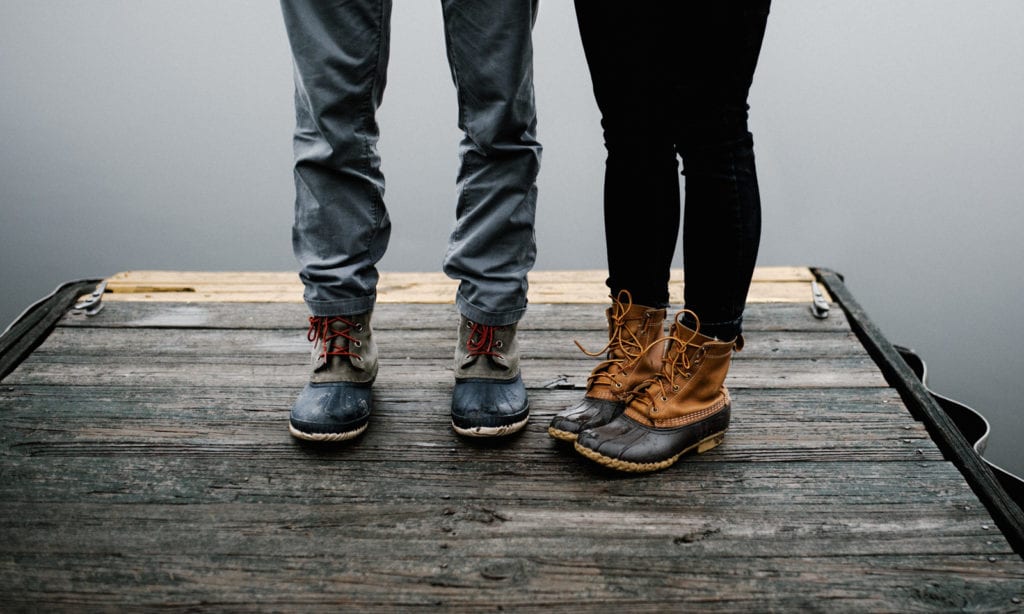 Every type of boot fits a certain situation, and tracking down the perfect shoes for your hobby or job can be difficult if you aren't sure how to identify them by name. It is quite likely that many people are looking for duck boots, but can't actually identify what a duck boot would be unless they had a visual aid. Not only are they a fantastic option for all kinds of poor-weather travel, but they are also a comfortable choice compared to some of the rougher, tougher boots out there.
But why are duck boots so special, and what are duck boots anyway? If you are interested in learning more, here is everything you will want to know about duck boots and how they can keep your feet warm, safe, and stable.
About Duck Boots
So, what are duck boots, exactly? Invented by Leon Leonwood Bean, future founder of L.L. Bean, they were initially an attempt to create boots that could keep your feet dry after hunting trips. After struggling to get his feet dry in wet weather, he combined two existing boots together, creating the original duck boots: the rubber sole of work boots and the leather body of casual boots. The first pair of duck boots were created from these two existing boots, and the same basic design is still used to this day.
The rubber sole could provide better protection from rough surfaces and weather-related problems, while the upper's leather made them flexible and much more comfortable to wear for longer periods of time. Even today, the basic idea of a duck boot has remained more or less the same, and dozens of brands have worked on creating their own version. L.L. Bean is also still in business, producing a lot of L.L. Bean boots that aren't just limited to duck boots.
What is the Purpose of Duck Boots?
Like a lot of boots, it can sometimes be difficult to tell what you are getting until you try them on. There are plenty of boots – including other L.L. Bean boots – that do similar things to duck boots, and you might find yourself wondering what makes them different from the other options. What can duck boots do that other leather shoes can't?
These boots are specifically designed with leather upper sections and rubber soles that make them waterproof, keeping you far more comfortable while you are wearing them in wet conditions. This could be standard rain, hiking in muddy hills, or while you take a walk in snowy winter streets: no matter where you are, duck boots aim to avoid wet feet and keep you warm and dry, but without the limited movement of many other waterproof boot types. Many of them are built to be comfortable when you are simply walking down a dry street, too, letting them double as regular shoes.
Individual companies and shoe types are going to offer different things, of course, and these vary depending on the duck boots. Some are more focused on keeping your feet warm, while others will want to be as water-resistant as possible. Whether they are marketed as duck boots, 'duckies boots,' 'ducks boots,' or 'duckie boots,' you can usually find shoes that suit your needs with a little bit of time and effort.
What are Duck Boots good for in Hiking?
What are duck boots when it comes to hiking? Unlike normal boots that are often designed for a single purpose at a time, duck boots are a more general option that can cover a range of different situations and requirements at once. That doesn't mean that they are all the same, of course, so each pair of duck boots can be slightly different in terms of the exact materials they offer or the way that they handle certain weather conditions. Finding the right pair makes all the difference.
Hiking involves dealing with varied terrain, so what are duck boots going to offer hikers? It is important to remember that hiking often involves one of three shoe types: lightweight hiking shoes, sturdier middle ground shoes, and full-sized hiking boots. Duck boots mostly fit somewhere between the second and third type, since they use a comfortable but durable leather upper (often full-grain leather) and reliable soles to provide a good balance of movement and protection.
The water-resistant element of most duck boots means that they are much more comfortable to wear during difficult weather conditions, making hiking in rain or snow much simpler. The soles are often designed to provide a good level of traction and stability at all times, helping you get over rough ground or difficult slopes in the same way that many hiking shoes are able to. This, combined with the fact that they are often designed to be lighter and far more comfortable in general, can make them one of the most desirable options for the typical casual hiker.
The full-grain leather upper sections used in most duck boots – or at least most duck boots designed for hiking – gives each one far more durability and strength. Difficult hikes become much easier when the hikers can stay physically protected, and this also reduces the chance of the shoes breaking down or falling apart due to poor weather conditions. Even when you aren't wearing them on a hike, better durability is rarely a bad thing, and it can make them last longer without needing repairs.
Others might use split-grain leather or slightly less durable types, but all that does in practical terms is reduce the amount of strength they can offer. This isn't necessarily a bad thing, since it can also make them more flexible and slightly easier to wear outside of a hiking environment. If you aren't much of a hiker, and mostly take hikes around flatter areas where there isn't much risk of your shoes taking a beating, duck boots that don't use full-grain leather are entirely viable and generally quite popular with both men and women.
What are Duck Boots Good for in the Snow?
What are duck boots supposed to do in cold weather? While many boots are designed to handle poor conditions and chills, duck boots are often a good choice for people who want leather footwear that can keep their feet warm. After all, what are duck boots made from? Work boots, a durable option that provides good protection from whatever might get in the way of a worker's routine. As such, many of them have designs that include insulation and other heat-managing features, both in the leather and in the rubber soles.
Something that many people forget is the way that insulated boots work. Duck boots, and L.L. Bean boots, in general, don't need to have a specific design to be insulated. Many of them simply have extra insulation and padding inside, as well as some small changes to the shape of the boots as a whole. Because of this, insulated duck boots aren't that hard to track down, whether you are getting them from the L.L. Duck boots company or another business entirely.
Good water resistance also means good snow resistance, but what are duck boots capable of doing when it snows? Since they are water-resistant and generally designed with a comfortable lining that can keep your feet warm, they treat water in the same way that they treat snow. This means that there won't be any part of the boots that allow snow to sneak in, and the outer design can help manage heat in a way that ensures the user's feet are always moderately warm.
What are Duck Boots Good for in Warm Weather?
We know that duck boots are great for keeping your feet warm and safe on hikes, but what are duck boots useful for in warm conditions? To answer this, you need to remember that 'what are duck boots?' doesn't have a single answer – there is a huge variety of duck boots available in the modern-day, and no two pairs are exactly the same. Because of this, many of them are well-designed when it comes to warm weather. Some of them might even be built specifically to help your feet cool down during hikes or long walks, making use of more ventilated materials or a different rubber sole to help manage your current condition.
Remember that warm weather can still be wet. It is easy to think 'what are duck boots doing here?' when looking at summer shoes, but they can still be extremely useful, especially in humid, water-filled places such as ponds or lakes. The rubber soles are also meant to help you stay dry when walking on set surfaces, so puddles and tiny streams won't be a problem for the average person wearing duck boots.
Are Sperry Duck Boots Worth It?
What are duck boots by Sperry like? Sperry is one of the more notable sellers of the duck boot style in recent years, and it has expanded to cover a variety of styles. However, their newest duck boot – the Cold Bay duck boots – have retained a classic look. As one of the popular options, it is a good idea to understand what Sperry can offer and whether or not they are worth using.
Using the Cold Bay series as an example, the duck boot uses full-grain uppers that are both stain and water-resistant, as well as an EVA shell in place of a normal rubber base. The built-in Thinsulate insulation offers increased warmth and temperature management, while the sole is focused on providing the highest possible level of grip.
This makes them very popular with hikers in cold or wet areas, especially thanks to the insulation. As expected, they have all rights reserved on their specific designs, so you might not find them anywhere else.
What are Duck Boots Bad At?
Duck boots still have limits, and there are two main reasons why they can struggle in certain situations. If you are interested in buying them, it helps to know what they might not be best at doing, especially if it could put you in danger during a difficult hike or tough climb.
Traction
What are duck boots good for? While many people say they are the perfect hiking boot, some designs can still fail to give you a huge amount of traction. This is mostly due to the rubber sole that a particular style uses, but in other cases, it can result in the duck boots being unable to properly grip onto surfaces. Older L.L. Bean boots had this problem, since they were mainly aimed at casual walking, although recent duck boot designs are rectifying this problem a little bit.
If you are going to wear duck boots on a hike, remember to look for maximum support and traction. Keep in mind that some designs will have reduced traction in general if they get wet or muddy, which can make them less effective than you first expect once you are partway through a difficult hike in bad weather.
Breathability
What are duck boots generally known for? Again, hiking. Because of this, they have the usual features that a hiker would need to stay comfortable, and the most notable one is waterproofing. However, the combination of a thick sole, solid materials, and rain-resistant lining can make it hard for your feet to breathe inside duck boots, which can be made even more important than usual during humid weather. If you aren't careful, a duck boot can give you blisters or foot pain, and there isn't always a way to prevent this.
This is a problem that many hiking boots have and isn't exclusive to duck boots. Many older L.L. Bean boots have this issue, but it can be a necessary drawback if you are getting a really thick rubber sole and materials that can stand up to poor weather properly. You may even find that this lack of breathability isn't an issue depending on your other hiking gear, and you can always find alternatives that use a new design to help your ankle and foot breathe properly without exposing them to the elements during your walks.