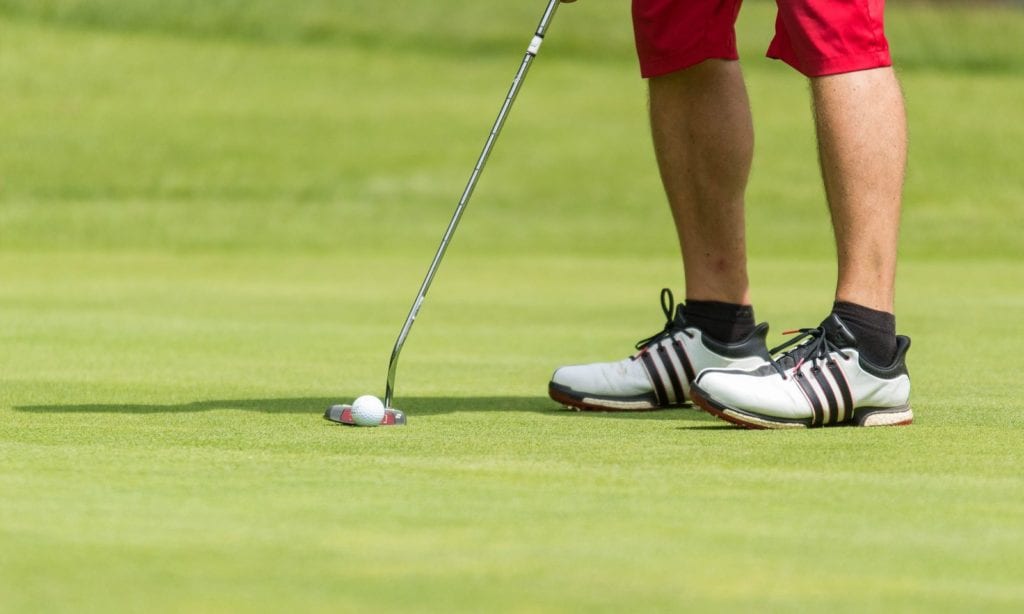 I'm sure you've heard that a good pair of golf shoes is essential if you really want to enjoy the time you spend on the golf course. And there's a good reason for this. They provide the support, traction, stability, and comfort that you need when tackling 18 holes on your favorite golf course. To understand what a golf shoe is and how it can affect your game, let's take a look at the history of these athletic shoes and why they're so popular among golfers today.
History of the Golf Shoe
The idea of golf shoes isn't anything new. In fact, they were first created over 150 years ago. Even golfers back then realized that they needed a way to maintain a solid grip on the grass when swinging their club. To achieve this, they ran small nails through the soles of traditional shoes, creating cleats. While these early golf shoes ensured that they could maintain a decent grip on wet turf, they also were pretty uncomfortable and often injured the wearer.
That's not to mention what a nightmare there shoes were for the greenskeeper when the nails tore the grass to shreds. By 1891, the first true golf shoes were manufactured, featuring spikes that could be screwed into the bottom of the outsoles.
They were quickly embraced by golfers everywhere though, at first, many country clubs tried banning them since they were tearing their golf course apart. Since then numerous designs and changes were made such as the introduction of the saddle oxford, which became the traditional style of golf shoe for the past 100 years.
Golf Shoes Today
Today, golf shoe manufacturers pour tons of money into research and development, ensuring that their shoes will help you walk the course in optimal comfort while assisting you to play a better round of golf. These shoes are designed with various factors in mind such as the comfort and support of the insole, durability and breathability of the upper, and durability and turf-gripping ability of the outsole.
In addition, many golf shoes are designed with water-resistant or waterproof materials, allowing your feet to stay warm and dry even when golfing in the rain or in damp grass. Even more recently, the golf shoe industry has evolved, offering a wider-variety of options that are appealing to a broader group.
While traditional golf shoes were once the norm, golfers can now choose spikeless shoes that feature rubber grips on the sole as well as several different aesthetic styles such as modern athletic-looking golf shoes and lightweight models that resemble running sneakers.
Whichever style golf shoe a golfer chooses, the end result is that they can walk the course for hours in comfort while enjoying the support and traction that the game requires. Let's take a look at how golf shoes can affect your game.
Can Golf Shoes Affect Your Swing?
Golf shoe manufacturers design their athletic footwear to meet the needs of golfers. While many beginners wear whatever shoes they have in the closet when they first start out, purchasing a quality pair of golf shoes will reduce the risk of injury and increase your enjoyment by keeping you more comfortable. But what you're really interested in is whether or not golf shoes can affect your swing.
In a word-yes! In fact, studies have shown that wearing the right pair of golf shoes can add an average of 3 to 4mph to your swing.  Let's take a look at how these shoes can actually boost your game. Golf shoes provide three main benefits that, when put together, can benefit your swing-stability, support, and comfort. One of the main benefits of golf shoes is that they provide the stability you need to focus on your swing and get the most out of it.
Their rubber soles provide a wide power base and feature spikes or rubber grips that prevent you from losing swing power by eliminating the risk of slipping on the grass during your downswing. They also deliver optimum support by having solid arch support, extra padding around the midfoot, and shock absorption in the insole. The support of the midfoot is especially critical when you're driving the ball since you end your stroke on the balls of your feet.
By taking the body mechanics of golfers into consideration, golf shoes allow your body to deliver the range of motion needed to get the most out of your swing with less effort and pain. The final way golf shoes can improve your swing is by making you more comfortable. If your feet hurt or are wet and cold, you're simply not going to be performing to the best of your ability.
But manufacturers have made sure that their golf shoes deliver superior comfort by using flexible, breathable materials such as synthetic fibers like Gore-Tex or natural leather. These waterproof, breathable materials will keep your feet warm and dry on cold, damp days and cool and comfortable during the warmer months.
Anything that can help make your time on the golf course more comfortable while also improving your performance is certainly a worthwhile investment, which is why every serious golfer has a pair. But if you're wondering what kind of golf shoe you should buy, let's see what's popular among the pros.
What Golf Shoes Do the Pros Wear?
While there once was a time when every pro on the PGA Tour was wearing a traditional saddle-style golf shoe, times have changed and there are now tons of options out there. Today, you'll find pro golfers wearing traditional metal-spiked shoes, soft-spiked athletic shoes, and even spikeless golf sneakers which closely resemble running shoes. But when you look at what the pros are wearing, there are some brands that come up pretty consistently.
Ecco is known for how they redefined style by making their golf shoes look more athletic. Their shoes often can be confused with tennis shoes but that doesn't mean that they're not one of the best brands out there today. Which is why you'll find them on Freddie Couples' feet when he's on tour. And if you're looking for optimum comfort that will allow you to truly feel the terrain beneath your feet before you take your swing, then True Linkswear is a brand that you should check out.
Putting on a pair of their golf shoes is like walking across the golf course in your bare feet, which might be why consistent winners like Ryan Moore can be found wearing this brand. Another staple on the circuit is FootJoy. While they were once the #1 brand out there, they've seen some pretty stiff competition out there as golf shoe technology has evolved.
But their shoes deliver the support, comfort, style, and grip that most pros crave, which is why they're still widely considered the best shoes in golf and can be seen on the feet of many of the most successful pros. Want to follow in the footsteps of the #1 golfer in the world?
Then just follow the example of Dustin Johnson and purchase a pair of Adidas golf shoes. He's been wearing the Adidas Tour360 since the day he turned pro and is wearing them every time he steps into the Winner's Circle.
What Kind of Golf Shoes Does Phil Mickelson Wear?
When golf enthusiasts think of style, World Golf Hall of Famer Phil Mickelson often comes to mind. His knack for wearing expensive exotic skin shoes and matching belts seemed to gain him as much attention as his 42 wins on the PGA tour. But if you're looking to emulate Phil Mickelson's style, you're in luck because he's recently ditched his trademark exotic shoes for one of the best brands out there-G/FORE.
Mickelson started wearing the amazingly comfortable but classic-looking G/FORE Gallavanter last year. These stylish golf shoes offer a snug athletic fit, a light weight, shock-absorbing sole, and contoured footbed for enhanced comfort. Plus, since these spikeless shoes are incredibly stylish, you can wear them on the course, in the clubhouse, or on the streets.
The great thing about golf shoes is that they are truly performance-enhancing footwear that helps serious golfers stay comfortable while performing at their true potential. And with more options than ever available, finding the pair that's perfect for you has never been easier.