What is a Wrestling Shoe?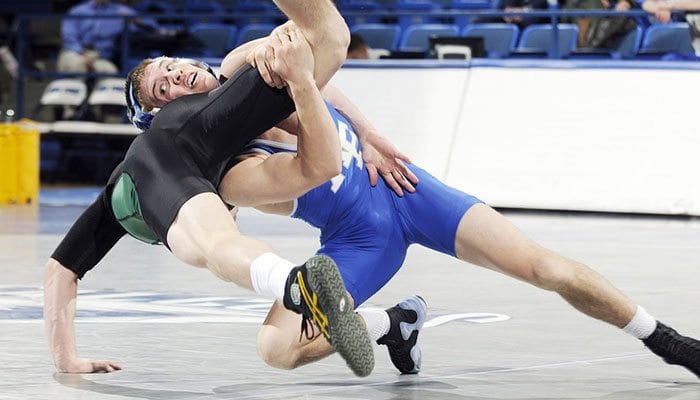 Wrestlers spend most of a match on the ground grappling and clinching their opponents. The secret to a powerful grappling stance lies in the traction of the wrestler's feet against the wrestling mat. A wrestler should be able to push against his opponent, using his feet to gain ground during a grappling sequence.
What is a Wrestling Shoe?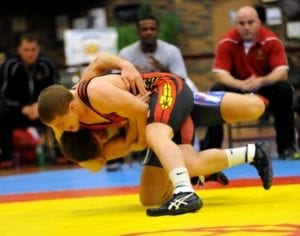 A wrestling shoe is foot wear that is designed to provide a wrestler with the necessary traction needed for this close combat sport. Wrestlers use their legs and feet for traction throughout a match.
Wrestling shoes have a specialised rubber sole which provides the wrestler with more traction against the canvas wrestling mat and opponent. Some brands have added small studs to the soles to provide even better traction during a match.
The high tops of wrestling shoes are designed to give the ankles more support and help to keep the whole shoe in place during the entire match.The sole is designed to look and feel like a wrestlers feet which means that there is almost no support in the thin rubber soul. The support comes from the way the shoe fits around the foot.
A tight fit is the most important feature of a good wrestling shoe. The shoe should fit as snug as possible without pinching the wrestlers skin or squeezing the toes. The type of material is crucial to the health of a wrestler's foot and should be considered when purchasing a pair of quality shoes. Full leather wrestling shoes will provide maximum support with little to no air circulation.
This is not good news for sweaty feet since bacteria and fungi absolutely adore damp environments. If you are prone to hot, sweaty feet then you should consider shoes with mesh material to allow for better air circulation and overall foot health.
Do you have to wear Socks with Wrestling Shoes?
This is a personal preference and will not enhance or diminish the athletic prowess of the wrestler. There are however a few points to remember if you should choose to wear socks with your wrestling shoes. Always use cotton socks and never nylon material socks. This is because nylon will cause you to sweat even more than you would with cotton socks.
Cotton is also more breathable than nylon, which means there is less chance of bacteria and fungi developing when wearing the shoes and socks for an extended amount of time. Invest in good quality socks that will not only protect your feet but the inner material of wrestling shoe as well. Cheaper socks can cause chaffing because your feet will be sweaty and damp, a poor quality sock can leach colour, staining the inside of your shoe.
When you are shopping for a pair of wrestling shoes, it would be a great idea to try the shoes on while wearing the same socks you plan to use in conjunction with the wrestling shoes. If you do not do this, you will find that your shoes might be too tight with the added sock layer. Always use snug fitting socks with your wrestling shoes. A sock that is too tight or too loose can cause discomfort and damage to your skin.
The most important aspect regarding socks and wrestling shoes is that they have to be washed on a very regular basis. You might be averse to washing your so called "lucky socks" but keep in mind that they are a breeding ground for bacteria and fungi. Foot and toenail fungal infections are highly contagious conditions and very difficult and expensive to treat. If your socks are able to stand up on their own then you know it's time to wash them.
Are Wrestling Shoes Supposed to be Tight?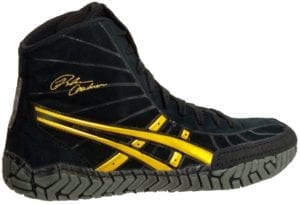 A good quality wrestling shoe needs to fit snugly onto your foot. These shoes are designed to mimic the shape of your foot and angle to allow the best mobility and traction during grappling. Wrestling shoes should be tight but comfortable. They should not hamper the blood flow to your feet or cause pins and needles sensation in your toes.
If you choose to wear socks with your wrestling shoes, we recommend trying the shoes on with socks to avoid purchasing a pair that are too tight. The higher top of a wrestling shoe is designed to give the ankles extra support. A shoe that is too loose on the foot will not give the ankle any support and might lead to injury.
An ill fitting shoe can easily distract a wrestler during a match and loose fitting shoes will cause friction which can lead to skin chaffing and blisters. Wrestling shoes will not necessarily be the same size as your regular running shoes and keep in mind that each sports brand will differ in size and style.
Children who have not yet reached their growth potential should leave at least a thumb finger space between the toes and front of the shoe. This will allow for some growing space until a bigger size needs to be purchased.
What Shoe Brand Makes Wrestling Shoes?
Asics is a trusted brand name in the sports industry and a favourite with athletes of every kind. The Aggressor 2 wrestling shoe is a top notch high quality piece of foot wear. This shoe can be used for any sport where fancy footwork is a must. This shoe features a hook and loop closure, which ensures a snug fit that, will not loosen at an integral moment in the match.
The Aggressor 2 wrestling shoes give you better balance, power and speed thanks to the rubber outer sole that grips firmly to the ground. The rubber sole also makes the shoe virtually slip proof and has an upper arch support, which allows your foot to move more freely.
An ankle strap provides your ankles with extra support while imported textile material allows your feet to breath inside the shoe for extended periods of time. These shoes are unisex and the best entry level wrestling shoes on the market.
If you choose Asics as your sports shoe brand, keep in mind that they tend to manufacture slightly smaller sizes. In order to save yourself a lot of time and money, we recommend making sure you have the correct size before ordering a pair of Asics wrestling shoes.
What Features to Look for in a Wrestling Shoe?
With so many different brands and styles of wrestling shoes on the market, how does one decide which is the best? These shoes need to provide support for the ankles and feet while remaining lightweight and durable. All wrestling shoes are not designed equally so you will have to know what features to look out for. Here are our recommendations for features you should be checking for when buying a good quality wrestling shoe.
Traction focused soles are the most important feature since wrestling is all about traction. In general, all wrestling shoe soles are made from rubber, which provides excellent traction against the canvas-wrestling mat. Some shoes have studs on their soles to provide even more traction while grappling. The type of sole is also a big game changer when it comes to buying the best pair of wrestling shoes.
Split sole shoes have a split in the sole and the bottom part is made up of two rubber parts. Split soles are very comfortable because they mimic the feeling of being barefoot. These shoes allow the wrestler to be more flexible and quick footed. Professional wrestlers prefer split sole shoes because they are light weight and do not hinder the wrestler during a match.
Non split soles have a complete rubber sole from toe to heel. This type of shoe is also lightweight but does not allow for maximum flexibility of the feet. Non split soles are however more durable than split soles because of the solid rubber sole. The material from which the shoes are made is also very important. Full leather wrestling shoes are more durable and have a very snug fit.
There is little to no breathing room in these leather shoes and if you suffer from hot sweaty feet then this might not be the best option for you. Mesh shoes help the feet to breathe and stay cool because of the materials breathability. High top wrestling shoes with sturdy ankle straps are a must when it comes to choosing the best pair of wrestling shoes. The ankles are supported and less prone to injury whit a higher top wrestling shoe.
Conclusion
When it comes to choosing a pair of wrestling shoes, tighter is better. A snug fitting shoe will keep your foot and ankle supported while giving your feet freedom of movement during a match. Split sole shoes are the most comfortable because they mimic the foot's natural shape and are very flexible while non split soles are longer lasting and more durable.