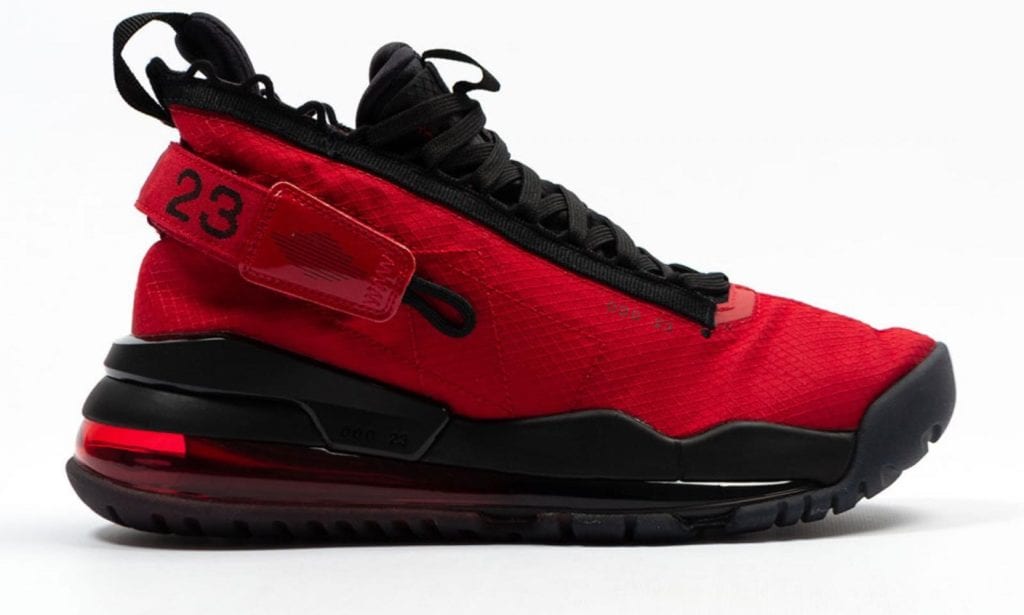 Is the 2019 Nike Jordan Proto Max 720 Still Worth It in 2021?
For a lot of people, shoes are a status symbol, and they would rather not be seen dead in older shoes. But with designs like the Jordan Proto Max 720 – which got a lot of attention and press before it even released – there is definitely a lot to like, even if it was released in 2019 and we are now entering 2021.
Whether you are just interested in a comfortable sneaker or want the full details on the exact style and color options available, the Jordan Proto Max 720 is still a very appealing option compared to most shoe products. But how well does it hold up, and what makes it so worthwhile, and is it worth the search?
What is the Jordan Proto Max 720?
The Jordan Proto Max 720 (serial code BQ6623-070) was a 2019 attempt to combine the familiar Jordan design and style with some new features and design elements, basically creating a new sneaker that kept the Jordan and Nike Air Max elements visible while standing out as a whole new product.
Sold for quite a high price on release day in early 2019, it received plenty of attention from both physical shop customers and as an online product, especially since the Jordan name was attached. Many people search for the 2019 sneaker even today, making sure to share deals and search up particular variants of the sneaker as a prized item.
How does it look?
The Jordan Proto Max 720 were designed for two different things: functionality and being able to look good while wearing them. The visual style is usually the first thing you notice, and it does not disappoint: one of the first things that most 2019 reviewers mentioned was how it looked, blending different sneaker design concepts to make something new that was still true-to-size and on-brand for the same company that produced the famous Nike Air Max line.
The mixture of color choices helps a lot, too: instead of being a single color, the 2019 Jordan Proto Max 720 has a visible yet appealing blend of different color options, and it is easy to follow the thought process behind how the upper looks. 2019 is only a couple of years away, but for a 2019 option, it holds up really well if you can search for it properly.
Is It as Good as The Air Max Line?
Is the Jordan Proto Max 720 actually worth using, or does the 2019 shoe belong back in 2019 with the same 2019 offerings that existed back then? 2019 may only be two years away, but a lot has changed since then, especially when it comes to footwear. Even so, we were still using the internet to search and share back then, so a lot of reviews from release day can still be found online.
Performance
Performance was another big focus in the 2019 reviews. It would be unfair to judge a 2019 shoe based on just how it looks, and while we can't go back to 2019, it is still easy to understand what made the Jordan Proto Max 720 so appealing to the 2019 crowd an entire two years before our current 2021 selves.
Cushioning
Good cushioning is another feature that this Jordan shoe managed to push to its full potential, according to many reviews. Not only does it fit well, but the comfort of the midsole and the improved heel straps means a higher level of comfort regardless of who you are.
Of course, you still want to wear the right size for your own foot size, especially if you plan on using the sneaker for something like basketball. The wrong size will cause more problems than you might expect.
Availability
One of the hardest parts about finding old shoes is having to explore around to find them, but thankfully, 2019 was not that far away. You will still see the original 2019 design all over the place, and Nike Inc. has not stopped producing that original 2019 design either. Anywhere that sells Nike Inc. Jordan products can carry the shoe.
While some people will say that the Jordan Proto Max 720 was only a men's shoe, it has become a popular choice for women to select as well, which may be a sign of the Nike Inc. Jordan brand turning out well regardless of who wears them.
Grip and Traction
A lot of reviews from 2019 praised the excellent traction offered by the Jordan Proto Max 720, something that made it much easier for 2019 basketball tournament players to get the edge they needed. Even for people who did not follow sports in 2019, the original 2019 release of the Jordan Proto Max 720 was great for people looking for improved grip and stability.
Uniqueness
For a lot of people, this new shoe boasted the same rubber outsole they were used to but improved. That was more than enough to make the Jordan Proto Max 720 well-liked the moment it was released. It was a unique Nike Air Max that did something different but also did not strip away the Nike Inc. features we had come to expect.
The Brand Name
The Air Max run is beloved by many even in 2021, and that love was still strong in 2019. The entire Air Max line received a lot of attention and has continued to get new products that close all kinds of unfilled niches, so you can expect a potential modern re-creation of the Jordan Proto Max 720 as a new Air Max sometime later in the line's lifespan.
Durability
The Jordan Proto Max 720 was said to be very durable for its time, and if you wear it today, it still feels that way. There is more might behind kicks or stomps, and you do not see as much wear and tear, even in 2019 examples of the shoe that have been used all the way from 2019 to 2021. Material and strap replacements might still be a good idea if you find one of the original 2019 Jordan Proto Max 720 pairs, but as a "unit," the shoe provides good results.
Impact Resistance
Jordan Proto Max 720 offered good impact handling for a 2019 shoe, and it can still outclass many 2021 shoes, including other Nike offerings. A great outsole helps, but being able to absorb and shrug off shocks makes close calls or sudden slips far less risky. The heel is also good, which makes more of a difference than you would think, considering that basically, every movement involves your heel in some way.
Closure
As sneakers, the Jordan Proto Max 720 can close up exactly how you would expect. The simple strap close system means that you are not fiddling with some complicated tightening system, and it also allows the tongue to properly fit when you close up the shoe itself. Even then, when you close up the laces, you can just loosen them again whenever you need to.
Weight
The Jordan Proto Max 720 is lightweight even by 2021 standards, where most items have more lightweight materials available to make flight from one stance to another much easier. They were even described as a "flight suit for your feet," and that description is not wrong: the low weight may not allow actual flight, but it definitely allows plenty of freeform movement for the men and women that used them.
How Can I Find The Jordan Proto Max 720?
The Jordan Proto Max 720 may be a 2019 sneaker, but it gets featured very often in many United Kingdom and United States stores. Online, it is not hard to search for the top results to see where the Jordan sneaker is being sold, and it usually remains very visible in any search for generic Jordan sneaker options. On top of that, the brand name attached to the sneaker makes people very likely to share where they got their own from.
Should I Look Online?
The sneaker is only from 2019, and the brand is well-known, so an online search is your best bet. A search makes it easier to specify things you would be interested in finding, such as a full red upper, instead of having to search physical stores. 2019 is only two years ago, so the internet search was not a new thing, and the brand has embraced the 2021 online market well.
You should not have to search very far for the 2019 sneaker because it is just a sneaker from 2019 at the end of the day.
Should I Buy It?
The 2019 sneaker is visible, top-quality, and full of great design decisions. Being attached to such a major brand does not hurt, either, and many people would probably see red if they could not buy the sneaker that they wanted. Since the brand is still creating more and more of the sneaker models with only minimal changes.
If you support the brand, then do not be afraid to indulge in a Nike-brand (and Jordan-brand) sneaker like this. There are far worse options you could buy under the same brand, and at least with this sneaker, you receive full quality and a very visible style that has not changed since 2019.
Sources