10 Best Gym Shoes in 2021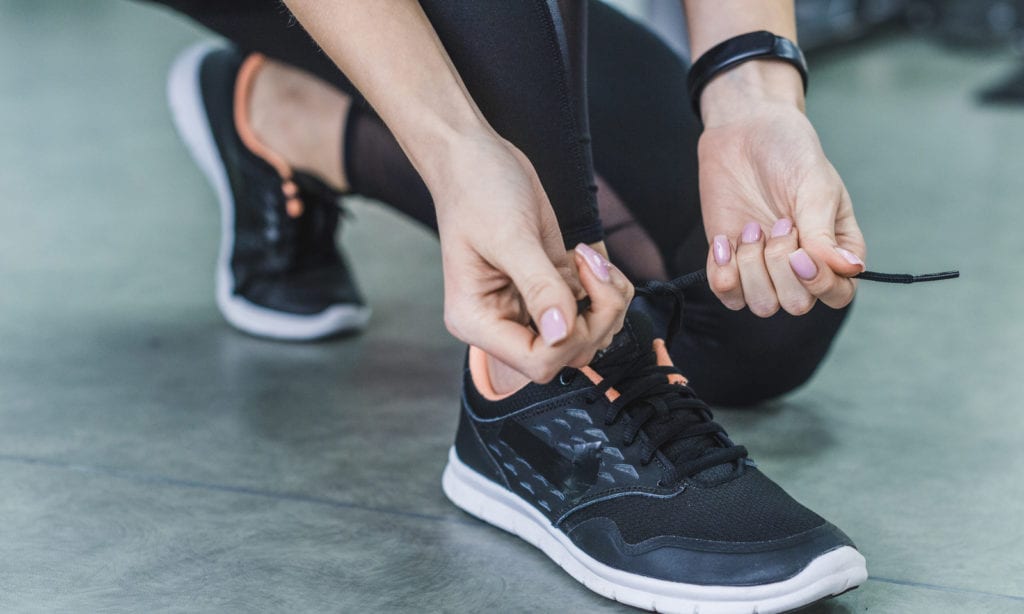 Good gym shoes are not hard to find. However, with so much choice out there it can be overwhelming and confusing when deciding which gym shoe suits the type of workout you want. Not only this but which gym shoe suits your individual foot. There are so many different types of shoe, and we are all built differently with different shaped feet, that it can be like a minefield when it comes to selecting the perfect shoe.
Thankfully, below is a compiled review and guide to which shoes do what and how they do it, and also, what you should be looking out for when making the all-important decisions about your shoe purchase. Now onto the actual products that have made the top ten list to be reviewed. They all cover a variety of different exercise activities and are all great options for your next gym shoe purchase.
Related: Training shoes for CrossFit.
View the Best Gym Shoes, Below.
1. New Balance Men's Mx623v3 Training Shoe
The New Balance Mx623v3 Training shoe for men is of a sturdy design, made entirely of leather and suede with high arch ankle support and added support in the form of laces. It has a soft insole which means that your feet will be doubly comfortable as they are supported inside and out. The sole is thick and made with rubber that offers a shock impact feature so that you can train hard and not worry about causing your feet or ankles or calves for that matter, any damage.
It comes in one style, which may not be to everyone's taste, but nonetheless is still well designed and looks classy. It has the added bonus of being waterproof, should you ever need to train in the wet weather.
This is a well designed, top quality shoe being sold at a very fair price. It offers comfort but also a high level of support for your feet during training and is durable as well.
Check Price on Amazon ➞
2. KONHILL Women's Sneakers
The KONHILL women's sneaker is a multi-purpose gym shoe that will support your feet in a variety of different gym type activities from cross training to tennis. It has a standard sneaker design, so you know that it's one you can trust to support your feet properly without causing them aches and pains and discomfort. They also come in a few different designs which is good if you are looking for a shoe that is a bit more bespoke to you.
Alongside this, they are made from an anti-bacterial and breathable material which means less sweating, less odor, and a lot less discomfort while exercising. They are also lightweight but offer a good level of support owing to their strong rubber sole, laces, and high back.
KONHILL have a variety of good gym shoes in their range, and this one is no exception. It is a great price, well designed and nice to look at. It has the added bonuses of being very lightweight and comfortable as well.
Check Price on Amazon ➞
3. Nike Men's Lunar Fingertrap Cross Trainer
Nike Men's Lunar Fingertrap Cross Trainer is a good shoe for gym goers. It is cleverly designed to be breathable, lightweight, odor repelling and supportive all at the same time. This is owing to the material used and strong rubber sole. It has a good and decent supportive lace and high arch back to support the ankle properly while exercising. This shoe has the added bonus of being none marking, in that it will not mark the floor that you are training on which can be embarrassing, if it is not your own to mark. It is almost memory foam as it fits perfectly, like a glove as the saying goes, but in this case a shoe for your foot.
Nike is a trusted brand that has been providing top quality sporting equipment and accessories for many years. This shoe ticks all the boxes and looks good while doing it. There are also a few different patterns and colors to choose from as well.
Check Price on Amazon ➞
4. ASICS Mens Gel-Venture 6 Running Shoe
ASICS Men's Gel-Venture 6 running shoe is designed for running at its core but can be used in other exercise arenas of course. It provides a high level of top quality support for your feet, ankles and everything else above which means less back pain, less muscle pain and less pain in general after exercising. It is made from the popular synthetic material that a lot of gym shoes are made from which makes it lightweight and breathable, both benefits for your feet.
It has a strong rubber sole, durable laces, and strong arch support to keep your feet healthy and happy and protect them from the shock impact that often comes with running on a variety of different terrains. It has removable sock inserts and insoles so that you can get an even better, custom fit for your foot.
Though this shoe is slightly more expensive than other models discussed in the list, it is a top quality product that is definitely worth the money. It is very durable and incredibly supportive with a good design available in a wide range of patterns and colors.
Check Price on Amazon ➞
5. PUMA Women's Tazon Cross-Trainer Shoe
Puma has to offer the Women's Tazon Cross Trainer shoe, which is of a classic PUMA design and is available in a variety of different colors and designs. It is made with comfort in mind, for those people who want to do a more substantial exercise work out for example. This is demonstrated through the breathable inside layer with a 'sock liner' to make the shoe a more bespoke fit and give it an extra boost when it comes to comfort.
It has a strong rubber sole which means it can take a good shock impact without causing any damage to your foot or ankle area. It is made from synthetic leather which means that it is durable and breathable, and your foot won't feel trapped inside it with room for air to pass in and out.
This is a well-designed shoe that can be used for a variety of different workouts. It is on the more costly side, however, it is worth it and value for the money that you will spend as it is durable and strong and supportive all in one.
Check Price on Amazon ➞
6. New Balance Women's FuelCore Nergize V1
New Balance Women's FuelCore Nergize V1 is a versatile shoe that can be used in a variety of different gym and exercise activities and arenas. It has a strong sole and strong outer layer which make it very durable, and also washable as well, which is great for a gym shoe that takes a lot of sweaty foot activity. It is designed to be extremely supportive and cushions your foot while you wear it, meaning that you won't suffer from any injury over a prolonged use and you can wear it time and time again with the same levels of comfort each time.
Not only does this shoe come in a large variety of patterns and designs, but it is also affordable, comfortable and very supportive. There is not much to find fault with, with this product.
Check Price on Amazon ➞
7. Reebok Men's CROSSFIT Nano
Reebok is a well-known sports brand and has created here an excellent option for a training shoe. It is strong and comfortable owing to its rubber sole and synthetic outer layers. The sole also includes grip features meaning that you can train on all terrains without having to worry about injury or other. It is built for high impact workouts, taking into consideration the strain on your toes and your ankles and heels through its clever design and soft insoles.
The laces and high arch allow for extra support as well, and this shoe really can be used for long periods of time without causing discomfort. It is a great option for workouts and the price, though slightly steeper than other featured gym shoes, reflects the value and brand of the product.
This is a classic shoe from Reebok which is designed with support and comfort in mind at all times. You can wear it for prolonged periods of time and not suffer from blisters or aching and overly sweaty feet, owing to the carefully selected materials.
Check Price on Amazon ➞
8. QANSI Men's Sneakers
The QUANSI sneaker for men is strong and subtle. It comes in a variety of different colors, so you are spoiled for choice when it comes to picking a shoe that will really suit your personality and what you want design wise. It is made from a breathable mesh material to ensure anti-odor qualities and that your feet do not become too sweaty and uncomfortable while they are being worn.
They are very cushioned which adds to their comfort and support of every single part of your foot from toe to heel, and even the ankle is included in this with the strong laces and high back included in the design of the shoe itself.
It is top quality and well designed. The shoe is built for comfort and maintaining a comfortable posture while exercising. Not only this but it is versatile and multi-purpose, meaning you can use it for a range of different gym or exercise activities from walking to dancing.
Check Price on Amazon ➞
9. JOOMRA Women's Wide Minimalist Shoes
This gym shoe by JOOMRA for women is made for hiking and is adaptable to all terrains and weather conditions. It Is made with a strong and durable rubber sole that offers maximum support for your feet while they are out and about on their hiking adventures. One great feature is that the shoe is waterproof so if you are a bit more adventurous than the average hiker, JOOMRA have got you covered.
It comes in a few different patterns; however, they are all quite similar and interchangeable, so there is not a great deal of variety when it comes to how the shoe actually looks. Yet the features of the shoe more than make up for that, even being made with strong traction and grip technology in order to keep you safe and protected while out and about.
This is a nicely designed shoe for hiking in all conditions. It is fully supportive of your foot so you will be comfortable over a prolonged use period and in any terrain or weather.
Check Price on Amazon ➞
10. Cailing Women's Breathable Summer Slip On
Cailing Women's Breathable Summer slip-on is designed as a light weight, light impact walking shoe that can also be used for lighter exercises such as yoga or gentle athletics. They are designed in a fashionable way and therefore stray from the more traditional 'sneaker' design that most gym shoes are made in the image of. They are designed to be fully breathable so that your feet remain comfortable over long distances and can minimize foot odor as well so you will not have the sweaty feet that might come with prolonged activity.
They also slip on your foot, which makes them slightly less supportive than laced alternatives, but they are not being used for anything too heavy, so this shouldn't matter in the long run.
This is a fashionable shoe with good support for lighter activity. It is affordable and looks good and can be worn outside of your daily exercise as well. The design suits a variety of foot types.
Check Price on Amazon ➞
Gym Shoes Buyer's Guide
Material
What material is used to make the shoe is important? For any sport or gym activity that you may be undertaking, you want your feet to be well protected and comfortable. Gym shoes are made from a range of different materials from leather to mesh. Again, what you are using the shoe for is the important thing to consider here. If you are running, the mesh is probably your better option. It is breathable, normally makes the feet area sweat less and therefore create less foot odor and is often waterproof as well.
Mesh is also a good option for tennis and acrobatics, though it may not be hardcore enough for more robust sports such as soccer. Whatever the material, it is worth checking out the inside of the shoe as well as the outside. A good gym shoe should provide comfort and cushioning inside so that your feet don't become injured or tired, and they remain comfortable over prolonged use and periods of intense exercise.
Sole
What kind of sole a gym shoe has can have a lot of bearing on whether or not you decide to make a purchase. A strong sole is necessary for sports with high impacts, such as trail running, but it is not so relevant for lighter activities such as tennis. In general, the sole of the shoe should be thick enough to protect your feet from the terrain that you are training on, and strong enough to support your feet if there is a risk of a shock impact.

The Fit
The fit of a shoe, regardless of whether it is a gym shoe or not, is vital to get right. If the fit is wrong, the shoe is wrong. That is simple math. For a running shoe, you may need to accommodate a bit of extra space for your toes, for example. They also need to fit nicely to support the ankle, again to deal with the shock impact.
This will vary from activity to activity. Weight shoes need to be tight and even more supportive of your ankle. However, if you go to a proper sports store and get fitted, you will receive invaluable advice about how the fit should sit on your foot.
How to wash Gym Shoes?
The majority of gym shoes are handily machine washable. However, this is a fact that you need to make sure of. The manufacturer's instructions will provide all the necessary details that you require to tell you exactly how you should wash your shoe. Making sure that you follow them is essential so that your shoe remains durable and true to purpose. Waterproof shoes, for example, will require a bit of extra care and looking after and may not be suitable for putting in a traditional wash.
How to Stretch Gym Shoes?
If you feel there is a need to stretch out your new shoes, then there are a variety of ways in which you can achieve this.
Putting on a few Pairs of Decent socks and then Putting on the Shoe: This may feel a bit silly, but it does work. Put on your thickest pair of socks and put the shoe on over it. It might be a bit tight, but the shoe will give after a few hours and start to feel comfier. If you can bear the discomfort, this is a good method for stretching out shoes.
Wearing them as much as Possible While not Doing your Gym Activities: Wear your new shoes all of the time, don't even take them off for bed. No, that's a joke. However, wearing shoes in is a sure fired way of breaking them in and stretching them out. They will get used to the shape of your foot and become bespoke to it very quickly with prolonged extended wearing. It is the oldest trick in the book.

Putting Ice Inside the Shoes Overnight: The ice should be, in the first instance, water inside bags, tightly sealed bags, and placed inside the shoe right up to the toe section. Then place the WHOLE shoe in the freezer and leave it overnight. This will enable the water to freeze and expand, and as it does, your shoe will expand right along with it. Therefore, you have as an end result, one stretched out shoe!
Where to Recycle Gym Shoes?
You can give your old gym shoes to charity, but they might not thank you for it. Most recycling plants have a collection point for old shoes and old clothes. This should be your first port of call. There are a large number of organizations that will take your old shoes and recycle them into something great. You just have to research them.
Did you Know?
Gym shoes is a broad term for a lot of different shoes. A more common word for them is sneakers, and they are used in so many different sports. Therefore, they have to be made in lots of different ways to accommodate the diverse needs of different athletes.
Expert Tip
The more breathable the material, the comfier your foot will be while wearing the shoe. You might want to consider a mesh material over leather so that your foot has a chance to breathe and not become uncomfortably sweaty.