When you are a triathlete, you need the best triathlon cycling shoes to be able to make the transition quick and easy. This is vital to your times. The triathlon bike shoes you choose should be comfortable. They will usually be the same as the shoes you will use for your usual bike ride. You need to consider a few things when selecting your triathlon bike shoes. One of the most important aspects is if your bike has pedals that require specific cycling shoes and which ones are the most comfortable.
They should also dry quickly and be compatible with a tri bike, road bike or even as mountain bike shoes. The SPD-type shoes are usually the most popular. They should be lightweight, allow for a speedy transition, be fast drying and be able to eliminate odors. After reading numerous reviews.
After researching a number of different types of triathlon cycling shoes, we have come up with a list of the top triathlon cycling shoes on the market and a full buyers guide. We hope this makes it a little easier for you to select the one that is perfect for you.
View the Best Triathlon Cycling Shoes, Below.
Triathlon Cycling Shoes Buyers Guide
Triathlons are intensive, exhausting races that will challenge you on every level. They include three different types of disciplines. Running, swimming and riding are the three disciplines you will have to master to partake in this great and growing sport. A triathlon can also be run as a relay race. This means different athletes will participate as a team. Each athlete will tackle the three different disciplines. Triathlons though are usually run as an individual race.

There are some very important aspects to take into consideration when selecting the right triathlon cycling shoe. These include the fit of the shoe. You also need to consider the material used in the construction of the shoe. The type of cleat system the shoe offers and the gender specificity of the shoe. If you have the right pair of triathlon shoes your transition will be seamless and your feet will be fresh and strong for the last leg of the race, the run.
Fit
This is the most important aspect of your triathlon racing shoe. Having the right fit can make all the difference, not only in the way you are able to power but also in comfort and support for your foot. The ride is the middle part of the race and keeping your feet secure and supported through the ride will make the long run to finish a lot easier.
The fit should also be perfect to allow for a fast and efficient transition between the swim and ride, and then the ride and run. Having a shoe that fits properly will allow you to slip it only and off quickly and will keep your foot secure and supported throughout the ride.
Material
There are many different shoes on the market and they incorporate a number of different materials from the sole to the upper of the shoe. Having a shoe that is constructed with a lightweight and breathable material is essential. The material of the shoe should also allow the shoe to conform to the shape of your foot. The sole of the shoe needs to be stiff enough to provide for the power transfer. It also needs to be flexible enough to allow you to run or move through the transition areas with ease.
The bike ride follows the swim, therefore the material of the shoe should allow for great airflow to allow your foot to remain cool and dry when riding. The shoe should be able to be worn with or without socks. Many of these shoes have synthetic leather uppers or mesh uppers. These materials are lightweight as well as durable and allow for good airflow. The soles are usually carbon fiber.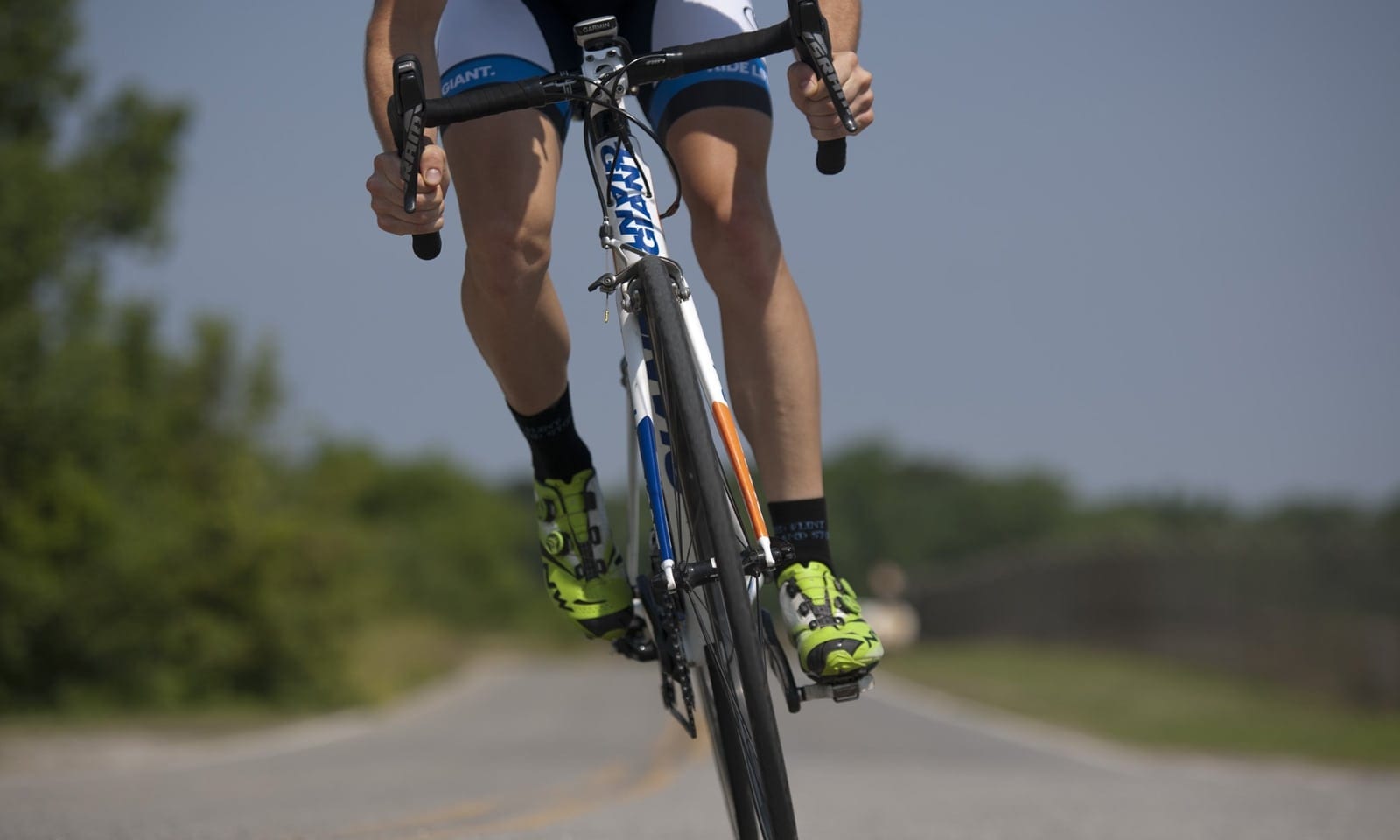 This provides the stiffness required for power pedaling. Often there is toe protection on the shoe and rubber heels to allow for traction when walking or running through the transition area. The material of the top triathlon cycling shoes will be lightweight and durable and allow you to ride comfortably in any kind of weather conditions.
Cleat System
Getting a cycling shoe for triathlons that is compatible with your bike is essential. Most of the triathlon shoes are SPD triathlon. These shoes are compatible with most road bikes and are easy to lock into the bike making transitions efficient. Having your cleat system can aid in your transition as well as the shoes will remain locked into the bike and allow for a very fast transition from swimming to riding and then from riding to running.
Slipping your cycling shoe on and off quickly and being able to start pedaling immediately is vital to your triathlon racing times.
Gender
Men and women are different in many ways, including the shape and size of their foot. They need different types of support for maximum comfort. Both, however, will require some of the same qualities. Lightweight materials should be used as the shoe should be as light as possible to prevent any drag on the foot. They should also be breathable. The shoe should allow for great airflow to prevent the foot from overheating during the ride to make the run a little easier.
A shoe that fits the foot properly and conforms to the shape and size of the foot will make the ride more comfortable and allow for great power transfer to allow the rider to power through the ride. The shoe must fit properly to keep the foot secure while riding. Most shoes will be specific for men or women and this is mostly due to the size and shape of the foot which is very different for men and women.

What is a Triathlon?
A triathlon is a race that incorporates three completely different disciplines. These include swimming, cycling and running. The Olympic standard distances for a triathlon is a 1500m swim followed by a 40km bike ride and then a 10km run. These types of races can be done as individuals or as relays with different people swimming, running or riding.
Triathlons are divided into different age categories as well as different distances from Sprint to Olympic or Iron Man. This age group concept is a vital part of the sport and unique to triathlons.
How to Train for a Triathlon?
Training for a triathlon is not easy. Not only do you have to train for a marathon, a long hard swim race but also a bike race. Sometimes this can be discouraging, however, if you follow a great training regime it will make you feel a lot more confident in your sport. It is important to concentrate on all three disciplines separately, this means you will set aside days where you swim, run or cycle.
Training should incorporate at least three days a week and no more than six days a week of training. You should also ensure that time is set aside for you to recover and rest. Devote time to practice your transitions, especially from swimming to riding and riding to running. Transitioning is one of the most important aspects of a triathlon as it can either give you an advantage or cost you the race.
So to conclude, set aside at least one day a week for swimming, a day for running and a day for riding. Use your other days to do weight and core strength training in the gym and practice your transitions. Ensure you get enough rest and relaxation in as well.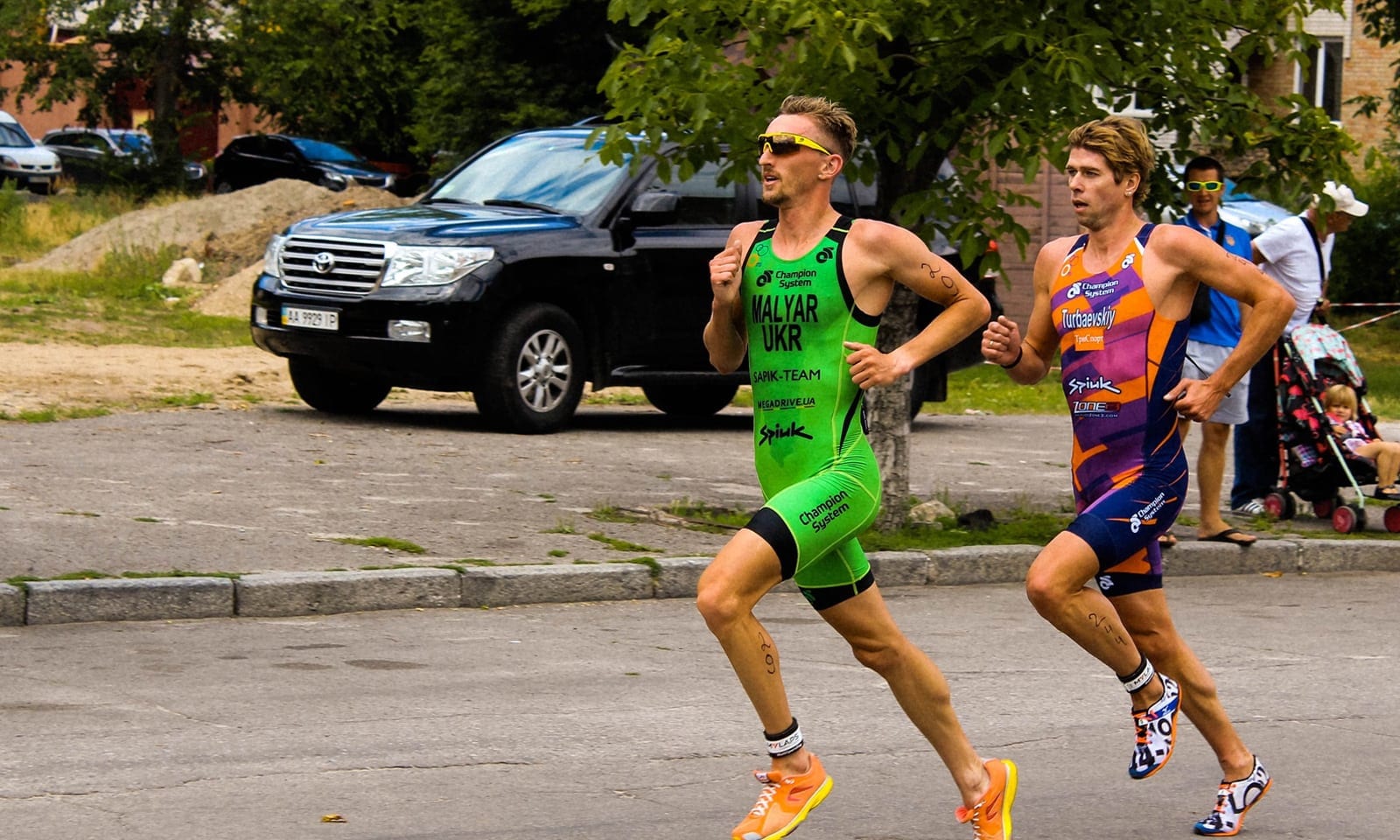 What Does a Triathlon Consist Of?
There are five different types of triathlons. These are differentiated by the distances each leg will comprise of.
Sprint Triathlon
The sprint triathlon is where the swim is only 750m, the bike ride is 20km and then finish off with a 5km run.
Olympic Triathlon
This is a 1.5km swim followed by a 40km ride and a 10km run.
ITU Long-Distance Triathlon
This is essentially a triathlon that is double your standard Olympic triathlon with a 3km swim, 80km bike race, and a 20km run.
Half-Ironman and Ironman triathlons
These two are the most difficult of triathlons. The half-ironman includes a 1.9km swim, 90km ride, and 21.09km run. The Ironman includes a 3.8km swim with a long 180km ride and a 42km run.
Conclusion
Participating in a running, swimming or cycling race is hard, participating in a race that includes all three of these disciplines is really hard. To be able to perform at your best you will require not only the best triathlon running shoes but also the best bike triathlon shoes. The transition from one discipline to another is an area where you can cut your times or ruin your chance of winning the race if you flounder. Great triathlon cycling shoes allow for a quick transition.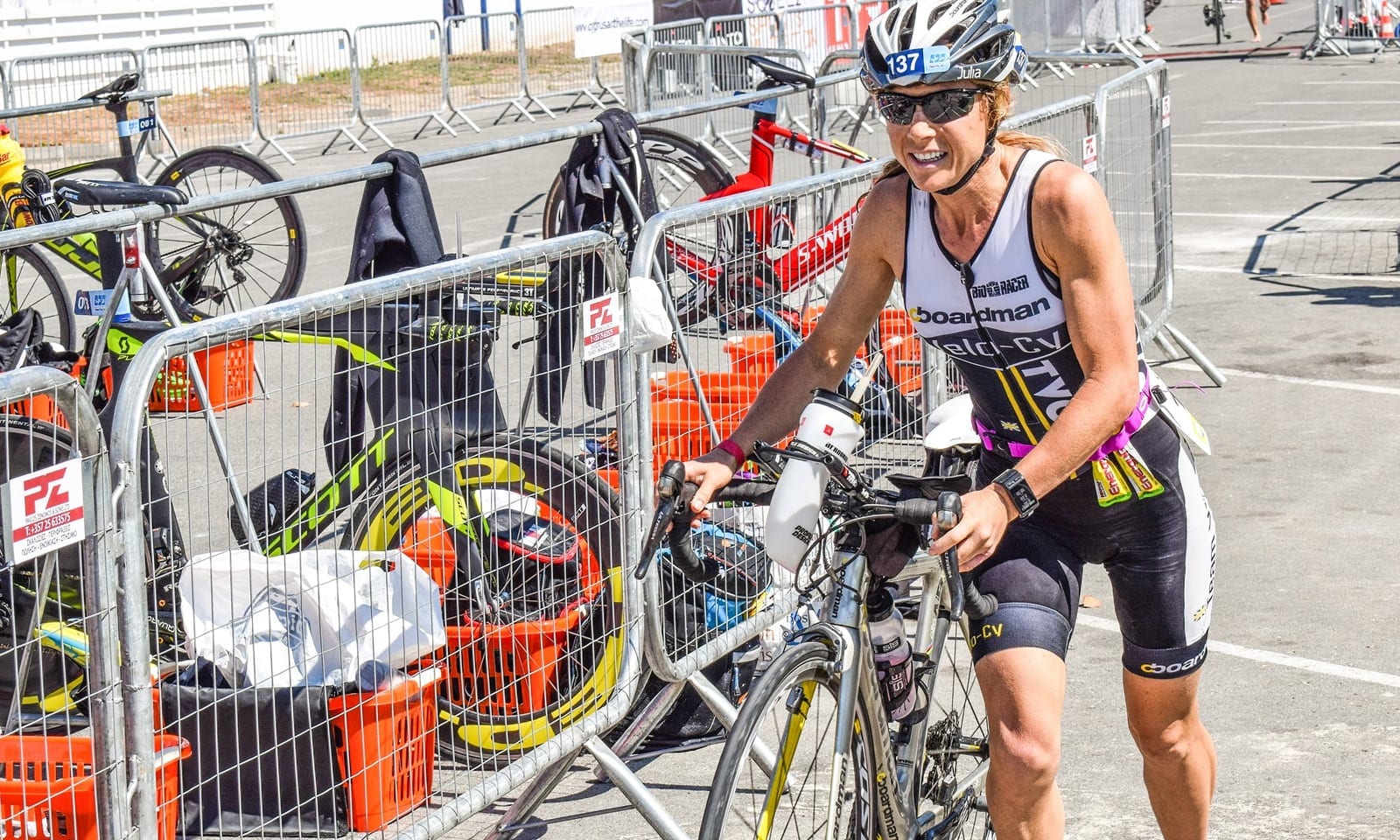 They will offer great power transfer when pedaling hard. These triathlon cycling shoes should be lightweight, durable. Triathlon bike shoes are specialized cycling shoes that are specifically designed to give the competitor the edge when participating in this very competitive sport.
Cycling is where you can increase your lead or catch up to the leaders of the race and is an important middle part of a race. Having the best tri bike shoes can give you the edge and help you make up for a bad swim, or give you a slight lead heading into the hard run.
Expert Tip
The transition in a triathlon is one of the most important parts of the race. A cycling shoe that allows for on the go fastening and they should be easy to put on and remove.
Did you know?
The triathlon is a fairly new sport as the first recorded triathlon was held on the 24th September 1974 in California.