Finding the right kind of footwear to work out in can be a difficult task. Indeed, one that can take weeks, months even to find the right pair. There are countless exercises out there for one to try too, which only elevates the difficulty. We don't blame you in the slightest for not wanting to look for yourself; it can feel like a slog sometimes to think about the pages upon pages of shoes there are out there. In this article, we are going to be covering some of the best workout shoes for women so that you don't have to. This is an article written by women, for women through and through (just so you know that this article is as authentic as possible).
We workout most days of the week, so having the right sort of kit is essential in working out and working out effectively. We have worked tirelessly over the past couple of weeks to bring you the best workout shoes for women. Our process was thorough with every product you see here having gone through vigorous physical testing to make sure it was legit and worth checking out. If anything we want this article to be helpful, so even if you don't find what you're looking for you at least know what to look out for and why!
When we were putting this list together, we understood that there are a lot of different workouts available right now, hence why the shoes listed below fit into multiple categories. Weightlifting, cardio, CrossFit: all examples of some of the activities you can participate in with these shoes. Try not to think that this list is in any order. Each shoe is great in its own right and completely randomized in terms of the order in our list; judge each shoe on its own merits, and you'll find what you're looking for!
Related Review; Workout Shoes for Women.
View the Best Workout Shoes For Women, Below.
Buyer's Guide To Workout Shoes For Women
Welcome to the buyers guide section, a section where we will be going over a few questions you might have after seeing what we had on offer above. In this section, we will also be covering how we ended up with our list here also. Know that at some point we were rather clueless about this sort of stuff, it was only when we started surrounding ourselves with the culture, that we became experts in the field.
We understand that there are countless other shoes out there for you to try. Our list is not gospel, so if you are going to look for yourself, you should at least know where to start. Go with some of the notable brand names that you recognize. Reebok, Adidas, and ASICS all offer top quality products with relatively conservative price points. User reviews on sites such as Amazon are good reference points if you want to see what customers who own these shoes have to say too!
Related: The perfect pair of shoes for squatting!

How did we Assemble our List?
Our list is the product of around three weeks of work. We began with nothing more than an idea, one that we would flesh out properly by surrounding ourselves with fellow female fitness enthusiasts! Having multiple women working on this article at any given time allowed us to rid any biases we might have had for a specific shoe/brand. Having a handful of women working on this article definitely help during the first stage of our project here.
Sourcing a diverse list of shoes that appealed to various different exercises was the first step. The internet, magazines, and word of mouth all played a significant factor in helping us find around 30 shoes that we felt were fit for this sort of project. Each had to hit a certain threshold for it to be eligible for this sort of list; it had to be comfortable, affordable and have defining attributes.
From here we all met up and discussed our findings as a collective group. We knew that we wanted our list to be around 10 products, so trimming as many products as possible was our next task. Any shoe that was too similar to those that we deemed better were taken out of contention. This helped eliminate quite a few products from our list — it was important to us that we created a sense of variety, so a list of more than three Reebok products would have gone against that.
At this point, we had around 14 products, products that we would then test ourselves firsthand to see how they performed. Each shoe was tested multiple times by more than one person so that our results were thorough. We rated each shoe accordingly, keeping in mind the quality, durability, and flexibility of the shoe as well as what other attributes the shoe brings.
Testing each shoe allowed us to analyze which were better suited for an article such as this. Again, we wanted to hit multiple beats in one go, so finding shoes that fit multiple forms of exercise was vital for us. Once the testing process was complete, we then met up again and formed the list as you see it now! We tried not to go back and change a lot about our list once it was made; we're happy with what we ended up with and wouldn't change it for a thing!
You Might Also Like; Shoes for Zumba.
When Should you Replace Workout Shoes?
To keep your shoes tidy and relatively smell-free, you should be rotating between multiple pairs of workout shoes every couple of days. If you find that you train very sparingly, then removing your shoes and keeping them somewhere dry should suffice, washing them every couple of weeks. If you are working out multiple times a week, then you should be replacing your shoes every couple of uses for obvious reasons.
Constantly wearing the same pair will begin to make the sole of your shoe a little less effective as the traction will rub off; yet another reason as to why you should be replacing your shoes every now and again to keep them fresh for your next use. If smells persist, then there are sprays and other methods you can try to keep your shoes clean. There are countless articles out there that go over this in greater detail.
How to keep Shoes from Slipping off Heel During a Workout?
Try tying your shoes tighter than you normally would if your shoes are coming loose constantly. Another thing you could do would be to purchase shoes that are a little smaller than you are used to. For example, if you are a size 6 shoe, maybe dropping to a 5.5 could help you out if you find that the shoes you are wearing are constantly slipping off at the heel.
If this issue persists, then you might want to consider buying another pair of shoes. Yes, you might have found the perfect pair of shoes, but if your shoes are constantly coming off your feet, this poses a danger, especially if you are exercising using weights that could cause some serious physical harm if dropped onto feet or other parts of your body.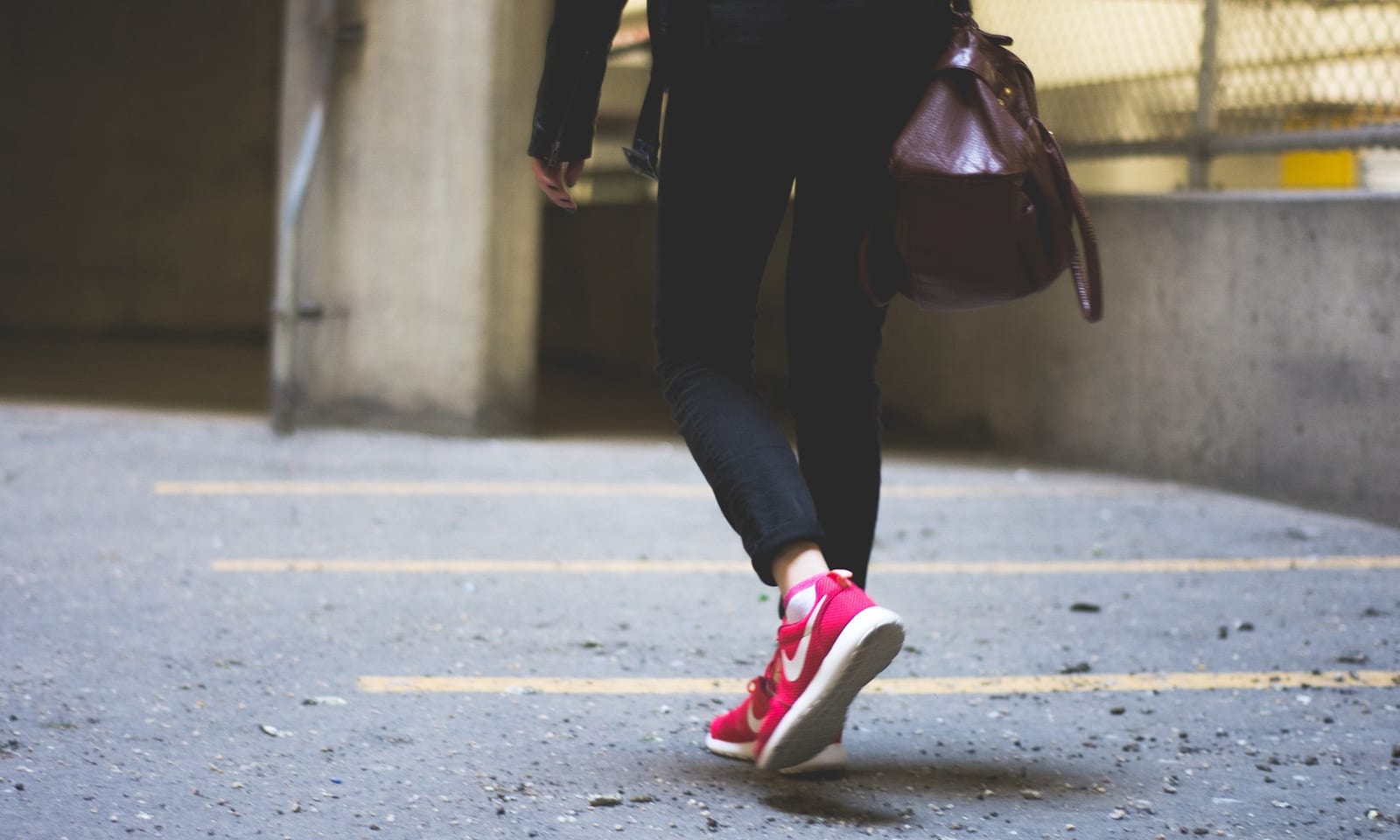 How to Double knot Workout Shoes?
It's never too late to learn how to double knot your workout shoes. Start by tying your shoes in whatever way you see fit beforehand. From here grab both loops and cross them over, tuck one of the loops within the gap and pull. Doing this successfully will double knot your shoes and should keep the shoes on your feet as you workout. If this isn't enough then maybe triple tie the knot?
There are plenty of different knots to try if double knotting doesn't work. Look online, and you'll find a lot of articles that all provide information on some of the best knots out there for you to try. Remember, try not to tie your shoes too tight as you can easily tie them too tight to the point where you can't get them undone; common sense is a sentiment we'd like to promote here.
Expert Tip
Try to wash your shoes regularly if you are working out multiple times a week. Most workout shoes are machine washable — check the label if you aren't sure whether or not your shoe fits into this category. We would recommend having around three pairs of shoes so that you can cycle between them, allowing you to continue working out, only in a fresh pair.
Did you know?
Working out in the wrong types of shoes when lifting weights can directly impact your form. You want to be wearing the flattest shoes possible so that your body takes all of the weight during this form of exercise. Wearing trainers with an incline will cause your body to naturally lean forwards which will knock your form quite a bit.