10 Best Workout Shoes For Men in 2021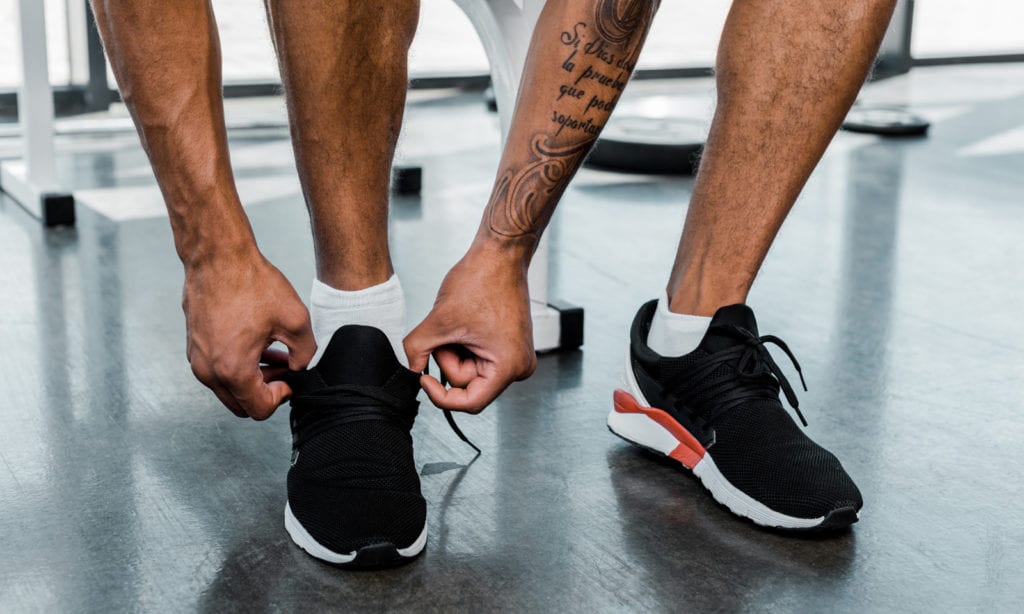 Working out requires a dedication, and that includes the right accessories and gear. This article covers some of the best workout shoes available for men.  Below you'll find a list of suggested products that have all gone through vigorous testing to ensure they qualify. Each of these shoes offers something different depending on what you're looking for, and as with most types of exercise, the appropriate choice will depend on the activity and the wearer.
Related Review; Workout Shoes for Women.
View the Best Workout Shoes For Men, Below.
1. Reebok Men's CROSSFIT Nano 9
The first shoe on our list is Reebok at their best, this low profile CrossFit shoe is as comfortable as it is effective; two key elements needed in any workout shoe. Inside you'll find multiple mesh insets as well as logo overlays that give it a signature Reebok shine.
The Flexweave outer material is as comfortable as it sounds. Reebok uses a lot of woven textile materials in their shoes, it's part of their charm, which only makes this product even better! With a heel height of 2 inches, you can be sure that this shoe will last.
Reebok has been top of the mountain for many years now, this workout shoe is just an example of their stellar craftsmanship!
Check Price on Amazon ➞
CHECK PRICE ON ZAPPOS ➞
2. Nike Men's Metcon Free Training Shoe
If simplicity is what you seek, then you'll find just that in this one. Nike is yet another name synonymous with quality — which is partly the reason why we have included this shoe here. Not only does it have the name behind it, but it also possesses all the attributes needed to better your workouts tenfold! The dual intensity midsole allows you to train untethered. We should also point out the laser-laser-sided flex grooves that have been implemented to promote natural transitions!
It's just an all-around quality shoe for working out, there's plenty to be excited about with this one!
Check Price on Amazon ➞
CHECK PRICE ON ZAPPOS ➞
3. Reebok Men's Ros Workout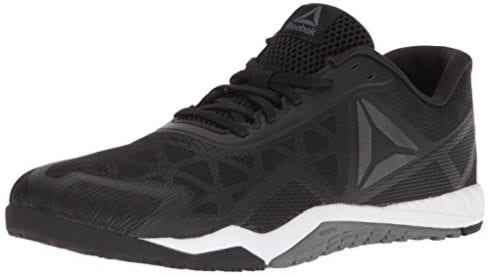 Reebok comes into our list again at the halfway point, this time with their Ros workout shoe. If you were looking for a lightweight shoe that doesn't go overboard with the design, then this will be the shoe for you. Since this is a lightweight shoe, you'll find that moving around is rather simple and it doesn't impede your movement in any way.
The anatomical shape also helps give this shoe some personality as well as stability. Complete with gum rubber sole, this shoe is available in a mix of different colors for your exercising pleasure!
Lightweight and supportive in all the right places, this might be our favorite of the bunch!
Check Price on Amazon ➞
CHECK PRICE ON ZAPPOS ➞
4. Inov-8 Men's F-Lite 235 V3
Inov-8 is one of the fastest-growing companies out right now, and it's products like these that put them in this position! Not only does this shoe look the part, but it does an excellent job of assisting you as you train. With its perfect heel to toe drop for lifting and functional movements, whilst helping to promote a natural feel
The breathable mesh lining will keep your feet fresh as your workouts build in intensity. The padded tongue and collar work in parallel to give you a somewhat comfortable fit. We are big fans of the outsole of this shoe as it comes with grippy rubber that provides great traction.
Comfort in excess, the kind that will only improve your workouts tenfold!
Check Price on Amazon ➞
CHECK PRICE ON ZAPPOS ➞
5. adidas Performance Men's Powerlift 4
Fitted with lightweight synthetic leather, the air mesh collar, tongue and lining make this shoe one of the more comfortable men's workout shoes out right now! If you are planning on lifting heavy weights rather frequently, then this will be the shoe for you for obvious reasons (just in case the name wasn't a giveaway).
The flat heel provides a perfect base for you to lift on top of. Equipped with sturdy laces and strap, these shoes are a powerlifters best friend, the kind that can have you lifting heavy and safely! There are no limits to how effective these shoes are!
A great pair of shoes to own if you want to lift the heaviest of weights. They're sturdy as well as durable, which is ideal!
Check Price on Amazon ➞
CHECK PRICE ON ZAPPOS ➞
6. Reebok Men's Speed Tr Flexweave Cross Trainer
CrossFit appears to be on trend right now, bringing in hundreds if not thousands of new eyes to the pastime. These shoes from Reebok are the perfect CrossFit shoes around right now. The low-cut design means that you aren't impeded in any way as you train. A gum rubber sole will provide you with the right amount of traction here also.
This workout shoe comes with compression support found on the upper sleeve of the shoe, this will allow you to put a lot of pressure on the shoe without a breakdown in performance. If you are into your CrossFit, then this will no doubt be the shoe for you for all the reasons outlined here.
CrossFit is something we occasionally dabble in, so having a shoe that covers us for this activity is essential, thankfully we own this pair!
Check Price on Amazon ➞
CHECK PRICE ON ZAPPOS ➞
7. Nike Men's Air Zoom 36 Pegasus
Nike comes through with one of their grandest shoes to date with the Air Zoom 36 Pegasus. This shoe is available in a barrage of different colors, remember that the style of the shoe doesn't change with the color, so you can go for some of the more outlandish colors on offer if you really wanted to. The synthetic outer material on the shoe is incredibly durable and can withstand a lot of physical toll. Durability is this shoe's strongest attribute. Although these shoes can be worn in many scenarios, they are primarily used for running.
Fly like Pegasus himself in Nike's latest hit shoe! You'll run till you can't no more with these shoes.
Check Price on Amazon ➞
CHECK PRICE ON ZAPPOS ➞
8. New Balance Men's MX517v1
If you have heard of New Balance before then, you will know that they deal with a wide array of shoes let alone those fit for working out! This synthetic shoe is a shoe designed specifically for working out and being generally quite healthy. Look on the side of the shoe, and you'll see the signature New Balance logo, as well as netting over the signature synthetic material found in countless other shoes of this kind! We found that the removable insole was a great touch here also!
We seriously enjoyed this shoe for its consistency, not a lot of shoes have this level of detail.
Check Price on Amazon ➞
CHECK PRICE ON ZAPPOS ➞
9. Reebok Men's Yourflex Train
Train with the utmost confidence with Reebok's Yourflex train, a workout shoe that comes with a lot of additions that make them stand out as one of Reebok's finest shoes to date. The synthetic outer material does an excellent job in keeping your foot isolated with every shift! The gum rubber sole is a great touch also, providing the wearer with plenty of support! The inner material is made using various textiles, woven to again, provide as much support as possible!
Reels upon reels of support is given from this shoe. Workout with confidence with this here shoe!
Check Price on Amazon ➞
CHECK PRICE ON ZAPPOS ➞
10. inov-8 Men's F-LITE 260 Knit
Inov-8 comes in at our final spot here with their F-LITE 260 shoe, a synthetic shoe, one that comes with a lot of personality and character. The rubber sole found at the bottom of the shoe does an excellent job in keeping your feet planted; ideal for stationary exercises that require a lot of technique.
We would recommend you purchase these shoes if you are someone who regularly lifts heavy weights, simply because of how well this shoe handles the pressures that come with such an exercise. If you were looking for a shoe with a lot of grips, then this should be the top of your list.
There aren't a lot of shoes out there that can grip just as tight as these; Inov-8 should be proud!
Check Price on Amazon ➞
CHECK PRICE ON ZAPPOS ➞
Buyer's Guide To Workout Shoes For Men
Welcome to the buyer's guide section of our article here for some of the best men's workout shoes. In this section, we cover how we managed to gather our list as well as a few lingering questions you might have after reading the above section. We are going to be glossing over a couple of things, so if you find that you are still with questions once you've reached the end of the article, know that there are plenty of sites out there with information on them!
How our list was Made?
Our list was made over the span of around a month give or take. We began with an idea, an idea to help educate those who might be new to the workout game and are looking for the best possible kit they can find. Multiple people were involved in the creation of this article. We all exercise at least five times a week, so you know that you can trust us when we tell you that we know which are good products and which are worth passing on!
We began by researching some of the top products out right now — we knew that we wanted to hit a lot of beats at once here, so we tried looking for a varied selection of shoes (CrossFit shoes, weightlifting shoes, running shoes for example). This was arguably the hardest part of our research, granted we own work out shoes of our own, but having an article that features the same sort of shoe would be boring for us and boring for you to read also.
To begin, we started looking at some of the more reputable brand names, the Reeboks, etc., etc. This was a great way to start as it did lead to other shoes that we might not have come across. Some of the sites we used had a recommended section which gave us an idea on some other brands/shoes to check out. User reviews also helped us understand what other customers had to say about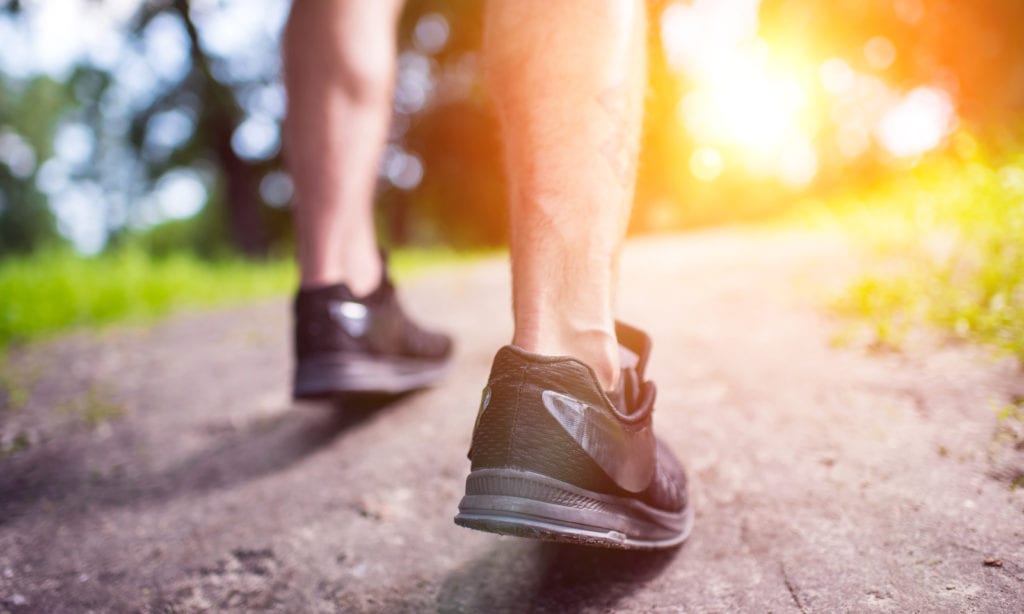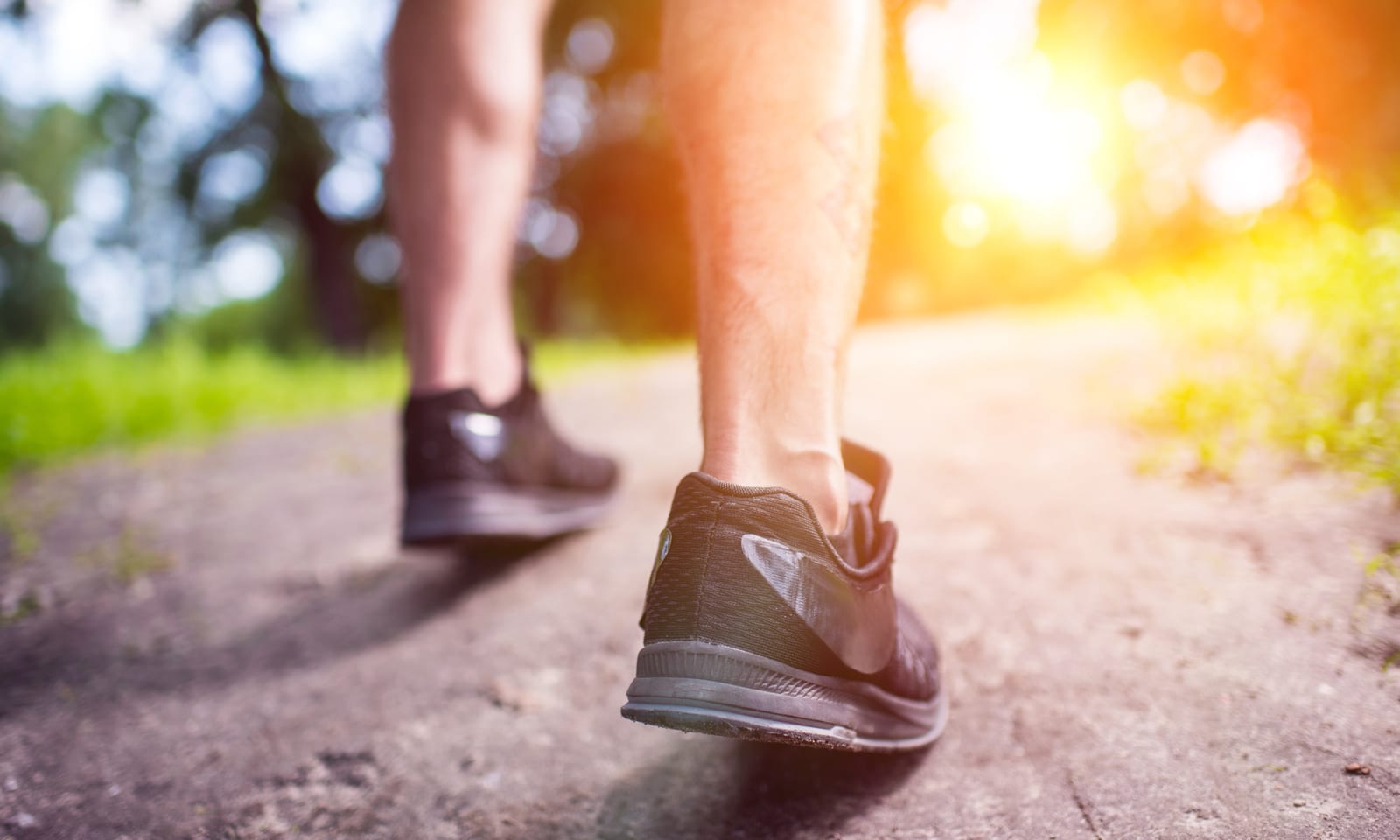 Once we finished, we must have had around 30 shoes on our list, a number that we would then shorten by eliminating shoes that were too similar to those we considered better. This was yet another difficult task as we did take out a lot of shoes that we thought might fit in with our list, but to make sure our list was fair and diverse we did remove a few to make for a better article; quality control was important to maintain here.
At this point, we had around 15 shoes. To make sure that this article was legit we wanted to be thorough, which is why we purchased all 15 of these shoes and tested them out. Each shoe was tested in their respective fields to see if they lived up to the hype. We each focus on something different in the gym, which made gathering accurate feedback for each shoe rather simple! All we did was assign shoes to certain people and would meet to discuss our results at regular intervals.
The weightlifting shoes appeared a lot bulkier compared to their running counterparts. Running shoes were a lot lighter also, which happened to be two key observations made when reviewing these shoes outright. Comfort was something we took into serious consideration; if a shoe wasn't comfortable then it was eliminated from contention, and we moved on to the next pair.
This method of testing each product allowed us to take notes for each shoe, grading each shoe on how it handled physical pressure also helped us tally up which scored higher than others. If we were still in doubt at this point with any of the shoes, we would take them out if their score wasn't high enough. After going over this method multiple times, in the end, we had our final 10 products, the same products you see above!
Comfort Versus Design
When you exercise, you want to be as comfortable as possible, otherwise your performance could be impacted and could lead to pain. The design of a shoe is important, but often this comes down to a personal choice. While comfort is a universally important factor, it will ultimately depend on the wearer, as different people and activities require different comfort levels. Our recommendation is to select shoes based on comfort first, design second.
What Size Should I Get?
When it comes to working out, well-fitting shoes are a must.  Shoes that are too tight could impact your endurance and stamina, causing you to stop your exercise short, while shoes that are too big could make you trip and cause injury. We recommend you measure the size of your feet if you are going to buy shoes online. Sites often feature size guides that allow you to find the right size for you, and some also offer virtual fit finding tools or even options to try on shoes at home before buying.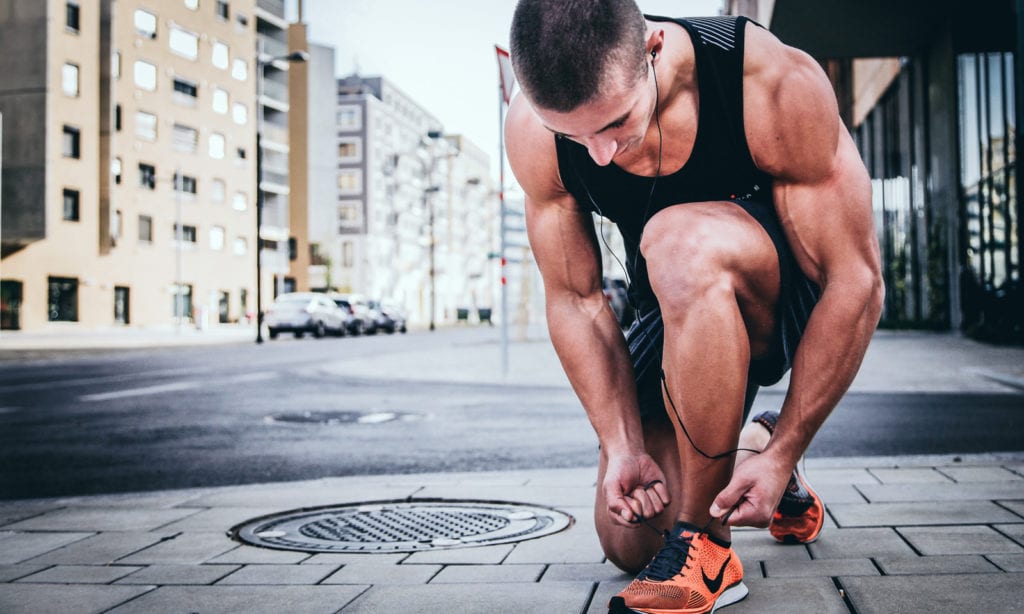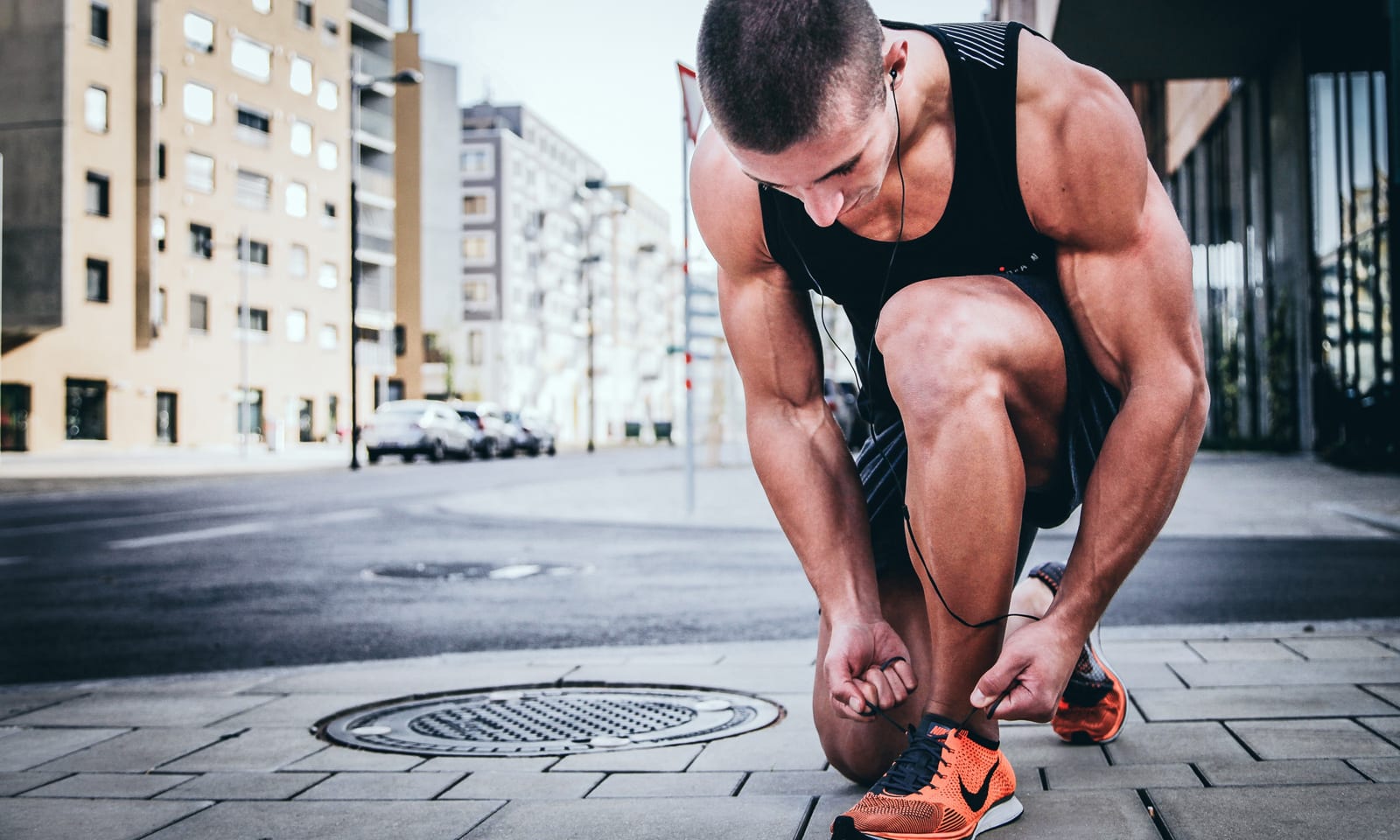 How to Keep Shoes from Slipping off Your Heel During Workout?
The first thing you should do to prevent your shoes from slipping off would be to fasten your shoes rather tight using the laces. Another thing you could do would be to purchase shoes that are a little smaller than you are used to. For example, if you are a size 10 shoe, maybe dropping to a 9.5 could help you out if you find that the shoes you are wearing are constantly slipping off at the heel.
If this issue persists, then you might want to consider buying another pair of shoes. It's unfortunate we know, but if your shoes are constantly coming off your feet, this poses a danger, especially if you are lifting weights or squatting with a weight that could cause some serious physical harm if dropped onto feet or other parts of your body.
Which Brands Are the Best?
Again, the answer to this question falls under personal preference. Some will find that Reebok shoes are far better than any offerings from Adidas. For example, we really enjoy the comfort and style of some of the Adidas workout shoes that exist in the market right now. Others might disagree, but we find that the price points of these shoes are relatively low compared to other brands.
If you don't have an opinion on which brands are the best, then you are at an automatic advantage as you'll no doubt choose a shoe based on its attributes rather than the name value that comes attached. To the doubters out there we say: why not try something different? If you've owned nothing but Reebok shoes all your life, then think of all the missed opportunities. These brands can only take you so far, make a smart decision not a brand decision.
Remember fit is essential, especially for workout shoes. Be sure to try on shoes before buying and walk around to get a true idea of fit. If you can't try them on first, check the retailer's size guide and return policy.
Did You know?
Your feet swell as the day progresses thus making your feet appear much bigger in comparison to your feet on a morning. The more you train, the more your feet will swell as there is a lot more pressure being applied on the bottoms of your feet. Make sure you account for this by purchasing shoes with space in them but not too much space!