10 Best Racquetball Shoes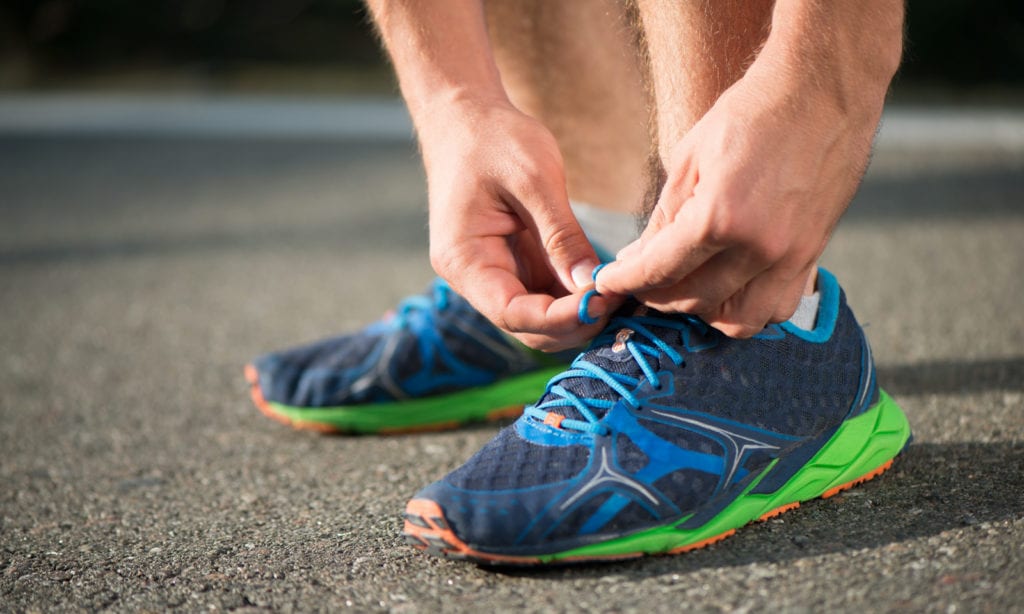 Racquetball requires a lot of movement, and that means that you will need a good pair of shoes to play effectively. Not only can they improve your performance, the right pair of shoes will improve your mobility, helping to prevent slips or falls on the court and ensuring that you stay safe on the court. Good shoes can be an invaluable part of playing racquetball regardless of your skill level, so it is important to wear something that suits the situation and will improve your footing.
Below is our list of ten of the best racquetball shoes on the market, as well as a buyer 's guide to help you make sure that you choose the correct shoes for your playing style and situation.
View the Best, Below.
1. New Balance Men's 608 V5 Casual Comfort Cross Trainer
These New Balance trainers serve as excellent racquetball shoes, making use of excellent internal cushioning such as a memory-foam-style insert and ABZORB heel crash pad. These provide more shock absorption and better overall control on the court, working well alongside the flexible outsole to help you stay comfortable during longer matches. This added flexibility also meshes well with the excellent leather upper, balancing movement with overall durability and protection to give you a good balance of the two. A dual-density foam collar also ensures that you get less irritation around your ankles and can keep water and dirt out of your racquetball shoes in the long-term.
These racquetball shoes are suitable as both outdoor and indoor court shoes, providing a great balance between flexibility and reliability that makes them a useful choice for almost any player.
Check Price on Amazon ➞
2. New Balance Men's 623 V3 Cross Trainer
These New Balance men's shoes are designed with an excellent set of comfort features, including an injection-molded EVA foam midsole and cushioned EVA foam insole to give you a huge amount of protection and support while you play. Great impact resistance means that the shoes can compensate for a hard racquetball court without being too bouncy or firm to use properly, and the use of a partially-mesh upper improves breathability to keep you cool and remove sweat during longer matches. Thanks to the structured design, you can get plenty of midfoot support with each step, as well as better ankle support to make sure that you are always moving in a safe and comfortable way. Not only that, but they are very durable, handling water and physical wear incredibly well.
This is a great choice of racquetball shoes if you want maximum foot and ankle protection, proving a lot of durability without being too bulky or heavy for the average person to use in a racquetball court.
Check Price on Amazon ➞
3. Nike Men's Air Monarch IV
The synthetic & leather design of these racquetball shoes makes them an ideal choice for playing racquetball at a higher level of skill, providing a solid synthetic sole design that gives you natural traction and keeps your feet stable when you are not moving. A foam Phylon midsole and built-in Air-Sole cushions boost comfort and general foot support further than with most racquetball shoes. Extra perforations in the upper and a mesh shoe tongue improve the breathability and ventilation of your footwear, and the inclusion of a heel pull tab means that you can take the shoes off very quickly. Additional overlays in the leather upper also increase the amount of support you are getting while moving.
These are very reliable racquetball shoes, taking a basic design and improving on it rather than trying to give you a gimmick-focused shoe that wouldn't feel practical to wear on the court.
Check Price on Amazon ➞
4. JOOMRA Women 3D Woven Athletic Shoes
The synthetic soles of these racquetball shoes for women are designed to be stable and supportive, ensuring that you are always moving in the correct way. A straightforward lace-up closure and slip-on pull tab make them very easy to put on, while the collar-integrated tongue helps you get a more accurate fit while still remaining comfortable for the entire day. A special 3D-woven pattern of mesh and synthetic materials creates a partially-mesh upper that can stretch and flex in response to how you move and adjust your position but also lets a lot of air through to keep you cool and comfortable in warmer conditions. The use of ultra-light materials ensures that they don't slow you down, either.
These sneakers offer a great alternative option to normal racquetball shoes, giving you plenty of stability and protection while focusing much more on movement and fluid motion.
Check Price on Amazon ➞
5. QANSI Men's Sneakers – Ultra Lightweight
The knitted mesh upper used for these racquetball shoes makes them a very effective choice when it comes to staying comfortable, providing incredible breathability and flexibility compared to most other shoes for men. The shoes are made with a cushioned insole for extra padding and support, as well as making it easier to play on hard courts without suffering from foot fatigue. Thanks to the flexible and multi-purpose design, they can work for multiple sports and are even capable of being used as casual footwear without any problems. Despite being mostly mesh, they also have a good level of durability backing them up, meaning that they don't wear out quickly under stress.
These aren't just great racquetball shoes, but great volleyball shoes, tennis shoes, running shoes, and almost any other kind of sport or exercise shoes you might need!
Check Price on Amazon ➞
6. New Balance Men's 624 V2 Casual Comfort Cross
These lace-up men's running shoes combine a very durable and reliable upper with an effective non-marking sole to cover both sides of racquetball, helping you stay focused and move consistently on any racquetball court. Specific materials in the design allow the shoes to be far more flexible in general, making them a great option for people who want to move freely. Additional cushioned comfort and EVA padding on the insides help support and protect the bottom of your feet, while the structured design and built-in midsole shank improve the overall strength and protectiveness of the racquetball shoes in the long-term. Even better, they boast ABZORB shock abortion cushioning, unlike a lot of similar racquetball footwear.
These are perfect racquetball shoes in terms of how much support and comfort they can offer, making it extremely easy to avoid foot fatigue and pain while still giving you all the key benefits of a good court shoe.
Check Price on Amazon ➞
7. Ryka Women's Influence Cross Trainers
These multi-purpose trainers are ideal as racquetball shoes, providing excellent traction thanks to the special footprint design on the sole. Flex-foil materials offer better support and comfort but still allow the racquetball shoes to stretch and flex for easier movement around the court. A dual-density foam midsole in each shoe grants you better impact resistance with every step, a feature that is made even more effective with the N-Gage EVA energy return materials included in the design as well. Despite all of this, the lace-up closure is exactly what you would expect from a standard shoe, and they are similar enough to typical running shoes that they can be used for almost any outdoor activity.
This is another great choice if you need racquetball shoes that aren't going to feel bulky and heavy, especially if you play on an indoor court just as much as an outdoor one.
Check Price on Amazon ➞
8. Saucony Men's Cohesion 10
The combination of fabric and synthetic materials used in these racquetball shoes makes them a surprisingly versatile option for any racquetball player, giving you a great mixture of strength and flexibility with no bias towards either side. The excellent heel GRID system gives you extra cushioning in a key part of the shoe heel, whereas the injection-molded EVA midsole helps you get more cushioning underneath your feet to reduce fatigue and dampen hard impacts. A plush tongue and collar design also help here, improving breathability and making it much easier to stay cool while you play racquetball either indoors or outdoors.
Padding and cushioning are two of the most important parts of any sports shoes, and the extra materials used here help you stay comfortable on the court without getting in the way of your preferred racquetball techniques.
Check Price on Amazon ➞
9. Skechers Sport Men's Vigor 2.0 Serpentine Memory Foam Sneaker
These Sketchers sneakers make perfect men 's racquetball shoes, offering a combination of leather and synthetic materials to give you extra durability and protection on the court. The strong rubber sole allows for higher traction on both indoor and outdoor surfaces, while the improved heel cushioning system means that it is easier to move around naturally and comfortably. The shoes are made with a memory foam insole that gradually adapts to your foot shape for added comfort and a snug fit, while the lace-up design of the shoe means that you can adjust the tightness of the upper section to suit your personal preference.
These are excellent racquetball shoes for people who put comfort and cushioning above everything else, boasting improved shock absorption and overall protection to keep you comfortable during longer racquetball matches.
Check Price on Amazon ➞
10. Nike Men's Court Lite 2 Tennis Shoe
These synthetic and leather racquetball shoes make use of a very simple, easy-to-wear design that can suit a wide range of playing styles and different sports. The heavy use of synthetic materials on both the inner and outer layers allows them to improve your racquetball performance in ways that all-natural shoes cannot, and each pair of shoes boasts two foam midsole cushions that can make every step softer and more comfortable. Strong rubber sole designs also give you far better traction on a wide range of surfaces, both indoors and outdoors, with five distinct patterns across each rubber sole to help you stay stable and focused while performing different movements at different angles.
These are perfect racquetball shoes if you need good traction and grip on a range of surface types, making them an excellent court shoe for people who don't always play racquetball in the same location or club every time.
Check Price on Amazon ➞
Buyer's Guide
While choosing the best racquetball shoes on the market might seem like an easy task, searching through every individual pair of racquetball shoes can take hours, or perhaps even full days. Each racquetball shoe is made for playing racquetball, but that doesn't mean that they are all identical, and racquetball players can often end up having to choose between a few dozen different shoes at any given time if they just look at the surface-level details.
This good buyer's guide will cover some of the things that you should consider when you are looking into a new pair of racquetball shoes, no matter how specific you might end up getting. It is important to make sure that you are looking at the correct details during your search, especially if you have a very specific category of racquetball shoe types that you are interested in.
Materials
Even the best racquetball shoes can suffer if their materials aren't necessarily good, and having high-quality materials is doing to improve the quality of the shoes themselves by a significant amount. Of course, the term 'materials' doesn't always mean much if we are speaking generally, so it is more useful to break down the materials in different parts of the shoe. Remember that racquetball, like any sport, can take place in multiple locations and under a range of weather conditions, so one set of materials might be best suited for certain situations but not others.
The Sole
Racquetball is all about movement, so a racquetball shoe should be conducive to proper movement in a natural, comfortable, and effective way. The sole of your shoe is often the part that sees the most direct use since it makes contact with the court (or the ground, if you aren't playing on a proper game court) and has to keep your entire body stable and upright. As such, a bad sole is going to make your shoe less useful and might even make it a dangerous shoe to wear for major games.
Gum Rubber
For many people, the best racquetball shoe sole on offer is any rubber sole, mainly a gum rubber sole. A decent non-marking gum rubber outsole can function really well on almost all surfaces, and gum rubber sole designs are usually also going to be stronger than a normal rubber sole. In fact, there are many times where a high-priced and exclusive brand will return to using a non-marking gum rubber sole since a well-made gum rubber outsole can outclass nearly anything else depending on how well it has been constructed.
Other Options
If you aren't interested in a rubber outsole (or gum rubber outsole), then it is a good idea to look into synthetic materials instead. Many of them are going to be similar to a rubber outsole in terms of how they look and feel, but they might trade away some durability for lighter weight and reduced bulk. Others can go in the opposite direction, adding even more durability or focusing almost entirely on traction. Depending on what you want, a highly specific synthetic sole can be a very good choice, especially if it can go further than the limits a rubber sole provides.
The main duty of a sole is to protect the bottom of your feet and offer traction, so you want to make sure that your sole can do both of those things. There are plenty of materials that can offer both, but they won't always be equal, so you need to choose exactly which one suits you best. Listing them all in this buying guide would take too long since every individual company can have their own unique synthetic materials, and some racquetball-specific shoes even have special materials that are kept hidden like a manufacturing secret.
The Upper
The upper is the part of any pair of shoes that most people see, regardless of whether they are shoes for men or shoes for women. Not only do these act as the "main" part of any shoes, but they also have a lot of impact on how that shoe pair feels and the way that each shoe fits on your feet. As such, it can be just as important to get a good shoe upper as a good shoe sole, racquetball, or no racquetball.
One of the biggest worries with the upper is flexibility. Unlike a non-marking rubber sole, an upper doesn't necessarily have to be either rigid or soft, but it should ideally be flexible enough for you to move comfortably. Materials like synthetic/leather combinations generally strike a good balance, but it is possible to have too much or too little flexibility in a given shoe. Just because a shoe is more flexible doesn't make it a better shoe overall.
For example, if you are playing racquetball and have a loose shoe, then you are more likely to fall over, or the shoe could fall off your foot. On the other hand, a tight shoe might make it hard to move that shoe properly around your ankle, which can result in the shoe restricting your movements. Either way, your shoe can be directly responsible for pain, distractions, slips, failed motions, or even problems that damage the shoe directly.
Because of this, it is important to focus on getting a shoe that accurately suits your preferred level of shoe flexibility. There is a reason that most sports shoe designs are made with synthetic meshes but still have a stable construction behind that flexible surface: you want your shoe to stretch without stretching so far that the shoe stops being an actual shoe and just becomes a lump of material in a vague shoe shape. Your performance can often depend entirely on how reliable your shoe pair will be, so choose carefully.
Finally, check for breathability. Air mesh and other similar materials can work wonders here since most air mesh types are going to let air flow through the shoes perfectly fine, but having air mesh with nothing to back it up can quickly cause the air mesh to feel loose. Even so, breathability is underlooked and remains important at any skill level.
Insole
Unlike the sole, the insole is mostly about comfort and padding rather than durability. Every shoe that can be used for racquetball, from large brand product lines such as the Adidas Performance Men 's Barricade line to the Mizuno Wave Lightning, will have a decent insole, but a better insole is often the key to better overall performance. Unfortunately, insoles can also be one of the most complex features of a shoe, and they can be far more subjective than the problem of whether to buy a gum rubber sole or not.
What might matter more is the unique features or differences on offer. Some shoes can use a forefoot gel cushioning system that will change how your shoes feel as you walk around the court, and other ones might include features that provide better support on your feet. This kind of forefoot gel feature is very common, although it can come in many different forms, from physical padding to unique design choices built into the layers themselves.
The insole might also feed into features like ankle support, even if they are part of the upper, which means that it can be a good idea to consider the insole and upper as connected pieces within certain designs. This isn't always the case, but it is true quite often, and it can help you keep track of the relative quality of different parts.
Midsole
The midsole is where racquetball shoes have a chance to try something new. They are often the part that has the most unique features since they fall between the outsole and insole – allowing them to lean towards more comfort, more protection, or a mixture of both. For example, you might find that one midsole provides excellent benefits to your lateral movements, while another one is entirely focused on shock absorption.
Molded EVA midsole designs are often seen as the standard for the amount of protection and comfort that they can offer, backing up whatever cushioning system and gum rubber soles you might already have on your shoes. However, this doesn't make them the best option since plenty of other choices exist. Forefoot gel cushioning is sometimes used in the midsole, and there are designs that are meant to emulate gum rubber soles for more raw protection at the expense of not having that same soft feel.
The Gel Rocket
There are also features like the ASICS Trusstic System technology used in the ASICS men 's Gel Rocket 7 line, which serves as a way of improving your momentum from both lateral movements and non-lateral movements (depending on the way you move around the court). The Trusstic System technology is usually only found on the ASICS Gel Rocket 7, acting as the exact opposite of a standard ASICS gel cushioning system: instead of more comfort, you are getting more raw power behind your steps from the Trusstic System shoes.
Features like this are an important thing to consider since the right feature provides excellent benefits as long as they fit your needs. Men 's racquetball players might end up thinking that power and strength are all that they need, for example, but if you prefer to be comfortable, then buying something that is built entirely for power can become a problem.
Branding
Which racquetball shoes best suit your needs? Again, there are far too many individual shoes to cover in one buying guide, but focusing on brands can help. Each racquetball shoe brand makes racquetball shoes in different ways, so one company might focus more on synthetic-mid racquetball shoes whereas another makes tennis shoes that are suitable for other sports too. Even with a focus on something like synthetic-mid racquetball shoes, there are multiple shoes that make synthetic-mid racquetball footwear, and these synthetic-mid racquetball shoe designs can be different enough to stand out.
For example, the Prince NFS Attack line is great for court play, meaning that they are great as basketball shoes as well as for racquetball. However, you could classify the NFS Attack line as being squash shoes instead due to their design. Racquetball is just like any other sport, so it is easy to see things like the Adidas Performance, men 's Barricade Club, or the Mizuno Wave being used for other sports alongside being a common racquetball shoe.
Every brand and product line is different, from the HEAD men 's Sonic 2000 range to the Asics Gel Rocket 7. Court shoes come in all shapes and sizes, from dedicated outdoor volleyball shoes to generic indoor court shoes and everything in-between. Whether you are choosing specific basketball shoes or a certain product line like the men 's Barricade Club shoes, understanding the characteristics of that product line or brand can save you from paying too much or buying the wrong thing.
If you are familiar with products like the HEAD men 's Sonic 2000 or have at least seen the HEAD men 's Sonic 2000 advertised somewhere, then you might be more likely to choose the Sonic 2000 shoes if they are an option. We usually gravitate towards whatever volleyball shoe, indoor court shoes or, exercise shoes we recognize, meaning that you might be more likely to buy that Sonic 2000 over something like the Barricade Club.
Choosing the Best Racquetball Shoes
It wouldn't be accurate to say that there is a single pair of the "best racquetball shoes" out there to go and find, either among shoes for men or shoes for women. However, you can definitely find the best racquetball shoes for yourself, even if they aren't necessarily the type of shoes that many people would consider the best themselves. Whether it is brands like HEAD men 's shoes, generic indoor court shoes with a non-marking sole, outdoor court shoes meant for mixed sports, dedicated volleyball shoe designs, or even something like the Gel Rocket, you are free to choose what suits you best.
Be sure that you are looking at accurate product details, though. While most brands won't lie about stuff like a gum rubber sole or ankle support, it is easy to end up buying counterfeit Gel Rocket shoes or getting an EVA midsole that is not true EVA materials. Even if you get a real Gel Rocket or Mizuno Wave from a reseller, it might not be in the condition that you expect: gum rubber soles can be scratched or pieced, ankle support might not be sturdy, and so on.
Conclusion
Finding the best racquetball shoes isn't that simple since there are so many to look through, and all of them are designed in unique ways. Just because one design appeals to one person doesn't mean that it is the best overall, and there are plenty of cases where you can end up with a very different result from the average person looking for a similar kind of product. Try to narrow down your search based on your own preferences and wants, then start expanding to other shoe types or brands if you get stuck. The more precise you can be, the better.
Remember that the best racquetball shoes aren't always even going to be marketed as racquetball gear, and they don't necessarily have to just be for use during racquetball games. Like most sports footwear, they are often versatile enough to work for a wide range of different activities or even as casual shoes, so take your time and don't feel like you have to restrict yourself. Sometimes it is even best to ignore dedicated racquetball shoes and go for something more varied, especially if you want one pair that can be used for multiple sports with the same level of overall quality.
Expert Tip by Alexis DeSalva Kahler
Give your new shoes a test run on the court before any big game.
Did You Know?
Different shoes require different amounts of time to 'break-in,' so you will often want to wear them for a while until they feel right. Don't spend too little time doing this, or they could still feel uncomfortable during your following racquetball match.