Having read and watched many reviews we can honestly say that selecting the best Volleyball Shoes is not as easy as it may seem. You need to consider a number of features before coming to your decision including the sole of the shoe, the material used in construction and the design of the shoe. These aspects include the cushioning provided, support offered, especially when having to make quick foot movements, the weight of the shoe and the breathability of the material used in its construction.
Traction is also a very important aspect of any volleyball shoe. Selecting the correct volleyball shoe for your requirements will help you to reduce injuries and at the same time raise your performance to a higher level. More interested in basketball? Check out our review of the top basketball shoes.
There are so many different brands on the market that selecting the right one can seem very daunting, so we have looked at those that are available from the different top brands on the market, and selected our top shoes to help you perform at your best.
What to look for When Buying a Volleyball Shoes
So what do you look for in a Volleyball Shoe? Comfort, the breathability of the uppers, traction on the sole and great stability are all excellent qualities in a Volleyball shoe and will give you the advantage on the court. So let's have a look at some of the more important aspects to a Volleyball shoe.

Support and Cushioning
This is provided for by the inner sole of the shoe. Padded and cushioned forefoot and rear foot pads are important as Volleyball players often have to spend a long day on their feet when participating in all-day tournaments. Having a shoe that offers you the comfort you need will enable you to perform at you peak at all times.
The midsole of the Volleyball shoe is designed to absorb the shock of impact from jumping, quick stops and fast changes of direction. The midsole of the Volleyball needs to be strong yet flexible to give you the best performance.
Stability
This is one of the most important aspects of a Volleyball shoe. Volleyball players need to move quickly around the court in multiple directions. Quick changes of direction are also common. Moving forward, backward and left to right or vice versa quickly is imperative, you go where the ball goes. Having a shoe that offers the stability to cope with this type of movement is vital to prevent injuries such as rolling your ankle.
Having a shoe that provides the kind of stability you need might not prevent ankle injuries, however, it does lessen the chances of you sustaining one during a game. Although most athletic shoes will provide you with the stability to move forward they may not provide the multidirectional movement necessary in a Volleyball game.  The traction on the Volleyball shoe is also vital.
It needs to have a superb grip as you will be moving fast, stopping and changing direction quickly, your shoe needs to keep you stable on the ground without allowing you to slip, fall and injure yourself. The grip your Volleyball shoe offers is one of the most important aspects of your shoe.

Breathability
Volleyball is a fast and furious game that demands a lot from your feet. This means that your feet will get hot and sweaty. A shoe that allows for adequate airflow to keep your feet cool and dry is essential. The cooler your feet the more comfortable you will feel and you will perform a lot better on the courts.
Weight & Durability
The weight of your Volleyball shoe is important. You don't want to have a shoe that weighs you down on the court. Volleyball is a game where fast movement is required and if you have heavy shoes on your feet, you may find that your feet tire quickly and you will not perform at the level you should. Having a shoe that responds quickly to your needs, such as jumping, sprinting or having to turn quickly, you will find that you perform at your best on the courts.
Bearing this in mind, you need a shoe that is lightweight without sacrificing both stability and durability. The ASICS Volleyball shoes are great for this kind of construction and are designed to be some of the lightest Volleyball shoes on the market.
Design and Fit
There are a number of different Volleyball shoes on the market and although they each have much the same features, it is ultimately the design and fit of the shoe that will make all the difference to your selection of the perfect Volleyball shoe to meet your needs. When selecting the correct shoe you need to consider that a great Volleyball shoe will allow your foot a great range of movement, without it being able to slip or slide around inside the shoe.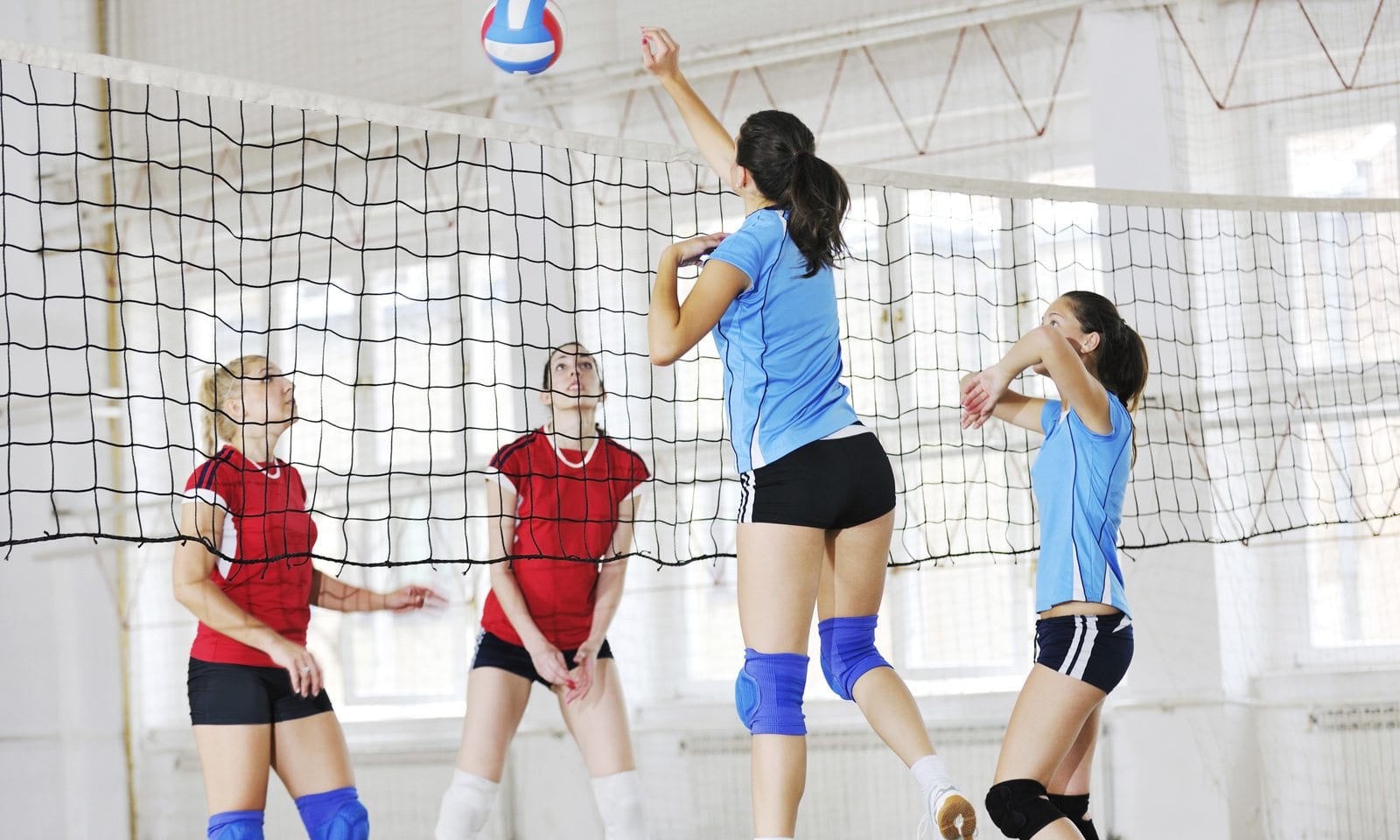 The Volleyball shoe should fit snugly without being too tight. If you have wide feet then you need to look for wide width Volleyball shoes and not merely the most popular Volleyball shoe. The same is the case if you have foot or ankle issues. Looking for Volleyball shoes with ankle support is important if you have weak or vulnerability in the ankle regions.
The fit of the shoe is paramount. When you decided which Volleyball shoe you want, you need to fit a pair on to make that final decision. Be sure to wear the same socks as you would when playing and also bring along any braces you might wear when you go for your fitting.
Choosing a Volleyball shoe that is gender specific is always a good idea. Men and women's feet differ both in shape and size and a standard men's size 7 will not necessarily fit a lady properly.
Conclusion
Selecting the right Volleyball shoe will make all the difference to your performance on the court, as well as your enjoyment. Select the shoe that provides the right amount of support and cushioning you need. Select one that provides stability and security to you when playing and most importantly selects the one that offers the best fit.
View the Best shoes for volleyball, Below
Buyers Guide Questions
What are Volleyball Shoes?
Volleyball shoes are those shoes that are designed to offer you the best kind of support, comfort, and traction that Volleyball players require. They are designed to cope with the fast pace of the game, having lateral movement support and secure fits.
Can you wear Volleyball Shoes for Tennis?
Yes, you can use volleyball shoes to play tennis but there are a few drawbacks to doing this. The first one is that Volleyball shoes are designed to be sticky and have exceptional grip. They are extremely lightweight in comparison to tennis shoes and although they offer the stability you will need they are not in the same league as a good pair of tennis shoes.
Because of the grip the ASICS and other brands offer you might wear your shoes out quickly when playing tennis in them.
What is the top Brand of Volleyball Shoes?
There are three major players in the world of Volleyball shoes, Mizuno, ASICS, and popular Nike. These are the top brands of Volleyball shoes on the market and Mizuno is the brand used by the USA Volleyball teams. These brands Volleyball shoes offer the traction, support, stability and comfort you need in a Volleyball shoe, employing the latest technology to enhance their designs.
They use the best materials to manufacture their shoes to ensure that you get the breathability you need.
Conclusion
When you are considering which Volleyball shoes you will need, you must consider what type of player you are. You need to consider what type of qualities you are looking for in a Volleyball shoe, be it superb traction, excellent shock absorption or added stability. The shoes you wear when playing Volleyball are paramount as you will be doing a lot of footwork on hard surfaces.
Having a shoe that offers shock-absorption and stability is one of the big things you should look for. Importantly, if you do not get the right fit, then all of the features on the shoe will not be worth much, so fitting your shoe correctly is vital. When selecting your shoe for volleyball to determine what type of socks you will be wearing as well as any kind of brace you might need and fit your shoe wearing these items.
A great Volleyball shoe for men or women must have some vital characteristics, these include comfort and support, stability, excellent traction and of course breathability. The Volleyball shoes reviewed are all great athletic shoes, the one you choose will depend on your own requirements and that will depend on the type of game you play and the surface you like to play on.
Expert Tip
The setting is a vital aspect of the game and timing and accuracy is vital to a great set. Reducing the spin on the ball will increase the float and that can make all the difference when your teammate goes for the spike.
Did you know
Volleyball was not always called Volleyball, in fact, it was called Mintonette until changed. Volleyball is now the second most popular sport in the world after soccer and is an Olympic sport since the 1964 Tokyo Olympics.