10 Best Disc Golf Shoes in 2021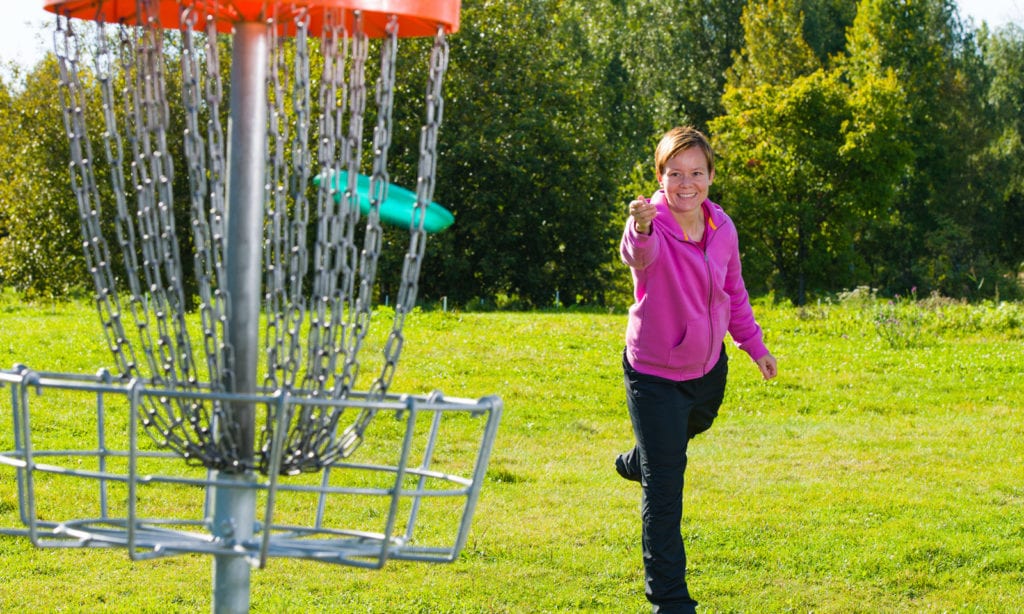 Disc golf is a surprisingly different sport to regular golf, meaning that it requires very different equipment and clothing if you are aiming for the best possible performance and comfort. Like most sports, the shoes are the thing that can make or break your entire outfit and set of equipment: bad shoes aren't just going to make you uncomfortable, but they can actually lead to accidents, clips, constant foot pain and a range of other problems that aren't easily solved if you continue to use the wrong shoes each time. But how do you choose new disc golf shoes, and what options are available to you?
View the Best Disc Golf Shoes, Below.
1. Merrell Men's Moab 2 Vent Hiking Shoe
These ventilated hiking shoes are made with a combination of tough suede and tougher leather, giving you plenty of durability and protection without liming the amount of breathable mesh that covers key areas of the design. The closed-cell tongue prevents moisture and debris from getting to your feet, while the protective rubber cap acts as more physical protection from bumps or stumbles. To provide better performance and comfort, the insole is made with proper air cushioning that reduces fatigue, placed on a Vibram rubber outsole that balances slip resistance and durability to give you the best of both worlds. Even better, most of the materials used are recycled!
These make excellent disc golf shoes thanks to the high grip, improved protection, and breathable mesh layer of the design.
Check Price on Amazon ➞
2. adidas outdoor Mens Terrex Swift R2 GTX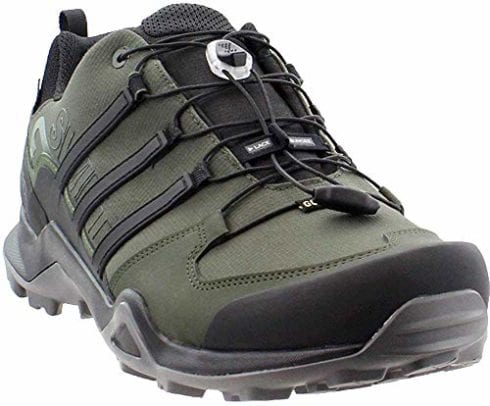 These synthetic outdoor shoes are meant to survive any weather with very little effort, using a breathable and waterproof mesh made of GORE-TEX and TPU to keep your feet dry. The design also has a TPU toe cap for improved physical protection and a cushioned insole that offers boosted support. Alongside that is an EVA layer that acts as the midsole, handling physical shocks and bumps to keep you comfortable and provide even greater support on uneven ground. To help with gripping, the TRAXION rubber sole uses a high-traction design that is perfect for taking on both dry and wet conditions without slipping or stumbling over.
These shoes are perfect for disc golf and dozens of other outdoor sports, giving you a waterproof way to handle everything from wet grass to a major rainstorm with ease.
Check Price on Amazon ➞
3. New Balance Women's WT410v5 Cushioning Trail Running Shoe
The improved cushioning in these trail running shoes makes them much more comfortable than other options. Not only do they use a softer insole, but the Acteva midsole provides even greater comfort and support without bulking up the design of the shoe, allowing for faster and more fluid movements. This midsole also uses EVA materials for boosted protection against things like sudden shocks and heavy steps, working with the durable and high-traction rubber outsole to offer greater grip and stability in both wet and dry conditions. Thanks to the mesh used in the upper section, the amount of ventilation offered by each shoe is also much higher than you might expect.
This is another pair of disc golf shoes that work well for almost any outdoor activity, giving you all the protection you need in a simple, comfortable design.
Check Price on Amazon ➞
4. adidas Men's Tech Response Golf Shoes
The six-spike design of these shoes, combined with the extremely tough EVA outsole, makes them incredibly useful for sports like disc golf. Not only do they use a special EVA foam midsole to boost protection and durability even further than most designs, but they are also made with a simple lacing system and use mesh in the upper area, giving you far more comfort and helping to keep your feet physically protected better than most shoe types. The design of each shoe also includes ThinTECH materials to provide better traction and flexibility, allowing them to deal with uneven natural ground and reduce short-term foot fatigue.
These are excellent disc golf shoes for anybody who wants proper protection and support on open terrain, especially wet grass and dirt.
Check Price on Amazon ➞
5. Salomon Women's Speedcross 4 Trail Running Shoe
These train running shoes work well for activities like disc golf thanks to their excellent design, which combines a protective water-resistant mesh upper with a simple lacing system for much greater ease of use and overall comfort in wet conditions. The EVA sole allows for much better levels of physical protection and durability, as well as improving your overall traction on almost any type of natural terrain to make movement easier. Thanks to the design of the neck section, pebbles, and other debris won't usually get inside and harm your feet, keeping you comfortable through all kinds of activities and exercises.
These are excellent shoes for disc golf, giving you enough protection to make sure that you are not being harmed or irritated during your various exercises and sports.
Check Price on Amazon ➞
6. adidas Men's Rockadia Trail m Running Shoe
While they are meant for trail running, these shoes work well as disc golf shoes thanks to their high flexibility and the excellent comfort provided by the fabrics in the design. The mesh upper can make sure that you are comfortable and able to stay cool in hot or humid weather, while the durable synthetic overlays provide a good mixture of both support and durability that other shoe designs might not have. Despite all of this, each shoe is also surprisingly lightweight, making them much more useful for activities where fast movement is important. As a side note, the insole can be removed and replaced with whichever one you prefer.
This is one of the most straightforward choices of disc golf shoes on the market, providing you with a range of simple but reliable features and design changes.
Check Price on Amazon ➞
7. KEEN Women's Targhee II Hiking Shoe
The waterproof nubuck leather used in the design of this shoe pair makes them much more resistant to rain and wet weather, making it much easier to take part in activities like disc golf in all weather conditions. Thanks to the breathable membrane used in the upper, your feet can keep cool for much longer without getting soaked, and the built-in EVA insole gives you much better arch support to help you stay on your feet for far longer. The KEEN all-terrain rubber outsole is another key part of the construction, boosting your traction and grip on almost all terrain while making sure that it doesn't leave any marks or damage behind when worn indoors.
These are some of the best disc golf shoes in terms of protection and durability, making sure that your feet can endure more fatigue and shocks than with most other shoe types.
Check Price on Amazon ➞
8. Salomon Men's Speedcross 4 Trail Running Shoe
These trail running shoes use an aggressive grip design that allows for much greater traction on soft surfaces, helping you stay upright and making precise movements far easier. This is made possible through the rubber lugs that line the bottom of each shoe, helping you dig into the ground and hold on properly even at angles. Alongside that is the lightweight but durable EVA midsole that improves cushioning and helps you stay stable during swift movements, as well as a simple lace-up closure system that is easy to adjust whenever you need to make changes. All of this, combined with a snug fit, makes this a good set of golf shoes.
These disc golf shoes are ideal for people who want high traction and low weight, especially on softer or less solid surfaces such as sand and dirt.
Check Price on Amazon ➞
9. KEEN Women's Voyageur Hiking Shoe
This women's hiking and golf shoe design is incredibly stable, offering a durable EVA insole design that works alongside the tough upper to give you maximum protection in most situations. Below this midsole is a gum rubber outsole that uses thick multi-directional lugs to help you stay stable while moving in more than just one direction, as well as a block heel that is much more durable than most shoe designs. The insole uses an anatomically-precise design that gives you better arch support and keeps your heel in the right place for all movements, regardless of the activity you are doing or the kinds of movements you make.
High stability makes this hiking shoe one of the best disc golf shoe types on the market when it comes to natural ground and uneven terrain.
Check Price on Amazon ➞
10. Columbia Women's Dakota Drifter Waterproof Shoe
This hiking shoe uses a mixture of rubber, mesh, and suede to give you a tough, waterproof, and highly comfortable design that works for all kinds of outdoor exercise and activities. The breathable mesh also includes the tongue, helping you stay cool while still offering a properly waterproof design. An adjustable lace-up closure and a good level of support from the midsole makes each shoe much more comfortable for a range of foot sizes, especially outdoors. On most surfaces, the multi-terrain traction design of the outsole lets you handle a range of terrain types, using a dual-zone tread that can even help you stay stable on show, ice, and other solid ground.
As a disc golf shoe pair, these shoes offer an excellent amount of support and protection regardless of the weather or surface you are dealing at the time.
Check Price on Amazon ➞
Disc Golf Shoes Buyer's Guide
What is the Best Disc Golf Shoe?
Disc golf, like any other sport, has a range of shoes that are made specifically for it. However, it is easy to focus on brand names when looking at different shoe options: this can be useful, but it can also be a massive problem for new disc golf players. For example, let's take the adidas Terrex Swift R GTX. The adidas Terrex Swift R GTX is a track shoe by nature, so most people that buy the adidas Terrex Swift R GTX will be getting a very lightweight option.
The same can be said for KEEN shoes, but their designs will differ from the adidas Terrex Swift R GTX, and both brands will offer different things. Buying an adidas Terrex Swift R GTX isn't a bad thing, but it can be a huge problem if it is not actually something that would work best for you. It is a good idea to only use brand names as a quality indicator.
The adidas Terrex Swift R GTX is likely to be a better product than those made by smaller brands, but if the Swift R GTX isn't giving you features you need, it is not a disc golf shoe you should be using. The same goes for brands like KEEN: KEEN produces a lot of shoe designs, but that doesn't mean that there will be a KEEN shoe that is perfect for you. Even groups like Latitude 64, a company that specifically makes disc golf shoes, aren't exempt from this: just because Latitude 64 exists doesn't mean you have to buy Latitude 64 shoes if they aren't to your liking.
What about Drivers and Discs?
Disc golf isn't just about the shoes, so make sure you get all of the right gear before you start playing. A good shoe can keep you comfortable, but you also need a good disc and the right kind of clothing if you want the best results possible. Your shoe style is only one of many factors that can change how you play, and disc golf is one of those sports that doesn't change very much from a rules standpoint: you will often be able to use the same shoe for years' worth of games as long as it is a good shoe pair.
Expert Tip
Remember that your shoe measurements aren't always the same throughout the day. Your feet expand a little bit later in the day (more if you've been standing up and moving often), so get measured for shoes in the afternoon if possible. If you don't, you might pick shoe options that are too small for comfortable afternoon use.
Did You Know?
Disc golf isn't as intense as running, but throwing a disk can be really hard work: depending on your style of play, you can wear your shoes out faster than you would from regular walks, especially if you play disc golf in areas of rough terrain.
Conclusion
If you are still interested in getting shoes for disc golf, remember that every shoe is different, and no two are guaranteed to be the same. Each shoe design can have a completely different impact on how you play, and every shoe pair will have something unique about it. You don't have to choose any specific type of shoe or shoe brand to play since it all comes down to your own preferences in the end: if you find a shoe that you like and feel comfortable using, there is no reason not to choose it!
Did none of the shoe options above appeal to you? If not, they can still be useful: they are a great place to start off your search by giving you an idea of what to look for, as well as showing you what kinds of features you might need or prefer if you are new to disc golf in general!