Flip flops are an essential summer shoe, and despite what you may see on TV shows and in catalogs they're not just for women. Flip flops for men is an increasing market, and these shoes are becoming more popular each summer. This is due to how comfortable, versatile and practical flip flops are.
In the summer, encasing your feet in stuffy sneakers or boots simply won't do. Open-toed sandals, like flip flops for men, are much more comfortable and allow you to enjoy your hike, walk, beach day or vacation even more. You no longer have to feel uncomfortable and hot during the summer. As the market of flip flops for men is increasing, finding your perfect pair may take some time.
We've researched the best brands and styles of flip flops for men to find the top ten, so you don't have to do a thing.
View the Best Flip Flops For Men, Below.
Buyer's Guide To Flip Flops For Men
Flip flops are a kind of sandal that typically has no heel and no back. They are secured onto your foot through a thong strap. This goes in between your toes to keep the shoes onto your feet. Flip flops are favored with many vacationers due to how lightweight and flexible they are. The style may be simple, but this is why they are so popular.
Flip flops for men is a growing market. Despite what you may think, flip flops are not just shoes for women in a rush. Men too can enjoy the comfortable, breathable and supportive feel of these sandals. Dressing in the summer can be quite difficult, as you want to be cool and comfortable while still looking good.
With flip flops, you can dress up or down, as well as still have the capability to get involved with summer hikes, walks, and beach trips. When looking for the perfect pair of flip flops for men, there is a range of things you need to consider.
Foot Support
Flip flops for men are incredibly versatile shoes that can be worn at various summer activities or occasions. If you are going to be wearing these sandals for a long time, then it is vital that they are comfortable. Flip flops for men are typically lightweight and flat shoes that are favored for their quick wear. It is this quick wear that makes them ideal for various summer outings.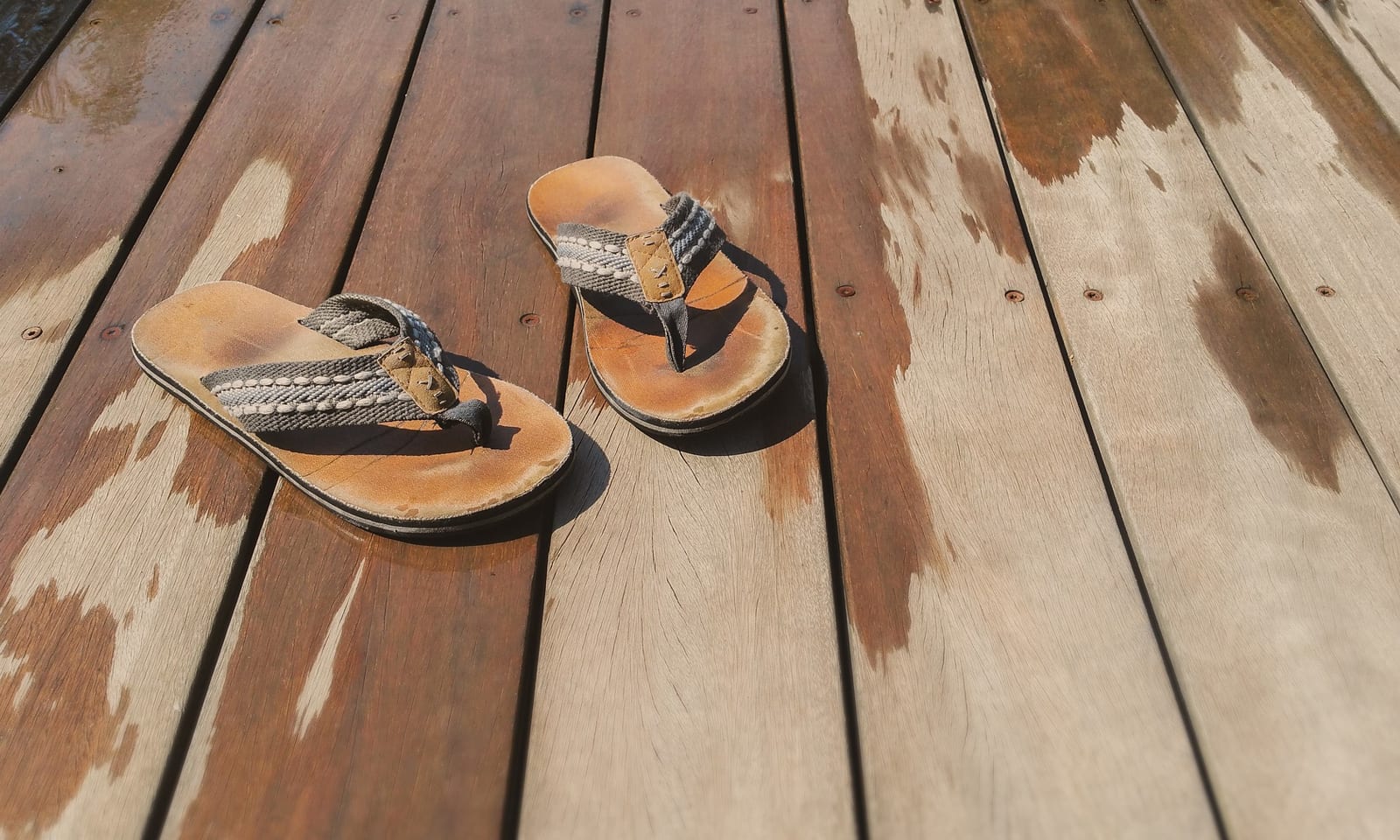 When looking into the perfect pair of flip flops for men, you should consider how supportive they will be. This means paying attention to the arch, heel and general sole of the shoe. Many flip flops have a raised heel for support, such as the Okabashi Mens Surf Black Xl. These flip flops come with a heel cup that molds to the shape of your foot for comfortable wear.
Likewise, arch support as seen on the Sanuk Men's Beer Cozy 2 is going to guarantee that these flip flops for men are comfortable and suitable for long term wear.
Durability
Flip flops for men are brilliant summer shoes that are versatile enough to be worn all summer long. However, in order to make the most out of your flip flops, you need to make sure that they are durable enough to withstand repeated wear. When determining how durable flip flops are, you should look into the material of both the upper and sole. The stronger the material, the more durable and therefore long-lasting the flip flop will be.
Tough fabrics such as leather, as used for the Birkenstock Arizona Unisex Leather Sandal, and rubber, as on the Teva Men's Pajaro Flip-Flop, are great options for a long-term shoe. This kind of flip flops for men are made to last, which is exactly what you want from a shoe as versatile as a flip flop.
Do you suffer from Plantar Fasciitis? Consider these flip flops for plantar fasciitis.
Traction
Although flip flops are lightweight and often quite slim shoes, they can be worn at all occasions and on all terrains. Some versions of flip flops for men are better suited to certain circumstances which is why it is so important for you to consider the traction carefully before purchasing.
If you are looking for flip flops for men to be worn during summer sports or activity, you need to find shoes with great traction to support your movement. The Teva Men's Mush II Flip-Flop have been made to be worn on the beach, which means they have great traction on the outer sole. This traction is designed to support balance and movement on a variety of terrains.
Likewise, the Havaianas Men's Top Flip Flop has a specially designed rice pattern on the outsole that is designed to keep feet upright on sand, rocks and other uneven terrains. The better the traction is on the flip flop for men, the better they will be for summer sports or activities.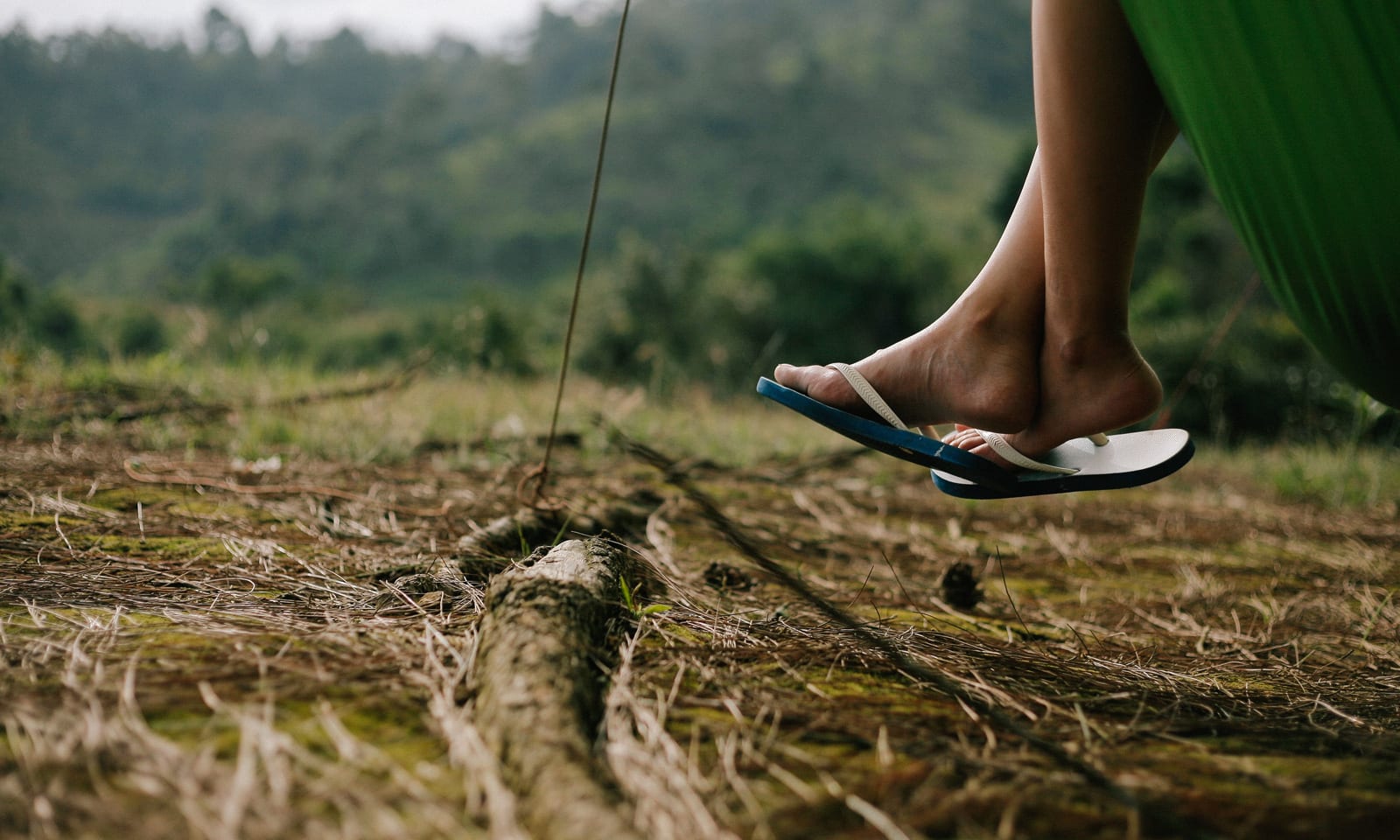 Water Resistant
Flip flops for men are a summer shoe that can make all the difference to you during the hotter months. As they are a summer shoe, being suitable for water is vital as you are likely to be by a pool or at the beach for days on end. Most flip flops for men that are available are made from water-resistant materials, but only certain models are better suited to these areas.
Flip flops such as the Reef Mens Sandals Phantom have been specially designed to be worn on the beach, meaning they are water resistant and easy to clean. When looking for water resistant flip flops for men, look out for synthetic materials such as rubber and plastic. These durable materials are easy to clean and water resistant.
Flip Flops For Men FAQs
Once you've finally selected the perfect pair of flip flops for men, you want to take care of them so they will last you. The longer the sandals last, the better value they will be. Here follows some of the most frequently asked questions about flip flops for men and their upkeep.
How To Clean Flip Flops?
After repeated wear, flip flops for men will start to gather a lot of dirt and may even become quite smelly. Especially if you are wearing these sandals on the beach or around the pool, keeping them clean is essential. If you manage to keep your flip flops clean, you are certain to prolong their life and be able to wear them more often.
Cleaning flip flops may differ depending on the material they are made from, for example, leather may require some additional steps. However, most sandals will benefit from a gentle wash in warm water with a light amount of soap. You can scrub away any marks or stains as well as eliminating any odors this way.
How Should Flip Flops Fit?
Flip flops are a comfortable shoe that should make you feel cool and relaxed when wearing them. It is this comfort that makes flip flops an incredibly popular summer shoe, and you want to make sure the pair you pick follow this pattern too. Ensuring your flip flops are comfortable comes down to the way they fit.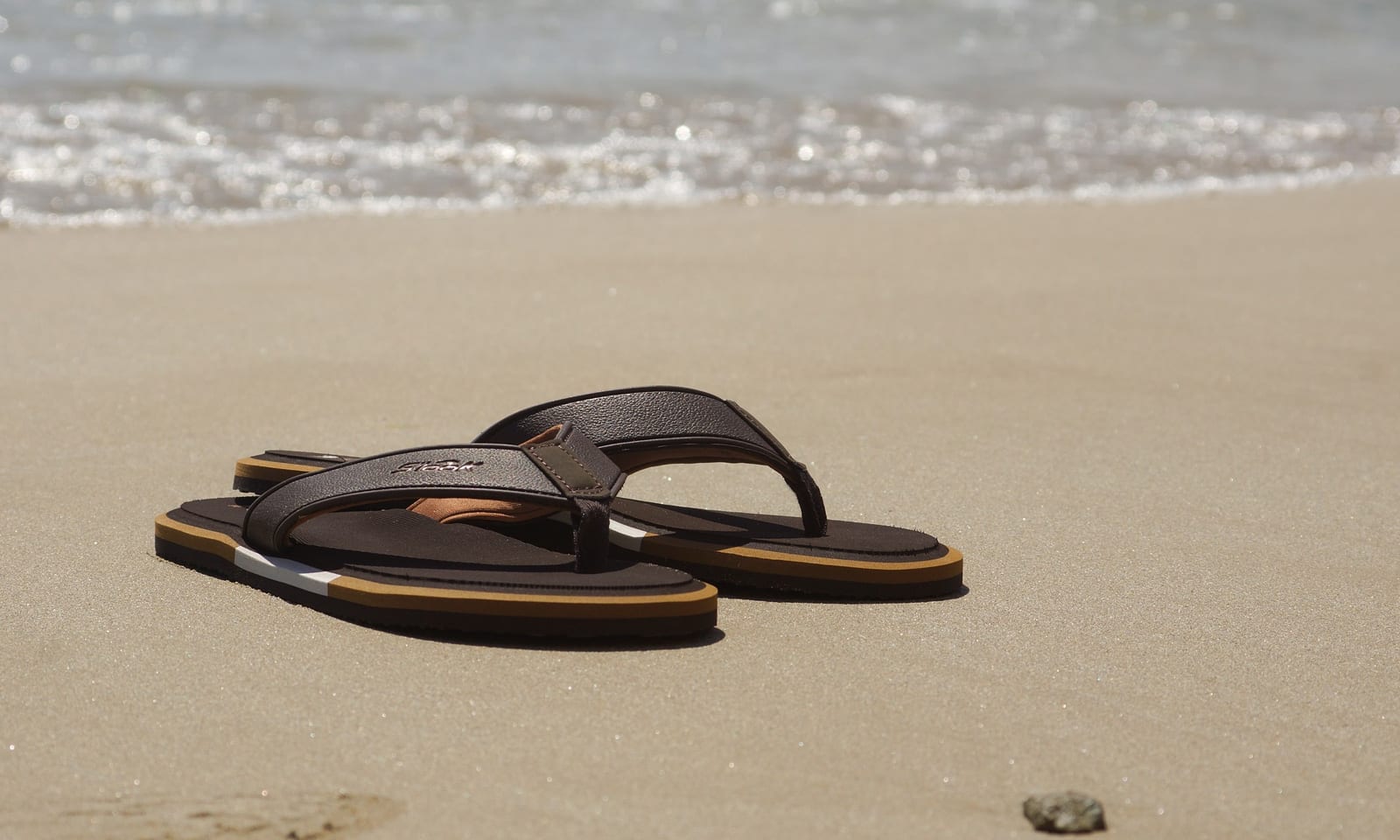 Flip flops should fit with a good sole, support on certain areas of your foot – this will differ depending on your needs – and will provide the room. You should not pick flip flops that are too big as this can be quite dangerous and may even lead to damage later on. The straps of a flip flop should be snug, but shouldn't dig into your skin or feel tight. They will keep your feet secure in the shoe without damaging your skin.
How To Fix Flip Flops?
Due to how long it can take to find the perfect pair of flip flops for men, you want to make sure they last. No matter how durable or high-quality your sandals are, wear and tear is unavoidable. But if your flip flops break, you do not need to throw them away! Fixing them can be incredibly easy.
The most common area of damage on flip flops for men is the straps. After constant wear, the thong strap is likely to become damaged and may come apart from the shoe. Some brands do offer a maintenance service where they will fix your shoe for you. However, it is possible to fix them at home using string or fabric as a replacement for the strap.
Conclusion
Flip flops are an incredibly popular summer shoe as they are lightweight, flexible and suitable for all occasions. The best pair of flip flops for men should be durable, comfortable and supportive of movement. You want flip flops to see you through all summer events.
Did You Know?
Flip flops get their name from the sound they make when they hit the ground. As they are loose sandals, they will slap the floor with movement.
Expert Tip
Chose flip flops that have a lot of foot support in the arch and toes to aid movement and improve the benefits of your exercise.