The 10 Best Shower Shoes in 2021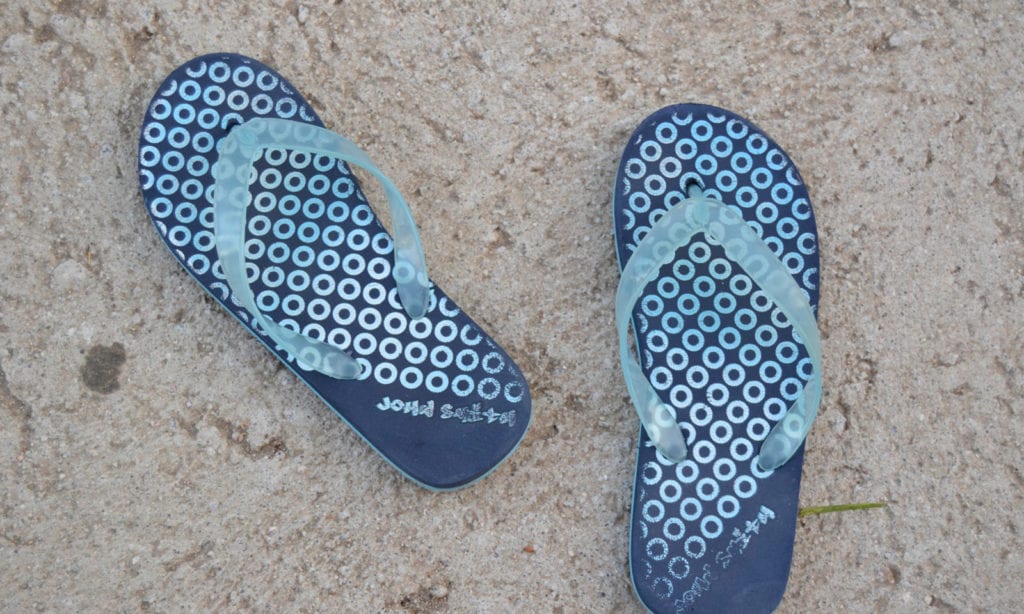 Shower shoes are an essential form of footwear for anyone who uses public showers, swimming pools, or communal bathrooms. Why? Because they protect your feet from nasty bacteria that could cause infections such as warts, verrucas, or athlete's foot. The best shower sandals will be comfortable as well as protective. They should be designed to offer a secure fit that ensures that water drains away quickly. It's also critical that shower shoes are quick-drying so that they can be packed into a bag soon after a shower without causing the other contents to become wet. As with all types of shoes, then looks should be considered too. Value-for-money is always a key feature to consider when purchasing water shoes too.
To ensure that you pick the best pair of shower shoes for your needs, consider this list of the top ten shower shoes on the market and the buying guide that follows it.
View the Best Shower Shoes, Below.
1. Adidas Men's Adilette Shower Slides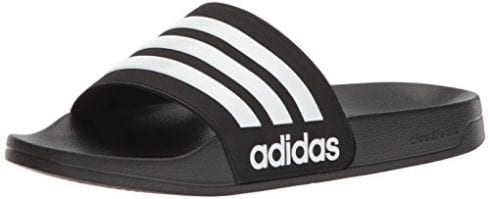 Adidas can always be trusted when it comes to footwear. And these shower sandals are a perfect example of why. They feature Adidas's iconic three white stripes, as well as the name of this famous company, which was founded in 1949 by Adi Dassler. These shower shoes feature a hard-wearing rubber sole that is extremely comfortable when worn.
They're designed to be worn in water, so they offer exceptional water resistance. The slide design allows you to easily slip them on and off, which is ideal if you're seeking shower shoes to wear while walking around a public changing room, for example, where you might need to remove them and put them back on again swiftly.
As you'd expect from Adidas, these shoes for the shower are built to last, and they're also available in a range of colors so that you can find a pair that suits your own personal style.
There are so many reasons to love these shoes for the shower. They look good, feel durable, and offer great value-for-money too. They're simply one of the best shower flip flops on the market.
Check Price on Amazon ➞
CHECK PRICE ON ZAPPOS ➞
2. BIRKENSTOCK Unisex Arizona Essentials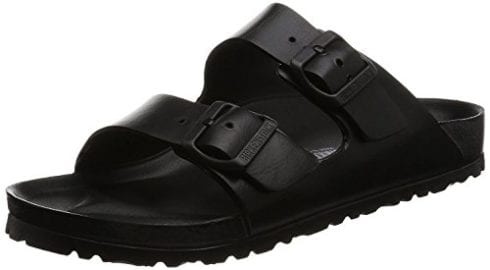 This pair of shower shoes are some of the best on the market. As with many of Birkenstock's footwear, these shower shoes are unisex. Four main features make them stand out for the crowd and put them up there with the best shower footwear available. Firstly, they offer more toe room than standard shower shoes. Secondly, they have a raised toe bar, which makes it easier for your feet to grip to each shower shoe's footbed.
The third best feature of these Birkenstocks is the footbed itself, which features a contoured design that increases comfort and contributes to better posture when wearing them. The final feature that stands out with these shower shoes is the heel cup, which is much deeper than you'll find in regular shoes for the shower, and allows for better cushioning while you're walking.
Birkenstock has set the bar high with these shower shoes. They've got one of the best designs around, which makes them comfortable to wear and contributes to better posture.
Check Price on Amazon ➞
CHECK PRICE ON ZAPPOS ➞
3. VIFUUR Water Sports Shoes
These affordable water shoes offer excellent value for the price tag. They're designed to be easily slipped on, making them ideal for the shower room at the gym or any other public shower. One of the best features of these water shoes is their breathability. When your feet are inside them, then the fine fabric means that they're as comfortable as a pair of socks.
They're also designed to dry quickly, so they won't need to sit in your gym bag wet all day, which is a problem with slow-drying water shoes. They're available in a range of colors, which allows you to choose a pair that suits your style or personality. And they offer a lot of protection for your feet too as they have a durable rubber sole.
These are some of the best shower water shoes on the market as they protect your feet, offer many comforts, and look good, all for a very reasonable price.
Check Price on Amazon ➞
CHECK PRICE ON ZAPPOS ➞
4. Under Armour Men's Locker III Slide Sandal
If you go to any gym in the USA, then you'll find at least one person wearing Under Armor gear to work out in. And if you're one of them, then it might be a good idea to complement your Under Armor gym clothing with these Under Armor shower shoes, which offer a huge amount of quality. They're made from ethylene vinyl acetate, making them easy to clean and perfect for shower use as they're resistant to water.
The rubber sole offers a lot of protection for your feet. And they're designed so that water will naturally fall away from your foot when you're wearing them in the shower room. They're easily some of the best shower sandals on the market, especially when the low price is taken into consideration too. Under Armor is a reliable brand, so you can expect them to offer quality for a long time.
Whether you wear them in public showers or beside the pool at your local gym, these shower flip flops offer a tremendous amount of quality, especially in terms of comfort and long-term durability.
Check Price on Amazon ➞
CHECK PRICE ON ZAPPOS ➞
5. Havaianas Women's Slim Flip Flop Sandal
When it comes to flip flops, then there are few manufacturers as popular as Havaianas. This Brazilian company has to be the best known flip flop manufacturer in the world. Why? Well, you only have to try these excellent shower flip flops to see why. They have a lovely, soft rubber sole that is extremely comfortable for your feet.
As always, with Havaianas flip flops, then the rubber is produced via a secret Brazilian formula, which is what makes the rubber so soft. They're lightweight, and, of course, they're water-resistant too, which is why they're perfect for a public shower room so that you can keep your feet protected from verrucas or athlete's foot.
Typically for Havaianas, these women's shower shoes look great too, so they don't have to be reserved for shower use. You could wear them to the beach too.
These are some of the best shower flip flops for women around. They're very comfortable thanks to the soft rubber sole, and they look great too. The price makes them a bargain as well.
Check Price on Amazon ➞
CHECK PRICE ON ZAPPOS ➞
6. Crocs Women's Men's Crocband Shower Shoes

These unisex Crocs are one of the best pairs of flip flops you can choose to wear in the shower. They're man-made, which means that quality is guaranteed for every single pair. As you'd expect from Crocs, these shower sandals are also very comfortable thanks to their lightweight design. They also feature 'Croslite' foam, which also contributes to the comfortable fit, as they're soft against your feet' soles. They come in a wide range of colors.
You can purchase them in an understated black or a garish lime green, as well as find them in almost every color in between, as there are a whopping 18 colors available. The price tag is hard to argue with too.
These Crocs are the best choice for anyone who wants to get a solid combination of looks, comfort, and durability. They're also one of the best shower sandals in terms of value-for-money too.
Check Price on Amazon ➞
CHECK PRICE ON ZAPPOS ➞
7. Nike Men's Benassi
These shower shoes by Nike offer a lot of quality. Every aspect of the design seems to be focused on providing your feet with the utmost comfort. The sole is constructed from a hard-wearing rubber that is slip-resistant so that you can keep safe when while on slippery surfaces, such as the shower room in your gym. These Nike shower sandals also have a synthetic leather strap that contributes to comfort and keeps these shower shoes secure to your feet.
To further enhance comfort for your feet, they have a soft midsole made from foam and featuring flex grooves so that each flip flop can mimic your foot's natural motion. They're designed to be worn in water too, so they offer excellent resistance and dry quickly too.
Nike one of the best-known manufacturers of athletic gear in the world, and, as always, it has delivered again with these shower sandals. They're a great long-term investment that's worth every penny.
Check Price on Amazon ➞
CHECK PRICE ON ZAPPOS ➞
8. SheValues Shower Sandal Slippers
These budget-priced shower sandals tick all the important boxes. They offer arch support so that they can be worn comfortably for long periods while ensuring that your feet are in an optimal position. They're also designed to be anti-slip, so there's no need to worry about an accident in your local gym's shower room. Athlete's foot won't be an issue either, as these shower shoes can be worn during the whole time you're inside a shower room, including during a shower, because they offer rapid drainage.
In fact, they dry so quickly, by the time you've got changed, you can slip them into your gym bag without any worry for them making the rest of your gear wet. Each flip flop only weighs 3 ounces, so they also won't make your gym bag much heavier when they're inside it too.
These are easily one of the best shower sandals available in the budget price range, as they offer a slip-resistant design, quick drainage, and a very comfortable fit.
Check Price on Amazon ➞
CHECK PRICE ON ZAPPOS ➞
9. Crocs Women's Meleen Cross-Band Sandal
The reason why these Crocs water shoes are so comfortable is down to the Croslite foam that's used to construct them. This soft material is very kind to your feet. It provides you with such premium comfort that many women don't just wear these sandals in the shower. The design of these shower shoes also enhances comfort because of the swivel straps, which also contribute to their eye-catching, unique looks. They feature a backstrap that keeps your feet secure inside them.
Durability is another top feature of these water shoes. The rubber sole is hard-wearing and built to last, which is typical of Crocs. They come in five different colors, including pink and black. They tend to run slightly smaller than standard flip flops, so they're best bought in a size bigger than usual.
They look good, feel comfortable, and are built with long-term durability in mind. In short, there is little to fault these women's shower shoes that are easily one of the best on the market.
Check Price on Amazon ➞
CHECK PRICE ON ZAPPOS ➞
10. Kaiback Simple Slide Sport Shower Sandal
These shower slippers from Kaiback are designed to be worn in a public shower so that you can keep your feet safe from infections such as athlete's foot. They're slide sandals with an open toe, which makes them breathable and easy to put on and take off. Despite the low price tag, they deliver a lot of quality in terms of materials. Each shower sandal has a water-resistant and slip-resistant rubber sole, as well as a closed-cell EVA insole.
If you have wide feet, then these shower shoes should be considered as they run a little wider than standard shower sandals. They're also unisex, although they come in men's sizes. Another premium feature of these low-priced shoes for the shower is their vented footbridge strap that helps to remove any water that might get trapped inside the shoes during a shower.
They offer a huge amount of bang for the buck. They're made from high-grade materials that ensure that they're protective for your feet, comfortable to wear, and durable too.
Check Price on Amazon ➞
CHECK PRICE ON ZAPPOS ➞
Buyer's Guide to Shower Shoes
It can be overwhelming when you're confronted with so many wonderful shower shoes to choose from. Which one is the best for me? This is the question that you're likely asking yourself. To ensure that you pick the very best pair for your needs, consider this buyer's guide, telling you what the key features are to look out for.
Comfort
When it comes to any form of footwear, then comfort has to be a top priority. The last thing you want to do is to slip your feet into a pair of shoes to be worn in communal showers that aren't comfy. To ensure that you get premium comfort, then it's important to look out for the following features.
Firstly, the shoes should have a design that you like. This might sound banal. But it's important. Sandals, flip flops, and slippers are just three types of shoes for showers that you can wear. For one person, a flip flop is the most comfortable type of footwear around, while it has to be a sandal for another. You have to choose the right style for you. If you hate the way that flip flops feel, then don't choose them, as you might be better off with a type of shower shoe that offers a more secure fit, perhaps with a strap to keep the shoes in place, such as a sandal.
Once you've chosen the style of water shoe, then you should then look at the materials that it is made from. A soft sole is usually a good idea. Different manufacturers choose to make their soles out of different materials. EVA is often a common choice. Foam is also popular. Crocs tend to use Crosslite foam, which is also very comfortable.
The fit is another important aspect to consider when it comes to picking footwear to be wear in showers. Are your feet more narrow or wide than average feet? If so, then ensure that you pick shoes that are designed for your foot shape. You should also check if the sizes of the shoes run a little larger or smaller than normal, as you can be sure to pick a pair that's the right fit first time. Reading reviews of the footwear from other customers can be a good idea for getting this information.
If you're getting a pair of shoes to wear in the communal showers at your gym after a workout, then you might also want to check if they're vented. You might have just worked up a sweat and be over-heated, so picking a breathable pair will aid your cool down post-workout.
Durability
The materials that the shoes are made from are the clearest indicator of their durable qualities. A solid rubber sole is always a good idea for a sandal to be worn in showers. Rubber is generally a good material, whether it's used for the foot strap or the sole. EVA is another popular material that provides a lot of durability. In terms of the construction of the shoes, ensure that they've received good reviews to know that they'll last you a long time.
Slip Resistance
If you're going to be wearing footwear on slippery surfaces, then you're going to need to ensure that the shoes are slip-resistant so that you don't have an accident. All shoes that are to be worn in showers will need to provide this important characteristic.
Looks
As with all footwear, looks are extremely important. Crocs produce shoes that are vibrant and colorful, so they might be a good choice for extroverts. Whereas Under Armor, Adidas, and Nike tend to produce shoes for showers that are more understated, which makes them a good choice for people who don't want anything flashy.
Of course, functionality is the key feature for any footwear of this type, and using the showers in your gym might not be the time to show off your fashion sense, but still, looks should be considered. If you want to go all out – we suggest the Crocs!
What Shower Shoes are the Best?
Each of the ten pairs of shower shoes on our list offers a lot of quality. To pick a single pair above all others is difficult. It is objective, of course. A good pair for one person might not be the optimal pair for another. So, the best pair for you will offer you a comfortable, secure fit. They will come in a color scheme or design that you like the look of. And they'll fall inside your budget too.
We think that the Adidas Adilette shower slides are a fantastic choice for men, as they're a crowd-pleaser that looks good, feels comfy, and offers all the protective qualities you need when it comes to water resistance and slip resistance. Women may want to consider the Birkenstock Arizona Essentials, as they also provide you with great looks, a comfortable design, and significant protection for when you're in a slippy, wet environment.
Should you wear Shower Shoes in the Shower?
If you're a gym member or a regular visitor to a public swimming pool, then it's certainly important to pop a shower shoe on each of your feet before going into the communal shower. Why? Because there are lots of bacteria on the floor of a public shower, and if you don't wear some form of footwear, your feet could get infected. There's a good chance of warts, verrucas, or athlete's foot if you've not got some shoes on when you head into the shower.
Shower shoes can also ensure that you don't end up slipping when you're walking around a public shower room. But it isn't necessary to wear them in your own home, as long as you keep your space clean. Anyone who does use shared showers, including in a college dorm, should always make sure to wear footwear so that you don't find yourself with verrucas or warts.
Can you wear Crocs in the shower?
Crocs manufacturers a wide range of shoes that are resistant to water and fine to wear in a shower. Perhaps the two best Crocs shower shoes currently on the market are its women's Meleen cross-band sandals and its unisex Crossband shower shoes. Crocs almost always will feature Croslite foam. This material is recognized for its softness, which is why Crocs are so comfortable to wear.
Just look around when you next visit your local swimming pool or are in the changing room at your gym, and you'll likely notice that Crocs are the shower shoe of choice for many of the people around you. Crocs are also a good option if you're into customization, as you can add badges and colors to match your style!
What exactly are shower shoes?
Shower shoes are referred to by several different names, including shower sandals and shower slippers. Regardless of the name they are given, they will always be shoes that are designed to be worn in the shower. Sounds simple, right? This means that they will be made from materials that are resistant to water. They'll be designed to offer a good grip on slippery surfaces.
And let us not forget that they should also offer vents or holes for drainage. How they look will depend on the style you choose, as some shower shoes will resemble flip flops, so they can be easily removed and put on but can fall from your feet just as easily. In contrast, others will offer a more secure fit that will make them a little more complicated to take off and put on.
Conclusion
If you're a member to a gym, sports club, or a regular visitor to a public swimming pool, you're going to need some shoes when you go into the showers after you've finished your exercise. In fact, anyone who uses communal showers should have some footwear to protect themselves from dangerous bacteria and fungi that grow there.
The best footwear for communal showers should offer the wearer comfort. It's important that they fit well, have a soft insole, and are breathable. You must always keep in mind that the wet floor can cause accidents, so they should always be slip-resistant too.
Durability has to be considered so that you don't have to replace the shoes after a short amount of time. A hard-wearing rubber sole is a good idea. They should also be built from other high-grade materials that are known for long-term durability.
As with any footwear, you absolutely shouldn't discount looks. Always choose a pair that suits your style, whether that's a loud, colorful design, such as you might find on Crocs, or something more understated, which is common with brands like Adidas and Nike.
Don't forget to keep an eye on the price tag too. There's no point over-spending when there are some great shoes for showers around that are very reasonably priced. As long as they tick all these boxes, you can be certain that you will most likely invest your money wisely.
Expert Tip
Each time you wear a pair of shoes or sandals inside communal showers, they should be cleaned down afterward. This ensures that any harmful bacteria or fungi that might be on the sandal are removed. Always make sure that you keep this in mind before purchasing shoes to be worn in showers. If they're easy to clean, then it's certainly a plus as it will save you from headaches in the future. Also, the easier they are to wash, then the less time you have to spend on this task.
Did you know?
Despite Crocs only becoming patented in 2006, it had managed to sell a whopping 100 million pairs of its footwear by the year 2016.