Slides are a great piece of footwear for situations where you just want to relax and let your feet get some air, whether you are just sitting around the house or taking a walk by a holiday resort's pool. In many cases, they're simply "sandals, but better," offering some extra design features and quirks that can turn a reasonably basic design into something you'll find much more comfortable than going barefoot.
However, like with all footwear, there are thousands of individual styles and brands to choose from. When you're trying to buy your first ever pair of Slides, you might end up feeling overwhelmed by all the choices being thrust into your hands.
Below are ten pairs of Slides that we think stand out from the rest, as well as a few notes about why they could be perfect for your next holiday (or just a lazy weekend at home).
View the Best Slides, Below.
1. Nike Men's Benassi Just Do It Athletic Sandal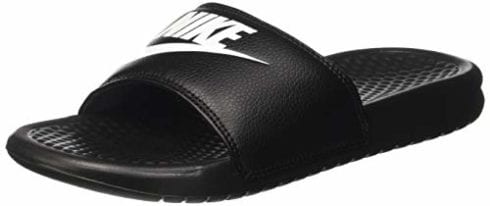 These athletic-themed slides use a one-piece design that minimizes the amount of space it has to cover, leaving the majority of your foot exposed to the fresh air. The simple single-strap slip-on design means that you don't need to fiddle with any awkward holes or connecting points, and the flex grooves built into the top of the sole make it much harder from them to slip off once they're on your feet, even in wet weather.
Not only that, but due to their open design, you don't need to worry about the side of your feet – as long as they're not too wide or tall, you'll be able to fit into them without any issues.
These sandals are simple, straightforward, and comfortable, and don't rely on any awkward design choices while still bringing you an excellent level of breathability.
Check Price on Amazon ➞
2. Jordan Hydro XI Slides
These synthetic slides feature a gel-cushioned insole section that makes them incredibly comfortable to wear, both barefoot and underneath a sock. This gel materials is surprisingly durable and doesn't wear out easily, so you won't need to worry about them slowly breaking down from frequent use.
Not only that, but the sandal itself has a Velcro-based strap that you can adjust for a better fit, as well as a curved front that gives extra support to your toes while you're on the move. The grips on the bottom of the sole are subtle enough to add a little more stability without feeling obnoxious or out-of-place.
These slides are perfect for casual use, but the extra padding means that they could also come in handy for certain sports or activities where movement is important.
Check Price on Amazon ➞
3. PUMA Men's Popcat Slide Sandal
These slides look very simple, but that's not a bad thing. They offer plenty of grip and comfort while still being relatively open and straightforward, using a fixed strap and a slightly curved sole that keeps your foot supported and secure without being uncomfortably tight.
The EVA outsole is both durable and lightweight, mixing protection with convenience in a way that keeps these sandals suitable for a range of less intense sports or exercise routines. On top of this, the solid-color design means that these slides can easily fit into any outfit without being too flashy.
If you're looking for a sandal that combines protection and durability with comfort and breathability, these are some of the best, especially if you want to avoid them slipping off your feet.
Check Price on Amazon ➞
4. adidas Adilette Cloudfoam Slides
The synthetic leather soles on these slides reduce the chance of them slipping off in wet weather, and the excellent grip designs on the bottom give you much more stability on almost any terrain, both man-made and natural.
The single-piece strap is decorated with three stripes and the Adidas logo, adding a little bit of style without feeling excessive, while the rest of each slide is a solid color. The outsole uses EVA materials, giving it a lower weight and greater protection than standard leather or rubber.
These slides might not have any special features, but they're reliable and very easy to wear, making them a much simpler piece of footwear than many other designs.
Check Price on Amazon ➞
5. Under Armour Ignite V Slide Sandal
These adjustable slides are incredibly comfortable and easy to wear, featuring a very well-cushioned sole that offers maximum comfort and protection without being bulky or slowing you down. The EVA materials on the bottom provide more durability while the synthetic padding on the top mold to fit your foot's shape.
Thanks to the Velcro-based strap, you can easily adjust these sandals to fit your feet perfectly, rather than having to rely on a pre-made strap that might be too large or small. Not only that, but it's perforated, meaning that you'll still get excellent ventilation on the covered part of your feet.
These sandals take a simple design and build on it, adding a range of useful tweaks and extra features without actually changing the silhouette of your footwear.
Check Price on Amazon ➞
6. Reef Men's Sandals | One Slide

These low-built slides are very compact, using a simple one-piece fixed strap and slightly curved sole to create a piece of footwear that's comfortable without being too extreme. The EVA outsole gives it extra durability from both physical damage and weather-related abrasion, whereas the gum rubber midsole and insole provide more comfort and support than the softer materials seen on other designs.
Thanks to their flip-flop-style shape, these slides are perfect for use both outdoors and indoors, offering enough arch support and foot protection to keep you safe and comfortable on any kind of surface.
These sandals make great multipurpose footwear, dealing with both hard and soft surfaces equally well in a variety of different weather conditions.
Check Price on Amazon ➞
7. Champion Mens IPO Slide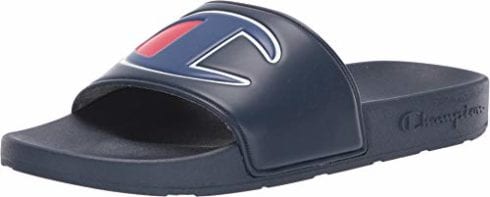 These molded slides take a very basic design and expand on it without adding too much extra weight, focusing on the shape and support they can offer instead. The built-in foam midsole provides an excellent level of foot support without making them feel heavier, and the light type of rubber used for the outsole can keep the bottom of your feet safe without being too bulky.
The grips on the bottom of the outsole are versatile enough to work on a variety of surfaces, while the branded fixed straps help your feet stay in place without squeezing on them too hard.
These sandals are light and durable, cutting down on weight while still adding a lot of protection and stability in the process.
Check Price on Amazon ➞
8. adidas Adilette Comfort Slides

These stylish and sleek slides use a very soft sole that's incredibly comfortable on your feet, adding more cushioning without going over the top. The glittery straps and almost-two-tone color scheme are a nice change from the neon colors of most other casual sandals, allowing them to fit in with most normal outfits easily.
The memory-foam style materials used on the top of the sole help the sandals adjust to the shape of your feet, while the outsoles are relatively durable and use a nice grip pattern design that's perfect for outdoor surfaces.
While these slides don't do anything mind-blowing, they're an excellent choice for people who want the visuals of a regular shoe with the comfort of a sandal.
Check Price on Amazon ➞
9. Lacoste Fraisier Slides
These rounded, smooth slides use a crocodile-like pattern on the insole that's nice on both a visual and physical level, with the sole itself keeping your feet comfortable and protected without being overly bulky or cushioned. The EVA materials in the outsole also help deal with anything sharp you might stand on, ensuring that rocks and sticks won't poke your feet when you're on the move.
Once you've had time to "break them in," the materials soften up slightly, making them even more comfortable without sacrificing their durability. This allows them to naturally mold to your foot shape over time, rather than it being an instant process.
These slides are one of the few designs that's able to mold to your feet over time, making it a far more natural-feeling and comfortable (in the long-term) process than using memory foam.
Check Price on Amazon ➞
10. Tommy Hilfiger Slides
These flip-flop-style slides are made with a convenient slip-on design, but still, use a very smooth visual style that also applies to the way they feel on your feet. While there are no visible grips on the insole, the strap makes up for that, leaving your feet free to enjoy the smooth and comfortable materials instead.
The outsole uses very structured row-based grip design, giving you more grip on most smooth surfaces as well as a lot of solid natural terrain. Because of this, they're also great for use indoors, so you aren't limited to keeping them around for walks outside.
If you just need a pair of slides and don't really have a particular goal or situation in mind, this pair can serve you well as general-purpose casual footwear.
Check Price on Amazon ➞
Buyer's Guide
Buying slides and sandals is just like buying any other kind of footwear: you have to wade through an ocean of thousands upon thousands of different designs and brands until you can track down a single pair that fits your needs. Of course, that's if you know what you need in the first place – going in blind will take even longer, and you might walk away from your purchase without any idea what you actually bought.
Grip
"Grip" in this context doesn't always just mean the outsole. While it might not be a problem around the house, losing your sandals on a long walk or on holiday can result in your having to walk all the way back barefoot, and you might never be able to find them again. A bad grip on the outside of your slides can also result in you falling over more often, which can be a massive problem on holidays where you'll spend a lot of time around wet surfaces (such as poolsides) or rough terrain (such as beaches/hikes/nature walks).
Sandals with grips on the insoles are often the best choice if you're worried about this kind of thing since they're designed to prevent this as much as possible. However, if you go too far, you'll actually be making yourself feel more uncomfortable – while certain materials make great outsoles, they can be terrible insoles, since they're not soft or malleable enough to actually mold into your foot shape, making it feel like you're standing on your slides upside-down.
Slipping over is never a good thing, but unlike shoes, most sandals and slides don't protect the sides, front and back of your feet very well. Bashing the back of your heel or the front of your toes onto something as you fall can be incredibly painful, and might result in you having to rest for a couple of hours until the pain stops, which can be incredibly irritating if you're out on a long walk or trying to enjoy a dream holiday.
Rubbing
One of the most significant issues with sandals (especially if they don't fit) is the fact that they can rub against your skin. While you don't necessarily have to use them barefoot, it's often the most convenient and socially acceptable way to be wearing them, so socks aren't always the best answer. A sandal that rubs against your skin might not hurt at first, but the more they do, the more pain it will cause, and you could even end up with blisters.
This gets even worse if your particular pair of slides has metal parts or extra detailing since these can cause direct harm to your skin with no way to easily prevent it. For example, if the straps use an adjustable buckle, you might end up cutting or scratching your foot skin while walking around. This is even more important if you'll be using them for sports since this can make the injuries much worse, especially if they come out of nowhere.
Rubbing can happen for a range of different reasons – maybe they're too small, or the straps are too tight to wear on your feet. Perhaps the insole is too loose to stick to your feet properly, and it's rubbing against the bottom. In a worst-case scenario, they might even be made with harsh materials that will tear up your skin if you're not careful.
Support
The more support you can give your feet, the less fatigued and sore they'll be at the end of the day. Because of this, having excellent foot support is often a massive "plus" in the eyes of shoe and sandal shoppers, since it's one of the few features that almost always has a direct effect on their health and comfort.
Not all arch support styles are perfect for every person, though. Flat-footed buyers should be careful, since too much support can actually be incredibly harmful, and might result in more pain than simply using a flat-insole sandal. Those with high insteps and arches might have a similar problem since standard arch support designs might not actually be enough to keep their feet properly supported for very long.
And, of course, they can also end up wearing out over time, meaning that you might notice your feet getting less and less comfortable the more you use them. Because of this, it's important to try and find slides with durable foot supports, rather than temporary ones. On the other hand, if you've got medically-prescribed inserts that you need to use for specific foot conditions or issues, it's almost always best to go for a pair with a completely flat insole instead.
Style
While it's true that not everybody cares about fashion, sandals are one of the most hit-or-miss pieces of footwear on the market. If they don't fit in with the rest of your outfit, they can completely change how you're trying to look – this is simply because they have a certain stereotype surrounding them. Many people see flip-flop-style sandals as a very informal clothing item, almost on the same level as socks or being barefoot, and a pair that don't go with your outfit can make it so you look scruffy even if you have put a lot of effort into the rest of the clothing.
This can also matter in terms of the style of the design. Not all slide styles will have adjustable straps, insole padding, or other features, and these can have a direct effect on how they'll feel once they're on your feet. Many people place style over functionality (or functionality over style), but the best results are often found when you try to balance the two instead.
Expert Tip
While wearing conventional socks with sandals or slides might seem odd in public, there are certain ways you can integrate it into outfits if you try hard enough. If you really want to wear them together, try it out in front of a mirror first.
Did you know?
You can use baby powder to soak up odors from your sandals, meaning that you won't have to clean them after a hot day in the sun. This saves time, especially on holidays where washing machines aren't always accessible.