10 Best Motorcycle Boots in 2021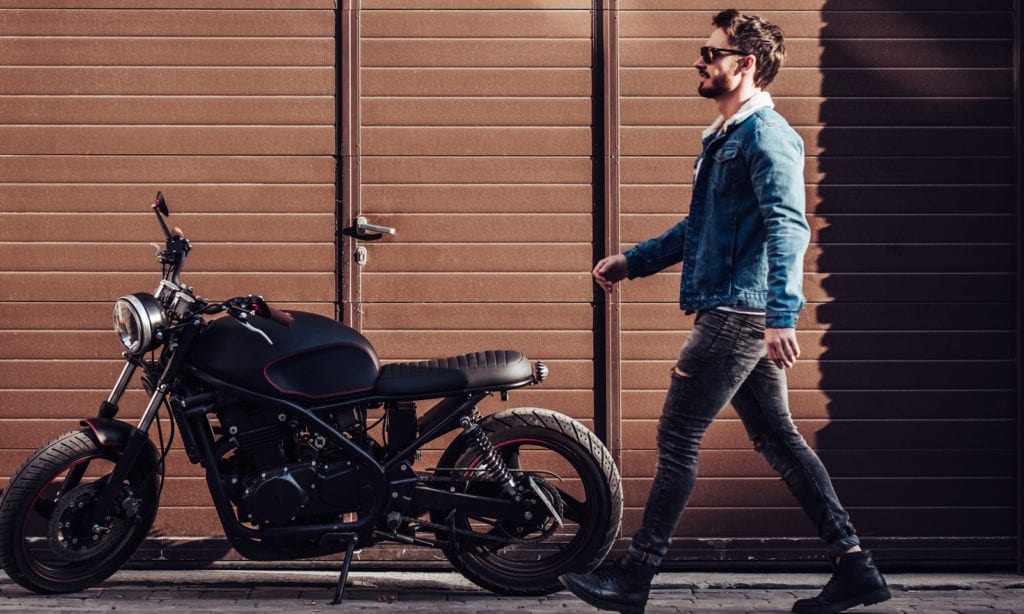 Whether you are riding your motorcycle daily on your commute to work or embarking on a long trip, you will want to buy a pair of quality motorcycle boots that will protect your feet and ankles. This can be achieved without compromising style as there are plenty of different options to choose from. It is worth thinking about what kind of needs you have while you are riding as some boots are better equipped for racing while some are ideal for cruising and commutes. It is also worth considering the kind of weather you will be riding in because you won't want to suffer from freezing cold feet while you are on the road.
You will want to find a pair of boots that will be comfortable to walk in if you will be keeping them on when you have reached your destination. Because we know great motorcycle boots are important for protection and they vary so widely, this guide will make it easier to know what kind will suit you best.
With so many different styles to choose from it can be difficult to know what to buy. This list contains both the best casual motorcycle boots as well as the top quality and stylish options. This buyers guide will make it easier for you to decide which is the best motorcycle boot for you.
See more Boots for men here.
View the Best Motorcycle Boots, Below.
1. Dr. Martens Men's Combs Nylon Combat Boot
These Dr. Marten Combat Boots are a modern take on the classic military style. The nylon upper material is rugged and durable while also being breathable and lightweight for a more comfortable and flexible feel. They are much easier to wear in than the traditional leather styles and will be great for riding in the warmer months when your feet need to stay cool. The sturdy 8 eyelet lacing system will keep your feet secure for a great fit, and the air cushion technology footbed makes these boots comfortable to wear.
The rubber sole is highly durable, designed to withstand the tests of an active lifestyle. The soles are designed with extra traction than the original boots and are slip-resistant to suit any terrain.
These boots are a stylish version of the classic boot as well as being durable they are also light and comfortable.
Check Price on Amazon ➞
2. Harley-Davidson Men's Beau Boot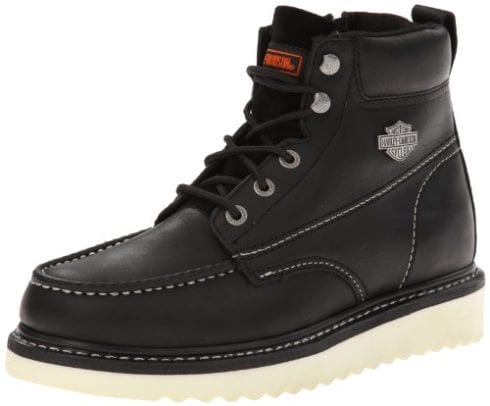 These Harley Davidson boots are made from 100% leather which will provide great protection and durability. The thick sole is sturdy, providing you with excellent grip as well as comfort. The combat style boots feature a padded collar for comfort and ankle support. They have the look of a boot with the sole of a sneaker for the best combination of comfort and protection. The boots are specifically designed for motorcycle riding, and their welt construction will provide a long lasting and trusted life. It is trusted by being the oldest and most durable method of design.
They are stylishly designed with the blend of an iconic Harley Davidson style with an urban hiker look. For this reason, they will both look great and offer the durability you need. The outer sole is made from tough rubber that is abrasion, slip, and oil resistant to give you security in each step.
These boots are specifically designed for riding and are the perfect balance between style and traditional methods.
Check Price on Amazon ➞
3. GM GOLAIMAN Men's Work Boots
GM GOLAIMAN men's work boots are made from animal-friendly synthetic leather for the look and feel of quality materials with a good glossy shine and durable comfort. They will take less time to wear in than leather boots, and their round-toe design is created for an elegant and simple look. This makes them suitable for business as well as pleasure, so you can go straight from your ride and into work. The gum rubber sole provides excellent grip while also being durable and long lasting.
The 7 eyelets lace-up design will keep your feet comfortable and secure with the side zip option making them easy to take on and off for convenience and flexible adjustment. The cushioned insole will reduce impact while the outer sole is non-slip for stability. The boots are waterproof, and the inner plush gives you a next-to-skin comfort.
These boots are a great alternative to leather made from animal-friendly materials and are perfect for both work and riding.
Check Price on Amazon ➞
4. Harley-Davidson Men's Scout Boot
The Harley Davidson Scout Boots are a great alternative to laces for those who prefer the slip-on aesthetic. This boot is a favourite among fans, featuring a large metal bar and shield top side. They are made with full grain leather to provide protection against any dirt and debris for a long and durable life. The classic harness silhouette is combined with iconic inspiration for a stylish boot with a classic look.
The YKK locking inside zipper allows for a lasting comfortable and snug fit while walking and riding without coming loose. The Scout Boots feature a tough rubber outer sole that is abrasion, oil, and slip resistant for added security. The Goodyear welted outer sole is the oldest and most durable method of construction which adds to the durability of the boot.
This Scout Boot combines traditional methods and a classic look for timeless style and durable protection.
Check Price on Amazon ➞
5. Ferro Aldo Colin MFA806033 Mid Top Boots
These boots are great for both riding and casual wear, allowing you to wear them all day long. Their cushioned ankle support will provide you comfort and the lace-up design will keep your feet secure. The fabric lining is soft and comfortable, and the vintage detailing provides a stylish look. The heel pull tab allows the boots to be put on and taken off easily and they are made from breathable and durable material. They come at a great price, and their vegan-friendly materials are light and comfortable to wear and walk in while keeping your feet cool.
These boots are great for riding and casual wear with a vintage style and lightweight design.
Check Price on Amazon ➞
6. AdTec Men's 11″ Harness Motorcycle Boot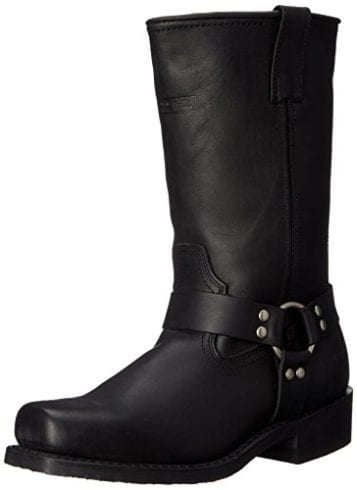 The AdTec Men's 11" Harness Motorcycle Boots are easy to pull-on for fast and convenient wear. They feature a leather upper for durability and protection. They will offer you more support and leg protection than other mid-height ankle boots while you are out riding. The harness strap is a classic detail design that never goes out of fashion, and they are constructed with Goodyear Welt technology for durability and longevity. The outer sole is oil resistant, and the insole is cushioned for comfort and lasting wear.
These boots will keep you better protected and warmer in the cold months while you are riding.
Check Price on Amazon ➞
7. Polar Fox Wyatt MPX608005 Motorcycle Boots
The Polar Fox Wyatt riding boots are made with top grade handcrafted durable synthetic leather for extra comfort. They are water resistant and breathable and feature two heavy duty adjustable metal buckles and zipper to keep your feet secure and comfortable. The boots are easy to take on and off, and the exterior rubber sole provides flexibility and slip-resistance. They are ideal for riding in all conditions and are suitable for rugged outdoor environments. The ankle protection creates stability, and the heel tab prevents boot folds during entry. They are designed for any man on the go and will look and feel great with the simple design.
These boots are ideal for anyone who has a busy lifestyle. They will suit any environment, and their smart, simple design means they will suit any occasion.
Check Price on Amazon ➞
8. Polar Fox Brady MPX508571 Motorcycle Boots
The Polar Fox Brady Motorcycle Boots are made with handcrafted, durable synthetic leather for extra comfort and resilience. They are water resistant and breathable to keep you cool and comfortable. The waxed boot laces are also water resistant and maintain their form while staying tightened for added security for long periods of time. The padded interior is comfortable and impact resistant with rubber soles that provide excellent grip which makes them capable of dealing with a rugged outdoor environment. The ankle support is soft and comfortable while increasing protection and stability. The heavy-duty zip is strong and durable for long-wearing life as well as convenience for taking on and off.
These boots are a smart alternative to the traditional riding boot and are suitable for hard wearing conditions.
Check Price on Amazon ➞
9. GM GOLAIMAN Men's Snow Boots
The GM GOLAIMAN Snow Boots are great for the colder weather. These fur-lined boots keep your feet warm in cold temperatures and provide excellent comfort when on the road. The 7 eyelet laces close for a flexible adjustment and the zip feature allows easy removal. They are made from animal-friendly materials with water resistance to keep you dry on rainy days. The soles are grooved with TPR for extra grip in harsher environments and will stop you from slipping on icy grounds.
The boots are both practical and protective with a smart design that is suitable for a diverse range of situations. GM GOLAIMAN are dedicated to providing simple yet effective footwear with a focus on high quality and style. The lining provides a next-to-skin comfort and combines the classic cowboy style with a modern design to suit any lifestyle.
These boots are great for colder weather. Their soft fur lining will offer you warmth and comfort, and the soles will keep you stable with their excellent grip.
Check Price on Amazon ➞
10. GM GOLAIMAN Men's Cap Toe Boots
These GM GOLAIMAN Cap Toe Boots are made from durable faux-leather materials for increased durability and protection while preventing water and moisture. The synthetic sole is designed to provide traction and grip in all environments with a classic cap toe detail and lace-up front feature for an authentic look. The premium leather lining is light and flexible with a lightly cushioned foot bed for comfort.
They will keep your feet warm and dry all day while being breathable. They are dirt resistant meaning they will stay looking fresh and are built to last during active lifestyles. The ankle provides support and protection without restriction, and the soft materials will mean you won't need to wait for them to wear in before becoming comfortable.
These boots are soft and comfortable while able to withstand all weather conditions.
Check Price on Amazon ➞
Motorcycle Boots Buyer's Guide
There are certain different features that are worth considering before you buy your new motorcycle boots. We have created a list of all the things to look out for so you can make the best decision based on your needs.
Waterproof
If you want a pair of boots that you can wear all year round it is worth checking how waterproof they are. You don't want to get caught out with wet feet all day as this will be uncomfortable and the boots won't last as long if they are constantly letting in moisture. Some boots are made with materials that are naturally more waterproof than others while some come with waterproof coatings that will help you get more wear out of them.

Upper Materials
Leather boots will be able to withstand more wear and tear than synthetic boots, however, they can be heavy and cumbersome which is not always practical. Leather also tends to be more expensive, so it is worth thinking about what kind of conditions you will be exposing your boots to depending on your lifestyle. They will provide more protection and warmth which is important in colder months. Lighter materials can be more comfortable and breathable which is also better for warmer weathers as well as shorter journeys.
Maintenance
Some boots will be easier to clean than others. While this might not seem like a priority, the ability to properly care for your boots will give them a longer life. Some have removable foot beds which are easier to clean, and leather boots are often easier to clean than synthetic as they can be wiped clean. To make the best decision, consider what kind of terrains you will be riding on and how this will affect your boots.
Brands
If you want to invest in a reliable pair of boots that will stand the test of time, it is worth looking into the brand. While the top range brands might be less affordable, it is more likely they will last longer. Certain brands are designed specifically for motorcycling which means they will have been made with this activity in mind.
Size
Some brands have different sizing to regular shoes, so it is always worth checking the manufacturers' guide before you buy your new pair of boots to make sure they will fit comfortably.
Comfort and Protection
Different styles are designed for different types of riding. You will need to consider what kind of riding you usually do before you buy your next pair of motorcycle boots. If you spend more time cruising on longer rides, you will need a different kind of boot to those who will be racing. They also offer different kinds of protection, and you want to make sure you have the right kind of boots for this reason. Comfortable boots will be lighter with stiff soles and soft, padded inserts.  These features and the type of stitching will increase mobility and will be easier to walk in, making them a more diverse shoe.
However, they won't be as sturdy or protective, as they will be made from lighter materials that won't be as durable in the event of an accident. If you are riding to work, you may want a pair of boots that are suitable to wear both during and after your ride which is convenient as you don't need to worry about changing. They will also be easier to walk in after your commute. Boots that offer more protection and are better designed for racing or motocross will be safer and will come up higher on the leg to provide more protection.
The main body of the boot will be much stiffer which will be less comfortable to walk in but more necessary for high-speed riding. They can also be quite heavy due to the inclusion of metal inserts that act as protection. If you won't be doing this kind of riding, then it might not be necessary to purchase a less comfortable boot.

How to wear Motorcycle Boots?
While style is a personal preference, it is important to make sure you wear your motorcycle boots so that they are secure on your feet to give you protection and stability while riding, as well as being comfortable and not restricting.
How Should Motorcycle Boots Fit?
The boots should fit snugly around the heel and toes with added support for the ankle that should not feel restricting. You should always consider what kind of socks you will be wearing as this will impact how the size will feel on your feet.
Why wear Motorcycle Boots?
It is important to wear motorcycle boots because they are made of strong materials that will protect your feet while on the road. They will also keep your feet warm as the draught created from traveling at high speeds can soon become uncomfortable, especially in cold weather. In the event of an accident, you will want to protect your feet and ankles as much as possible and your boots should be comfortable enough to ride in for long periods of time.
Expert Tip
Motorcycle boots are designed with rider-specific features in mind which you can't often see. This is why it is always worth buying footwear that is tailor-made for riding.
Did you know?
30% of all non-fatal motorcycle injuries were to the leg and foot. This is why it is extremely important to make sure you have the right kind of footwear while riding.