10 Best Travel Shoes in 2021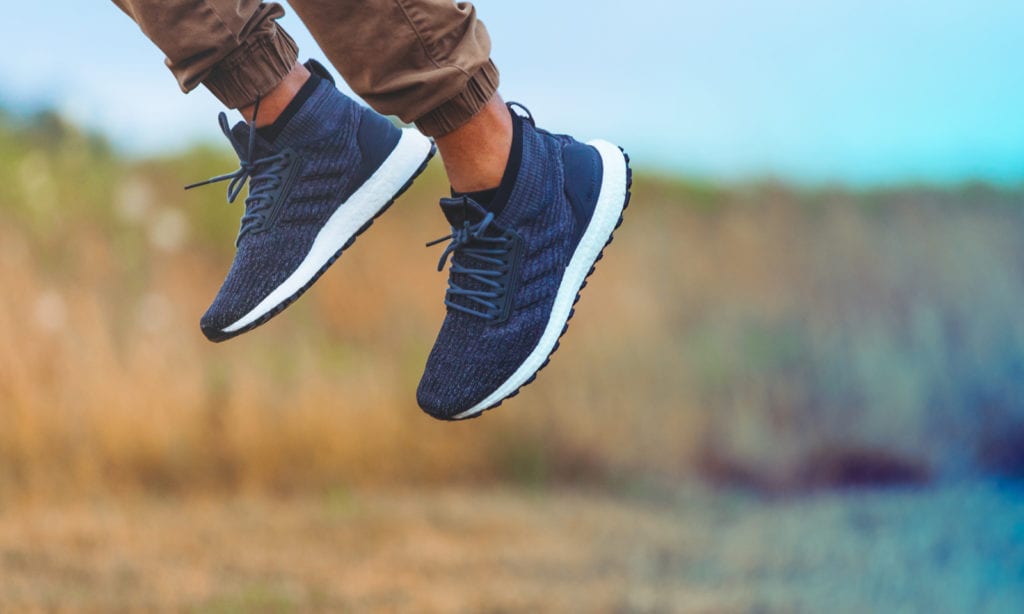 Being adequately prepared for your trip is always important, and that includes having some good shoes on hand. It's not always easy to replace certain parts of your outfit when you're abroad or somewhere else in your own country, and trying to buy new shoes during a holiday, or business trip can eat into your valuable time, leaving you with less free time to enjoy your time away or get important business done.
Even if you pack more than one pair of shoes with you, you could always end up missing a certain feature or design that stops you from thoroughly enjoying something in your new destination. Below are ten pairs of the best travel shoes we could find, as well as the specific reasons they stand out from the rest of the market.
View the Best Travel Shoes, Below.
1. adidas Women's Cloudfoam Pure Running Shoe
These running shoes mix a textured upper section with a strong synthetic sole, making them a excellent jack-of-all-trades shoe for a range of different locations and situations. The built-in sock liner helps keep the shoe molded around your feet properly, providing much more comfort than some standard running shoes, while the foam-based midsole and strong outsole help absorb shocks to make foot fatigue a much less common problem. Not only that, but almost all of the upper section is breathable, letting air flow through and cool down your feet while also wicking away moisture and sweat from warm or humid weather.
These shoes aren't perfect at any one job, but they're an excellent choice for trips where the weather and temperature could change at any moment.
Check Price on Amazon ➞
2. New Balance Men's 990v4
These lace-up men's shoes use a very sporty-looking design that's made with breathable and flexible materials, making them great for all kinds of exercise – including long walks, hikes and other things you might want to do on a recreational holiday. Thanks to the EVA layer in the heel, they're far more protective than they might first seem and can keep key parts of your feet safe from fatigue and pain caused by rough surfaces. Alongside this is the blown rubber outsole, which uses injected air to provide far more comfort than a regular sole.
While these may not be the best travel shoes in a conventional sense, they're great for keeping your feet comfortable during all kinds of activities, even if you're just exploring your holiday destination on foot.
Check Price on Amazon ➞
3. VenusCelia Natural Comfort Walking Flat Loafer
The slip-on design of these leather shoes makes them easy to put on and even easier to take off, letting you quickly slip them on whenever you need them. This, combined with their small frame, means that you can carry them around almost anywhere. However, they're also surprisingly durable and stable, using an antislip outsole to keep you safe from accidental slips and falls in wet or icy weather. Thanks to the fairly versatile design, these shoes can work as both casual and semi-formal footwear, so they're great for business trips.
These women's loafers are perfect for nearly any kind of trip, and can work really well as both an indoor and outdoor shoe.
Check Price on Amazon ➞
4. Nike Men's Revolution 4 Running Shoe
These women's walking shoes are simple and effective, taking a slip-on design and making it almost entirely out of breathable mesh materials. The result is a shoe that's very well-ventilated and easy to wear, while also being flexible enough to stretch out and accommodate nearly any foot shape, with or without socks. The built-in Responsive 5Gen and Sketchers Goga Max cushioning on the insole provides two wholly different kinds of comfort, while the interior lining ensures that the sides and back of your feet aren't being left vulnerable.
These running shoes are perfect for any holiday that requires a lot of moving around on foot, regardless of whether you're walking, running or simply standing around for long periods of time.
Check Price on Amazon ➞
5. Skechers Women's Go Walk Joy Walking Shoe
These women's walking shoes are simple and effective, taking a slip-on design and making it almost entirely out of breathable mesh materials. The result is a shoe that's very well-ventilated and easy to wear, while also being flexible enough to stretch out and accommodate nearly any foot shape, with or without socks. The built-in Responsive 5Gen and Sketchers Goga Max cushioning on the insole provides two wholly different kinds of comfort, while the interior lining ensures that the sides and back of your feet aren't being left vulnerable.
These might be some of the best travel shoes on the market if you're looking for a flexible, breathable set of footwear that keeps you comfortable and cool on hot days.
Check Price on Amazon ➞
6. Sperry Men's Striper II Salt Washed CVO Sneaker
The interesting texture of these shoes sets them apart from many others in a visual sense, but they're also hiding an excellent fully-molded footbed that provides excellent comfort over long periods of time, as well as a lightweight design that avoids the durability issues of using light materials.
The lace-based design makes them easy to loosen and tighten on the fly, and the non-marking outsoles offer plenty of extra traction on smooth, wet or slippery surfaces that would otherwise get in your way, all while the canvas used for the upper section helps airflow through properly to cool you down and wick away your sweat.
These shoes are light and flexible, making for excellent casual footwear both at home and on your travels to other towns, cities or countries.
Check Price on Amazon ➞
7. Vans Women's Old Skool(tm) Core Classics
These classic skateboard sneakers use a very straightforward design that doesn't rely on complex gimmicks or risky features to work well. The strong, thick-looking rubber sole ensures that your feet are well-protected from all kinds of impacts and sudden stumbles, while the low-collared design of the upper section lets air flow in easily without exposing your feet to rainwater. Since they're mostly made of canvas, the design is both flexible and relatively durable, protecting you from harm and stretching slightly to accommodate larger feet.
While these shoes may not be the best travel shoes in every situation, they're still a great piece of casual footwear for exploring towns and cities at your own pace.
Check Price on Amazon ➞
8. PUMA Select Men's Suede Classic Plus Sneakers
These suede-based men's sneakers use a very simple, two-color design that hides a deceptively strong rubber sole. The cushioned midsole and insole help you stay comfortable and protected from sudden missteps, while the rest of the sole uses a hard rubber that acts as excellent protection against rough surfaces and small obstacles.
Since it follows a normal lace-up design, you can easily adjust how the shoe fits, making it suitable for a range of different foot shapes and walking styles, and the suede upper section stays durable and secure without losing its flexible and stretchy nature.
These shoes are great for trips where you want to look your best, especially if you're planning on taking long walks or exploring your surroundings.
Check Price on Amazon ➞
9. Teva Women's Tirra Sandal
These women's sandals boast a completely textile-based design, allowing for much more flexibility and breathability without relying on weak mesh layers and awkward ventilation holes. The built-in EVA midsole has been compression-molded for maximum protection and padding on the bottom of your feet, while the shock pad in the heel keeps the most vulnerable parts of your feet safe from harm. The lugs on the outsole are designed for extra traction, using a spike-style design that grips better than a flat-bottomed sandal would, regardless of what kind of terrain you're using them on.
These sandals are surprisingly durable and can keep the bottom of your feet extremely safe, making them perfect for trips in hotter areas where ventilation is incredibly important.
Check Price on Amazon ➞
10. adidas Men's Seeley Skate Shoe
These skate shoes are ideal for dealing with all kinds of abrasion and regular wear and tear, using a durable upper section that's designed to keep your feet safe and sound under almost any conditions. The vulcanized rubber outsole provides excellent grip on a vast range of surfaces, both smooth and uneven, while the lace-up design means that you can easily tighten or loosen your shoes to adjust how they fit on your feet at any given time. The large sole doesn't get in the way and actually helps provide more shock absorption compared to regular casual shoes.
Despite their casual design, these shoes are great at keeping you safe from foot fatigue and harm on longer travels, and are comfortable enough to avoid feeling awkward.
Check Price on Amazon ➞
Travel Shoes Buyer's Guide
When it comes to buying shoes in general, you should always know what you actually need before you start actually putting any money towards them, especially if you'll be taking them on a trip or holiday with you. If they turn out to be useless for the location you're in or the activities you want to take part in, you might struggle to get a new pair, and it can end up being a huge waste of money that sets you back more than you expected.
Cushioning and Comfort
There's almost no reason to not have extra cushioning, in your travel shoes, if you can get it since it helps you stay protected from unnecessary pain and foot fatigue in the long term. The more comfortable you are, the easier it'll be to do things when you're wearing your shoes, ranging from complex sports and activities to things as simple as walking around and exploring. There's a lot of things that can make your travel shoes feel more comfortable: better padding, foam midsoles, soft materials, and removable extra layers or insets.
However, comfort should still be relative to your needs – you should still try to balance it with everything else you need, rather than just focusing on it exclusively at the expense of factors like durability and flexibility. Too much comfort can actually feel awkward to move around in, especially if it's achieved with things like soft outsoles and gel pads that take some time to get used to.
On top of that, there's also the issue of natural comfort – things like molded insoles and memory foam can provide a more comfortable fit that accommodates your foot shape in a natural-feeling way, rather than being the result of forced-feeling artificial materials.
Durability
While you likely won't be using your travel shoes as often as you do your regular ones, you'll probably still be putting them through a lot of difficult situations, especially if you're on a trip to a place with a harsh climate or bad weather. Having them wear out during a trip can put the brakes on an otherwise excellent holiday, and it might cause you to run into problems later on, especially when you don't have any suitable footwear left for that particular situation or the current weather conditions.
The less durable your travel shoes are, the faster they'll fall apart if they're up against harsh weather and repeated damage from physical impacts – even if they don't completely fall to pieces, they'll still start to break, which can make certain features (such as a waterproof upper section or EVA midsole) completely useless for their original purpose.
There's also the issue of extra features and components breaking if they're exposed to certain types of weather. For example, if you use custom inserts or supports to help with certain health problems, you might end up ruining them completely if you don't use shoes that can keep them protected properly.
Support
Proper foot support is always important, and it can be even more vital if you're on a trip to a location where there's a lot of uneven ground – things like hills, beaches and nature trails, where you can't always rely on the ground to be completely flat and solid. Without the right kind of support, you're at a much greater risk of slipping over or stumbling in ways that can hurt you slightly, especially if you're carrying heavy objects such as a traveling backpack or suitcase.
However, too much support can make a shoe really rigid and stiff, which makes them far less comfortable overall. A rigid travel shoe can become far less comfortable, and might even result in your feet being supported in the wrong way, leading to issues with skin irritation or increased fatigue.
This is most often seen with insoles, since the wrong kind of support can cause far more harm and damage than good support can, especially if you're wearing the shoes for long periods of time. The more you're planning to use your travel shoes, the better and more reliable the support should be, regardless of what you're actually going to use them for.
Traction
A good grip makes a huge difference in what kind of surfaces you can use your footwear on, especially when it comes to natural ground and uneven terrain that requires more stability to cross properly. The better grip you have on a particular surface, the harder it'll be to slip or fall when you're walking across it, which can save you from a lot of unnecessary harm if you're exploring hills, fields, beaches and rocky areas with very little completely solid ground to stand on.
As a general rule of thumb, casual and exercise shoes (such as trainers, running shoes and skate shoes) will often have the best outsoles in terms of grip since they're meant to be used for exercising or taking walks in a variety of areas. Walking shoes will also have great traction, although they're usually purpose-built for natural ground and might feel strange if you're walking on flat artificial surfaces for long periods of time.
The Soles
Although I've mentioned them multiple times before, the best travel shoes are the ones with good soles. Soles provide the majority of the protection, comfort, and padding that you'll feel while wearing a shoe, so a pair with lackluster soles or ones made of questionable materials can end up being far worse than the might first appear. There's even a chance that bad soles can do more harm than good, supporting and padding your feet in ways that cause more harm to your feet without offering enough protection to make them useful.
Remember that soles are made of three parts: an outsole, an insole, and an optional midsole, sometimes with an extra padded layer or removable insert to add extra comfort. Your insoles are almost always designed purely for comfort and cushioning, using soft materials and/or easy-to-mold surfaces that will help your feet stay comfortable while providing some more support than a flat interior.
The outsole will usually be focused on protection, giving you plenty of extra resistance to shocks and awkward terrain while letting the insole take care of the actual comfort. In a way, it's also designed to protect your shoe itself, keeping the weaker parts away from things that might damage them and ensuring that the rest of the materials can stay durable for longer.
The midsole can be for multiple different things since it's not always present in any given shoe – some manufacturers use them for extra comfort or padding, while others see them as a way to add more durability on top of the existing outsole. In some designs, it might even be used for ventilation and moisture-wicking.
Expert Tip
Not all shoes require socks (especially loafers and sandals) but make sure you have at least one suitable pair anyway just in case the weather gets cold.
Did you know?
It's a good idea to try and break your shoes in before you go on a trip since that'll make them much more comfortable later on.