10 Best Waterproof Work Boots in 2021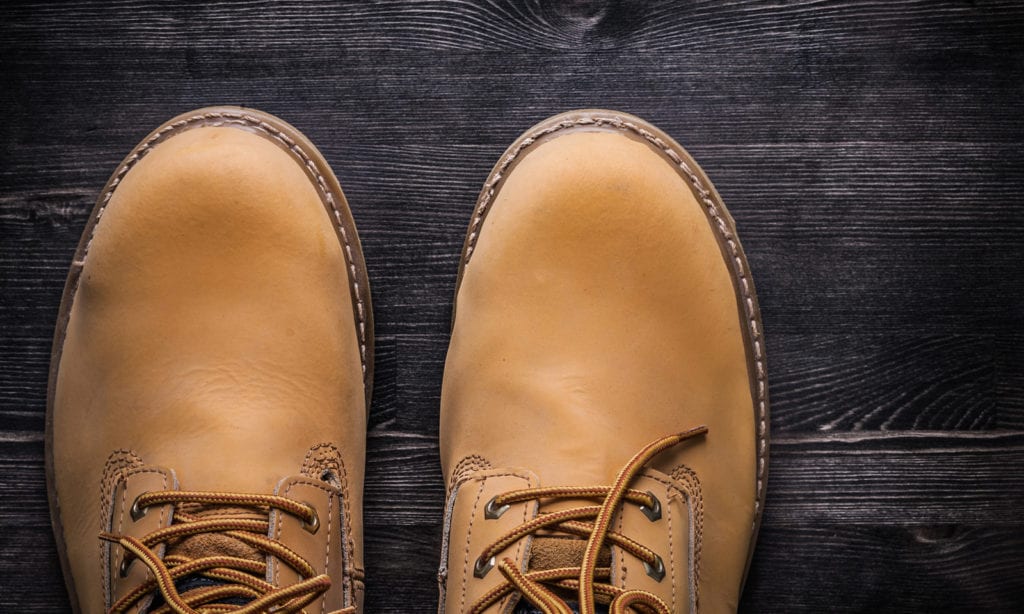 When you are looking for the right work boot, you've got to choose carefully as it can be the difference between making your workday or adventure a dream or a nightmare. There are various different work shoes and boots out there with some more suitable for a day trip, some more accustomed to those in a colder climate and to those who need a solid pair for shift work. In this article, we've pulled together 10 of our favorite boots.
There are so many different types of boots from leather to rubber and synthetic that it can be tricky knowing which boot is best for you. But don't worry we've done the searching, so you don't have to. We've outlined what's best about them, why we loved them and why we think you will love them.
So sit back, relax and pop your feet up (until your next adventure) and read through what we think are the best waterproof boots out there on the market.
Travel to work on a motorbike? Try these boots for motorcyclists.
View the Best Waterproof Work Boots, Below.
1. Timberland White Ledge Mid Ankle Boot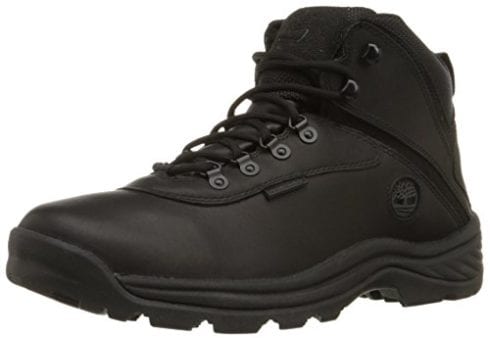 Everyone has heard of Timberland especially in relation to work boots and if you haven't then where have you been for the past few decades? These Timberlands are made of 100% leather, have a rubber sole and a padded collar. All of these features make these a great pair of boots to take along your favorite walking trail. These boots are also completely waterproof which means they're great to take anywhere you go in the outdoors, thanks to the seam-sealed waterproof construction.  Though your feet are well wrapped inside these pair of boots, the timberlands also include a breathable footbed to help carry away any sweaty moisture you build up during use.
We love the shorter height of these Timberlands compared to the classic look - great for less heavy duty activities.
Check Price on Amazon ➞
2. Timberland PRO Soft-Toe Boot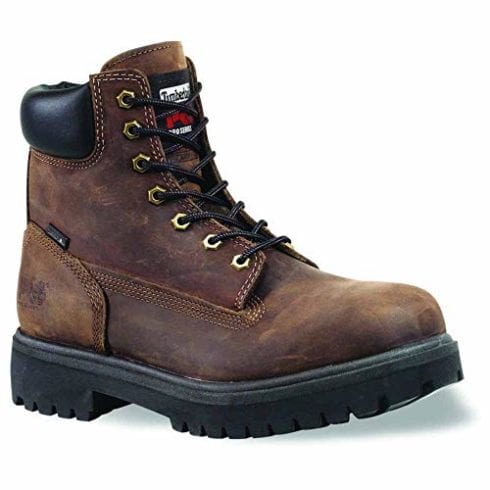 The Timberland PRO Soft-Toe boot are a great pair of main everyday boots, they fit great, leave plenty of room for a thick sock book and help you work effortlessly over any terrain. You'll walk with ease over any track you find yourself on thanks to the Timberland PRO Rubber lug outsole which is designed specially to help you traction on any surface. You'll not have to worry about getting caught in the rain in these boots either, as these come with a premium grade waterproof leather which is completely seam-sealed. Finally, this boot really cares about your comfort with the antimicrobial lining and footbed cover, to 200 grams of Thermolite insulation throughout and a padded collar, your feet will be cherished with every step you take.
The best thing about the Soft-Toe is the contoured nylon shock diffusion plate which is lightweight enough to not drag your foot down but durable enough for protection.
Check Price on Amazon ➞
3. arctiv8 Waterproof Construction Boots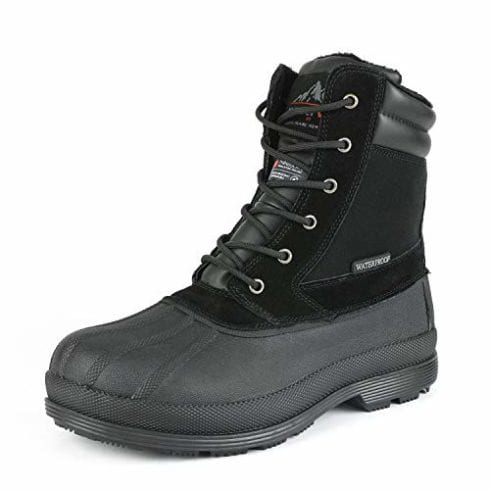 The arctic8 really paves the way when it comes to a good solid modern snow boot. A lot of snow boots don't look very ascetically pleasing at all, but these look great, and they are super durable. This is thanks to their durable rubber outsole which helps you walk on any terrain and the cushioned EVA footbed. They are also perfect for the colder climate thanks to the 200g Thermolite insulation, a waterproof shell bottom and a premium waterproof upper These boots are just so well made and a lot of customers who've bought the arctiv8 would choose these again over any other competitor.
How great these boots are for cold weather from the snow to the cold rain these boots are great at keeping your feet dry.
Check Price on Amazon ➞
4. Timberland Premium Waterproof Boot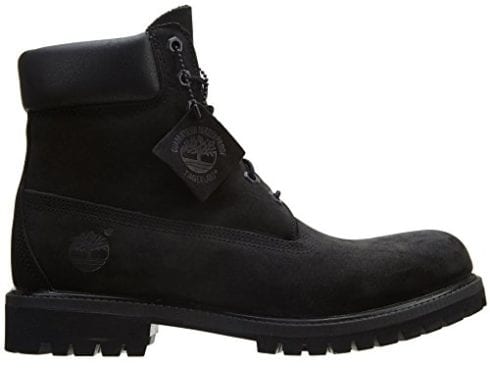 The Timberland Premium Waterproof Boot's are such a classic when it comes to choosing a work boot that you can wear day in day out, as the style of these Premium workboots are the similar style you'd often associate Timberland with. Featuring the standard padded collar, lace-up boot, 100% and the logo at the side of the boot. These boots not only look great but are also durable enough for any weather rain, slush, snow you name it! The Timberland Premium's also come with 400 grams of PrimaLoft insulation which make them one of the best boots out there when it comes to your warmth and comfort.
Timberland boots are hard to resist as they just look so good. They're the rugged and dependable workboot we all deserve.
Check Price on Amazon ➞
5. Sloggers Waterproof Rain and Garden Boot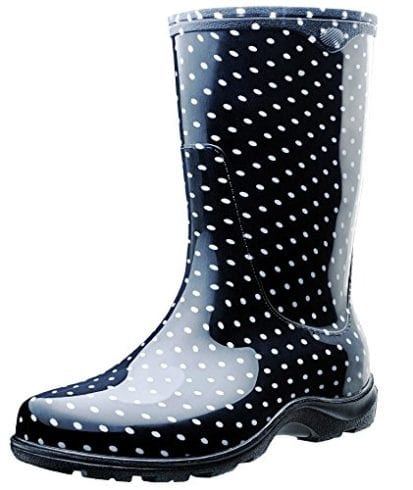 Sloggers really know how to make waterproof rain and garden boots you'll want to wear all year round - they come in a range of stylish colors to suit any personality and look great with any jean and jacket outfit combo. What is even better, is that thanks to their 100% made in the USA recyclable material and durable design you really are able to wear these boots, all day every day. Especially thanks to their "All Day Comfort" insoles which unlike most rain boots thoroughly support your feet thanks to the 7mm thick heel, molded arch, and 5mm thick ball. You'll be able to get all the ease of a flat boot but with all the support of a traditional walking/workboot.
The most amazing feature of the Sloggers is that they make dressing practically for the rain fun and stylish. Your feet will stay cozy and dry, and you'll be looking fashionable.
Check Price on Amazon ➞
6. EVER BOOTS Insulated Work Boots
The EVER BOOTS insulated Work Boots really are the sort of boot you need if you work in a heavy duty/labor job. The TANK boots are made from 2.0mm of Nubuck leather and insulated mesh lining giving the boots long lasting durability and all-day comfort! The exterior is also coated in oil resistant covering which prevents the leather from cracking. Inside the boot, you'll find solid, supportive insoles alongside an anti-fatigue arch in the boot.
These features are all great at alleviating the pressure of climbing ladders or scaffolding. We found that despite their solid design these boots are really comfortable from the moment you buy them. Most people who bought these boots as well said they didn't have to break them in - they fitted perfectly straight out the box!
These boots mean business and their design reflects this giving you comfort for up to 14 hours a day!
Check Price on Amazon ➞
7. Columbia Newton Ridge Plus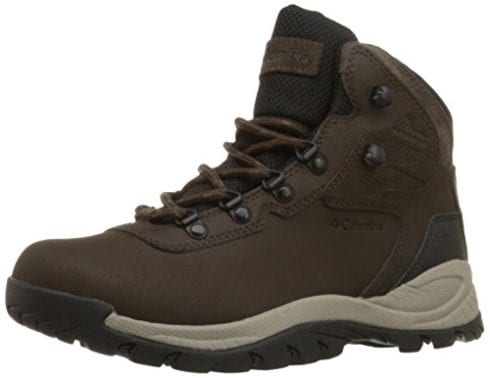 When it comes to women's hiking boots these Columba Newton Ridge's really stand out for us they look cute, are sturdy enough to protect but super agile for walking long-distance. These Columbia's are fully waterproofed grain leather thanks to an Omni-shield water and stain resisted treatment. Meaning where ever you take these boots, through morning dew, rains, puddles, you'll be able to stay dry.
On top of this, the Columbia has a triangular D-ring, Omnigrip lugged outsole and a compression-molded EVA foam midsole with Techlite Cushioning midsole. Which if your wondering what all of that means, means not only will your foot with stay firmly in place in these shoes are you roam around uneven rocky terrain it will also be unbelievably comfy.
What we really like about these boots is how badass and cute these are. You'll feel ready for any adventure in them!
Check Price on Amazon ➞
8. Muck Chore Classic Work Boots
We found the Much Chore Classic Work boots were great for anyone requiring added toe protection every day. Especially those working in the landscaping or construction sectors as they are great for keeping your feet dry and comfortable all day long. The rubber exterior of these boots is made from 5mm of neoprene which provides a quality level of flexibility, comfort as they adjust to your foot shape too which means they blister and chafing resistant!
The neoprene also helps keeps you feel nice and dry and protects them from any shock they'll suffer when you're on the job. With the steel shank for support both on the heel and the toe, you'll feel secure and safe in whatever situation you find yourself in with these boots.
We liked how these work boots are higher than some of the other rubber work boots but how they also include a breathable mesh lining to allow our feet to breath throughout the day.
Check Price on Amazon ➞
9. Merrell Moab 2 Mid Waterproof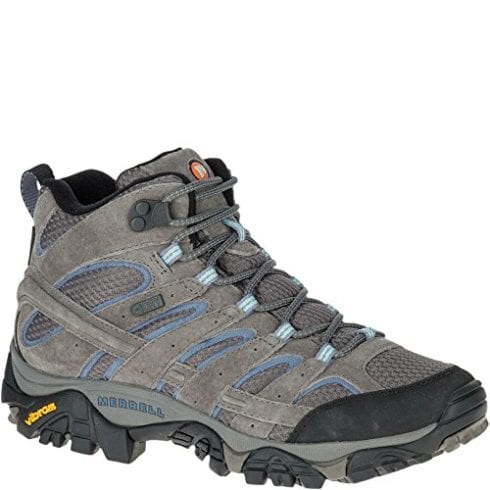 The Merrell Moab 2 Mid Waterproofs are a great handy pair of walking boots to have as a staple in your wardrobe ready to chuck on. Made from 100% suede leather with a mesh lining to help you foot breath and fitted with a dry seal means you'll be able to take these boots on a hiking trail anywhere! Whether you're trekking about in the heat or in the rain the dry seal in these shoes will seal out water from getting in but let you the moisture in your boot out. You won't have to worry about being precious in these boots either, thanks to their protective rubber toe arch and nylon arch shank your foot with feel solid and support where it wants to roam.
We liked the removable Merrel air cushion in the heel which has a 5mm lug depth and it amazing at helping absorbs shocks and create a stable walking boot for us!
Check Price on Amazon ➞
10. ArcticShield Rubber Neoprene Outdoor Boots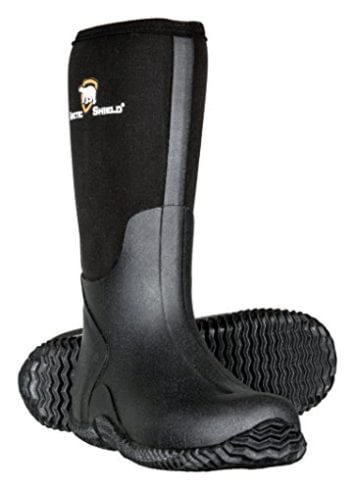 These ArticShield Rubber Neoprene boots are made from the highest quality of rubber. They are completely waterproof and help you be ready at whatever life throws at you. But they're lightweight and durable enough which means you'll be able to walk around in them all day. Their durable rubber bottoms mean you'll get solid traction where you go. And what even better despite how solid and reliable these boots are you'll still be able to get them on and off really easily with the help of their specially designed pull tabs. These are usually bigger than your usual size so we would recommend buying a size down.
We loved the ArticShield for their comfortable 7mm neoprene rubber and lightweight insulation making them toasty and easy to walk around in!
Check Price on Amazon ➞
Waterproof Work Boots Buyer's Guide
Making sure your feet are well protected during walks or when you're working is very important as ill-fitting shoes can damage your feet from repeated stress. Sometimes the damage we cause to our feet can be minimal like the odd blister here and there but unfortunately, the more we continue to wear bad shoes the worse these problems get leading to bunions or ingrown toenails. This is why a proper fitting working boot is so important! Of course, if you're wearing these boots for work as well, then it goes without saying you need something you can rely on, not only to fit in with health and safety but to make sure you can get to work and back ok!
Luckily, working boots are specifically made with this in mind – to avoid any damage to your health. As you can see from the 10 that we've reviewed in this article alone there are many different boots that are suited for many different purposes, so how do you know which one is for you? We've decided to outline the different ways you can identify which working boots are best for you.
Going hunting? Get the right pair of hunting boots before you go!

Terrain
Probably the best way to determine which boot is for you is to look at how you will be using them. All working boots will obviously provide a sturdy and comfortable position for your feet, but different types of working boots are specialized for different types of terrain. For example, if you working on trail paths and fairly even surfaces flat surfaces most working boots will be suitable. But if you're more likely to on uneven and unstable surfaces which are rockier and mountain based terrain than a standard working trail, you will need something more supportive.
We would recommend boots with extra stiff soles and ankle support, as this will help keep your foot in place and put less pressure on your leg as you walk around. On the other hand, if you're likely to be in wet or slippy terrains, you would definitely need to make sure whichever boot you pick had a solid rubber grip on the bottom.
Material
Lastly, you should always consider the durability of the boots before you buy them which is a mixture of how well they made alongside what they're made of. Of course, it depends what you are using them for as well, although some may be longer lasting than others they might not be good for the job you want them to do. The majority of the boots we've reviewed are either leather or synthetic. It goes without saying that the leather boots are usually long -lasting and heavier than others, but if you look after them properly they will last really well. However, these will not be very suitable if you need lighter-weight boots to help you while you're working.
Synthetic options are usually lighter, and though they don't tend to last as long as their leather competitors, they are less likely to dry out or crack. On the other hand, we've also reviewed some 100% rubber boots in this article. The rubber type boots will not last as long as the leather boots if you wear them in situations leather would be suited better for. However if you wear your rubber boots in flat wet surfaces, they would still last a fairly long time.
What to look for in Men's Waterproof Work Boots?
When buying men's waterproof work boots, it's important to consider how waterproof they vs. how waterproof will need them to be. If you're not going to be in incredibly wet situations all day every day, but you're going to be in the boots for 14 hours a day 6 days a week, then you won't need to be spending as much on making sure the quality of waterproofing is that expensive. In this case, we would recommend spending your budget on a pair of boots with a much more stable arch to help keep your feet supported all day.
Of course, if you're going to be needing boots with will suffer through a lot of wet surfaces and weather every day but only for a few hours at a time. Then it makes in this situation to spend your money on something that is a lot more waterproof than durable, for instance maybe one of the neoprene rubber boots.
It's hard to say what exactly you will need in a waterproof shoe as everyone's needs are different. Luckily the work boot industry is ready for your needs all you have to do it find the boot for you, and you'll be made for working!
How to Waterproof Suede Work Boots?
When it comes to waterproofing suede boots, it's best to use a waterproof spray as opposed to the Dubbin wax that you'd use on leather. Dubbin wax will stain and damage the furry texture of the suede. Firstly, clean the boots and then apply the re-proofing spray all over from a distance of no less than 2 inches. After this leave the boots to dry naturally before use and before use you can use a footwear brush to finish off the proofing.

How to Waterproof Leather Work Boots?
You can use Dubbin wax to waterproof your leather boots and even though it may seem like a chore if you use your boots a lot sometimes it's useful to do this often to keep the protective layer there. To waterproof follow these steps. Firstly clean them thoroughly. Then use a boot dryer to gently heat the boots up – this will ensure your Dubbin works best and it absorbed. After this, you can coat the boots in a small amount of Dubbin by rubbing it across. You can repeat this stage as many times as necessary and then leave for an hour before buffing off the wax with a dry cloth.
Expert Tip
To get the best out of your boots in terms of comfort we'd recommend you get half a size bigger. Unless you're buying certain boots like the EVER BOOTS which are already made half a size bigger to compensate for this.
Did you know?
Did you know the first pair of work boots were invented in 1975 by Giancarlo Tanzi this was a revolutionary idea and changed the footwear market, and since then brands have only improved on Tanzi's idea to help you stay safe!