How To Wear Basketball Shoes?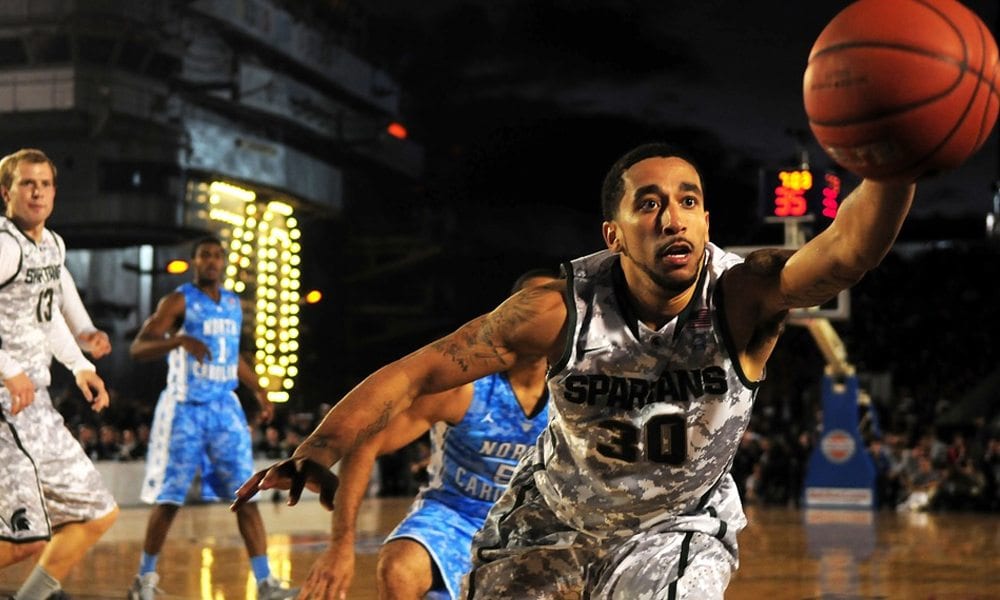 Basketball shoes have always been fashionable both on and off the court ever since the appearance Chucks and the ever-popular Jordan's. It's not just a case of pulling on your favourite sneakers and jeans; there are some fashion rules to remember when wearing basketball shoes casually. Basketball shoes are probably the most fashionable sport shoes on the planet. They look as good on the court as off and you don't need to be a star ball player to rock the same kicks as the big time professionals. If playing outdoor basketball, you will need specific outdoor basketball shoes.
This is not an excuse though, to wear them with whatever happens to fall out of your closet in the morning. These are fashionable shoes that can give an outfit real swag if worn right.
The design of most basketball shoes makes it rather tricky to wear them with a pair of jeans. Their higher tops and bulky closures are a nightmare when paired with a baggy pair of jeans and this combination should be avoided like the plague.
There is nothing sexy about a shapeless pair of baggy jeans especially when they seem to be swallowing your sneakers whole. On the other hand, a super slim pair of jeans will definitely leave too much up to the imagination. Try going for a slim-straight cut which has a more tailored cut and will rest neatly on top of your sneakers without looking like you stole a pair of leg warmers.
You want to feel comfortable with what you are wearing and show off your sneakers at the same time so find a fit that will be able to do both.
Look for a jean that just touches the top of your sneaker without covering it completely. Try to stay away from sneakers that are bulky or puffy especially if you have seen better legs hanging out of a birds nest than your own. The secret is to keep everything in proportion with your sneakers although sometimes it's just better to call it a day and wear them with what they were designed for – a good old pair of basketball shorts!
How To Wear Basketball Shoes Casually?
When worn with the right outfit, basketball shoes can make a very savvy fashion statement. There are however some strict fashion no-no's when it comes to incorporating basketball shoes into your casual everyday wardrobe. These shoes can be worn with a slimmer cut jean for a smarter casual look or a pair of joggers or shorts for a very casual look.
If your sneakers are rather flashy and have a lot of detail then it would be safer to tone the rest of your outfit down or else you might be mistaken for a Christmas tree. Have at least some kind of colour scheme when putting your outfit together. Some colours look great together while others are better off as far away from each other as possible.
How to Wear Jordan's With Jeans?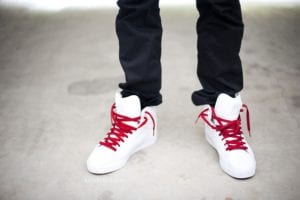 You would have to be living under a rock if you have never heard of Air Jordan's. The most expensive basketball shoes around as well as the most stylish. So if you are lucky enough to be able to afford a pair, wear them with pride using the following tips:
 Choose the right pair. Low and High top Jordan's can be worn with jeans, shorts and even casual dresses. Allow your Jordan's to be the centrepieces of your outfit. Dress from the bottom up to accentuate the shoes features.
 If you prefer a more classic style then opt for one of the first ever released pair of Jordan's. Women should look at the Jordan III for their softer, rounder shape.
Wear your Jordan's with a well fitting pair of slim jeans. Darker jeans go very well with Jordan's because your shoe colour will stand out against the darker jean.
Wear your jeans tucked slightly into your sneakers for a more tailored effect. Never wear your Jordan's with formal wear instead opt for casual items like shorts, cargo pants or slim fitted joggers.
How to Wear Jordan's With Shorts?
Less is more when it comes to pairing your Jordan's with shorts. These sneakers were originally designed for the fast paced basketball courts so you can't go wrong when wearing them with shorts. Or can you? If you are wearing low top sneakers then you should wear a low cut neutral pair of socks that fit around your ankles. You want your sneakers to shine and not your goofy socks. Cargo shorts are the best type of shorts to pair with your sneakers.
They give your outfit a more grown up feeling than just a normal pair of sport shorts. If your Jordan's are mostly comprised of neutral colours then you should pair them with a neutral pair of shorts. No loud Hawaii patterned shorts here please. Jordan's should be the centrepieces of your outfit. You can literally build your outfit around these versatile sport shoes.
Since you are still dressing casually, you can pair much of the same outfit choices with shorts as you should with jeans. Steer clear of bold prints if your Jordan's are also bold unless you really know what you are doing fashion wise, this could easily be a disaster. Lastly, if you feel comfortable you will also feel confident. Dress according to your own style and personality preference, this way you won't end up feeling awkward.