Nonslip Shoes for the Elderly Guide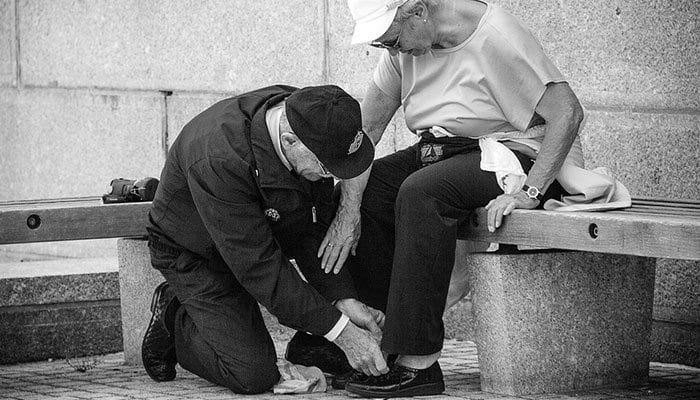 Older people can be prone to foot problems such as swollen feet or painful feet, as well as having problems with balance. Getting the right shoe for them can prevent possible falls and serious injury and are a vital wardrobe accessory for any senior.
Shoes for the Elderly to prevent falls?
No shoe that you buy will guarantee that you will not fall, however getting the right ones will definitely reduce the chances of falling. There are some factors that are very important to look at when considering what shoe to buy for seniors.
Non-slip Soles
This is one of the most important aspects to look at when considering what shoe to buy for the elderly. The sole of any shoe that they wear should always maintain a great, firm grip on any surface, even wet or slippery ones. They should also be lightweight and comfortable as well as being shock absorbent which will make for less impact on the ankles and heels when walking.
Comfortable to Wear
A comfortable shoe is very important for seniors, as well as they, often have foot problems such as pain or swelling. Getting a shoe that fits perfectly and is comfortable to walk in will definitely make it easier for them to move around. Getting shoes that have a high back for support is also a great idea for seniors. Another part of the shoe you need to consider when it comes to comfort is the width of the toe area.
Broader toe areas on a shoe allow for a lot more stability and stop their feet from feeling closed in. Wearing a shoe without a heel or with a heel with less than an inch thick is recommended. Then consider the mouth of the shoe, it should be wide enough for them to slip it on effortlessly.
This is also important as older people tend to have feet that swell or feet that are not as pliable as younger people. Finally, you need to make sure that the shoe is well padded and very comfortable for them to wear. This will also prevent any scraping or bruise on the feet and ankles which is very important as older peoples skin tends to be thinner and more prone to bruising.
Maintenance and Style
Shoes should be easy to clean and maintain. Stain proof and darker colors are recommended. Ones that can slip off and on easily are the style you should consider as often older people find it difficult to bend for any period of time if at all in order to lace up their shoes.
What Shoes for Elderly People with balance problems?
A huge problem that the older person faces is falling. Not only can they get bruised but serious injuries such as broken bones and head injuries are often a result of falling when walking. Senior people often experience less feeling in their feet, this is due to lower blood circulation and because of this, along with arthritis, weakened muscles and other ailments, and they tend to have balance problems.
Getting a shoe that will help with problems such as this is essential to avoid nasty falls. When seniors are walking the most important thing to ensure their stability and security is the shoe they are wearing.
A shoe with a non-slip sole that will offer them the largest footprint and strong contact with the ground will go a long way to ensuring stability. Combined with a good orthopedic shoe insert for even more support, along with a high back and comfort will help to prevent any possible falls.
Velcro Shoes for Seniors?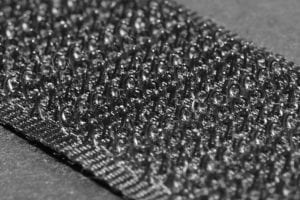 Often elderly people have great difficulty in bending down to be able to lace up their shoes. This can also cause loss of balance and lead to a fall even before they start walking. Also sometimes the laces could come lose and then your elderly mom or dad could trip over the shoelaces. But slip on shoes are also not the perfect answer, as they age they tend to stretch and then do not give your elderly person any support.
Velcro is the answer to all of these obstacles being overcome. Easy to put on and take off, they can be secured properly with very little effort and can be tightened just enough to lend the support needed without restricting the blood flow or squeezing the foot too much. Velcro shoes also do not need to be adjusted all the time and they will stay closed for a longer period of time that a lace shoe.
Shoes for Elderly Swollen Feet?
Elderly people who suffer from swollen feet should always wear shoes that have a wide mouth, and preferably shoes that allow for a little swelling to take place during the day. A stretchy material shoe with a Velcro closure along with a slip-resistant sole will all go a long way to relieving the pain that they may feel when their feet swell, as well as being comfortable and offer them the support they need when walking for any distance.
Slippers for the Elderly?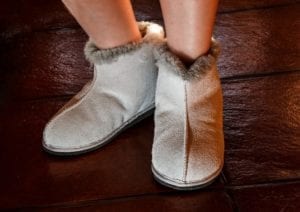 When at home seniors generally do not want to wear normal shoes and go for slippers. This can be very dangerous if you do not select slippers that are designed to help prevent falling. Slippers with slick soles, open backs that offer no support or could slip off are two of the worst types of slippers a senior could opt for. Slippers should have soft, pliable and slip or skid-resistant soles with good tread.
Related Review: Men's Slippers.
They should be lightweight and comfortable with a warm covering to keep the feet cozy at all times. A high back and either an elastic or Velcro closure to ensure a good fit is also something to consider. Most senior fall in the home and having the right non-slip slipper can help prevent falling even especially in the bathroom on wet floors.
Conclusion
As was said, no shoe is guaranteed to prevent falling, selecting the right shoes for your elderly Mom or Dad will go a long way in helping to prevent serious injury or worse due to falling. A shoe that offers not only comfort but support and a non-slip quality is ideal for the elderly person to wear.