What are Appropriate Shoes for Teachers?
 Introduction
When looking at shoes for teachers (click here for the guide), you need to consider their style, construction and supportiveness. The most appropriate shoes will be those that are designed to offer teachers great support and stability along with superb comfort as they will be standing and walking all day. Great shoes for teachers are those that look good and feel great.
Can you get Fashionable but Comfy Shoes for Teachers?
Yes, you get very stylish and fashionable shoes for both women and men on the market and most of the top brands make shoes that offer you comfort, support, and stability along with great style as well. Fashion comes and goes, but the classic styles usually remain such as the loafer, lace-up or slip-on style shoes for men and the wedge, flat or sandal for women.
Finding a comfortable shoe does not mean you need to wear those ugly work boots, today shoe manufacturers such as Van's, Merrel and Skechers all design shoes that are made for those who spend many hours on their feet and require all the features a great work shoe offers, but also need to look good at the same time.
When selecting your shoes try to select those that remain fashionable through time, the simple classic shoe that goes with any outfit in any environment are the ones to look for. Sandals, loafers, slip-on and clogs that are made from good material and with simple designs will never go wrong no matter what fashion is the order of the day.
Are there Shoes for Teachers with Feet Problems?
There are many people with foot issues looking for shoes suitable for flat feet to bunions, corns or hammertoes. Some people have wide feet or suffer from plantar fasciitis. There are many brands on the market that cater for all of these different foot issues as well as helping those that stand or walk all day keep their feet protected, comfortable and stable through the day. Wearing the wrong shoes can also lead to you developing foot issues, even if you did not have them before.
Calluses, corns, and bunions are often caused by wearing the incorrect shoes. Other problems are worsened by wearing the wrong shoes. When picking the right shoe for foot issues you need to consider getting one that fits perfects, giving the toes room to wiggle and supporting your heels and midsoles adequately. Today, you have a wide choice shoes that are designed to help you cope with different foot issues, from sandals to athletic shoes.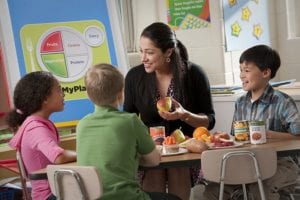 Many of the shoes also feature removable footbeds to allow you to use orthotics which are designed to accommodate any issues you may be experiencing. Teachers in particular are prone to developing foot issues due to the fact that they stand or walk for long hours during the day. Bunions, corns, calluses, as well as claw, mallet or hammer toes are common problems faced by teachers.
Choosing the right shoe can relieve the pain caused by these issues and stop them from getting any worse. The fit of the shoe is of enormous importance when shopping for your perfect shoe. The style and shape of the shoe will also be a consideration. Try to avoid very high heeled shoes that are narrow or pointed. Teachers who like to wear heels should consider going for a wedge type heel that offers the support and stability they will need.
Also choosing a shoe with a heel, you should ensure the toe is rounded and not pointed to ensure that you do not put too much pressure on your toes when walking. If you suffer from wide feet then you need to get a wider shoe with a deep toe box. A rigid, cushioned heel counter is considered important in order to stop your foot from slipping out of the shoe and a flexible sole to allow your foot a full range of movement is also important.
If you are suffering from foot issues, make sure that the shoes you select cater for your particular problem, wide, comfortable, stable and motion controlled shoes are definitely the kind of shoes that people with foot issues such as fallen arches or flat feet, corns and bunions need to consider, or you could find your day in front of the class painful and you may find you spend more time thinking about your sore feet and not concentrating on what really matters, teaching the leaders of tomorrow.
Most comfortable Stylish Shoes for Teachers for Hot Weather?
When you are working in areas that have hot weather, you need a shoe that offers you the most breathable construction you can get. Having a shoe that has an inner lining that wicks away water is also one of the best features to have in this type of weather. Lightweight and breathable, shoes that are designed and constructed from mesh, canvas, and patent leather are some of the best. They also have the added advantage of offering you a level of durability in your shoe.
Breathable shoes allow for great airflow through the shoe keeping your feet cool and dry, and moisture-wicking lining will ensure that the sweat gets moved away from your feet, this also prevents bad odor which is often associated with wearing the shoe in hot weather. Sandals are a great option when working in hot weather and there are a number of sandals on the market that offer great support, specifically designed for people who spend many hours on their feet during the day.
Conclusion
Selecting the right pair of shoes if you are a teacher and going to be spending the majority of your day on your feet is crucial. Having the best shoes designed for teachers will help prevent you from developing foot issues such as bunions and corns. That does not mean ugly work shoes are the order of the day, many big brands have developed excellent, comfortable, supportive shoes that are stylish and fashionable giving you a wide range of choices.