When considering which athletic shoes to buy while taking part in an extreme and alternative sport like Parkour it's very important to make sure you're wearing the right equipment. This is definitely the case when it comes to purchasing the proper footwear. Without wearing the appropriate shoe, your performance can be hindered considerably. For example, in a sport like Parkour, you are continually moving from one space to another and need the ability to land right during unsteady movements.
Fortunately, as the popularity of the sport has grown so has the available equipment on the market. There are many different types of Parkour shoe our there on the market today all you need to do is decide which one works best for you!
We've compiled what we think are the best 10 Parkour shoes out there right now, we've gone over their key features and even let you know what we liked best about them.
Related: Best Squat Shoes in Review.
View the Best Parkour Shoes, Below.
Buyer's Guide To Parkour Shoes
There are many different factors to consider when purchasing a new pair of shoes to practice Parkour in. If you're new to Parkour or just looking for a new pair of shoes to help you during your adventures you've come to the right place. We'll be going over what we have discovered is essential to finding your dream Parkour shoe! It's crucial to understand of course that you will have different feet from your friends and whatever shoes they wear are not necessarily the shoes that you should be wearing. Fortunately, there are a bunch of different running shoes out there today.
As you can see from the list that we produced Parkour running shoes come in all shapes and sizes, but they all give you those little extra benefits depending on what your feet need. The good thing to know is that it doesn't matter which pair you buy they'll always be able to support, comfort and protect your feet while you give the best performance you can give. And we know that any competitive Parkour enthusiast would want to own the best to help them be the best!
Cost
We know you will have a budget in mind before buying your new shoes but you should be aware cheap Parkour shoes will not help you. Therefore, we would advise either stretching your budget or making sure you purchase a Parkour shoe which is at the top end of your budget. For instance, if you're going to train a lot your shoes will wear out very quickly, and if you purchase a cheap Parkour shoe then these shoes will not last very long at all, and you will have to buy a new pair sooner than you desired.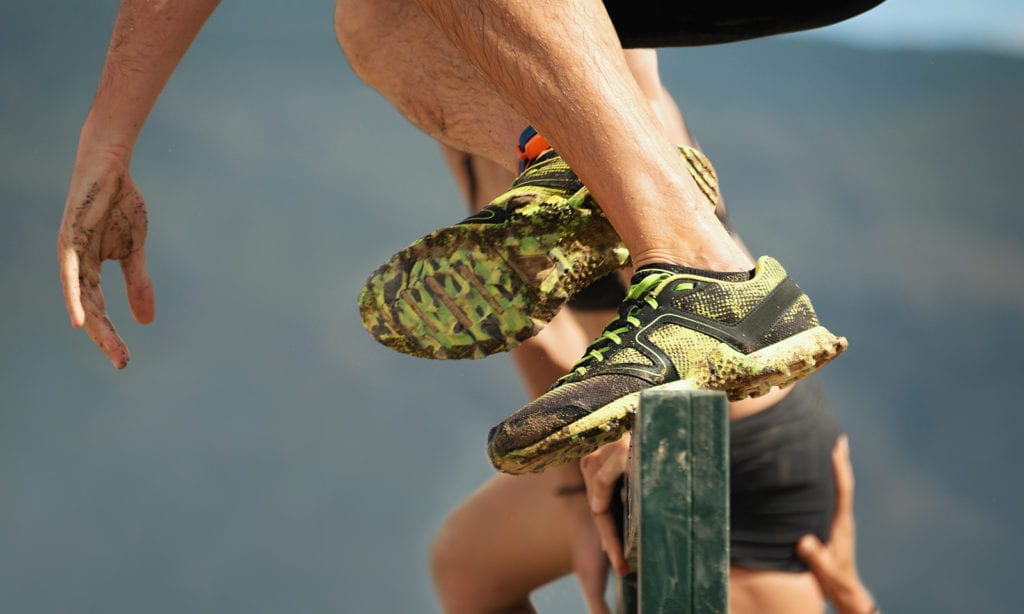 There's also a health and safety element to your Parkour shoes and the less you spend on your new pair on Parkour shoes, the less they will protect you! So there you have it, it's practically medically prescribed by your doctor to invest in an expensive pair of Parkour shoes.
Perfect Sole
With any shoe you purchase in life, you must always make sure the sole is suited for the job you're going to use your shoes to do. For instance, Parkour is a very extreme and intensive sport, so to protect your feet properly, it is imperative to have the right sole. For example, we recommend a one-piece sole as these tend to last longer and often provide a lot more comfort during the various moves you will make during Parkour activities.
Those with many soles inside the shoe do not tend to last as long, as they are not designed to withstand a lot of jumping around and they are merely glued together. Over time the impact of a sport like Parkour will break down the glue which holds the soles together. And let us tell you, broken soles while you're trying to run and land across uneven surfaces is an absolute nightmare.
Related: Best Shoes for Jumping Rope.
Not only is it pretty inconvenient to try and run while your soles are broken, but it can also be incredibly dangerous, and they can even lead to injuries. Just as the one piece sole offers more protection, thicker soles provide you with even more cushioning and this can help with your balance as you move gracefully between building to building.
When assessing the soles of your new shoes, it's also important to think about the compound or in other words the make of your sole. Rubber soles are perfect for Parkour enthusiasts as they're generally manufactured to last long and increase your grip. Other softer soles are more likely to wear away quickly and not provide as much grip. On the other hand, other harder soles often impede your ability to jump further.
Feeling Flexible
Another important factor when buying a Parkour shoe is to make sure the material it is made out of is flexible enough to move with your foot, as it leaps through the hair and hits the ground hard. If your Parkour shoe is not flexible enough, you will definitely run into some problems. However, you must also make sure it is still sturdy enough to provide support to your foot without hindering its flexibility.
Most Parkour shoes out there today are designed to allow movement in your foot while still providing adequate support. But it's always important to keep this factor in mind when trying on your Parkour shoes!

Weight Game
It may sound pretty obvious but how much you and your shoes weigh can affect your performance in Parkour. Unfortunately, Parkour shoes are often slightly more substantial than usual running shoes as they need to be to help minimize the impact of running and jumping on your feet.
There are lightweight options in Parkour shoes too, but it's best to try them on. Once you try on your Parkour shoes, you will know how much weight feels comfortable enough to secure your feet without weighing you down.
Arch Curve
Just as the weight and sole effect your Parkour performance so does the arch in your shoe. For example to land perfectly or at least safely, in Parkour it is essential to have the right shoes that compliment your arch and help support you as you fall. The arch is situated where the shoes grip the ground the most.
Therefore if you want to land properly without losing your balancing and causing injuries, you will need to make sure you get a shoe with an arch that supports your foot's natural curve.
Did you know
Parkour was originally developed by the French in the 1980s and then later popularised by movies in the late 90s and 00s!
Expert Tip
There are many other different accessories for Parkour that can really help your performance this include, but is not limited to, items like hats, sunglasses, and backpacks!