10 Best Running Shoes For Women in 2021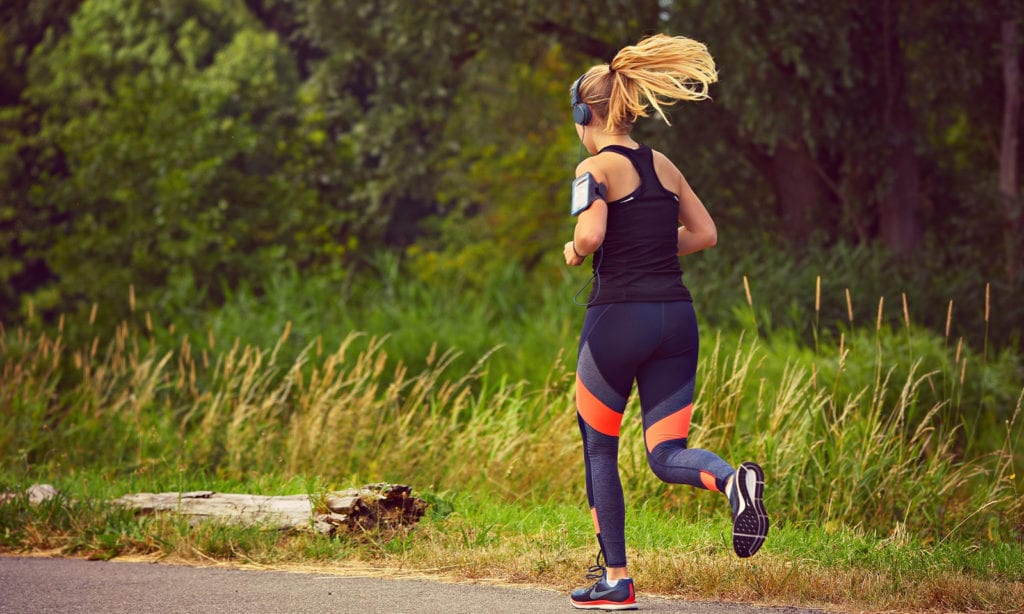 Running is the best exercise for an individual to undertake; it offers you cardio exercise which gets your heart pumping and therefore improves aerobic fitness. Running is easily accessible and can provide additional benefits for your mind. While you can go for a run anywhere and at any time of day, it may be beneficial to invest in a good pair of running shoes. Costing in the region of $40, running shoes are not expensive and can really help your feet when running, especially if you decide to run long distances.
A good pair of running shoes can provide support and cushioning to the midsole of your foot, in addition, to support to the arch. This may offer comfort for you when you are running, providing shock absorption and comforting features, helping to prevent injuries. Fr dedicated runners, a good pair of running shoes may further increase your running performance in the long term.
We have tested ten of the best women's running shoes on the market, helping you to decide what type of running shoe and what budget is right for you.
View the Best Running Shoes For Women, Below.
1. ASICS Women's Gel-Venture 6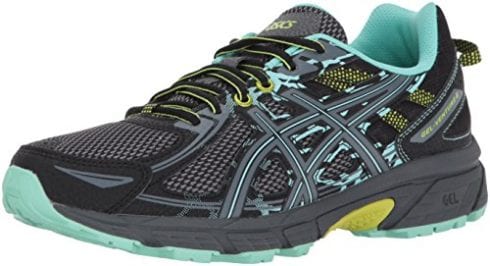 The ASICS Women's Gel-Venture 6 trainer comes complete with the rearfoot GEL cushioning system and a redesigned midsole and upper sole, providing shock-absorbing comfort and pleasure to the feet even when walking for very long periods. Consisting of synthetic material to the upper running shoe and a tough rubber sole, these shoes offer high abrasion rubber to ensure durability and longevity. Furthermore, for increased hygiene, a removable sock liner is included within your purchase in order to accommodate a medical orthotic.
Featuring multi-directional lugs to provide uphill and downhill traction, the ASICS Women's Gel-Venture 6 running shoes provide flexibility across all types of terrain. They come in a wide range of colors and aesthetic designs.
The ASICS Women's Gel-Venture 6 comes in a wide range of colors so that there really is something for everyone! We particularly liked the black, carbon and neon lime design, featuring a light blue sole and interior along with a shock of neon lime across the middle of the sole. Each design features a large ASICS logo running through the exterior side of each running shoe.
Check Price on Amazon ➞
2. Brooks Womens Ghost 11
These new and revamped Brooks running shoes contain new DNA LOFT cushioning which provides the benefits of a responsive material and offers you comfort throughout each use. The running shoes ensure added transition smoothness beginning at the toe and continuing through to the heel, making sure that every second of your run is at your optimum best. Furthermore, a soft fit and a luxury feel are experienced through the 3D mesh upper and internal stretch sock liner, providing extra comfort and additional hygiene. Numerous color options are available.
There are some great color options with the Brooks Women's Ghost 11 Running Shoes, in particular, the black, pink and aqua design which is very striking. The running shoe features flashes of aqua along with a long stripe of pink about the sole, with a black/pink mesh effect running shoe base.
There is even a pop art design for those individuals looking for something a little bit different and unique, featuring a light blue, black and white sole, light blue laces and a brightly colored NYC pop art design.
Check Price on Amazon ➞
3. adidas Women's Cloudfoam Pure
With a comfortable textile lining and synthetic sole, the Adidas Women's Cloudfoam Pure running shoes provide effortless comfort when you need it most. The cloudfoam memory sock liner molds to your foot to ensure amazing comfort which fits perfectly every time. Furthermore, a flexible melange mesh material encompasses the upper running shoe and adds to the pleasure and comfort in each step. Feeling so squashy, the Adidas Women's Cloudfoam Pure allow your feet to breathe while allowing the utmost in comfort and come in a grey color option with a bright, white sole.
The Cloudfoam memory sock features unique technology which ensures that the sock molds to your foot and fits perfectly. This feature adds to the comfort and soft fit, allowing your running shoes to fit securely to the shape of your feet. It also increases hygiene.
Check Price on Amazon ➞
4. ASICS Women's Gel-Excite 4
The ASICS Women's Gel-Excite 4 running shoes feature a textile/synthetic material on the upper shoe along with a rough rubber sole for durability. The rubber sole features high abrasion qualities, found in critical areas of the outside in order to ensure excellent durability and longevity. The rearfoot GEL cushioning system is an excellent shock-absorber, absorbing impact and providing a good level of transition to midstance. Furthermore, a removable sock liner increases hygiene and provides flexibility to accommodate a medical orthotic.
Perfect for moderate runners, these running shoes offer you comfort when you are on the go, providing a good level of resistance and ensuring that you have protection against wear and tear.
As well as featuring great comfort for you, there are also some great color designs for you to choose from. A striking favorite is the lapis/hot pink/safety yellow design, featuring a light blue base along with hot pink flashes and laces and a yellow interior in addition to subtle yellow detailing.
Check Price on Amazon ➞
5. adidas Women's Edge Lux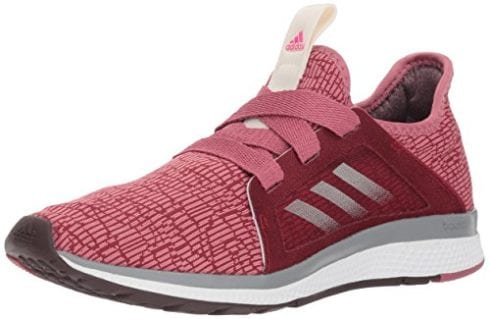 The stylish Adidas Women's Edge Lux running shoes come complete with BOUNCE technology, ensuring energized comfort for the most dedicated runners. The synthetic upper shoe features a color-changing knit appearance, shape-shifting for comfort and to make sure that your shoes fit your feet perfectly. The supportive mesh encompasses your feet to provide additional benefits. Perfect for long distance running, these shoes come in a bold style with a soft finish in a wide range of colors.
There are some really stylish color options available with the Adidas Women's Edge Lux running shoes and perhaps are the most fashionably designed running shoes in our review. Our favorite color option is the noble maroon/night red/shock pink design, featuring dark maroon on the exterior sides with a pink and maroon patterned design throughout the shoe. The thick pink laces are a particularly good feature.
Check Price on Amazon ➞
6. adidas Women's Cloudfoam QT Racer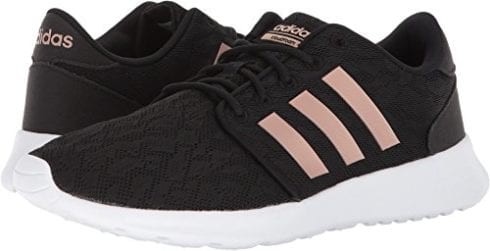 Featuring a comfortable textile lining and a synthetic leather metallic heel section, the Adidas Women's Cloudfoam QT Racer provides a good level of comfort. A Cloudfoam Memory sock liner molds effectively to each foot, ensuring that you can step-into comfort simultaneously as stepping into your running shoes. This feature is enhanced further by the cloudfoam outsole and midsole, offering superior quality and amazing comfort and come in a choice of colors.
While many of the other options on our list consist of bright designs and a choice of great colors, the Adidas Women's Cloudfoam QT Racer running shoes consist of much more subtle designs. A firm favorite is the black/copper metallic/white design, featuring an attractive black pattern and white sole along with subtle copper Adidas logos.
Check Price on Amazon ➞
7. Nike Women's Free RN
Consisting of a synthetic and mesh upper shoe material, the Nike Women's Free RN offers you a breathable set of materials to keep your feet fresh. The rubber sole is durable and tough to suit the most dedicated runner. Furthermore, these running shoes provide a padded tongue and collar for comfort along with a removable foam insole. Prices start at $44.99 and come in a wolf-grey/off-white platinum black design.
Some running shoes look like running shoes, which makes it difficult to wear at other times. However, the Nike Women's Free RN running shoes can pass as leisure shoes, providing you with adaptability and flexibility.
Check Price on Amazon ➞
8. New Balance Women's Fresh Foam Arishi V1
The New Balance Women's Fresh Foam Arishi V1 is a lightweight running shoe which offers you versatility along with stylish sophistication. The upper shoe consists of complete synthetic and mesh material. The rubber sole is tough and durable, and the fresh foam midsole allows your feet to breaths while feeling comfortable and secure.
The mulberry choice of design for the New Balance Women's Fresh Foam Arishi V! Is a stylish choice which would look fantastic on your run. New Balance is also a great brand for runners as they specialize specifically in the sport.
Check Price on Amazon ➞
9. NIKE WMNS Revolution 4
Featuring 100% leather and synthetic materials along with a rubber sole for durability, the Nike WMNS Revolution 4 running shoes are made to last with protection against wear and tear. The upper shoe consists of mesh for a breathable feeling, keeping your feet fresh and hygienic. Furthermore, the soft foam midsole ensures responsive comfort while being lightweight at all times.
Further support is offered through the underlays across the vamp and toe tips. Durable traction is supported through molded pods to flatten on impact, creating a spring-back effect for the wearer. Priced at $39.98, there are some great color options to choose from.
There are some fantastic color choices to choose from with the Nike WMNS Revolution 4 running shoe, in particular, the black/fuchsia/glow oil grey design. Featuring a white sole and patterned black upper shoe, the design features an attractive light pink Nike tick which looks luminous against the black background.
Check Price on Amazon ➞
10. NIKE Women's Tanjun Running Shoes
Consisting of a breathable textile upper shoe for comfort and a fresh feeling, the Nike Women's Tanjun running shoes are lightweight and offer a mesh design. Additional cushioning is achieved with the foam midsole and outsole.
Being available in a full black design does mean that there are fewer options than with other running shoes. However, the design is much more subtle which may suit some individuals.
Check Price on Amazon ➞
Buyer's Guide
Buying the correct type of running shoe is important for all runners, from the novice runner through to the elite professionals. However, it can be confusing to decide which type of running shoe is the best for you, particularly if you are new to the sport. First of all, consider the purchase of a pair of running shoes as an investment for your body and therefore subsequently your overall health. Follow our guide for tips on buying the best running shoes to meet your needs.
Size
Running shoes should not fit too snuggly. When standing up on both feet, there should ideally be a space of around a thumb-width in front of your longest toe. This is so that when you run, your feet are able to move forward and your toes have the flexibility to move into position. Your running shoes have got to be comfortable.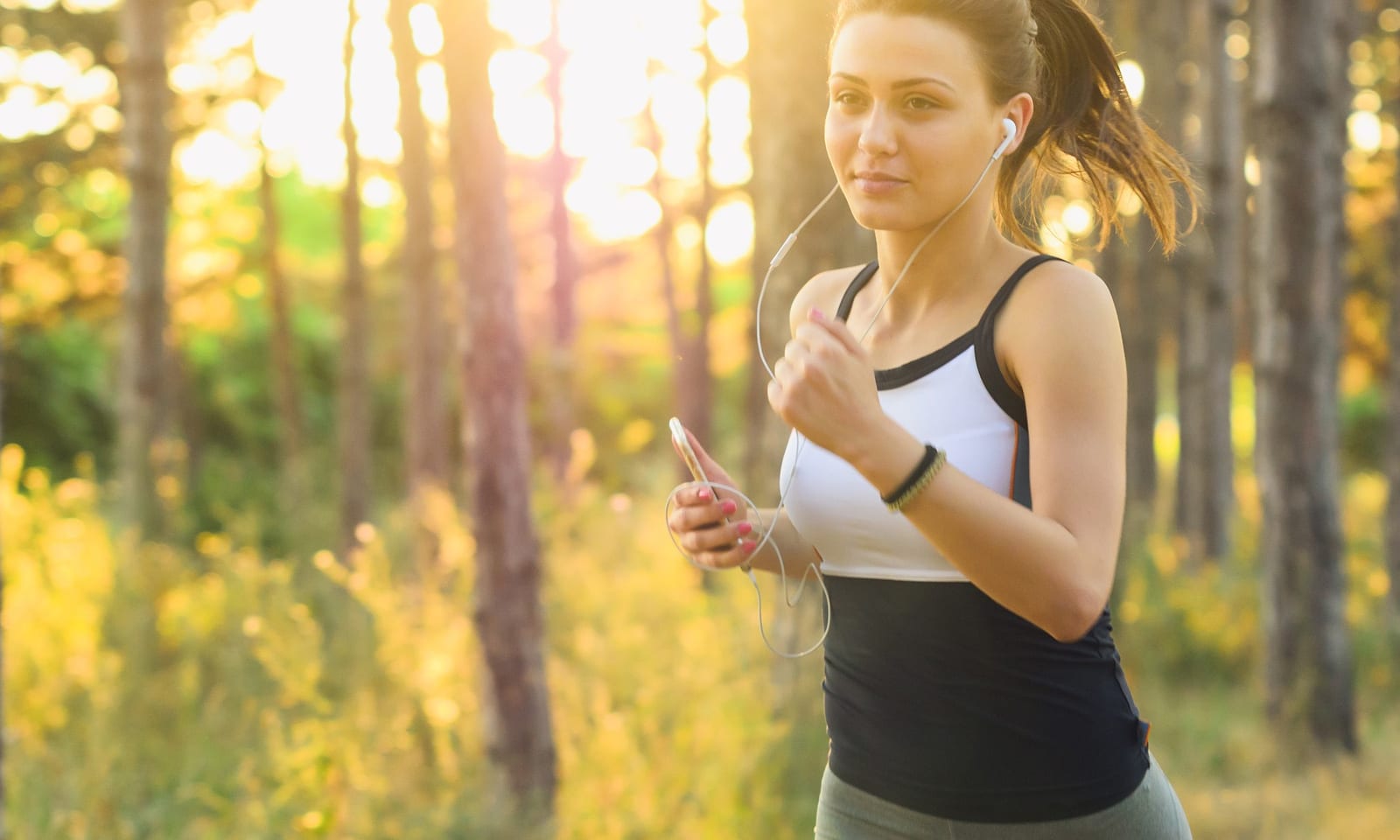 Uncomfortable running shoes may result in sore feet and injury. This roughly means that you will need running shoes that are either half a size or a whole size bigger than your normal shoe size, although trying the shoes on for size is always the best option.
Design
The arch of the foot is an important consideration when buying running shoes. Running shoes may have a heel of between 8 and 12 millimeters, providing greater comfort and cushioning along with increased flexibility. The upper shoe is becoming much lighter with new technology, creating breathable materials which match the movement of the foot more directly.
The materials used in running shoes are equally as important as the sizing, with many manufacturers using new PU materials or EVA combinations, adding PU foams which are no longer dependent upon temperature.
Cushioning
The amount of cushioning which you need in your running shoes is dependent on the dimensions of your body. The heavier you are, the higher the amount of cushioning you will need. Finding the correct amount of cushioning is very important for your comfort and your performance as the cushioning will act as a shock absorber and will, therefore, help impact and help to prevent some injuries.
Buying Your Running Shoes
While you can, of course, purchase your running shoes online, it may be best to try some varieties of running shoes in store to assess your best sizing. You will then be able to experience which brand and type of running shoe are most comfortable for you. You could try some shoes on instore and write down some notes about which running shoe features, sizes and brands were the best for you, then search online for the best deal.
Additional Factors
For more experienced or frequent runners, it may be wise to purchase more than one pair of running shoes. A professional rule is that if you go running four times per week, you should have four pairs of running shoes. Your feet should not become accustomed to one type of running shoes, however, just as you should always aim to vary the distance, speed, and style of your running.
This helps to prevent injury as your body does not become accustomed to the same movements. Consider the types of surfaces which you are running on. Neutral running shoes are perfect for running through towns and on asphalt surfaces whereas cross-country runners work best with trail shoes.

How to Choose the Right Running Shoes for Women?
In general, women's running shoes are made to be narrower as well as having less cushioning due to a presumed lower weight. This is, of course, a big presumption by the manufacturers that all women are lighter than mean with smaller narrower feet, which of course is not always true. To choose the best running shoes for a woman, consider your own body dimensions and the size and width of your feet.
Try on as many pairs of running shoes as possible and if you do have larger or wider feet or you are slightly heavier than average, consider the running shoes aimed at men. You may find that they provide more comfort along with more cushioning and support.
Expert Tip
To eliminate the guesswork and find the exact running shoe you need, you could go to a specialist running store and ask them for Gait Analysis. Gait Analysis will find the exact type of shoe that you need for your specific feet and your preferred type of running, helping to increase comfort and performance while aiming to reduce the chance of injury.
Did you know?
The first woman to officially run the Boston Marathon was Kathrine Switzer in 1967. At 20 years old, Kathrine was a determined woman who ran in the 26.2-mile race, even when officials physically tried to stop her running! This was at a time when women were not allowed to race.
Officials did not notice that a woman was running in the marathon until after the second mile, although Kathrine persisted and finished the race. Despite being disqualified afterward, Kathrine had changed running for women forever.