Running is not just a hobby or pastime, it is a way of life and a passion. The best Under Armour running shoe will help you pursue that passion in both comfort and style. There are a few very important aspects to any sports shoe (click here for tennis shoes in particular!). First is and by far the most important to any runner is the best comfort. Protection for your foot is next on the list of desirable attributes of any running shoe and finally style.
We take a look at the best and most popular UA running footwear in their range and give you a run down on their comfort levels looking at the material used on the shoe, type of under sole, type of traction and what makes them the best shoes for running. Looking for something more specific? See our review on the top shoes for cross country running.  Lifting more your thing? Check out our review on the top Shoes for CrossFit.
Running shoes are lightweight so that it does not feel like you are dragging your feet at the end of a race, or morning run. They should have inner soles that keep your feet snug and supported and a rubber outsole to ensure the traction you need. These running Shoes provide everything you need to get the best out of your running and to enjoy the experience in both comfort and style.
View the Best Under Armour Running Shoes, Below.
1.

Under Armour Men's Micro G Assert 6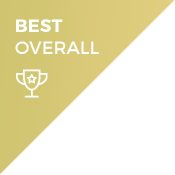 Read Customer Reviews Here »
This is one of Under Armour 's best products. The sixth edition of these Under Amour shoe is lightweight, comfortable and provides the support your feet need when running. Uppers are made from a mesh material that is breathable, so your feet will stay cool and dry during your run. The leather overlays will ensure that your foot stays locked in place and gives the Under Armour shoe a great look overall. The interior foam lines on the Under Armour shoe are light and cushioning to ensure your entire foot is protected and comfortable.
An EVA sock-liner adds, even more, cushioning to your underfoot. The Micro G foam midsole offers the ultimate in comfort when running. Non-marking rubber outsoles on the Under Armour will not only provide your foot with the protection you need on the road, it will also provide the traction you need on any surface to remain stable on your feet as you run.
The outsole is light and will not weigh your foot down, which is vital on those long runs. The Under Armour Men's Micro G Assert 6 is not a only one of the best running shoes but works well in the gym as well as being a great casual shoe with its good looks and comfortable fit.
Why We Like It
EVA sock liner
Mesh material uppers for comfort
Non-marking rubber outsoles
Lightweight and durable
Leather overlays
The Under Armour Men's Micro G Assert 6 are a great shoe that are lightweight, comfortable and durable. Mesh uppers with a leather overlay are not only protective but also breathable. Non-marking rubber outsoles provide superb traction. A great running shoe that are also good for the gym or casual wear.
2.

Under Armour Men's UA SpeedForm Slingshot

Read Customer Reviews Here »
This is one of Under Armour 's flagship shoes. The SpeedForm Slingshot is lightweight, comfortable and reliable and designed to keep you safe when road sprinting or jogging. The UA SpeadForm technology on this Under Armour shoe ensures that you can run with complete confidence and get the boost you need with the asymmetric zonal compression your foot is able to slingshot from heel to toe quickly and effortlessly, increasing giving you a comfortable stride.
3D knit uppers are made from woven Dyneema, one of the strongest fibers around and this provides you with not only flexibility but also durability. Further enhancing your comfort levels is the sock-like burrito tongue which will wrap around your foot and the dual-layer midsole with Charged Cushioning and Micro G foam not only gives your foot the responsiveness needed but also supports and cushions it as you run. Fast and reliable this is a great Under Armour shoe for long distance road running, and also works well for daily training.
Why We Like It
UA SpeadForm technology
Woven Dyneema 3D knit uppers
Sock-like burrito tongue for ultimate support and comfort
Dual-layer midsole with Charged Cushioning and Micro G
Rubber sole for great traction
Road running can be hazardous and this is a shoe that not only protect your feet but also provides the comfort they need for the long run is essential. The UA SpeedForm Slingshot does both with a sock-like burrito tongue, dual-layer midsole for comfort and a rubber sole with superb traction so you are always sure-footed.
3.

Under Armour Men's Speedform Apollo 2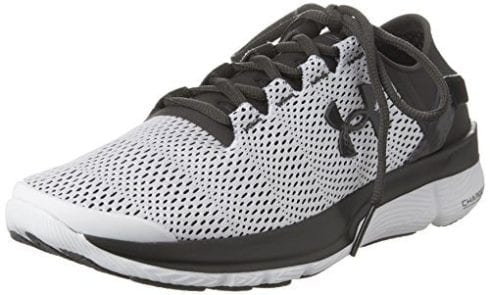 Read Customer Reviews Here »
The second version of this Under Armour shoe features enhanced comfort, stability, and traction to ensure that you get excellent protection and comfort for your feet during your runs. The upper construction of this Under Armour shoe is not only designed to be breathable, to ensure your foot stays cool and dry during your run, but it is extremely durable as well. The arch reinforcement construction guides your foot and provides the best fit to ensure utmost comfort.
This Under Armour shoe is very responsive and the cushioned support offered by the dual-layer midsole is very appealing for its comfort and protection. The anatomical rubber outsole provides the traction you need on the road and adds flexibility and durability to the shoe.
The Under Armour shoe is lightweight and will add any drag to your feet during a long race. The Under Armour Men's Speedform Apollo 2 are very reasonably priced neutral running shoe with great features that will lift your training or racing to a new level and provide your feet with the comfort and protection they deserve.
Why We Like It
Arch reinforcement construction
Dual-layer midsole
Anatomical rubber outsole
Great durability
Breathable upper material construction
A very reasonably priced shoe that offers you a breathable upper construction, superb anatomical rubber outsole for traction and arch reinforcement construction for a superior fit. The dual-layer midsole provides the support and comfort you need on the road. Not only a great shoe but are an excellent training shoe for a great price.
4.

Under Armour Women's Micro G Assert 6
Read Customer Reviews Here »
Men and women have different needs when running, their strides differ and the areas of their feet that need the most comfort and support also differ. The Under Armour Women's Micro G Assert 6 recognizes this and have produced a great women's shoe to cater for the female runner. The uppers of this great Under Armour shoe are extremely lightweight mesh material that is also very breathable to keep your feet cool and dry when running.
They also sport a light and supportive interior foam lines that will cushion the entire foot. Leather overlays ensure that your foot is protected and keep your foot locked in place to avoid slipping. EVA sock liners provide the cushioning your underfoot needs when pounding away on the tar and the Micro G foam midsole allows you to stride with confidence.
Non-marking rubber outsoles provide not only the support your foot needs but also great traction to ensure you always have great grip on the surface you are exercising on.
Not only is this Under Armour shoe comfortable and lightweight, this is a neutral running shoe that is best for training, jogging and casual wear.
Why We Like It
Lightweight mesh material uppers
Micro G foam midsole
EVA sock liner for support and comfort
Non-marking rubber outsoles
Leather overlays for superb protection and durability
The Women's Micro G Assert 6 is a classic shoe for ladies that will not only give them great traction, it will keep them comfortable and protected at the same time. Lightweight mesh material uppers ensure your foot is supported and kept cool and dry throughout your training or at race time.
5.

Charged Bandit 2 Running Shoes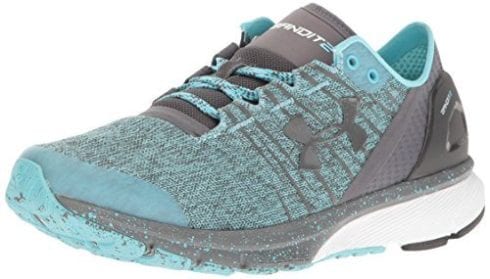 Read Customer Reviews Here »
The Upper Armour Charged Bandit 2 are one of the best for those people who have narrow feet as the uppers of this Under Armour shoe will ensure you get the fit you need as it conforms to the foot-dimensions of the runner and your foot will not slip in the Under Armour shoe as you train.The underfoot of this Under Armour shoe is very comfortable and cushioning making sure that your foot gets the support it needs and this along with the form-fitting uppers keep your foot protected and super comfortable at all times.
The midsole is lightweight and the Under Armour shoe will not feel heavy, dragging your foot as you run. The rubber sole offers the traction you need when road running or training in the gym. The Bandit 2 is a highly responsive Under Armour shoe and one of the best for both sprinting and training and is available in a range of great colors. It is also suitable to be used as a casual Under Armour shoe with its stylish looks.
Why We Like It
Superb traction
Great fit even for narrow feet
Lightweight
Durable
Available in a range of colors
If you are looking for an Under Armour shoe that will conform to your foot, even if you have narrow feet, you found it in the Charged Bandit 2. The midsole is designed for comfort and the rubber soles provide the traction required for both road running and training. Available in a range of colors.
6.

Men's Charged Bandit 3
Read Customer Reviews Here »
The Charged Bandit 3 is the next generation of the Charged Bandit and it comes with a lot of innovative features that are designed to make your jogging experience a pleasant one. From the uppers to the sole, you get the support, comfort, and protection you need for your feet. The lightweight UA SpeadForm construction of the uppers conform to your foot and provides superb support, once laced up, the foot is locked into the shoe and there is no slippage as you run.
The heel counter will keep the heel locked in place and provides you with even more support.Made from a lightweight knit material, this Under Armour shoe will not cause drag on your foot and it is very responsive. The ortholite sock liner adds to your comfort levels and the rubber outsole provides the traction you need on any surface.
The midsole has the best amount of cushioning and the insoles will recover their form quickly after you have been jogging. A very stable, reliable shoe for road jogging and training in the gym. Its good looks also lend itself to casual wear.
Why We Like It
Lightweight UA SpeadForm construction
Heel counter keeps the heel locked
Lightweight knit material uppers
Ortholite sock liner
Rubber soles provide great traction
The best Under Armour shoe for running or training. It offers a host of features such as heel counter, lightweight uppers, and ortholite sock liner to ensure you get the comfort and support your feet need while running. The rubber sole provides the traction you need when road running. Its good looks and durability make it one of the best for casual wear as well.
7.

Women's Charged Lightning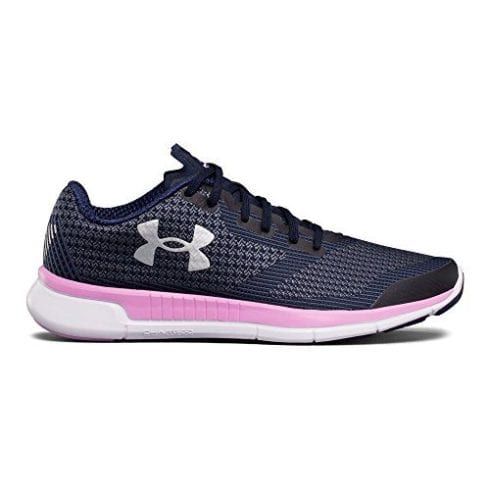 Read Customer Reviews Here »
Another great offering for the ladies from Under Armour. Adaptable and versatile these are more than just a shoe, it can be used as a trainer or for casual wear. The stylish sleek design of this shoe adds to its appeal. The uppers on this shoe is woven jacquard which is both flexible and breathable. The Charged Cushioning and Micro G technologies in the midsole provide the comfort you need and the embedded arch system will reduce fatigue during your run or training session.
The EVA sock liner and anatomically placed flex grooves add to the flexibility of the shoe and the ArmourBlock not only reduces bacteria but it will also eliminate any odor. The rubber outsole of this shoe will provide you with the best traction for any surface you run on and will keep you stable on your feet. Available in multiple colors the Charged Lightning is a great all-around shoe that is designed with the runner in mind.
Why We Like It
Midsole Charged Cushioning and Micro G technologies
Embedded arch system
ArmourBlock reduces bacteria & eliminates odor
EVA sockliner and anatomically placed flex grooves
Available in multiple colors
The best Under Armour shoe for both running and everyday use. Midsole charged cushioning and Micro G technologies along with an embedded arch system and EVA sockliner and anatomically placed flex grooves provide ultimate comfort and rubber soles provide the traction you need on the road. Stylish and comfortable and available in multiple colors.
8.

Horizon RTT Trail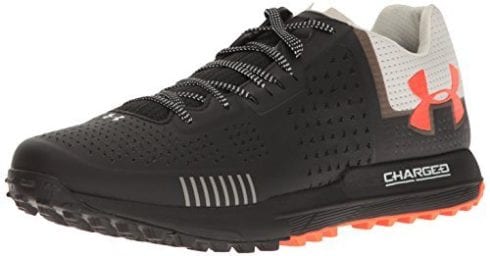 Read Customer Reviews Here »
This Under Armour's trail shoe do not disappoint. The Horizon RTT Trail is lightweight and provides the grip needed for trail jogging on multiple different surfaces. A versatile shoe that are best for running, training or everyday use. The durable and lightweight upper with engineered welded synthetic overlays will is also breathable. It is designed not only to protect your feet but also to allow for airflow, keeping your feet cool and dry.
The toe bumper is reinforced with an ESS plate with exceptional abrasion resistance. The traction on this shoe is phenomenal, the rubber lug outsole copes very well in any trail conditions and it offers excellent downhill braking ability. It also features a non-slip quality to cope with wet or slippery terrain.
For comfort, this shoe offers a full-length EVA midsole and charged foam in the heel. Cushioning construction ensures you get the best fit and the molded ortholite insole will mold to your foot for a customized, comfortable fit. The high-quality laces provided will ensure that this shoe remains firmly on your foot at all times.
Why We Like It
Engineered welded synthetic overlays
Reinforced toe bumper with ESS plate
Non-slip sole
Full-length EVA midsole
High-quality laces
When trail running, traction and non-slip soles are important to ensure that you do not slip, trip or fall as you run over the uneven or rugged terrain you are faced with when doing trail running. The Horizon RTT Trail is a technical trail Under Armour shoe with all the traction and comfort trail athletes need to be able to perform at their best.
9.

Women's Dash 2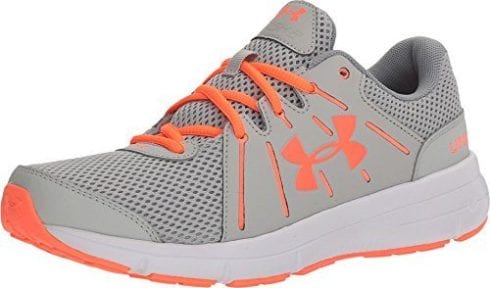 Read Customer Reviews Here »
These are durable, comfortable neutral running Under Armour shoe that is designed for women. These shoes are best for running, jogging, wearing at the gym or as casual shoe. The solid rubber outsole offers you excellent traction and is very supportive of your feet, keeping them safe and secure at all times. High impact zones on your feet are cushioned with the full-length cushioned insole. The EVA foam midsole has shock absorbing qualities to lessen the impact when running.
These are very flexible and breathable products with a stitched leather and mesh upper. Your foot will remain cool and comfortable even when running long distances. The fit of the Dash 2 's are such that your foot will not slip or wobble in the foot-chamber and it has non-slip qualities so if you encounter wet surfaces you will still remain sure-footed. These are some of the best looking shoes that is stylish and comfortable, one of the best for the active woman who enjoys jogging, running or going to the gym.
Why We Like It
Solid rubber outsole
EVA foam midsole
Full-length cushioned insole
Stitched leather and mesh upper
Non-slip qualities
The best running or training Under Armour shoes for the active woman. It features a solid rubber outsole with non-slip qualities, full-length cushioned insole and EVA foam midsole for ultimate comfort and a stitched leather and mesh upper that is both stylish and durable. Whether you enjoy running or just want a stylish looking sneaker this is the one.
10.

Men's UA Drift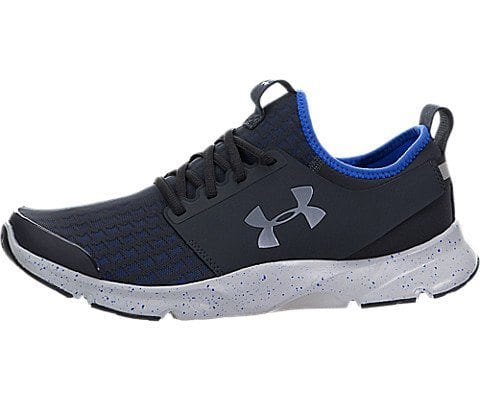 Read Customer Reviews Here »
This is one of the best UA shoe for men. It not only provides superb comfort but also excellent protection and support. The synthetic sole provides you with the traction you need to traverse most surfaces with ease. The ClutchFit mesh upper is both soft and breathable to allow your foot to keep cool and dry. It molds to your foot giving superb support and the synthetic overlay will provide structure and mid-foot lockdown. The molded toe cap will protect the most vulnerable part of your foot when running.
For comfort, the shoes have a full-length EVA sockliner and a cushioned EVA midsole. This makes the shoes very responsive and flexible as well as lending excellent support to your midsole and foot in general. One of the best looking, stylish sneakers, the Under Armour Men's UA Drift is suited to running, jogging, walking or just for general casual use. It keeps your foot secure and comfortable in any conditions.
Why We Like It
ClutchFit mesh upper
Synthetic overlay
Molded toe cap
Full-length EVA sockliner
Cushioned EVA midsole
One of the best Under Armour shoes on the market in its price range. Superb comfort and protection with the molded toe cap, full-length EVA sock liner and cushioned EVA midsole. The synthetic under sole offers excellent traction and the ClutchFit mesh upper is durable and breathable.
11.

UA Men's SpeedForm Gemini 3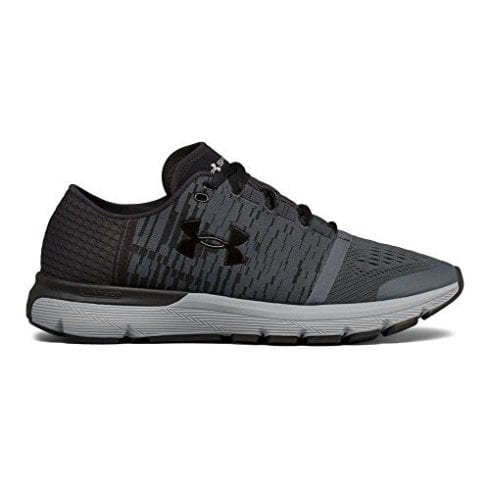 Read Customer Reviews Here »
The Gemini are neutral running shoes with superb styling, precision fit and excellent comfort for the man who loves to run. It is lightweight and durable and offers the best protection for your feet in all circumstances.The mesh upper is both durable and breathable. The tongue and toe box enhances the fit of the shoes and it allows for increased ventilation keeping your foot cool and dry when jogging.
The rubber under sole offers superior traction in most road conditions and the internal heel counter will ensure that your shoes remain structured for even more support. The threadborne midfoot has a panel that will provide your midsole with extra support and lends a distinctive style to the shoes.
The cushioning of the shoes are phenomenal with an innovative UA SpeedForm construction that will mold to the foot to ensure the best fit and keep your foot snugly in the shoes eliminating any slippage. These shoes are not only one of the best for running but is one of the best for the active man to wear when walking, jogging or as casual shoes when out and about with friends or family.
Why We Like It
Mesh upper
Toe box protection
Excellent traction
Threadborne midfoot with midsole panel support
UA SpeedForm construction
Lightweight, durable and stylish, the Under Armour Men's SpeedForm Gemini 3 provides the active man running shoes that offer not only comfort and support, but excellent traction and protection. Whether you like running, going to the gym or simply walking in the great outdoors, these shoes provide everything you need.
12.

Men's Threadborne Fortis 3
Read Customer Reviews Here »
These are one of the best shoes that offer superior comfort and excellent traction to provide you with everything you need to enjoy your exercise in style. The textile and synthetic uppers feature Threadborne embroidery which is breathable, adds structure and provides support and strength to the shoes. The internal ankle bootie offers a snug fit to the shoes and adds support for your feet.
Dual-layer charged cushioning in the midsole is provided by compressed molded foam and the molded charged cushioning sockliner will mold to your foot to give you a personal fit and provide maximum comfort. The rubber under sole provides the traction you require along with the multi-surface traction outsole these shoes will keep you sure-footed on any surface even in challenging conditions.
Not only are these highly efficient shoes, it is stylish and supportive and can be used for multiple purposes such as training, going to the gym, walking or even as a casual sneaker. One of the best all-rounders with superb qualities and features, they are the best shoes for the active man.
Why We Like It
Textile and synthetic uppers
Rubber Sole
Multi-traction outsole
Molded charged cushioning sockliner
Dual-layer charged cushioning midsole
These are one of the best shoes for men. It offers superb comfort with a molded charged cushioning sockliner and dual-layer charged cushioning midsole as well as internal ankle bootie. Traction is provided by the rubber sole and multi-traction outsole. Stylish and durable these are the best shoes for the active man.
Buyers Guide Questions
When you are looking to purchase your footwear, there are a few things you should take into consideration before you settle on the pair that will suit your personal style. Each runner not only has their own style but also preferred terrain or route they take. Some prefer to run in a gym on treadmills. The type of running you like to do will determine which pair you will select.
Remember the right footwear will not only make your run more comfortable but also help to keep you injury free. Cycling more your thing? See the top shoes for cycling here.
Trail Runners
Trail runners run on various surfaces and need shoes with the traction to cope with all of them. They also require the stability and support to cope with uneven ground and protective details such as toe caps, hidden shanks, and plates. These features help to protect the foot from bruising. Built-in outsoles and liners that cater for the cushioning required when tackling rocky, uneven and muddy terrains are vital. Under Armour produce a range of trail runners that are the best for the task.
Road Runners
Most runners use the road as it is very convenient and an easy surface to run on. However, that is not to say that you will not encounter obstacles here too, such as uneven surfaces or wet patches. Roadrunners need flexible, shoes that are able to take the shock of hitting hard surfaces over and over.
Comfort is also vital here. Your footwear needs to protect you from the toe to the heel and especially the midsole area which takes a lot of the pressure from striking the ground repeatedly. Under Armour has a wide range of road footwear that offers just the right amount of comfort, stability, flexibility, and durability a road runner will need.
Track Runners
When hitting the track you need an ultra-light, responsive shoes that best hugs your foot and does not add any drag. You need footwear that has a minimalistic construction and one that has the traction to allow for the explosive takeoffs at the start. Support in the forefoot is vital here as well as cushioning for the ball of your foot and your toes.
Under Armour offers a selection of shoes that are suitable to the demands of track racing and will offer the comfort and support in all the right areas to give you the boost you need to perform at your best.
Treadmill Running
There are some runners out there that do not like to take on the great outdoors. These are often people that live in climates where jogging outdoors is not desirable, such as very hot or very cold climates. Running on a treadmill is a completely different type of running to any other. Wearing a lighter pair of shoes with less cushioning is what you are looking for here.
The reason you don't need so much cushioning is that the treadmill itself is springy so you don't need to cushion the impact as much as when on a road or on a trail. When you are going to be on a treadmill regularly, you need to try and use the pair of trainers that feel best on your feet, offer stability and control as well as support, and wear the same pair every time you run.
A good thing to remember is that a pair of shoes have a lifespan of around 300 or 500 miles before you will have to buy yourself a new pair, especially if you are a regular runner.
How good are Under Armour Running Shoes?
Under Armour, Shoes are new to the running sneakers arena, but don't let that fool you into thinking they are not as good as your best Adidas, Nikes, and Reeboks. The most important aspect of any of these types of sneakers is having the best comfort. Having the best looking trainers, the cutest shoes or the most expensive shoes will do nothing for you if, when you wear them, they hurt, pinch or torture your feet in any way, especially if you are a runner.
This is where Under Armour have the upper hand. Their stability, balance and comfort levels are unsurpassed in their range of running shoes and this along with their best looks and best traction, make them one of the best brands for these types of sneakers. They are not only lightweight and supportive, they are also breathable so your foot is always cool and comfortable when you wear the – best of both worlds.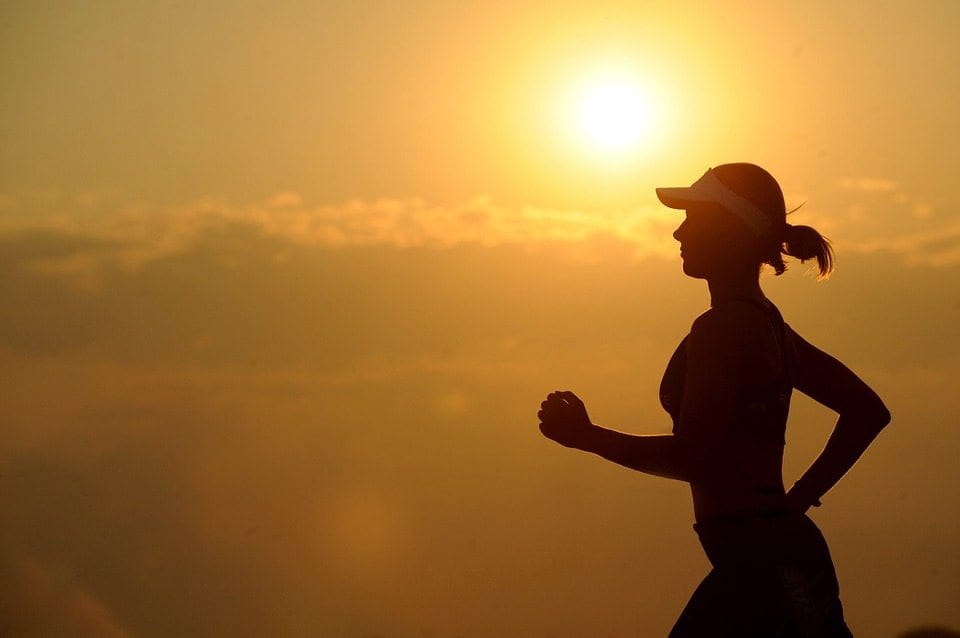 The shoes are designed to fit your foot snugly, so much so that wearing a sock is almost not necessary. Buying the same brand every time does not necessarily assure you of the best jogging sneakers, and sometimes a newbie on the market brings out a product that is superb in every way.
The Under Armour shoes are some of the best products and well on their way to becoming one of the popular sprinting sneakers on the market.
Are Under Armour Running Shoes good for Flat Feet?
When you have flat feet you have to be sure that you are buying a pair of running shoes that will give your foot the kind of comfort levels you need. The shoes with a low arch, great cushioning and superb stability are required for people with flat feet. Under Armour has a range of shoes many of them offer the stability you need when you struggle with flat feet.
One of these is the Men's Charged Bandit 3, however, there are a few in the line that offers the stability and comfort levels needed for flat footed people.
How do Under Armour shoes Typically Size?
Like most shoes on the market, Under Armour have the same standard sizing, unless of course, you are buying in another country. However, the width and other specs will differ. Some may be narrower than others. It is always best to fit your shoes before purchasing, and Under Armour will usually advise if it is recommended that you take a size higher or lower than your normal size should the shoe have different specifications.
What do zero Drops mean in a Running Shoe?
In a shoe, Zero Drop has simply defined sneakers that have no drop between the heel of the shoe to the forefoot. Most traditional shoes have a drop of around 12mm, however Under Armour have a Zero Drop with the same distance from the ground at your heel and your forefoot, This is the best and most comfortable fit of all.
What to look for when Buying an Under Armour Running Shoe?
When looking to buy any Under Armour Shoes you will notice that different styles of sneakers offer different constructions. So if you are a trail runner, you will look for something completely different to a track runner. Some of the important aspects of running shoes are:

Material
The material used in the shoes from the uppers, which should be breathable, flexible fabric, is of vital importance to you being able to keep your feet support, comfortable, cool and dry. The under soles of your shoes should be rubber to offer the grip you need, as well as being lightweight and flexible.
The outsoles, which act as protection for your feet are also important and should be made from strong materials that can form a barrier between your feet, toes, and heels against any foreign objects.
Running Style
Your style of activity will determine what sneakers you need. If you prefer trail running or if you are a track or road runner you shoes will differ from each other significantly in how they are constructed. From the uppers through to the under soles, each style requires particular qualities to make them safe and comfortable to use.
Gender
Men's and women's needs when it comes to running shoes are very different. Women need support in different areas than men. There are a few major difference between men's and ladies shoes. The major difference in these sneakers is the shape. Men tend to have wider feet than ladies and their sneakers need to compensate for this.
Then there is the Q-angle, designers will adjust both the insole of the shoes and outsoles of the sneakers to cater for a way a lady tends to run as compared to a man. Weight is a major difference too, as a woman is generally less heavy than a man, they have to deal with less shock when racing. Designers usually make their sneakers lighter with a softer midsole than the men's shoes.
Offset
The offset is also referred to as heel-to-toe drop of running shoes. This the difference in height between your forefoot and your heel and this will make a difference to the way you run. In basic terms the lower the heel to toe drop, or offset the easier it is to land on your midfoot and not your forefoot or heel, this is optimal for most runners and shoes with a zero heel to toe drop are best.
Heel-to-Toe Offset ( mm )
Weight
Any running shoes should always be as light as possible, depending on the style of sports you are doing. If you are running on a treadmill, you will look for the lightest shoes you can find. A trail runner will use slightly heavier sneakers as they require a lot more protection built into the shoes for the uneven and sometimes rocky areas they run in. A roadrunner and track runner need sneakers that have extreme comfort and are fairly lightweight to avoid drag when running.
Conclusion
Deciding which running shoes you need is not difficult. Comfort is paramount and combined with support and the right traction you can lift your performance and enjoy your daily run. Under Armour provide a range of running shoes that are designed to offer exceptional comfort, stability, reliability, and flexibility, along with superb traction and support. You are sure to find shoes that are best suited for your needs among their great offerings.
Top Pick
Under Armour Men's Micro G Assert 6 is one of their foremost running shoes. It is lightweight and supremely comfortable offering a number of the best features that will enhance your running experience and allow you to enjoy every minute on the road. Featuring a mesh material upper that allows the sneakers to breathe and keeping your feet cool and dry at all time, this is especially important for long-distance runners. The overlay on the shoes, which is leather, lock your foot into place so you have no slippage as well as adding a touch of style to the shoes appearance.
Inside of the shoes you will find interior foam lines which are not only light but also cushion your entire foot, providing the protection and support they need. As if that was not enough the EVA stock liner and Micro G foam midsole offer another layer of comfort for the runner. Non-marking rubber outsoles complete the sneakers, offering stability, support, and traction for when you are on the road.
The under soles are lightweight so that you do not experience drag when running.Not only are these great running sneakers, they are also best styled to be used as casual shoes or for working out at the gym. These great features and versatility make the Men's Micro G Assert 6 shoes are our best choice for Under Armour shoes we have reviewed for you.
Premium Choice
These are lightweight, versatile, supportive and comfortable shoes, this is one of Under Armour's best running shoes for long-distance running.The UA SpeedForm technology ensures that you get the boot you need to be able to perform at your best during a race. The asymmetric zonal compression allows you to slingshot from heel to toe effortlessly allowing you to stride comfortably. 3D knit upper is not only extremely lightweight and breathable the woven Dyneema it is made from is one of the strongest materials around and will provide you with the durability in the sneakers that you need.
The sock-like burrito tongue wraps around your foot for ultimate comfort and this coupled with the dual-layer midsole with charged cushioning and Micro G foam allows your foot to move freely, giving it superb responsiveness and support while cushioning the areas that need it best when running.
These are shoes designed for long-distance running, however, it is also suitable for training or just as casual shoes. The versatility and quality of the Men's UA SpeedForm Slingshot is unsurpassed and this is what makes it our best premium choice.
Great Value
Under Armour Men's Speedform Apollo 2 is an extremely well-priced running shoes that offers all the features you could expect from expensive running sneakers and that makes it our best value choice today Comfort, support, and superb traction is what you can expect from these running shoes.  The upper construction is designed to allow your foot to breath, keeping it both cool and dry throughout your run.
Not only that but the material is strong and durable and will offer your foot the support it needs. Arch reinforcement construction will guide your foot and ensures the best fit even for flat-footed persons. Responsive cushioned support is provided through the dual-layer midsole and the anatomical rubber outsole provides, even more, support as well as traction and flexibility.
Lightweight yet ultra-supportive, these are neutral running shoes that offers you the best you can get in running sneakers technology at an extremely reasonable price to help you take your performance to the next level. Read why lightweight shoes are so important for running here. There has been a lot of speculation on whether barefoot running is more beneficial for runners, however, there is now new evidence to support light weight shoes as more supportive in this study.