The 12 Best Under Armour Running Shoes in 2021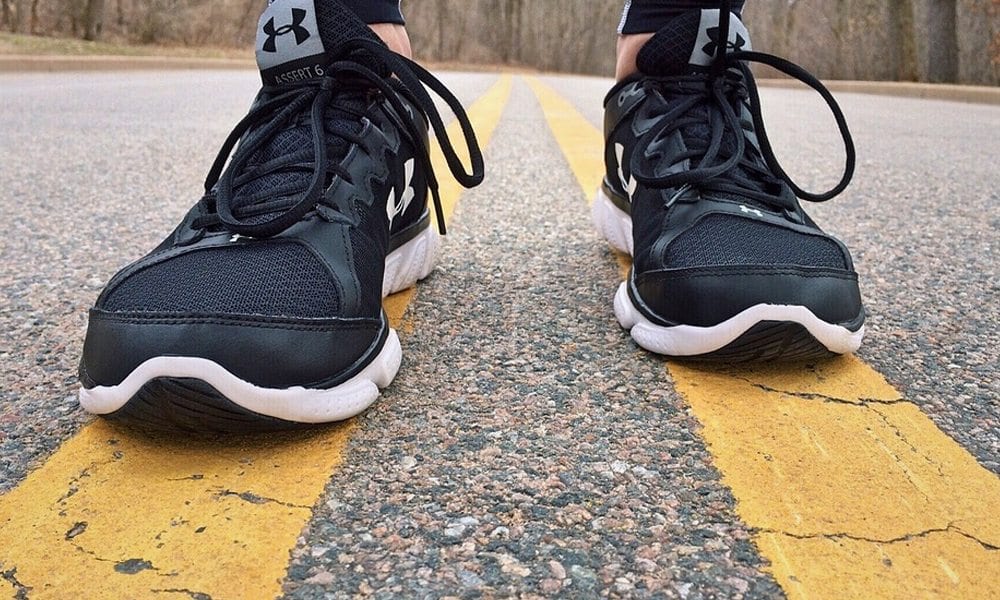 Under Armour are well-known for producing a wide range of high-quality shoes, but the sheer scale of their product lines makes it difficult to choose from everything on offer. If you are looking for the best Under Armour running shoes, you will have to compare dozens of different products, each with their own unique elements or design differences that make them stand out from one another. Even if you have a specific idea in mind, you never know when you will stumble across a new Under Armour shoe that fits your needs even better than you expected!
Here are twelve of the best Under Armour running shoes, along with the reasons that they stand out and the kinds of features that make them worth using.
View the Best Under Armour Running Shoes, Below.
1. Under Armour Men's Charged Assert 8 Running Shoe
The flexible and well-cushioned running shoe uses a mesh upper for extra breathability, making it easier to stay cool while you are on the move. Durable leather provides better overall stability and strength in the design, as well as keeping your midfoot section balanced for greater comfort. Thanks to the Charged Cushioning midsole and EVA insole, your steps will feel much more responsive while providing a greater level of protection and cushioning. This, along with an improved rubber outsole, all combines into a simple design that is durable, lightweight, and comfortable - even if they aren't used for running, the shoes can work well for general-purpose use, both indoors and outdoors.
These running shoes combine the flexibility of a standard trainer with a higher amount of protection and durability, keeping you safe and comfortable without slowing you down.
Check Price on Amazon ➞
CHECK PRICE ON ZAPPOS ➞
2. Under Armour HOVR Sonic 3 Running Shoe
These high-flexibility running shoes are made with UA HOVR technology that offers a zero-gravity feeling with every step, reducing foot impacts and providing increased cushioning without making it harder to keep your balance. A built-in 'Energy Web' of compression mesh transfers energy back into your feet as you move, keeping you going for longer and making each foot movement far more natural. The micro thread used in the construction provides greater strength at a reduced weight, and the support wings next to the tongue ensure a snug fit regardless of your foot shape. All of this comes alongside a removable insole, reinforced heel counter, high-abrasion outsole, and compatibility with the UA MAPMYRUN system, giving you everything you need to run efficiently.
These Under Armour shoes are ideal for taking on difficult running trials, regardless of the terrain or distance, you are dealing with.
Check Price on Amazon ➞
CHECK PRICE ON EASTBAY ➞
3. Under Armour Surge 2 Running Shoe
These neutral Under Armour shoes are designed to fill multiple roles at once, offering a breathable and lightweight option for your standard running situations. A reliable external heel counter and built-in collar cushioning provide more support and stability while you run, and the rubber pods underneath the sole improve durability from running on varied ground. The design uses two sets of EVA: the first is an insole that provides better comfort while you move, and the second is a midsole that improves how responsive your feet will feel when you are running. Thanks to the reduced overall weight, each pair of these shoes can work for day-to-day casual purposes, too.
These shoes boast an excellent balance of durability and comfort, making exercise easier without leaving you vulnerable to foot fatigue or pain.
Check Price on Amazon ➞
CHECK PRICE ON ZAPPOS ➞
4. Under Armour Women's Charged Assert 8 Running Shoe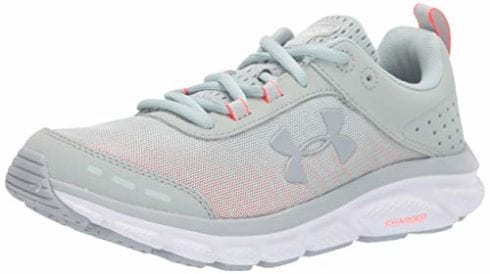 The low-weight textile and synthetic body of these Under Armour running shoes make it much easier to keep moving across difficult ground, helping you stay mobile through heavy use of comfortable and lightweight materials. Leather overlays boost the durability and stability of the shoes without adding much bulk to the design, and the breathable mesh used in key areas helps reduce sweat and heat after long periods of exercise. Due to the low-top design, they are also much easier to wear with casual clothing and won't rub against your skin, meaning that they can be used with a wide range of outfits or pieces of running gear.
These are great Under Armour running shoes for people who need balanced and consistent shoes that won't suddenly harm their feet or stop feeling comfortable.
Check Price on Amazon ➞
CHECK PRICE ON ZAPPOS ➞
5. Under Armour HOVR Infinite 2 Running Shoe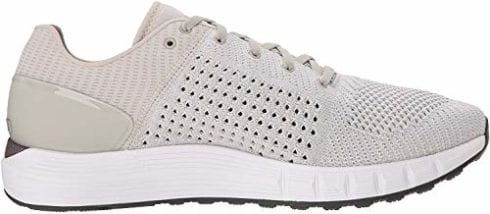 These Under Armour HOVR Infinite shoes use features that are built into these Under Armour running shoes and offer a much higher level of energy with every step, making it easier to keep moving consistently while also helping you avoid hard impacts. This also means that you can connect it to the UA MAPMYRUN system to track your running statistics, and the engineered mesh upper section offers far better breathability for hot-weather runs. A molded EVA insole and heel counter offer better support and comfort with every movement. To help with grip, the outsole uses anatomically-designed grooves that provide extra flexibility and stability where they matter most, as well as using rubber heel pods that can improve your traction even further.
Having improved levels of traction and flexibility make these shoes perfect for trail running or other kinds of off-road movement.
Check Price on Amazon ➞
CHECK PRICE ON EASTBAY ➞
6. Under Armour Charged Rogue Running Shoe
These running shoes use a Charged Cushioning system made with compression-molded and charged foam, offering greater durability and making your movements far more responsive. The tough rubber outsole can keep your feet protected from harm and sudden impacts, working alongside the built-in cushioning and supportive heel counter to provide far better results in almost all conditions. The external surface also makes use of reflective materials to improve your visibility in low-light areas, and the improved breathability of the mesh upper section makes sure that you can always cool down quickly. These reflective elements cover all sides of the shoes, meaning that you have no 'blind spots' to worry about.
While these shoes may seem simple at first, they are perfect for outdoor running of all kinds, even in darker areas where visibility is extremely important for personal safety reasons.
Check Price on Amazon ➞
CHECK PRICE ON EASTBAY ➞
7. Under Armour HOVR Sonic 2 Running Shoe
These UnderArmour shoes have been built with an improved level of cushioning, combining the Under Armour HOVR technology with a range of conventional materials to give you the best protection possible. Reliable microthread connections and a durable heel counter make sure that your shoes will stay together for longer, even if they get soaked with water or have to cross rough ground. The low weight is offset by the durable and abrasion-resistant rubber sole that can protect your feet from all kinds of harm, as well as the soft but snug tongue padding that makes every step far more comfortable on your skin.
These shoes have similar features to the Under Amour HOVR Infinite line, but with the added benefit of being highly durable and comfortable despite the simple design.
Check Price on Amazon ➞
CHECK PRICE ON EASTBAY ➞
8. Under Armour Charged Impulse Running Shoe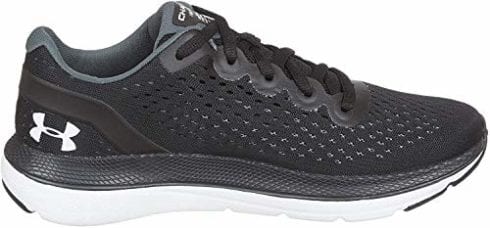 These Under Armour running shoes use a lightweight mesh design that reduces their weight and improves flexibility, creating neutral footwear that can handle a wide range of situations. The twin-layered Charge Cushioning midsole provides improved comfort and energy return with each step you take, backing up the tough rubber outsole that can protect your feet from any actual harm. If you are using them for road running in low-light conditions, multiple reflective details improve visibility without adding more weight to the design. Not only that, but each shoe has been constructed to offer a snug fit, making it easier to run comfortably.
These charged shoes are perfect for staying comfortable and safe during your runs, providing more protection and a higher level of flexibility thanks to careful construction and clever use of specific materials.
Check Price on Amazon ➞
CHECK PRICE ON ZAPPOS ➞
9. Under Armour Charged Pursuit 2 Running Shoe
These comfortable Under Armour running shoes offer an excellent set of charged foam padding materials that keep the ankle, collar, and tongue of each shoe comfortable in the long-term. A range of textile and synthetic materials, including a mesh upper, work to keep you feeling comfortable and ready to run at a moment's notice. However, underneath that is a tough EVA sole that can handle everything from casual walking to trail running, protecting you from impacts while offering a decent level of energy return. Thanks to the lace-up design, you can easily adjust each shoe to fit your feet, making it much easier to adapt the shoes to your needs.
Under Armour running shoes like this are perfect for anybody who wants a good balance of comfortable padding and reliable protection, getting the best of both worlds to maximize their performance.
Check Price on Amazon ➞
CHECK PRICE ON ZAPPOS ➞
10. Under Armour HOVR Phantom Running Shoe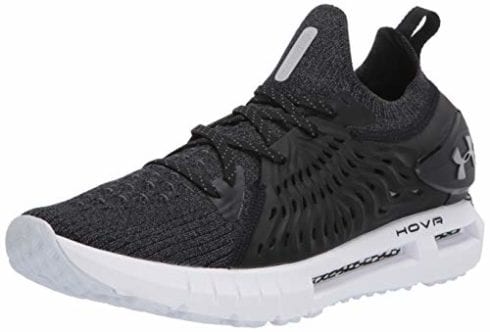 This pair of Under Armour HOVR shoes make use of carefully-chosen padding materials to provide a high level of neutrality, giving you a mixture of everything useful without leaning towards a specific purpose more than they need to. The warp-knit upper section offers the same feeling as a sockliner with improved ventilation and comfort, working alongside a custom-molded midfoot panel to help you stay cool and safe. The actual sockliner is made with gender-based contours that provide more natural support and protection, while the rubber outsole makes use of a special knob-based texture to provide higher traction on all surfaces.
This shoe pair may look odd at first, but the combination of comfort features and improved durability allow it to serve well in almost any situation, from training sessions to extended trail running.
Check Price on Amazon ➞
CHECK PRICE ON EASTBAY ➞
11. Under Armour Charged Rogue 2 Running Shoe
The Charged Rogue shoes use Charged Cushioning systems and Micro G foam to provide great comfort and energy return on every step, with the Micro G foam specifically also working to keep your steps softer and reduce impacts. Reflective details on the exterior keep you visible in low light, and the external heel counter provides better overall stability and support during your runs. To protect your feet, the solid outsole ensures that any high-impact areas are properly covered up to dull your steps, fighting off foot fatigue and keeping each shoe from breaking down.
These are excellent running shoes for all kinds of physical exercise actives, providing a protective design that still allows you to move quickly and fluidly across a wide range of terrain types.
Check Price on Amazon ➞
CHECK PRICE ON ZAPPOS ➞
12. Under Armour Charged Escape 3 Running Shoe
The charged cushion design used in these Under Armour shoes allows them to support your feet better without losing flexibility. A comfortable padded sockliner and dual-layered design make impacts less severe and help transfer energy back into your steps, while the simple molded collar manages to keep your heel still and supported. Due to the neutral design, the shoes can work well for a wide range of different routines and exercises, and boast reflective detailing to warn people of your location in low-light areas. Not only that, but the improved flexibility makes them more useful for rough or varied terrain, even during trail running.
This is an excellent pair of shoes for taking on almost any kind of running task, regardless of whether you are on flat ground or pushing yourself up steep, rough mountains.
Check Price on Amazon ➞
Under Armour Running Shoes Buyer's Guide
Buying a shoe isn't easy, and there is not always a simple way to identify which shoe fills your needs best. Every person has their own preferences on which shoe features and designs are the best, and sometimes your expectations won't live up to reality if you haven't been doing enough research. When you are trying to track down the best Under Armour running shoes, you need to have an idea of what you are looking for ahead of time, especially if you are not that experienced with what different shoes might offer.
Keep in mind that nobody can tell exactly what you will need except you. Your own preferences and choices can be completely different from those of the average customer, so you will have to work out your exact needs on your own if possible. Here are some key details you might want to consider when you are figuring out what your new shoes might need.
Shoe Purpose
While most people see the shoes Under Armour create as only running shoes, this isn't the case. The shoes of Under Armour can vary wildly, with some being far more focused on a specific kind of exercise or particular use. Even if you are deliberately restricting yourself to their running shoes, there can be a lot of variety there to choose from.
For example, Under Armour running shoes might initially seem to be similar regardless of where you look, but they can have some notable differences as you start to compare individual details. For example, a typical running shoe might have a mesh knit upper, but some will have leather supports as well: having these supports can completely change how the shoe feels and what you should be using it for. One small change can be all it takes for a shoe to fill a different role.
You should think about what you will be doing with your shoes, too. If you are taking them to a gym training session, indoor shoes might be best. If you are taking them to your own sprint training plans that aren't based on a specific location, then outdoor running shoes are the better choice. You might only have the money and time to get one pair of shoes, so you will want ones that can keep your feet comfortable and safe in the situations you are planning to face.  Do you need footwear that has a minimalistic construction?
Protection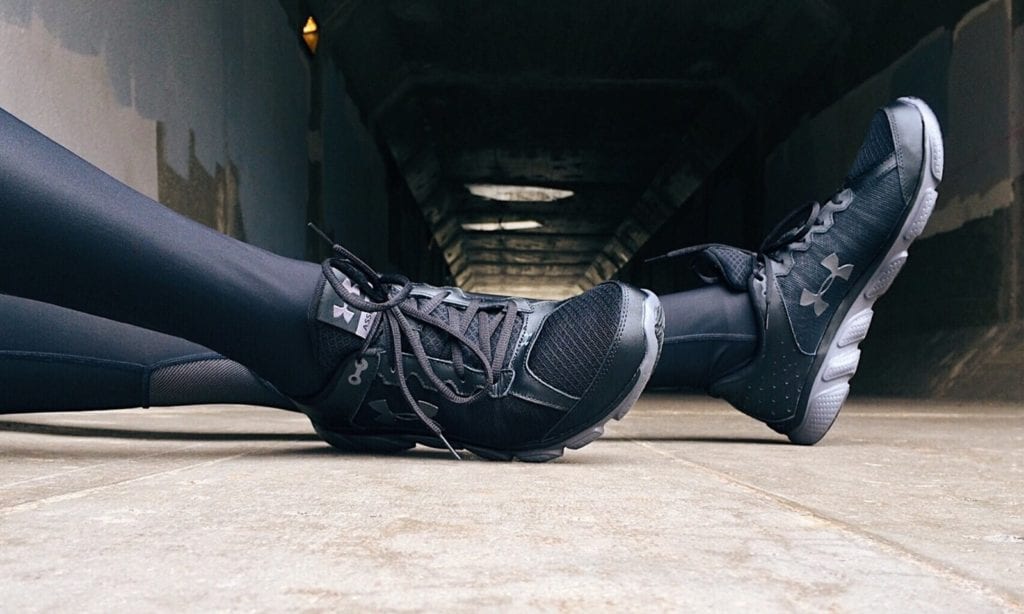 Running shoes aren't just about flexibility and low weights. Running requires protection, and one of the biggest problems you can run into during long-distance running is a lack of safety. Even if you are only training your body and aren't aiming for an extreme workout, one trip or hard impact can be all it takes to put you out of commission – and if you are in the middle of nowhere, it can be a long walk back.
For example, if you are concerned about your toes getting damaged during runs in rocky areas, look for Under Armour running shoes with a toe box. Shoes like the UA HOVR Guardian have also been specially designed to offer better protection by creating one thick layer of foam, which can be better for people who are worried about harming the bottom of their feet – this makes the HOVR Guardian best for a certain type of running, too.
Every shoe will have a specific set of protective features, so it is a good idea to match your shoes to your running style and environment. Trial running demands better underfoot protection, but you might be one of many people who put most of the pressure on their heels. Identify your flaws and weakest areas, then choose protection to help with them.
Flexibility
Shoes like the Under Armour HOVR Infinite, Speedform Gemini, HOVR Sonic, Charged Bandit, and HOVR Phantom have various similarities and differences, but their most common element is flexibility. Every running shoe needs to be flexible, but some will be better than others. The Charged Bandit line, for example, is designed to be flexible thanks to flex grooves that are custom-designed for the Charged Bandit shoes. The Under Armour HOVR Infinite does this with gender-specific construction, and the HOVR Phantom is simply designed in a way that makes it flexible.
However, too much flexibility isn't always good. Everybody has their own preferences, and some people might prefer running shoes with a more solid feel to them. Features like charged foam, a breathable mesh upper, or Micro G materials might not change much about how flexible a shoe is, so be sure to pick Under Armour running shoes that suit your preferences.
Remember that flexibility doesn't always equal breathability, too. Mesh can offer both, but depending on the design of the shoe, some mesh layers will be more focused on flexibility and lower weight than keeping the air flowing. This can be a small detail, but people who live in hot areas or those who often end up sweating will probably want as much ventilation as possible.
Are you a Tennis player? Click here for Best tennis shoes

Buyers' Guide Questions
When you are trying to choose between the many Under Armour running shoes product lines, you might start to doubt yourself. Here are some commonly-asked questions and some honest answers that might help – these might not help you make your decision, but it can still be reassuring, especially if you are not familiar with Under Armour as a brand.
Are Under Armour Shoes Good for Running?
Under Armour, shoes are often used as training footwear, and your average Under Armour running shoe can work well for all kinds of exercise. The midsole provides most of the benefits in many cases since Under Armour running shoes are considerably lighter than most other brands. Every shoe Under Armour creates has a specific use, so many of them are tailored towards individual runner types.
It can seem confusing to get bombarded with the brand names used by Under Armour: HOVR Infinite, HOVR Phantom, HOVR Sonic, Charged Bandit, and so on. However, all of them are perfectly good running shoes, and there is nothing wrong with any of them. The hard part is choosing the specific shoe that you need.
Under Armour footwear can also be used for other purposes, of course. Some will be perfect for walking as well, and others might be good all-round exercise shoes. Just because Under Armour market some shoes as "running shoes" doesn't mean that they only work best for running, and you might find that they are also useful for a less obvious purpose or task.
Are Under Armour Shoes Good Quality?
Under Armour, running shoes are considered some of the best on the market in terms of quality. The company makes use of special materials and techniques, such as Micro G materials or HOVR foam layers, to improve the overall quality of their products and add more benefits that runners can find useful. If you need to find a new shoe and don't care about the purpose, UA creates shoes that can easily fill that need with something reliable and well-made.
Remember that shoe quality isn't just about looks. Lines like the Charged Bandit or the Under Armour HOVR varieties look great, but they also have excellent designs inside them that can hold together very well. They will survive trail running, heavy impacts, and constant use over a long period of time, making them one of the better choices for people who need running shoes that can last.
It still helps to choose a shoe that fits your need, of course. If you are going to frequent training, you need a shoe that can stand up to that long-term routine while also being comfortable. Under Armour running shoes, like all Under Armour products, work best when they have all of the features you need to exercise properly.
Is Under Armour Better Quality than Nike?
It is easy to compare Nike and Under Armour running shoes, but the question shouldn't be about who is best. Products like the Under Armour HOVR running shoes line aren't for everybody, and one person might need something completely different. Just because a shoe is best for one person doesn't mean that it is also the best for another person. Considering that Under Armour and Nike are similar in terms of average quality, this means that the "best" option is whichever one suits you the most.
Comparing individual shoe options between the companies won't help here. Both of them also make a vast range of other products, from other shoe types to completely unrelated exercise and training equipment. If you really want to compare the two, you would need to look at every option they offer, which just isn't worth the time.
At the end of the day, Under Armour is a good company that can also create some great products. If some of their running shoes stand out as the best option for you, you don't need to worry about other companies: the best shoes are one that offer everything you need while also looking and feeling like something you would want to wear.
Do Under Armour Products have good arch Support?
Many people forget how important arch support can be in their running shoes, and might also completely forget to research it further. Arch support isn't just for safety – it can also be one of the best ways to prevent foot fatigue and pain. If handled incorrectly, you might even feel like a bad set of arch support is also making your feet less safe, especially if it can cause you pain in some cases.
The best Under Amour products in terms of arch support can vary from person to person since there isn't a single "best" type of arch support. People can have different foot shapes and walking styles, so finding running shoes with the right kinds of arch support is the most important part. Arch support doesn't instantly mean extra comfort, in the same way, that an insole also doesn't add more comfort if it doesn't mesh with your foot shape properly.
Remember that there can sometimes be ways to add your own support inserts or extras. If you really can't find an Under Armour shoe that suits your needs but still want to buy from Under Armour, you can always look into getting a custom insert or some other additional piece instead. These can solve the problem while also ensuring that you still get the features of the shoes you like.
Are you a flat footed? See our guide on the best running shoes for flat feet.
Are Under Armour Products the Best?
It is impossible to find the "best" shoe overall since everybody has their own idea of which features and designs are best. Under Armour makes great shoes, but each person will need to decide what "the best" means to them and their requirements. If Under Armour sells a shoe that you can use, then it might be the best option for you. If Under Armour doesn't seem to sell one that fits your needs, then you might have to start looking a little bit harder. Everybody is different, and Under Armour can't produce the perfect shoe for every person.
Keep in mind that Under Armour, as a company, are still producing shoes. This means that there might be more Under Armour products releasing every year, and you never know when one of them will suddenly fill a niche that you couldn't find a solution for before. Every shoe type that they make can be slightly different from the next, and there is always a chance that one of them will turn out to be ideal for your needs.
If you personally feel that Under Armour is the best option for you, then go ahead and buy from them. As long as you are not in a hurry, you have time to think over your options and compare different Under Armour products together, so there is nothing wrong with delaying your purchase until you have made an informed choice. Are you an Adidas fan, check our best Adidas running shoes guide.
Conclusion
If you are still interested in buying from Under Armour, there are plenty available to choose from! Whether you go for a specialized item like the Under Armour Micro G Pursuit or stick to one of their more generic options, you will almost certainly be able to find something that can match your sport, exercise routine, or intended workouts. No matter how long it takes to find, Under Armour will have something that suits your needs, so don't be disheartened if you are having trouble finding the item you want.
Feel free to use the products above as a starting point for your search, and don't hesitate to use some of them as a jumping-off area to get ideas from. There are so many shoes out there that it can be difficult to figure out exactly which ones are worth using, so it might take a while to search for something that works for your particular needs.