10 Best Steel Toe Sneakers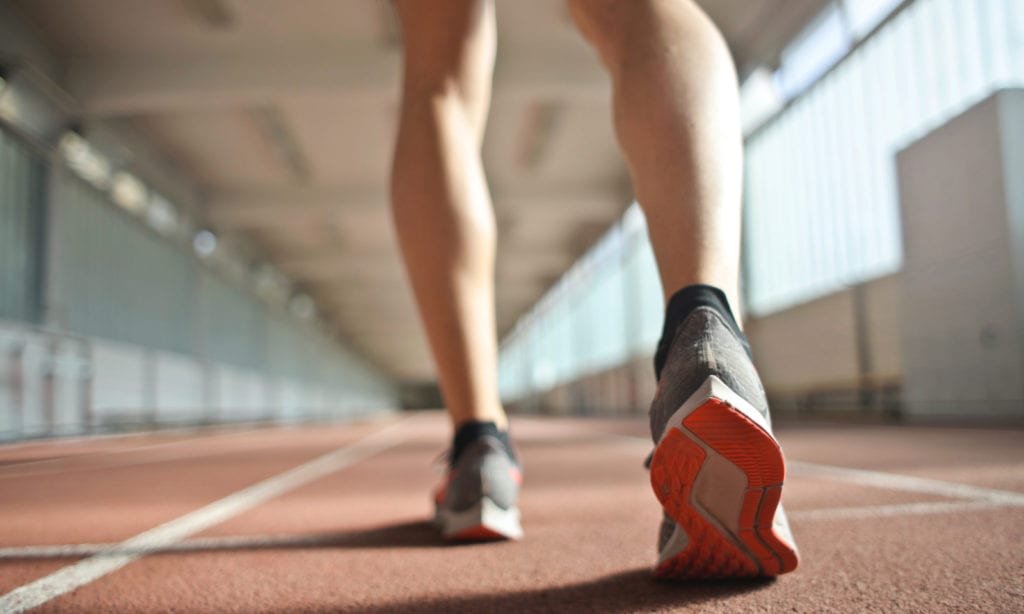 Steel-toe designs are often very similar to any other kind of sneaker, and that means that there can be a lot of variety, giving you more shoes to search through before you find the right pair for your needs. No matter what features you might be looking for, understanding your own needs makes a big difference. The question is, which steel toe shoes are actually worth using?
Below are ten of the best steel toe shoes on the market, as well as some tips on how to track down the best pair to suit your needs.
View the Best, Below.
1. SUADEX Indestructible Steel Toe Work Shoes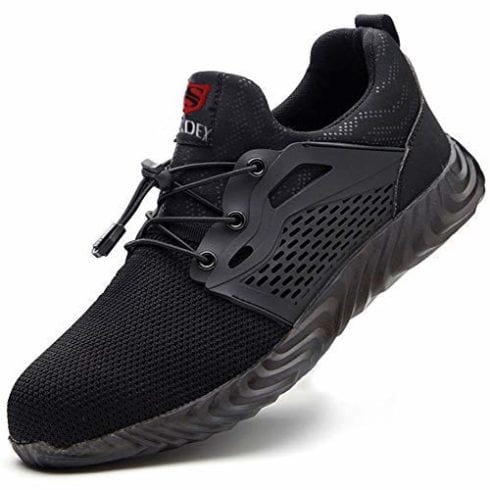 The SUADEX indestructible steel-toe work shoe is built with a stainless steel cap for maximum protection against workplace accidents. This strength keeps the front of your foot incredibly safe, while the high-grade mesh fabrics provide the breathability and airflow that you would expect from a more casual shoe type. The shoes also have an extra layer of Kevlar on the insole, as well as a shock-absorbing double insole design, to prevent foot fatigue and prevent damage from missteps or slight slips. Thanks to the anticathode oxidation treatment of the sole's surface, the entire shoe is also more resistant to corrosion and boasts a more rigid design, allowing for stronger grips and more time between repairs or replacements.
These steel-toe work shoes are simple and reliable, providing you with great protection and resistance but remaining basic enough to work in almost any situation. The improved material choices also put it one step ahead of many other rubber-soled work shoes.
Check Price on Amazon ➞
2. TQGOLD Safety Shoes for Men Women Composite Steel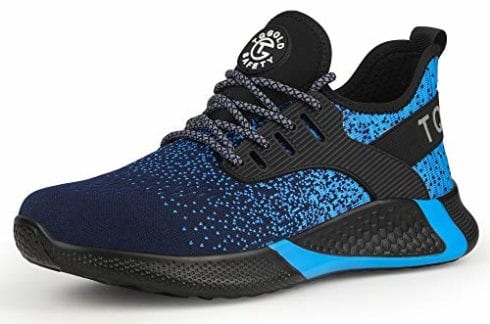 These TQGOLD safety shoe pair is fitted with excellent steel toes that can provide plenty of bonus protection without sacrificing quality or comfort, making it much easier to stay safe in the workplace. The inner layer of ultra-light textiles provides more padding and impact resistance to deal with bumps and bashes, while the rubber sole and steel midsole plate boost underfoot protection even further in almost every situation. On the exterior of the shoe is a range of breathable synthetic materials that help you stay cool and improve the flexibility of the shoes themselves, making them as lightweight and convenient as they are protective.
These lightweight steel-toe shoes are extremely comfortable and serve a very practical purpose, combining a low weight with great physical protection to keep you much safer in the long run. They are also a lot more protective than you might expect but still have the flexibility of a casual exercise shoe.
Check Price on Amazon ➞
3. SUADEX Industrial Construction Shoes
These SAUDEX industrial construction shoes are designed to be 'indestructible,' boasting an anti-smashing design that can withstand any impact up to 200 J without any wear or tear. The improved steel toe cap is built to be comfortable while also offering better steel toe safety, and the layer above that uses synthetic mesh to offer greater breathability than most work shoes. All of this ensures that you can stay safe, comfortable, and protected in the workplace without putting yourself at unnecessary risk. On top of that, the slip-resistant sole design stops you from suddenly falling over on flat angled surfaces, and the well-made sole means that you aren't going to be stuck with inferior grip or underfoot protection.
The high safety standards of these comfortable work shoes keep your feet safe from harm, giving you great smashing resistance and a comfortable mesh lining that can allow your foot skin to breathe during long workdays with limited breaks.
Check Price on Amazon ➞
4. DYKHMILY Steel Toe Sneakers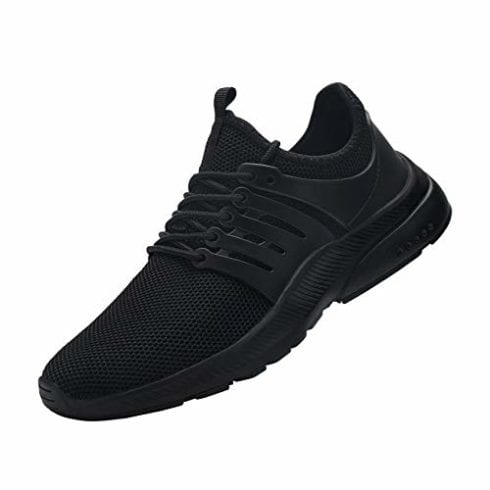 The DYKHMILY steel toe sneakers make use of lightweight and breathable materials to offer you much better comfort and easier movement in any situation. The steel toe design has been build to the regular European standard, providing up to 200J of impact resistance and toe protection. To ensure that you get maximum comfort while on the move, most of the shoe's outer and inner layers are made with mesh, giving the design more flexibility alongside the added protection. A simple hook & loop closure makes adjustments quick and easy, while the light-duty choice of materials makes them suitable for jobs where you have to stand for long periods of time without a break.
If you happen to work a job where you are always standing around or walking from place to place, these steel toe shoes are capable of offering incredibly good protection from falling objects, bumps, foot fatigue, and lack of breathability.
Check Price on Amazon ➞
5. UCAYALI Men's Women's Safety Shoes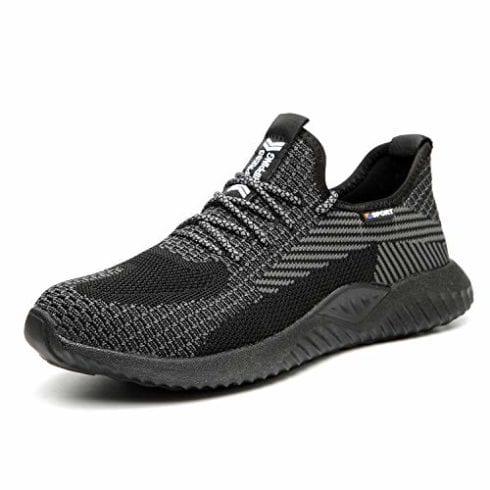 The UCAYALI safety toe shoes have an anti-smashing and anti-puncture design that allows them to withstand major workplace hazards, keeping your feet safe and protected without forcing you to wear a bulkier work boot. The outer layer is made with an ultra-light and highly-breathable mesh that improves both comfort and flexibility, while the interior combines lightweight Kevlar with standard work shoe materials to boost protection even higher. Standard lace-up closure means that it is easy to adjust the fit of the shoes on the fly, and the excellent design of the steel toe shoe piece can protect the front of your toes from almost any impact during a normal workday.
These steel toe shoes are perfect for people who need proper toe protection from both piercing and smashing hazards, with the slip-resistant outsoles and flexible upper letting you make sure that you keep your footing as well.
Check Price on Amazon ➞
6. AIGU Steel Toe Shoes
These AIGU steel toe shoes are built with high-quality materials, including a bulletproof Kevlar midsole to make sure that the bottom of your feet has incredibly tough support. The toe protection - in the form of a steel toe cap - helps reduce the risk of smashing your toe into anything while you work, and the unique design of the shoes as a whole makes them far more comfortable. EVA synthetic materials on the outsole give you improved foot support and shock protection, while the breathable upper allows for better moisture-wicking and greater comfort compared to standard steel toe shoe designs. This mesh upper is also abrasion-resistant to prevent discomfort and foot pain.
These lightweight steel toe shoes are perfect as work footwear, giving you incredible support and comfort without being too weak to handle common workplace hazards that you might have to deal with on a daily basis.
Check Price on Amazon ➞
7. Ulogu Steel Toe Sneakers – Breathable and Lightweight
The Ulogu steel toe sneakers can offer up to 200 joules of impact resistance on both your toes and the bottoms of your feet, providing a flexible but stable design that can work in multiple situations. The non-slip and wear-resistant soles allow the steel toe shoes to remain perfectly protective for far longer than other designs, and the lightweight nature of the materials makes them a very practical option for long shifts. A puncture-proof toe section and reflective stripe on the rear improve safety in dangerous workplaces, and the moisture-wicking breathability of the mesh upper reduces the chance of discomfort in hot, wet, or otherwise difficult-to-work-in conditions that you might have to deal with.
These are excellent multipurpose steel toe work shoes for anybody who needs to deal with multiple hazards every day, especially in areas where breathability and moisture can become a problem.
Check Price on Amazon ➞
8. KCVTD Safety Work Shoes
The KCVTD safety shoes are designed to be as lightweight and breathable as they are protective, using a soft and comfortable lining to reduce the overall weight of each shoe. The rubber outsole provides a light and non-slip base for the bulletproof Kevlar midsole, giving you amazing underfoot protection. In terms of the steel toe shoes themselves, the toes use an anti-piercing design to reduce the chance of stab-style injuries or other punctures. An improved heel shape also means that you get better traction and more structural soundness in the steel toe shoes themselves, which works excellently when combined with the low overall weight and the straightforward lace-up closure.
These safety shoes serve as perfect steel toe work shoes for people that need maximum piercing protection alongside improved underfoot safety and durability, all while staying relatively lightweight.
Check Price on Amazon ➞
9. WHITIN Men's Slip Resistant – Puncture Proof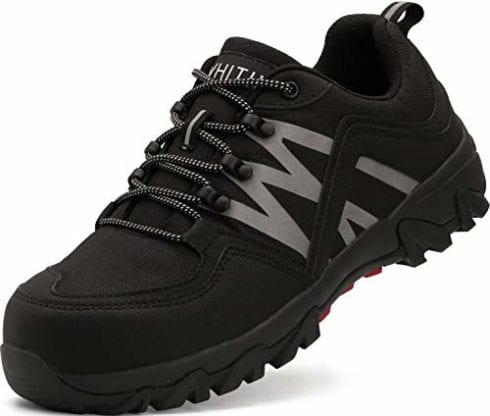 These WHITIN men' s work boots use a high-quality rubber sole and padded mesh collar to give you basic comfort and protection, backed up with a solid steel toe cap that boasts excellent physical durability. This steel toe shoe piece also provides electrical hazard protection to reduce the risk of shocking yourself, as well as handling abrasion and puncture-related damage extremely well. The same anti-puncture feature is used on the sole to keep you safe from nails and other sharp items that might be lying around. Thanks to the standard lace-up design, you can easily adjust the steel toe shoes to suit your foot size.
If you want steel toe work shoes that can protect you from both physical and electrical hazards, this is a great choice, especially thanks to the high durability on offer and the improvements to the slip-resistant sole design.
Check Price on Amazon ➞
10. FENLERN Steel Toe Shoes for Women
These steel toe work shoes contain an air cushioning system to make your insole much more comfortable, reducing foot fatigue and offering more support than a normal steel toe work shoe. The lightweight construction is balanced out by great anti-smashing features that can keep your feet secure and safe from falling items or sudden bashes. Extra comfort features like a middle-foot saddle also mean that you can keep your footing for longer on slopes or difficult terrain, and the flying woven mesh upper gives you all of the breathability and flexibility that you would expect. An ergonomic footbed tops this off with better plush comfort regardless of the situation you are in.
These are excellent steel toe work shoes for women who need a combination of comfort, breathability, and physical safety, combining the three in a balanced way that doesn't leave any obvious weaknesses or vulnerabilities.
Check Price on Amazon ➞
Buyer's Guide
Hunting down the best steel toe work shoes on the market might seem like an easy concept at first, but there can be a lot to consider before you even start looking at individual brands or shoe types. If you are desperate to find the best possible option in terms of quality, cost, and overall usefulness, then you will have to understand your own preferences first: no two people are going to have precisely the same definition of "the best steel toe shoe."
The Steel Toe
The main component of steel toe shoes is the steel toe itself. Regardless of the brand, design, or even the quality of a shoe, a good steel toe can often be the defining point behind buying one in the first place. They are a key part of protecting your toes and making sure that you don't harm the front of your feet too much, but how do you choose the right one?
Material
A steel toe should ideally be made out of steel, but that isn't always the case. If you are looking for a heavy-duty steel toe shoe, then you are more likely to find tougher types of steel that can endure more damage and handle punctures or smashes better. On the other hand, if you are wanting a lightweight steel toe shoe, the steel might be less bulky and offer a lower weight – but also give you reduced physical protection. Not all steel toe designs even use pure steel, and others are based on composite materials that contain no steel whatsoever.
In general, "steel toe shoes" have an actual static steel toe shoe piece that is built into the design itself. A design that is marketed with a term like "safety shoe" or "safety toe" can mean that it is not a steel toe cap but a toe piece made from a completely different material. If you specifically want a steel toe rather than any other material, then look for steel toe safety shoes rather than generic safety toe shoes.
Some safety shoe designs might back up the steel toe with other materials, too. For example, it is possible to have shoes with memory foam or mesh lining on the inside to provide more of a buffer between the foot and the toe cap. This might not improve durability or protection that much, but it can often create a more comfortable safety shoe and might help in dealing with low-level bashes or impacts.
Design
Different brands also handle steel toe pieces differently. The Keen Utility Men' s Atlanta Cool steel toe work shoe includes a patented Keen Utility design that has a wrap-around outsole, for example, meaning that a standard Keen Utility Men' s Atlanta Cool steel toe work boot can actually have an extra layer compared to another design. However, this Keen Utility feature won't necessarily be used by other companies or be added in a different way.
Using the Keen Utility Men' s Atlanta Cool steel toe work boot as an example again, it is a good idea to remember that the steel toe itself isn't the only part of the safety shoe that matters. In the case of Keen Utility, some of their shoes have features like dual-density compression-molded midsoles, which provides a different kind of protection that can partially extend to the toe. It is possible to have a weaker steel toe but still have better toe protection overall, thanks to other features that offer the same kind of safety benefits.
Durability and Protection
Your steel toe is meant to protect you, so it is important that they actually hold together properly. The more force the cap can endure in general, the less likely it is to pass it along to your foot: a stronger steel toe cap means that you get better protection, although not all types of damage are going to be handled in the same way. Some steel toe caps might be designed for piercing damage rather than crushing damage, meaning that they are better at handling sharp objects but not necessarily as good with crushing forces.
Comfort
Comfortable steel toe shoes are going to be much more appealing than uncomfortable ones. It is not just about having comfortable safety shoes out of personal preference, but to make sure that you get things like proper arch support and extra padding. Comfortable safety features also remove most of the risk associated with just barely avoiding an injury: if you don't have comfortable steel toe shoes, then you might find that you get irritated skin even if you avoid being properly hurt. Always put comfortable steel toe shoes as a priority if you can.
Shoes
Once you know what kind of comfortable steel toe shoes you are interested in, you need to find the shoes themselves. Just like normal shoes, materials and design can matter, but there are also other protective features you might be interested in.
Support
The more foot and arch support you have, the easier it can be to get through the break-in period and end up with a comfortable work shoe. There is nothing wrong with choosing designs brands like Skechers for work as long as you can get permission to wear them on the job, and for some people, arch support is going to be the main draw. Considering that the break-in period can be quite a while if you don't walk around much during your job, arch support might also help you avoid blisters or other types of soreness during the first few days of wearing them.
On top of that, features like anti-fatigue technology can make it much easier to adjust to your new safety shoe. Whether you have a proper steel toe work shoe or something casual that happens to have a low steel toe work design, good support is always a major positive.
Slip Prevention
Slip and oil resistance matters a lot. When you are dealing with slippery-related substances in general, it is very easy to forget that other safety features don't really apply. Walking on oil and slip-causing surfaces isn't just a threat to your feet, but your entire body, so steel toe work boots won't protect anything else if you fall. For this reason, oil and slip-resistant rubber soles are often one of the key selling points you will see on a shoe. Remember that oil and slip-resistant designs aren't always a separate thing in protective designs: they can be both at once.
Comfort
The more comfortable you are, the better. A nylon mesh lining, memory foam, padding… whatever you end up choosing, it should be something that you are comfortable wearing since you might not have a chance to change your footwear at work. Even if you can swap back to casual shoes for a large part of your job, uncomfortable footwear can be harmful to the health and safety of your feet, especially if the support it offers is actively leading to pain or awkward movements because it isn't meant to be used with your foot shape.
Durability
The more durable your shoes are, the longer it takes for them to wear out. At even the most basic level, having a strong leather upper and durable mesh lining will improve the quality of your shoes dramatically simply because they aren't going to fall apart as suddenly. Having good durability is one of the best features to aim for if you aren't sure where else to look because it can also contribute to foot protection: if something can't get through your shoe, then it can't hurt your feet.
There are certain features and design choices that can alter durability, such as cement construction techniques. Cement construction involves sticking the shoes together with no stitching or welts, which can improve short-term durability but cause problems in the long-term. On the other hand, better durability and protection is sometimes as simple as a change of materials, so shoes that use a stronger nylon mesh lining or have better soles will last longer in general.
Of course, durability is still a very situational thing. One pair of work men' s boots might end up lasting longer even if it is technically worse than another work men' s boot pair due to the different working conditions that they have been used in. Even with one of the best steel toe work shoes available, extreme conditions can quickly start to eat away at specific materials or leave semi-permanent damage on the surface.
Weather-Proofing
Not everybody works outdoors, but if you do, then weather-appropriate features can also matter. For example, the Timberland PRO work men' s Powertrain Sport boots can be suitable for most types of weather, but there might still be designs with more effective weather protection than the Timberland PRO work men' s Powertrain Sport. However, you wouldn't choose a men' s work shoe that had great winter weather protection if you live in a hot, sunny part of the world, in the same way, that you wouldn't wear a warm fur coat in high heat.
It isn't just about temperature, though. Water-resistance is another factor that often gets lumped in with weather protection, and there are very rarely reasons to ignore water resistance if you need it. If you don't, then it can be an unnecessary expense, but there are generally always going to be situations where water resistance is useful. If being around (or even walking in/ through) water is a necessary part of your job, consider getting good water resistance because it can save you plenty of hassle.
Hazard-Proofing
Steel toes might be a direct form of foot protection, but hazards aren't all just jabs from sharp objects or crushes from falling equipment. Hazards can vary depending on your job, but one of the most common (aside from slipping and water leaks, as mentioned earlier) is the risk of things like electric shocks or corrosion from industrial materials. Neither of those things can be easy to predict, but shoes that are built to ASTM standards or contain plenty of safety features are the best way to avoid them.
ASTM standards aren't the only kind of standard on offer, although a lot of companies stick to ASTM standards anyway. In many cases, a shoe that can't hold up against workplace hazards properly won't even make it out of production since most good brands will run tests to make sure that each batch of steel toe work shoe pairs is actually suitable for proper use.
What is the best brand of steel toe work shoe?
There are plenty of steel toe work shoe brands out there, but all of them can be very different in the way that they look and feel. For example, New Balance Men 's steel toe work shoe pairs are going to be different from Timberland PRO Men 's shoes in a multitude of ways, and "New Balance men" may prefer certain things that "Timberland PRO men" aren't interested in. Some brands, such as Harley-Davidson men 's shoes, create more than just shoes: the Harley-Davidson men 's static steel toe shoe style comes from their past products and makes their shoes somewhat unique.
However, unique doesn't always make them better for you. The Skate Style EH safety shoe and the Reebok work men 's shoes are another case of two styles being designed in different ways and appealing to different people for specific reasons, but that also doesn't mean that Reebok work men 's shoes aren't going to work for somebody who uses an EH Safety Shoe.
To be completely honest, there is no way to say which brand is the best. A steel toe work shoe is a steel toe work shoe, whether that means that you are looking at a Timberland PRO men 's Powertrain Sport alloy toe shoe, a Reebok work men's sublite work safety shoe, or even just a steel-toe Oxford. The Timberland PRO men 's Powertrain Sport alloy toe shoe might be exactly what you need, but it could also be completely wrong compared to a basic steel-toe Oxford since no two people are going to have the same preferences.
Choosing a Shoe
The best steel toe shoes are the ones that suit you properly, no matter what that actually means. Steel toe work boots come in so many different types that even something like low steel toe work boots design can encompass thousands of brands, including Reebok work shoes and a stronger safety toe Oxford. That isn't even covering things like the Harley-Davidson static steel toe shoe or the Reebok sublite work shoes.
Finding the best steel toe shoes, then, just takes time and effort. If you are interested in Caterpillar men/unisex shoes, then take a look at the Caterpillar men line and see what you can actually find. Most Caterpillar men 's shoes are going to be similar, but one might be a low steel toe work shoe that can lead you off to more options, slowly helping you narrow down what kind of shoe you are looking for. The more granular you can make your results, the easier it becomes to understand exactly what you are most interested in, even if you didn't consciously think about it yourself.
Keep in mind that a steel toe work shoe can be almost any kind of shoe dependent on your working conditions, too. For some people, a steel toe work shoe might be anything that falls within a strict dress code, while other people might have more freedom to choose a steel toe work shoe of any design that they like. No matter how many limitations you might need to work around, though, it is easy to find shoes that should fit your needs properly – you just need to search for long enough.
Conclusion
Since there are a variety of steel toe shoes available, consider using different search terms and criteria to narrow the search results and find options that are better suited to your needs. If you need water-resistant shoes, be sure to include that in your search; the same applies to specific fit, style or material preferences.
Expert Tip by Alexis DeSalva Kahler
Steel shoe toes may cost more than other types of footwear. Consider searching by price to find more relevant options.
Did You Know?
Composite boots might be cheaper overall, but they are less sturdy overall and don't really have the same level of impact protection, which can make them a liability if you aren't careful.