10 Best Walking Shoes for Flat Feet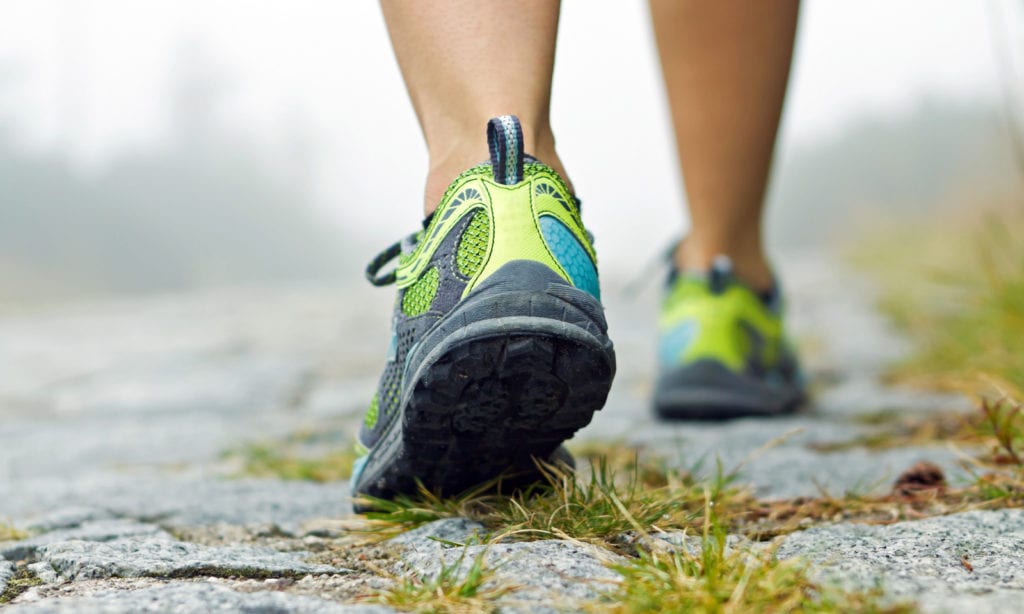 Having flat feet can be a painful experience, and the problem won't always be solved by just wearing shoes – in a lot of cases, your standard run-of-the-mill shoe brands and designs won't be properly suited to flat feet, and it's easy to end up in more pain than you need to be simply because you don't have the right type of footwear.
Thankfully, there are some brands who cater to people with flatter feet, and even the smallest difference can have a significant impact on how comfortable your walking shoes feel when you're wearing them. The only thing you need to worry about is finding some, especially in such a highly-saturated market.
Below are ten different pairs of shoes that we think stand out from the rest, either because of their design or the practical features they have that other brands don't.
View the Best Walking Shoes For Flat Feet, Below.
1. Ryka Women's Devotion Plus 2 Walking Shoe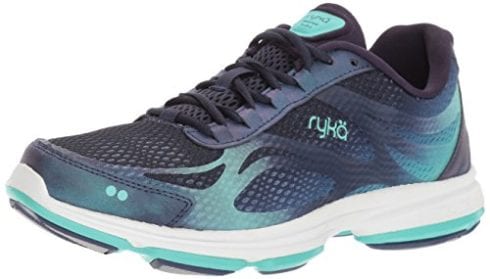 This synthetic shoe is designed with a low arch and stretchy, breathable materials, making it a great piece of footwear for running, walking, and other physical exercises both indoors and out. The anatomical insole helps keep your feet supported, and the extra lycra padding beneath the tongue and on the back of the collar reduces the chance of any friction burns or painful rubbing while also adding some extra comfort to each step.
Thanks to the breathable layers used for most of the shoe's main body, you'll be able to keep your feet cool without exposing them – this also helps keep each shoe lightweight without losing any padding or protection.
The simple design of these shoes means that they'll work well for people with flat feet in a vast range of places and situations, mainly leisure activities.
Check Price on Amazon ➞
CHECK PRICE ON ZAPPOS ➞
2. Brooks Men's Beast '20
This cushioned shoe is built for as much comfort and support as possible without sacrificing other essential parts of its design, using a mixture of breathable and durable materials to create something that still feels open and airy without letting water get into your shoes. The cushioning on the midsole is designed to stretch and warp to fit the shape of your foot, almost like memory foam, and the heel of the shoe uses extra supports to give your feet a springier step. On top of that, large toe box and collar gives you more room to move without feeling loose or uncomfortably spacious.
The design of these shoes allows them to fit a range of different foot shapes without feeling too loose or tight.
Check Price on Amazon ➞
CHECK PRICE ON ZAPPOS ➞
3. New Balance Women's W928v3 Walking Shoe
This walking shoe uses a Rollbar molded place on its insole to reduce how much your feet move inside them, drastically reducing the chances of fabric rubbing on your skin while you're trying to get around. The EVA midsole adds another layer of cushioning and bounciness to the bottom of your feet and offers some extra protection against solid surfaces or sharp objects and obstacles. The outsole had been enhanced in a similar way, using a stronger set of materials that wear away slower and are harder for small objects to poke through.
This shoe is surprisingly durable, using extra layers on almost every surface for a greater level of protection.
Check Price on Amazon ➞
CHECK PRICE ON ZAPPOS ➞
4. ASICS GT-2000 7 Men's Running Shoes
The ventilation on the top half of this shoe provides a massive amount of breathability while minimizing the exposed sections of your feet, keeping bad weather out while still letting you deal with sweat and natural body heat. The gum rubber sole offers a little more protection than most other materials, and the padded heel keeps the back of your foot safe from sudden stomps or stumbles. Thanks to the adjustable lace-up design and wide forefoot, it can easily accommodate a range of foot shapes and sizes.
These running shoes are great for all kinds of weather, using extra padding and ventilated areas to deal with warm and wet weather equally well.
Check Price on Amazon ➞
CHECK PRICE ON ZAPPOS ➞
5. Brooks Women's Adrenaline GTS 19
This physically-supportive shoe is built to help keep your feet pain-free and flexible during long periods of exercise, using plenty of cushioned and padded areas to add more of a buffer between you and the ground. The streamlined and lightweight design makes it ideal for activities where speed is key, but there's also plenty of stability-boosting pads and materials that help you stay on your feet in almost any situation, no matter what you're doing.
The soft, padded nature of this shoe makes it comfortable almost anywhere, but it's also strong enough to endure a lot of punishment from long-term use.
Check Price on Amazon ➞
CHECK PRICE ON ZAPPOS ➞
6. New Balance Men's Suede 928v3
The strong rubber outsole on this shoe acts as a great layer of protection on harsh ground and sharp objects, but the inside is still surprisingly soft and padded, keeping your feet safe and sound without feeling like you're wearing heavy protective gear. The upper section can be made of either cork or leather, both of which offer a surprising amount of weather resistance and comfort while still leaving space for ventilation holes. The open-necked, low-collar design gives you more freedom of movement from the ankles upwards, making physically varied exercises much easier in the long-term.
This shoe is excellent for dealing with awkward terrain and strenuous exercise, especially in poor weather conditions.
Check Price on Amazon ➞
CHECK PRICE ON ZAPPOS ➞
7. Nike Women's Lunarglide 9 Shoe
These running shoes use a mixture of lightweight fabric and durable rubber to create footwear that's both long-lasting and easy to use, ensuring that it won't weigh you down while still offering enough protection and shelter to keep your feet safe and dry in a range of different situations. The materials used underneath its outer layer add some extra support and comfort to its design, giving you a softer and more structured-feeling piece of footwear as a result.
The simple shape and straightforward design of these shoes let them fit in with quite a few different outfits, so they won't stand out like other brightly-colored exercise shoes.
These shoes are an excellent choice for all kinds of runners and joggers, but they can also be useful for other types of exercise, or just as casual footwear.
Check Price on Amazon ➞
CHECK PRICE ON ZAPPOS ➞
8. Brooks Men's Addiction Walker
This walking shoe uses a lot of leather to create a very protective, weather-resistant piece of footwear that can keep your feet safe and dry at all times. The synthetic sole and removable insole mix a lightweight design with protective materials, and the Rollbar design helps keep the shoe comfortable on a range of different foot shapes.
Not only that, but there's a breathable mesh lining on the inside that helps deal with sweat and water vapor naturally as you move around, while also doubling as a padded layer against rubbing and friction burns.
The protective, easy-to-wear design of these shoes makes them great for slow walking and long hikes, and the design of the insole means that they'll fit on flat feet really well without needing any optional extra parts or layers.
Check Price on Amazon ➞
CHECK PRICE ON ZAPPOS ➞
9. Saucony Women's Grid Omni Walker
These lace-up sneakers use an asymmetrical sole for maximum comfort and grip in as many situations as possible, along with a mesh tongue and felt exterior that helps keep your feet cool and protected at all times while still looking like a completely normal pair of shoes. The rearfoot grid system gives you extra stability when you're on the move, and the Walk Trac outsole makes it easy to transition between different stances or poses, making slower exercise much easier, even for beginners.
The EVA layer helps you ignore rough or sharp surfaces without feeling any pain in the bottom of your feet, meaning that they can also work well on uneven natural ground.
The simple design of these shoes hides its excellent quality and durable interior, making it a great balance between casual footwear and purpose-built exercise gear.
Check Price on Amazon ➞
CHECK PRICE ON ZAPPOS ➞
10. Brooks Men's Dyad 10
This trainer-style shoe is designed to work well on a variety of different surfaces, making it really easy to use both indoors and out without limiting yourself to one situation or place. The moisture-wicking insole and mesh forefoot give you plenty of ventilation, allowing you to use them in nearly any weather while making full use of the padded collar and tongue to keep you comfortable.
The inside of the sole has been specially made to cushion men's feet directly, giving you more physical support and acting as more protection if you stumble or bash your feet into something.
These shoes are great for exercise in a variety of different places and weather conditions, being streamlined, flexible and very weather-resistant.
Check Price on Amazon ➞
CHECK PRICE ON ZAPPOS ➞
Walking Shoes For Flat Feet Buyer's Guide
There are some things that make a bigger difference than others when it comes to buying shoes, no matter the shape and size of your feet. A few of them become even more important if you're specifically looking for shoes that can accommodate feet with a flat arch since comfort and support are much more important.
Arch Support
Good arch support is the cornerstone of any kind of shoe. Flat feet are usually more susceptible to pain from rough ground and awkward angles, so having that extra level of physical support and molded padding can make it much easier to walk around for long periods of time.
For most feet, the padding should generally fit into the shape of your foot with a slight bump in any spaces where your foot arch should be – in a lot of regular shoe designs, this bump is too large for flat-foot people and can end up causing even more discomfort.
It's best to look for firm, springy padding that's mostly flat, preferably one that's still soft enough to mold into the shape of your foot slightly for a more consistent level of comfort while you're wearing them. However, you won't want them to be perfectly flat – there still needs to be enough of a bump to arch your feet naturally.
This might take some trial-and-error, especially if you're flat-footed to a much greater degree than normal, but the end result is worth it if you can find a good balance.
Foot Width
One of the other big problems flat-footed customers face when buying shoes is the width of their feet – while it's a minor problem for people with arched feet, it can become a problem if the lower arch of your foot has lead to your toes spreading out more – this will often force you to try and find shoes with more width in them, but many of these will also be longer or taller, leading to even more problems until you can find a suitable size.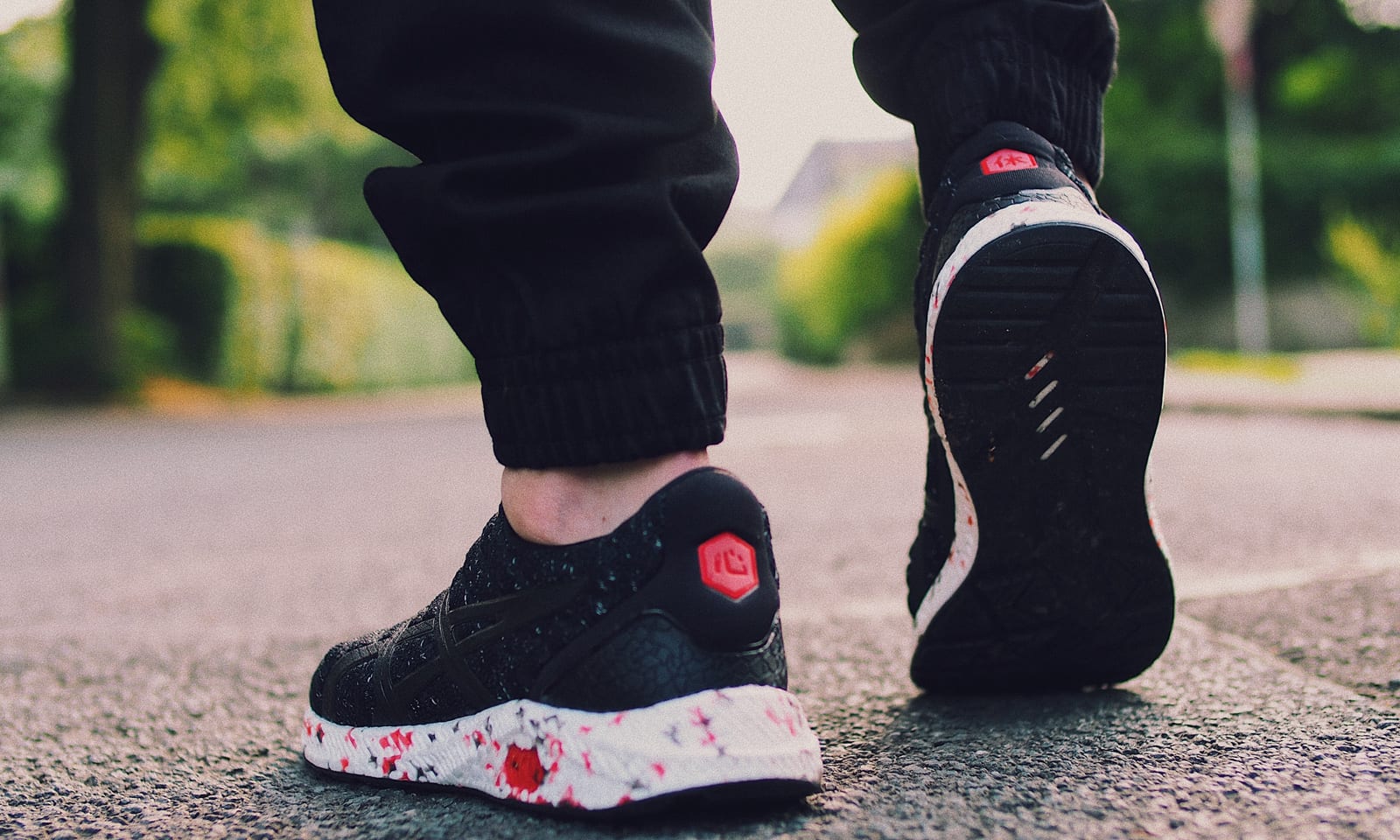 There's only so much variation in a single shoe size before you end up moving to a larger size, and different brands or makes will have different widths depending on how they're designed. It's important to remember that most shoes will cover up your feet completely, so the aesthetic side of the issue won't really matter in most situations.
As long as you can find a pair that fit well and feel comfortable, there shouldn't be any way for people to tell whether they're too large in specific ways. However, if you take it too far, you might end up with very loose shoes that rub on your skin a lot or feel difficult to move quickly in, which can be far more uncomfortable in the long run and even cause severe pain if you're jogging or moving in a way that slides your shoe back and forth quickly.
Related: Walking Shoes for Plantar Fasciitis.
Lifespan
It's common to throw away shoes when the insoles and padding wear away, but flat-footed people might find this happening much faster since they're relying on a design that doesn't perfectly accommodate their foot shape. While most people will still be able to use their shoes safely after the padding wears out, those with flat feet will often have to get rid of them since the shoes essentially become worthless without the specialized insoles for flat feet.
The risk of skin irritation, pain, and other minor problems can be much higher, especially if you usually wear orthopedic or medically-prescribed shoes. In general, the lifespan of your shoes will be much lower, and you'll find yourself having to throw them away or get them repaired more often.
While there's no way to say exactly how often this will be since it depends on where and how you use your shoes, but it can seem like a limiting factor when it comes to more expensive purchases or brands that only produce certain shoes in a limited run.
If you're somebody who really cares about the fashion side of your shoe purchases, this can make individual purchases feel like a worse deal, and you might even find yourself refusing to wear your best shoes unless you absolutely have to. This also matters for proper medically-designed shoes, since they could take a while to replace if they wear out unexpectedly.
Which Shoes are Good for Flat Feet?
Having flat feet can make it hard to wear regular shoes without feeling pain or getting friction burns, and there are even some cases where you might struggle to find some that can actually support your feet for more than just walking at a leisurely pace. However, there are a few specific shoe types and design choice that can make them feel much more comfortable as long as you know what to look for.
Slip-on shoes are often quite popular since they're easy to put orthopedic insoles into. Sandals are also common but don't really double as adequate footwear in most situations, and you'll probably prefer to have more general-purpose shoes instead. In most situations, any type of soft running shoe for flat feet (including trainers and sneakers) are some of the most reliable, since they're often flexible enough to fit most foot shapes without being molded in a painful or uncomfortable way.

How Should I lace up Shoes If I have Flat Feet?
There are some lace-tying techniques that work better for flat-footed people, mainly due to the different amount of arch support and padding you'll need to stay comfortable. There's one particular pattern that's often used for most normal lace-based shoes, which differs slightly from the normal lace patterns that most people are taught when they're younger:
From the bottom eyelet/home, lace up the first pair and cross over the laces, then lace downwards through the second set.
For the third set, simply lace them as usual without crossing them over, then cross them for the fourth.
Repeat this pattern for how many other eyelets you have, depending on the type of shoe you're wearing.
You should always make sure that you haven't pulled the laces too tight since you'll want to keep as much space as possible to accommodate your feet properly. This also means that you might have to leave the top one or two pairs of eyelets unlaced to give your feet more room, but rarely anything more than that.
Everybody's feet are different, so don't take this as a guaranteed solution – if something else feels more comfortable or fits better, don't be afraid to use that instead, since it's possible that one person's preferred design or material will be uncomfortable or even painful to another person.
Expert Tip
Orthopedic shoes might feel stiffer and more rigid, but they're often tailored to fit specific foot shapes perfectly.
Did you know?
"Arch support" can mean different things in different types of footwear, so a company's sandals and boots might not represent the insole designs their shoes use.