History of Under Armour shoes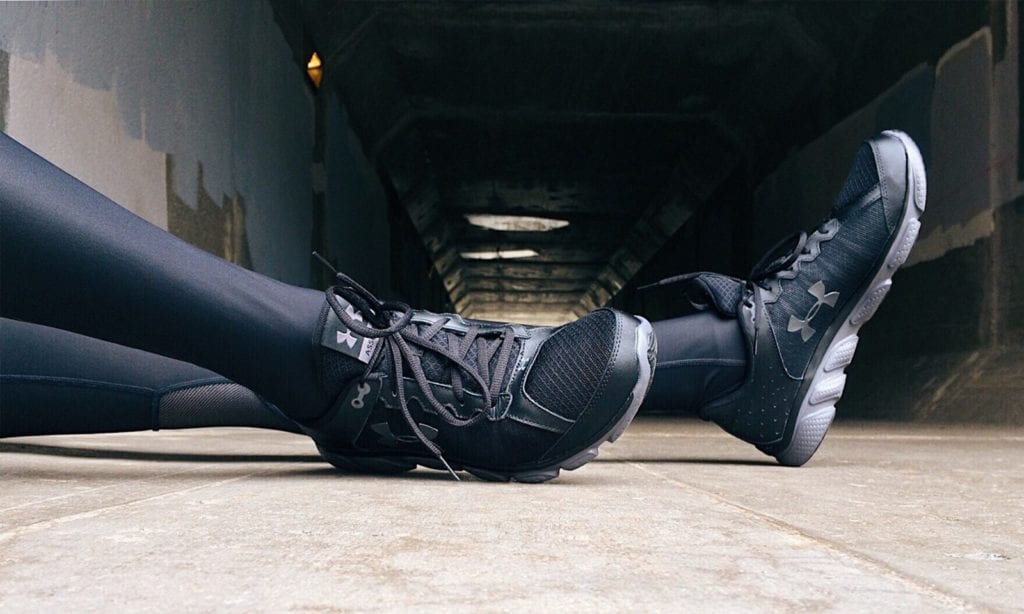 Under Armour has been a well-known player in sports clothing since 1996 and is now a rival to companies like Nike and Adidas with their line of under armour running shoes. Under armour produces some of the very best athletic shoes on the market and are rapidly growing in popularity.
Who invented Under Armor?
Kevin Plank in 1996 founded Under Armour who was only 23 years old at the time and a special team's captain of the Maryland University football team. Plank started his business and ran it out of his grandmother's house in Washington, DC, before moving to Baltimore.  Under Armour's first product was inspired by a post-training session epiphany that Kevin Plank had while changing out of his practice clothes at the University of Maryland. He noticed that, unlike his sweat tee shirt and jersey, his compression shorts stayed relatively dry. Under Armour was born with the development of a moisture-wicking tee shirt. Technological innovation has been a focus of the Under Armour brand since its inception and extends to its diverse footwear range.
He made his first sale for $17,000 and his shirts that keep athletes cool and dry grew in popularity from there. In 2006 Plank decided to enter the footwear market and introduced the first Under Armour football cleats. In 2009 they introduced their running shoes and in 2011 they started to produce their basketball shoes. Under Armour is a growing footwear brand that is challenging the recognized sporting shoe giants such as Nike and Adidas.
Where Did Under Armour Start?
Under Armour started in Washington D.C., where a young 23 year old Kevin Plank who was a former special teams captain on the University of Maryland's football team, started the company in the basement of his grandmother's home.  Under Armour now holds a large share of the market in sports-wear and is becoming a force to reckon with when it comes to footwear as well. From humble beginnings to a multi-million enterprise Keven Plank has transformed the sporting world with his line of clothing and shoes.
Who Made the Under Armour logo?
Kevin Plank, the founder of Under Armour was inspired by the term "body armour" and based his new line of clothing on this premise. When he made his line of clothing he was looking for something simple that would prevent the players from sweating and having to change their t-shirts so many times during the game.
When deciding on the U and A logo, he also wanted to keep it as simple as possible. One day his brother accidently called his gear Under Armour instead of body armour and the name stuck.  The brand's success is often thought to be mainly due to its distinctive logo design (in original typeface, created exclusively for the brand). An Oakland Raiders player wore the brand's turtleneck on a USA Today cover and UA started to get traction among other football team players.
What Are Under Armour shoes Made Of?
The material you use in the uppers of the shoes are breathable, flexible and supportive. They are designed to keep the foot cool and dry at all times. The soles of the shoes are made from rubber for the best grip as well as being as flexible as the uppers as well as lightweight. The outsoles are made from a strong material that will protect your feet when playing. Under Armour shoes are only made from the best materials and incorporate UA SpeedForm Apollo which is a unique way of constructing footwear.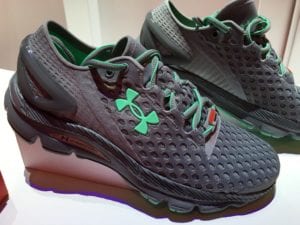 It is made to fit and feel comfortable. The signature UA ClutchFit pattern allows the material of the shoe to expand and contract so that it contours to your feet to allow it to move freely. This compression technology is what Under Armour is famous for and this combined with the hourglass shape of our shoes, allows the shoe to expand under pressure and this in return allows the athlete free movement combined with powerful support.
Add to the exceptional quality of material and the great technology in the shoe you also get the first ever molded seamless heel cup, which allows the shoe to feel like it is an extension of your foot. The seams on the shoe are smooth and give you the next to your skin support you need when playing your preferred sport.
The shoe uppers are crafted and made in a clothing factory to get this exceptional fit and feel. Finally the external TPU heel counter on the Under Armour shoes lock-in your support and provide the stability you require while playing.
Conclusion
Under Armour may have started out making clothing for athletes but is growing in stature in the footwear industry. Their running shoes and basketball shoes are designed to enable them to perform at their best, they are light, strong and comfortable with technologies designed specifically for the athlete.