Under Armour vs Nike Quality
Under Armour may be a new player on the market when it comes to athletic shoes, but they are quickly growing in stature and can give Nike and Adidas a good run for their money nowadays. They are also far better priced with loads of features making them a great option when looking for good athletic shoes.
Under armour vs nike Basketball shoes
Nike is a well-known shoe brand that also does clothing, whereas Under Armour is an apparel label that has ventured into footwear. However Under Armour is making a huge dent in the market with their basketball and running shoes. Both brands bring a lot to the table when it comes to basketball shoes, with Nike having signature shoes of Michael Jordan, however, Under Armour appeals to the younger generation and they have been sponsoring the up and coming young college players, signing people like Donte Tubman, and of course Steph Curry.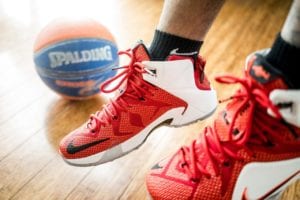 Under Armour only made its foray into the world of shoes in 2009 with its first running shoes, however with athletes such as Cam Newton, Michael Phelps and Tom Brady supporting the brand, along with the fact that they sponsor not only college teams but also high school teams, it seems that Under Armour can only go from strength to strength. The reason for the great impact on the scene is of course the quality of their shoe. It rivals Nike basketball shoes in every way, and their compression technology is really gaining ground as a winner.
Under Armour is both comfortable, supportive and cool, it focuses on the athlete and how they can get the most out of their game when wearing their shoe. Under Armour realeased the Curry 2 Low Shoes, this is a low top sneaker that comes in various shades, including a white and grey one that looks like chef shoes, thus it was dubbed the "Chef Curry" and it was a hit, despite it being mocked mercilessly.
Nike has always relied on the Jordan brand to carry them through, along with some of the other really great players, however Under Armour has really made an impact signing the younger up and coming players, appealing to the youth and gaining market share quite rapidly. Then of course there is the price difference between the two brands. Under Armour with their Curry's are much lower in price than say the LeBron from Nike.
Where Nike has the Air Jordan, Under Armour have their SpeedFoarm and Compression Technology that appeal to players. Both brands have a lot to offer in regards the shoe itself, it is just a question of personal taste and style that determines who will go with Nike and who with Under Armour, although Under Armour are getting a lot more converts and giving Nike a good run for their money at the stores.
Under Armour vs Nike for Running Shoes
Nike is very big in basketball shoes but also got their start in running shoes. They have the lions share of the market at the moment, however Under Armour are catching up quickly with their range of great Nike running shoes that are designed to keep the athletes feet comfortable while running. Quality is a good measure of how a shoe holds up, its durability is one of the most important qualities, along with comfort, breathability and stability.
Nike having been in the shoe business for a long time may seem to have the upper hand in the industry, however the innovative technology and the fact that it has a sporting philosophy, has pushed it into being a true rival of Nike. Advertising goes a long way in getting the Under Armour brand out there and with Dwayne the Rock Johnson as one of their sponsors the running shoe has become very popular around the globe.
Other athletes who have embraced the new shoes on the market are Tom Brady, Kobe Bryant and more. In overall quality, Nike and Under Armour are about 50/50, however Under Armour beats Nike in the amount of different colors and this appeals to the younger generation of athletes.
Under armour vs Adidas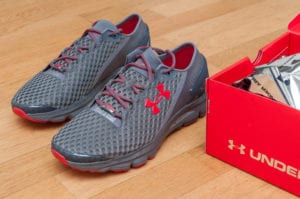 Technology and clever advertising is what makes a shoe popular, the construction of the shoe and what it overs are very important, so is who is endorsing the shoe and Under Armour have it right in both of these catagories. Adidas is one of the three big names in sports shoes and Under Armour is really giving Adidas and Nike a run for the money in running shoes and basketball shoes as well.
Not only does Under Armour have the right quality and style, it is endorsed by people such as Dwayne the Rock Johnson and this goes a long way in making it popular. Adidas on the other hand have athletes such as James Harden and Derrick Rose as their ambassadors and are also gaining a footing when it comes to basketball shoes. Both Under Armour and Adidas have in recent year expanded their leverage in the shoe industry, both using social media to grow their brands.
However Under Armour has surpassed Adidas in the race and is gaining ground on Nike which is the major player in the field. With their great technology making their shoes not only light, breathable and comfortable, Under Armour is sure to gain even more traction in the shoe market and could conceivably surpass Adidas and Nike as they go from strength to strength.
Nike vs under Armour Shoes Size
Sizing of shoes remain similar in all shoe types. Under Armour and Nike sizing are fairly similar and run true to size when it comes to fit. The shoe might seem a little tight to some, however when using a shoe for workouts, running or playing sports, it is important to have a shoe that fits like a glove, to give your foot the support it needs and to keep it stable and comfortable while you play or gym.
Choosing the right size shoe is vitally important when it comes to selecting the right shoe to wear. Whether it be Nike or Under Armour, you need a shoe that is going to fit exactly right and as all peoples feet are slightly different, even if Under Arm fits true to size, be sure to try to fit them before purchasing.
Conclusion
Although Under Armour are the new kids on the block, only producing their first running shoes in 2009, followed by their basketball shoes and now offering a whole host of different styles and types of shoes, they are sure to grow from strength to strength and to give the big boys such as Nike and Adidas a battle when it comes to market share.