10 Best Work Shoes in 2021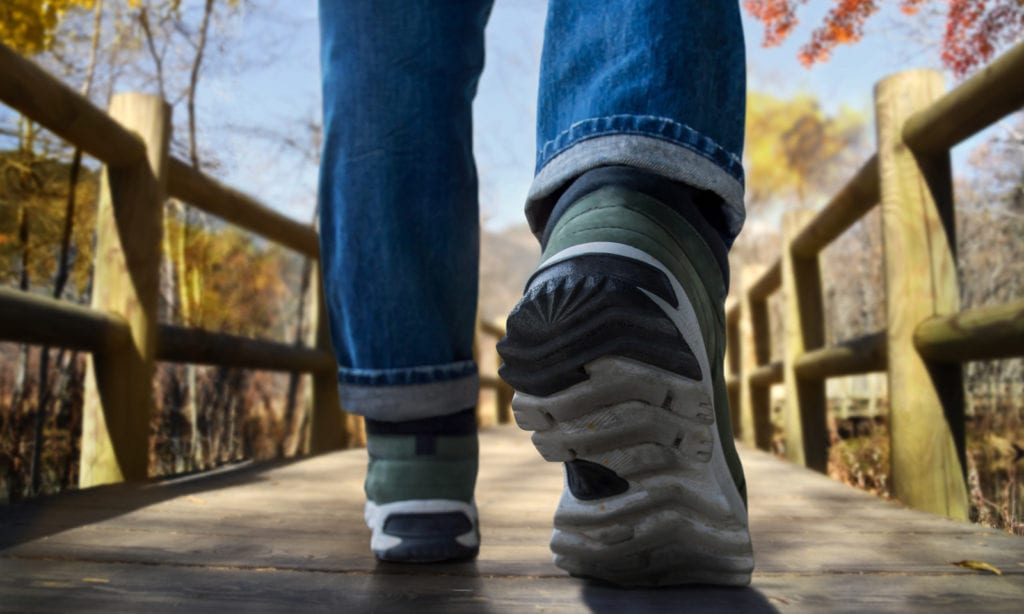 Regardless of your profession, finding a good work shoe to suit both your job and your personality can be an overwhelming task. Whether you work in construction or in an office, if the shoe doesn't fit in style or comfort, then your job performance might be affected.
There are a number of different qualities to consider when selecting a work shoe, including price, style, color, design, and purpose. This review looks at a selection of shoe styles on the current market and covers which features you should consider before making a purchase.
Need something suitable for outdoors work? Try our review on the top waterproof work boots.
View the Best Work Shoes, Below.
1. New Balance Men's Mx608v4
New Balance Men's Mx608v4 is a sneaker style shoe that is made with leather and suede material with a solid rubber sole. The rubber sole provides a thick protection for your feet so that they feel fully supported while wearing them. They are padded on the inside so that you feel entirely comfortable while using them and they provide extra support for your ankle with their sturdy laces and high backs.
The shoe comes in a variety of different colors and patterns, so it is suitable for lots of different personal style preferences. It is very flexible but also durable owing to the soft leather and suede outer layer material combination. The majority of reviews are definitely positive which adds to the notion that this is a shoe that you can trust.
This pair of shoes has the added bonus of being designed with a non-marking rubber sole, which means no embarrassing marks left behind you. It may seem small, but it is one of those things you would definitely miss if you didn't have it.
Check Price on Amazon ➞
CHECK PRICE ON ZAPPOS ➞
2. KEEN Utility Women's Flint Low Work Shoe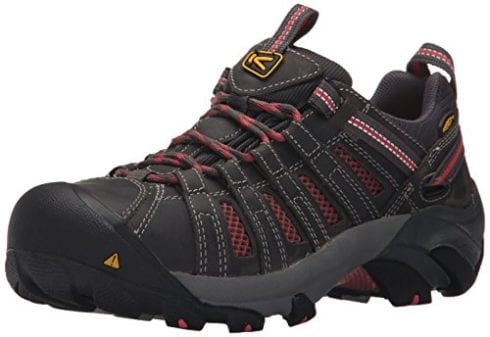 KEEN Utility Women's Flint Low work shoe is a low walking boot style work shoe which comes in a few different colors. It is built to be highly functional and supportive with a high back and strong laces as well. It has a non-marking, slip-resistant rubber sole which comes as standard. It is waterproof and durable with the extra bonus of having a steel toe cap which is specifically contoured to your toes while still allowing them to breathe and be completely protected.
Though incredibly sturdy and durable, the shoe itself does not feel overly heavy, in fact, it is quite lightweight and does not feel like you are carrying around a brick strapped to your feet while you wear them.
It is well designed to provide the ultimate protection for your toes, heels, ankles and above and beyond. This is a sturdy shoe for a more hardy workplace environment that may require a bit of extra protection for your feet.
Check Price on Amazon ➞
CHECK PRICE ON ZAPPOS ➞
3. New Balance Men's MW411v2 Walking Shoe
This is a low sitting style walking shoe rather than a walking boot by New Balance. This model is synthetic leather type material and is available in a range of different colors. It has good support for the ankle and feet with strong laces and a strong back. The sole is rubber, which is quite common amongst lots of different shoe types owing to its waterproof and durable qualities.
The shoe has great reviews from thousands of previous customers. It is very long lasting, and the wear and tear to the shoe over prolonged, harder usage is minimal, to say the least. This is a quality product that you can trust.
New Balance have created a strong shoe for men that is adaptable to a number of different work environments, it looks good, and it is made to last.
Check Price on Amazon ➞
CHECK PRICE ON ZAPPOS ➞
4. Timberland Men's White Ledge Ankle Boot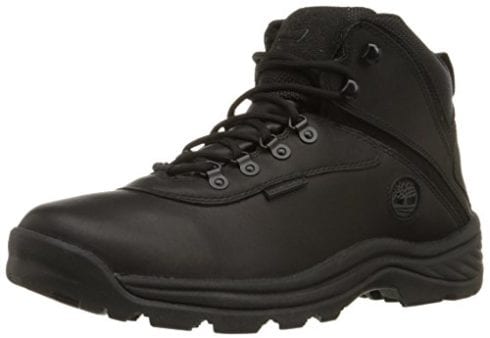 Timberland has been creating boots and shoes for decades and is well trusted to create top quality high-end products that are designed and orchestrated to last no matter where or how they are worn. This boot is no exception. It comes in a variety of different colors so that you can make it more bespoke to you. It is made from leather with a strong and solid rubber sole; which makes the shoe itself entirely waterproof. Therefore, you can wear it in all weathers no matter what the job.
It has a 0.5-inch platform as the rubber sole which adds extra support and extra protection for the foot, ankle, and toes. It is comfortably padded inside the shoe so that you do not need to worry about your toes becoming injured or the back of your ankle suffering.
This is a sturdy boot that can be used in and for a variety of different purposes. The boot itself is durable, waterproof and looks good as well.
Check Price on Amazon ➞
CHECK PRICE ON ZAPPOS ➞
5. Skechers Men's Afterburn Lace-up Sneaker
Skechers Men's Afterburn Lace-up Sneaker is a lace-up, sneaker style shoe that provides support and comfort for your feet, ankle, and toes. It is a great fit and becomes, after being worn a few times, very fitted to your individual foot shape. This means that it adapts for the optimum comfort for your individual needs. The material is leather and synthetic which makes it breathable as well as durable and waterproof.
The shoe is made with the standard, strong rubber sole which provides support and protection as you wear it. It also has extra padding on the tongue of the shoe and the collar as well as the inside of the shoe itself, so your feet are well and truly protected and comfortable.
Skechers have made an attractive shoe that is both lightweight and durable simultaneously. It looks good, provides comfort and support and has the added bonus of being from a trusted brand.
Check Price on Amazon ➞
CHECK PRICE ON ZAPPOS ➞
6. New Balance Women's WX608v5 Comfort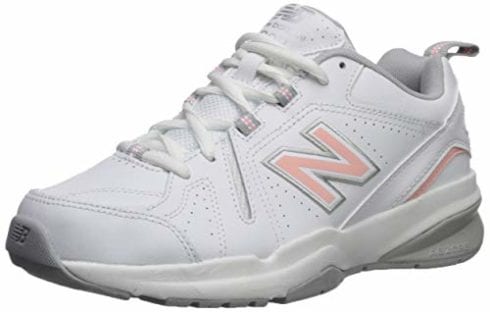 This is a sneaker style shoe from New Balance, specialists in footwear and all things comfortable for your feet. As usual with New Balance, you are spoilt for choice when it comes to style, color and pattern of the shoe itself. There are over ten options to choose from so if you are picky, then this might just be the shoe for you. The price is reasonable, the design is simple yet classic and effective, and the shoe itself is durable and comfortable to wear owing to the materials used to make it, and the cushioning on the inside for your toes and heel.
There is definite value for money here, especially considering the great customer reviews to back that up. The shoe is comfortable and built with extra cushioning and therefore additional support.
This is an attractive shoe that comes in a variety of different colors and sizes. It is built and designed to be very comfortable, and its strong material makes it incredibly durable as well.
Check Price on Amazon ➞
CHECK PRICE ON ZAPPOS ➞
7. TIOSEBON Women's Athletic Walking Shoes
TISOEBON Women's Athletic Walking Shoes are built and designed to be breathable, responsive, supportive and cushioned for your feet, toes and ankles. They are 'pretty' shoes, even having an addition of gold and silver thread weaved into the laces and the shoe fabric. They come in a good variety of different colors, so you are not limited in any way by just one choice.
They are waterproof and allow air to circulate through and around them to minimize on odor and sweating. They are designed with sport in mind but can be adaptable to any circumstance owing to their classic style and comfortable yet supportive nature.
These shoes are affordable yet durable. They kill two birds with one stone in that they definitely will not break the bank, but they will also last for a while thanks to how durable and lightweight they are.
Check Price on Amazon ➞
CHECK PRICE ON ZAPPOS ➞
8. Skechers for Work Men's Flex Advantage Mcallen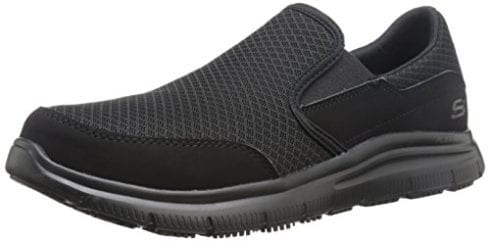 Skechers have produced here a slip-on shoe in its design, therefore no laces to mess around with. Though this detracts from how supportive the overall shoe is, Skechers have compensated for this with the strong, thick sole and high back of the shoe to offer support for the ankle area. They are made with a synthetic sole which provides plenty of support and is very durable as well.
The shoe itself is of course cushioned and comfortable, and they are akin to wearing a pair of comfy slippers, except they look formal and can be worn in a variety of different social settings from work to pleasure. The whole idea of the shoe is soft and cushioned, and to keep the feet as comfortable as possible.
The shoe has all the comfort of a lounge pair of slippers with all the style of a classic work shoe. It is adaptable and conformable to your individual foot, and you will never need to worry about your feet becoming sore or tired while wearing it.
Check Price on Amazon ➞
CHECK PRICE ON ZAPPOS ➞
9. ASICS Women's Gel-Venture 7 Running Shoes
ASICS Women's Gel-Venture-7 is another great shoe from ASICS. It has been designed and marketed as a running shoe but can be used in a variety of other circumstances, of course, owing to how adaptable all of the shoe's features are. For example, it is waterproof, well cushioned, has strong support with the laces, and high back alongside a strong sole with added gel for shock impact and heel protection.
There is even extra thought to the durability of the shoe product with the added addition of rubber to create non-marking, non-slip, fortified outer protection.
ASICS have created and designed an attractive shoe that comes in a variety of colors and patterns while remaining functional and supportive across the board.
Check Price on Amazon ➞
CHECK PRICE ON ZAPPOS ➞
10. CLARKS Women's Emslie Lulin Pump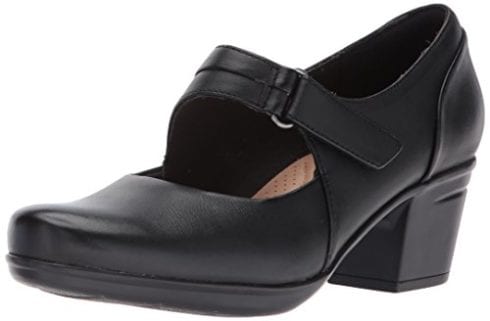 CLARKS Women's Emslie Lulin Pump is a pretty shoe that is built for a more formal work environment. It is made from leather with a rubber sole and features a slightly higher heel. It is of a classic, work shoe design however unlike your stereotypical uncomfortable heel that is sometimes associated with women's office work, this shoe has a sturdy heel that is a bit thicker to provide extra support and comfort as well. Alongside this, the shoe has a cushioned inside which provides even more support.
It is a classically designed, attractive shoe. It also comes with a good number of great reviews and is made by a trusted shoe company that has been around for many years.
Check Price on Amazon ➞
CHECK PRICE ON ZAPPOS ➞
Work Shoes Buyer's Guide
There are just a few examples of a whole world of work shoes out there waiting for you to purchase them. They suit a variety of different jobs and professions. Regardless of what you do to pay the bills, you need something to make your feet comfortable while you do it. What is it that you look for in a shoe you have to wear for most of the week? Something comfortable, definitely. However, there must be other factors to consider.

Material
The most common materials for making shoes are as follows:
Leather: Leather is perhaps the most common material that shoes are made with. It is durable, easy to clean, looks nice and provides a classic shoe look. It also helps regulate the temperature of the foot. However, proper leather can sometimes be a bit expensive.
Textiles: Textiles includes cotton, polyester, wool, and nylon. Textiles can be dyed and shaped however you please and therefore provide a good variety in style and pattern for shoemakers and prospective shoe buyers. They are comfy and breathable, but not usually as durable as leather.
Synthetics: Synthetic materials (such as PU leather) are a popular choice. They are cheaper to produce and cheaper to purchase and are highly adaptable.
Foam: Foam is normally kept for the inside of the shoe. When used correctly, it can provide a layer of great comfort for your foot inside the shoe. It is always nice to have a memory foam insole or just a foam insole to give your feet that extra layer of protection and comfort while you are wearing them.
Fit
If you have ever worn an uncomfortable pair of shoes that don't fit right, only then will you truly appreciate how much a properly fitting shoe can change your life for the better. Your feet won't suffer from aching or blisters and will be cushioned and protected and most importantly, comfortable. Remember that your shoe should fit your foot and no matter how much you love the shoe, it should never be purchased with the presumption that your foot will fit the shoe.
For a pair of shoes that you wear 40 hours a week, how they fit should be at the forefront of your mind. Take the following into consideration:
Wide vs. Narrow: This is crucial. Wide feet need special attention, and there is a whole world of shoes out there that cater to them.
Foot Shape: Everyone's foot is shaped differently from bunions to corns. Make sure you have really considered how your foot sits.
Toe Size: Toe size is also important. Toes need to be able to breathe in the shoe so that they do not become injured.
Space at the top of the toes: Toes need to be able to breathe in the shoe, therefore there needs to be space at the top of the shoe for the foot not to become too compressed and to have freer movement as you go about your day. The foot actually has 26 bones in it alongside 33 joints and 100 + ligaments. You might not realize how sensitive they are until you injure them owing to a lack of properly fitting footwear.
How Often Should you Replace work Shoes?
Work shoes should be replaced as and when they begin to show signs of wear and tear. This is very important so that you do not put your feet under unnecessary duress and so that they don't become painful and or injured. If that were to happen, your capacity to work would be compromised.
How do Non-slip Shoes Work?
Non-slip shoes are a clever invention. They do what they say in their name, i.e., provide you with a shoe that protects you from slips and falls. They are made with a stronger grip on the sole of the shoe in order to create better traction with the floor, kind of like a good tire. This is a pro if you work in wet or hazardous circumstances.
How to Clean Work Shoes?
Cleaning your shoes depends entirely on what material they are made from.
Most shoes will be machine washable however, this is not always the case. You should always check, before pursuing any attempt of cleaning your shoe, how to do it properly as per the manufacturer's guidelines.
Retail worker? See our favorite shoes for Retail workers.
A Few Examples of how to Clean Different Materials:
Leather Shoes: Leather is a simple shoe material to clean. In most cases, wipe clean away any dirt on the shoe with water mixed with a splash of vinegar. Dry clean with a dry cloth and hey presto, your shoe is completely clean. You can always make it look brand new again by applying some polish.
Running Shoes: One great tip for running shoes is getting a toothbrush, a spare toothbrush, and using it to remove dirt in the first instance.  This will be good for removing all of the debris that has formed around the shoe itself. Next, dip your toothbrush in water combined with laundry solution and repeat the first action. Leave your shoes to dry somewhere sensible, and they should look as good as new!

Did you Know?
Shoemakers never used to distinguish between the right foot and the left foot when they made shoes. Therefore, shoes used to be a whole lot more uncomfortable. In fact, the first pair of left-footed, right-footed shoes were invented in the early 1800s in America. This is when the model of the shoe started to develop properly into what we know and love today.
Trying on shoes is an essential part of determining fit and making the right decisions. If you're shopping online, consider return policies or look for retailers that offer the option to try before you buy so you can avoid getting stuck with shoes that don't meet your needs.