Can you Hike in Water Shoes?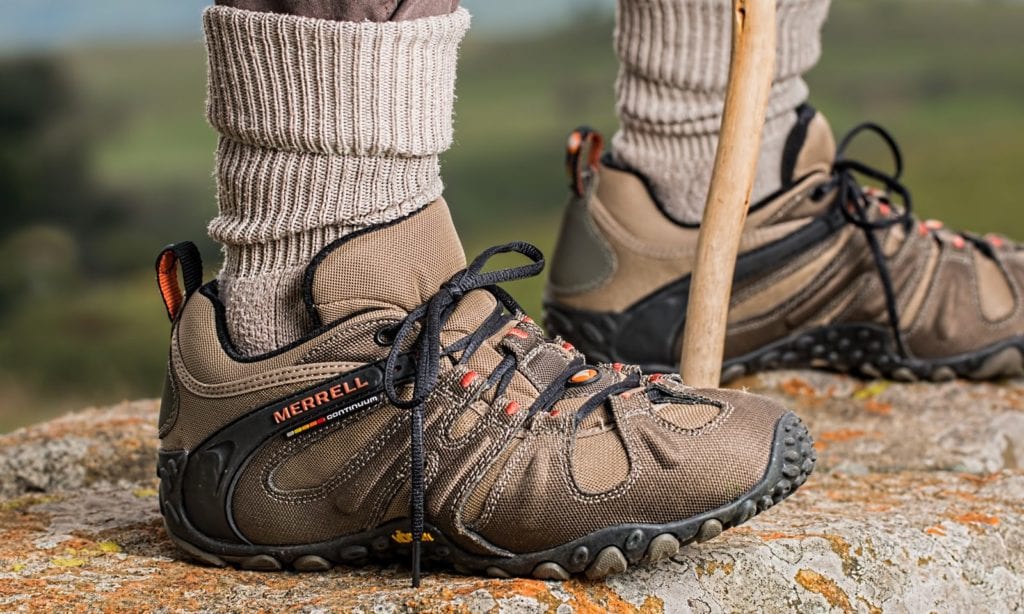 Introduction
Water shoes are very versatile in nature. They can be used for anything from swimming to walking around the mall. The top water shoes can also be used as hiking shoes, especially when you are going to be hiking in areas that involve walking on slippery, wet and rocky areas, or having to cross rivers.
Do you wear Socks with Water Shoes?
You do not have to wear socks with water shoes, however, you can wear socks with them. These are extremely versatile shoes that can be used for many purposes. When you are going to be wearing them for their true intention such as water shoes then it is best to go without socks or to wear neoprene shocks that will not hold water. Wearing cotton socks or other types of socks could lead to your foot getting waterlogged when walking in water or swimming.
If you are going to be hiking with the shoes or walking in the malls then wearing socks with them is a good option. Socks also help to prevent odor in a shoe and if you are not going to be using them in water then it is best to wear socks with them, not only to protect your feet but also to protect the shoe itself from fungi developing. Another reason to wear socks with your shoes is if you are going to be going to the beach or walking on sand or gravel.
Water shoes are designed with vents for them to be able to drain away water. This also means that sand and gravel can get into the shoe and can cause your foot to rub against the sides of the shoes causing not only irritation but also rubbing them raw. Neoprene socks are the best in this situation again, they are made from wetsuit material and will not only keep your feet warm but also protected.
They also do not hold water and so will not weigh your foot down when you are in the water as they do not absorb water like cotton socks will. So not only can you wear socks with your water shoes, in some instances, it is advisable to wear them for your foot's protection and comfort.
What kind of Soles are on Water Shoes?
Water shoes are designed to protect your feet and keep them safe when walking. Often when you are walking or wading through water you cannot see what lies beneath the surface and you could be in danger of stepping on sharp rocks, stones, and other hazardous materials. That is why a water shoe has a thick, flexible sole to protect your feet from these hazards. The soles of these shoes are not only thick and hard, they are also designed with great tread to offer you the best traction.
This is very important, especially when walking on slippery rocks, at the docks, for on the deck of a boat or other slippery and wet surfaces. The outsoles are usually constructed from rubber to offer the best grip on any surface. The sipped outsoles of the shoes are what help to move the water away from your feet when walking on wet surfaces, this means that the water shoes are engineered to be non-slip. The soles are also designed to neither absorb nor hold water, and that is why they are constructed from rubber and not synthetic materials.
What are good Water Shoes with Strong Soles to walk on Sharp Rocks?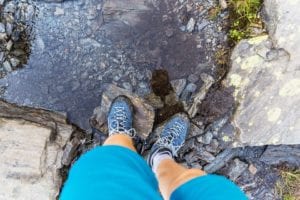 Water shoes are designed with one thing in mind, to protect your feet when you are walking in or around water. This means that they have thick, hard yet flexible soles to protect your feet from the hazards found beneath the surface such as sharp rocks and other materials that could potentially injure your foot.
The top water shoes have thick, rubber soles along with superb traction, and this is what sets them apart from your standard shoes.
Although you get many kinds of shoes that offer non-slip, thick soles, water shoes are also designed to be used in and around water with ease. This is because they do not absorb water nor retain it, they are designed to shed water.
When you walk along the beach you will often encounter rocky pools and there is nothing better than to explore them, however, if you have ever done this barefooted you will know that is can be a painful experience.
Wearing a pair of water shoes that are designed with thick soles offering great traction is the answer to this problem. There are a number of brands on the market that make excellent water shoes, all of them offering similar styles of soles. The top shoe for you to use when hiking, walking on the beach or exploring rivers, dams or lakes is entirely up to your own personal preference.
It is important though to distinguish between neoprene booties which are designed more for swimming than walking, or water socks and a good water shoe. Water socks and neoprene booties will not give you the kind of protection you need when tackling hazardous surfaces like rock pools on the beach or rocky river bottoms.
Looking for specific water shoes? We've reviewed the best water shoes for men.
Conclusion
When you are going to be spending your time hiking, swimming, kayaking or doing other water sports, you need a great water shoe that is going to protect your feet from the hazards of sharp rocks, unseen underwater obstacles, and wet and slippery surfaces. Water shoes are designed to allow water to drain away quickly and easily, and they are also designed with thick, rubber soles and outsoles to ensure that your feet remain safe and secure at all times no matter the environment you find yourself in.