One of the most important aspects of being a cross country runner is getting the best cross country shoes you can afford. You are going to be spending a lot of time running in them so they must be comfortable, supportive and offer you stability and breathability. We look at the top cross training shoes available, from a minimalistic style shoe to a very supportive one. Looking for new trainers for CrossFit? Click here.
We take a look at the different options available looking at the style, type of breathable materials used for construction, sole and inner sole, as well as supportiveness, stability, and comfort the shoes offer. Cross country is very different to running track or even trail running. You shoe must be able to cope with a number of different surfaces and give you the stability you need to be able to tackle uneven ground. If you like to cycle, you may also wish to see our review of the top cycling shoes!
View The Best Cross Country Shoes, Below.
Buyers Guide Questions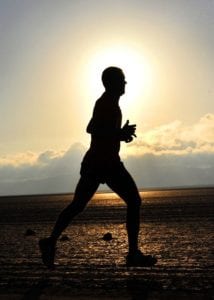 Choose the right shoe for XC training with our buying guide. Running cross country is not easy. You will be faced with many challenges such as rocky or uneven surfaces or muddy, wet and slippery terrain. This type of track and field trail running is great for building lower and upper body strength and cardiovascular health. XC training has also been shown to have positive effects on runners' brain connectivity! When you are looking to buy a pair of shoes you need to consider before buying cross training trail shoes.
Durability in the synthetic materials used to construct the shoe is one of them, as is the traction you get from the sole of the shoe. Gender-specific shoes are important as the loose or snug fit of the shoe will ensure stability and if you have a shoe that is designed around your types of feet, whether you are male or female, you will have a better chance of winning your cross country races.
Do you need xc spikes, or do you need to go spikeless? If you're goals are weight loss, you may need different beathable materials to those with other goals. All of this you should consider before buying these types of shoes or running apparel. When choosing the right cross cross country running shoes, you need to keep three key aspects in mind.
Material
The type of materials used on the shoe is important. The uppers should be lightweight and not weight the runner down, allowing a full range of movement in the foot to enable them to cope with the terrain they are going to be faced with. They should also be debris resistant and mold to the foot offering support. Mesh and synthetic materials are often used in the construction of the cross-country shoe as they offer all of these features as well as being durable.
Gender
Men and women have specific needs in shoes. A man's shoe is designed differently to a women's in that they are often slightly heavier and wider than a woman's. Men and women also have different strides and the shoes are designed to cater for those differences. When you select your shoe, the fit is paramount.
If your shoe does not fit properly, you may find yourself tripping and falling, especially on uneven, rough terrain and therefore selecting a gender-specific shoe can prevent injury, provide for a great, snug fit and offer the most comfort to any cross country runner.
Outsole
The outsole of the shoe is important, as this is what gives you the traction you need to get through the race. Most of the cross country shoes will have soles that are made from rubber, this offers you the best traction. They may also have a cross country spike plate to add to the level of traction you get, this aids in getting through muddy and wet areas easily.
The outsole of the shoe should also be as durable as possible as well as being flexible to allow your foot to have a great range of movement and to allow you to cope with any obstacles that may come your way when running cross country. Large rubber lugs on the soles will also add to the traction of the shoe. You also need to decide whether you are buying for wide feet, or narrow feet.
What are Cross Country Shoes?
Cross country shoes are athletic shoes designed to be worn when you run cross country races. They are made to be durable, flexible, lightweight and supportive. Some cross country shoes offer track spikes for added traction, especially on muddy surfaces. When running cross country, you can be faced with a number of different terrains you need to deal with, cross country shoes are made to cope with any and all challenges, and unlike track and field or normal running shoes they will offer you excellent padding and cushioning to help you deal with rocky and uneven terrain.
Do you wear Spikes in Cross Country?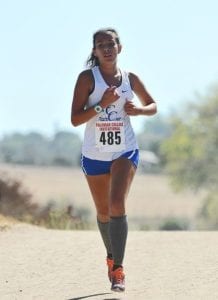 When taking on a cross-country run you need to be able to deal with difficult terrain that varies throughout your race. Having the best traction possible is paramount when running cross country and having spikes or studs ensures that you remain on your feet no matter what obstacles you face. Cross country running shoes often provide a flexible spike plate that combines with studs to give you the traction that you need when running cross country.
Spikes are often worn in track running to provide the traction you need and for explosive acceleration. The same can be said of cross country, although the cross-country spike plates tend to be a little more flexible and also the spikes slightly longer at around 9 to 12mm in length. A more flexible spike plate is essential when running cross country to be able to deal with the hard-packed ground or stony trails. For the study on ground reaction between different running shoes click here.
Cushioning on the spiked soles of cross country running shoes are also slightly different to track in that they provide a lot more cushioning in the forefoot and rear foot to offer the comfort levels needed when taking on difficult and uneven terrain.
What are the Best Shoes for Running Track?
The best shoes for running track are those that offer you the most lightweight, barefoot-like feel that you can get. Track shoes also offer track spikes to enhance the traction you get and to give you that explosive push-off you need. They are designed to be flexible and breathable to give your foot the comfort, support, and stability you need when running at speed.
What are Cross Country Shoes made Of?
Cross country shoes are mostly designed to be as lightweight and supportive as possible. Most cross country shoes have a mesh or synthetic upper that is debris resistant and breathable. The soles of the shoe are usually rubber with aggressive lugging and/or spikes to give you the traction you need when tackling difficult terrains such as mud or hard, rocky surfaces.
Do you Run Faster with Spikes?
Spiked shoes are often a lot lighter than your other running shoes as they do not require the thick soles with traction, as the spikes provide this. The lighter the shoe, the easier it is to pick your feet up and the less fatigued you get during the race, this all adds up to ensure that when wearing a lightweight spiked shoe, the faster you can run and that shoes that offer that barefoot feel give you a few seconds advantage over other runners.
Conclusion
Whatever types of shoes or running you enjoy, you need to have the right footwear for the task. When running cross country, you need a shoe that offers you durability and protection, along with comfort, support, and stability to keep you on your feet and in the race. Designed for ultimate traction with or without spikes and barefoot, lightweight feel and snug secure fit, cross country shoes give you the edge over any opponent not properly equipped to take on the challenge of a cross-country course.
Top Pick
Salomon is a well-known brand of shoe and the Salomon Speedcross 4 Trail shoes are designed to the best of their specifications to help cross country runners take on the challenge of harsh terrains, wet muddy surfaces, and uneven, difficult footing environments. That makes this our top trail running shoe reviewed for weight loss and xc training in 2020. The features of this great cross country shoe include an anti-debris mesh upper to prevent your shoe from picking up unwanted debris as you run.
The molded EVA footbed is both lightweight and comfortable while the lightweight, cushioned midsole offers you the utmost support and will help to energize your foot as you run. The ortholite sockliner in the shoe helps to keep your foot cool and dry no matter what the circumstances and the mudguard act as a protective barrier against abrasive materials.
A Quicklace system designed to allow you to tighten your laces with just a pull of the string, along with the lace pocket keep your laces tightly managed throughout. ContraGrip is designed to provide you with superb traction, allowing you to take on wet and muddy surfaces and remain stable on your feet at all times. Sensifit provide comfort as it ensures that the shoe fits snugly on your foot.
Premium Choice
Running in a spiked shoe can give you the edge you need in any cross country race, it is designed to offer you the best traction on any surface including wet and muddy ones, and that is what the Saucony Men's Kilkenny XC5 provides for you. The shoe is lightweight and with a sleek look, it offers you the best in looks and performance, making it our premium choice for 2020.
The uppers of the shoe are extremely lightweight and designed with minimalism in mind, the shoe molds to your foot offering you great support and stability. It accommodates neutral pronators with a neutral fit. The midsole of the shoe is molded EVA to offer you superb cushioning and a high level of comfort when running.
The tread of the shoe is able to handle any kind of terrain with the 6-pin spikes and carbon rubber outsole you can be sure of your footing always, no matter what the conditions. The outsole is also abrasion resistant offering great durability.
Great Value
The New Balance Men's MXC900v2 offer you all the features you need in a great cross country running shoe at a very affordable price and that is what makes it our great value choice for 2020. The shoe is very breathable and designed to be lightweight so as not to hinder you and allow you to move freely.  The 360-degree mesh upper will ensure your feet stay cool and dry throughout the race and the FantomFit of the shoe offers great support, molding to your foot providing superb a superb fit.
Traction is provided by the 6-pin spike plate that, due to its flexibility, offers your foot full range of movement and the aggressive lugs add to the traction ensuring you stay on your feet and keep you stable no matter what kind of surface you are faced with.
The rubber sole is abrasion resistant and makes the shoe extremely durable. This lightweight, comfortable shoe with excellent traction is exactly what a cross country runner needs to reach their goals and run a great race under any conditions.